There is no other place in the world quite like Venice. No matter how many photos you see of this famous water-borne city, nothing prepares you for experiencing its stunning setting in person. The two main challenges in visiting Venice are contending with crowds and high prices, both of which can be overcome with some planning.
Why visit Venice
Built on a cluster of small marshy islands as a refuge against barbarian invasions, Venice rose over the centuries to become Europe's premier maritime power and key to trade with the Orient. Its prominence is reflected in some of Italy's most magnificent churches, palaces and works of art. Chief among these is dazzling St. Mark's Basilica, believed to house the bones of the Apostle Mark himself. Its history dates to the ninth century with about 8,000 sq. metres of mostly gold mosaics and treasures from the Crusades.
Next door is the extravagantly ornate Doge's Palace, seat of power for centuries. Artwork and lavishly decorated rooms contrast with cramped and dank prison cells, connected by shadowy passageways, and the infamous walkway known as the Bridge of Sighs, where condemned prisoners sighed as they enjoyed their last glimpse of Venice's beauty.
The only way to get around is by foot or boat. Cars, motorcycles or even bicycles are not allowed. The winding Grand Canal is the main thoroughfare, with a network of smaller canals crisscrossing the islands. You seldom go far without climbing steps on yet another bridge.
Central streets are a mind-boggling maze, with some so narrow that if you stretch out your arms you can touch buildings on both sides. Just when you think that you've hit a dead end, a street suddenly opens into a small square, dominated by yet another magnificent church. Simply wandering the ancient streets and occasionally getting lost is an essential part of the experience. You never get too lost, however.
Dealing with Venice crowds
This is among Europe's top tourist destinations, so going in mid-summer or during holiday periods such as Carnival, means hordes of people. Travelling in off-season is a lot quieter. However, winter can be cold, and there is more chance of experiencing Venice's occasional flooding during winter.
We visited in late March, which was after Carnival but before the summer onslaught. The weather was cool but pleasant. There were plenty of tourists around, but it never felt overwhelming. We read stories of horrendous waiting times to get into the Doge's Palace in high season, but we walked in with no line-ups early in the morning. There was only a handful of other tourists there to begin with. St. Mark's Basilica almost always has a line-up to get in, but we never waited more than five minutes. At any time of year, you can often avoid many of the tour groups by visiting popular sites in early morning or late in the day.


Dealing with Venice Prices
Since tourism is Venice's only major industry, a lot of ways have been devised to separate visitors from their cash. Want a ride in one of Venice's iconic gondolas? Prices start at 80 Euros for a half hour. Fancy a romantic meal at a sidewalk cafe in St. Mark's Square? Perhaps you should first talk to your banker about a second mortgage on your house. Restaurants in the main tourist areas often add extra service charges and cover charges to their already inflated prices. Head off the beaten path, and prices come down. Our guest house owner recommended a nearby street (Via Garibaldi) which is known for restaurants with more down to earth prices. Best of all, there is also a mini supermarket with a deli that sells excellent take-out meals, and wine, for affordable prices.




Admission prices to key historic sites and museums can be quite high, so a Museum pass that covers admission to several museums and historic sites generally offers good value. However, the passes vary in price and can be needlessly complex as to what is and isn't covered, so compare carefully before buying. Some passes have discounts if you're under 26 or older than 64, so always ask if you're in one of those age groups. The passes are generally available at the tourist information offices around town, as well as online. Some historic churches are free to enter, such as main area of St. Mark's Basilica (although admission is charged to special areas), or the imposing Basilica of Santa Maria della Salute.
Unless you're a dedicated architectural historian or art fanatic, be careful not to take on too much. There are so many historic buildings, museums, and ancient churches that you can easily get overwhelmed and "museumed-out". What we enjoyed most was simply wandering around, sometimes completely at random, hopping on and off the water bus that runs the length of the Grand Canal and exploring different areas or heading to some smaller islands. Venice is such a visually compelling place that practically anywhere yields surprises and fascinating photographic possibilities.
With that in mind, the best deals are the day or multi-day passes for unlimited rides on the vaporetto, or water buses, which operate different routes throughout the islands. Current prices are 20 Euros for 1 day, 30 euros for 2 days, 40 Eros for 3 days, and 60 Euros for 7 days. Airport routes are run by a separate boat line. But that still leaves plenty of possibilities, including other islands, such as Lido, or Murano with its wildly colourful houses and tradition of ornate glass-making. To get to or from the airport, you can buy a waterbus pass that includes the airport bus at a reduced rate (like we said, ticket pricing in Venice can get complicated).
Waterbuses along the Grand Canal are also great for photography. Most have a few outside seats, so grab one of these, especially at the front, for a perfect vantage point. There are so many stops along the Grand Canal, that the boats seldom move very fast.




Some suggest that a great way to save money is to stay on the mainland, where costs are lower, then take the train or bus into Venice for the day. Personally, we think that this is false economies. We found a perfectly comfortable double room in a guest house right on the Grand Canal for 50 Euros, and you can pay less than that, especially if you book far enough ahead and avoid high season. Check the usual accommodation services such as Hotels.com or Booking.com, plus there are quite a few options on Air BnB. Some places have guest kitchens, so you could keep costs under control by preparing some of your own meals.
While mainland prices are undoubtedly lower, you have to add transportation costs and extra travel time. Money aside, it's just more pleasant to stay right in Venice and be able to take an early morning or late evening walk when the tour group crowds have thinned out. And it's easier to visit the more popular attractions in off-peak times. In short, you'll get more out of your Venice experience by staying in Venice.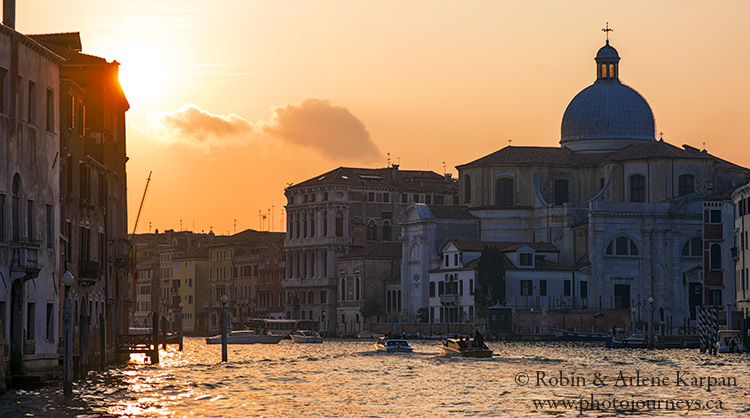 Other travel tips
Other than water routes on the main canals, you'll be walking everywhere, including to your accommodation, so try to travel light. Backpacks are clearly the most convenient option. The cobblestone streets and almost endless series of bridges with steps are not conducive to dragging wheeled-suitcases. We watched a lot of people struggling with these up and down the bridges.
Unless your visit is very brief, bringing a travel guide can be helpful in getting around and providing background information. Despite being such a popular destination, the tourist information offices don't have a lot of printed information to hand out.
Information offices sell street maps, but you can pick up an excellent free map from the Alilaguna boat line that runs the direct boat service from the airport.

PIN ME
Save