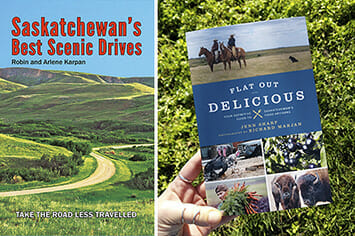 The winner is announced. Congratulations to Cathy who will be receiving a copy of Saskatchewan's Best Scenic Drives, and Flat Out Delicious. The draw was made on the evening of June 3.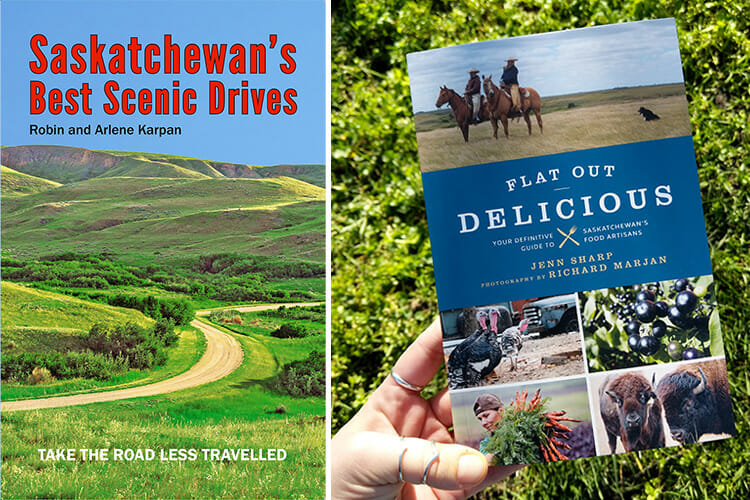 These two bestselling books are your keys to exploring Saskatchewan and eating well along the way. BOTH CAN BE YOURS. That's not all! You have TWO chances to win.
Just in time for summer, we've teamed up with Jenn Sharp, host and co-producer of the Flat Out Food documentary series on Citytv Saskatchewan and author of Flat Out Delicious for this double book giveaway. It's the perfect combo to guide you to cool places and great food!
Enter by leaving a comment below telling us your favourite place in Saskatchewan to go for a drive. A winner will be selected by a draw on June 3.
Saskatchewan's Best Scenic Drives
Saskatchewan is tailor-made for backroad exploring. We have more roads than any province in Canada – enough to circle the equator four times! Possibilities are mind-boggling, from drives through spectacular river valleys to sweeping natural grasslands, lake-studded boreal forest, wild badlands, some of Canada's largest sand dunes, breathtaking viewpoints, little-known hideaways, and historic treasures.
Drive a third of the way across Saskatchewan entirely in the Qu'Appelle Valley. Take a little-known backroad through the Big Muddy Badlands. Wander through the Thickwood Hills to the other-worldly Crooked Bush. Combine your drive with awesome hikes and nature walks to discover the best that Saskatchewan has to offer.
Winner of a Travel Media Award in the Saskatchewan Tourism Awards of Excellence, Saskatchewan's Best Scenic Drives shows you the way, complete with precise directions, GPS coordinates, and over 180 colour photos.
Flat Out Delicious: Your Definitive Guide to Saskatchewan's Food Artisans
Flat Out Delicious is a robust and inspiring travel companion for both local and visiting food-lovers alike that reveals the stories, inspiration, and friendly faces of the people who craft great food in Saskatchewan.
Author Jenn Sharp and photographer Richard Marjan spent four months travelling Saskatchewan, chatting at market stalls, in kitchens, bottling sheds, and stockrooms. Flat Out Delicious is the culmination of interviews with small-scale farmers and city gardeners, beekeepers and chocolatiers, ranchers, chefs, and winemakers. Together they tell the story of Saskatchewan's unique food systems.
The journey is organized into seven regions (including a chapter each for restaurant hotbeds Regina and Saskatoon), with essays that delve deeper—into traditional Indigenous moose hunts, wild rice farming in the remote north, and berry picking in the south. There are profiles of over 150 artisans, along with detailed maps, travel tips, and stunning photography, making the book the ideal companion for a road trip that involves plenty of stopping to eat along the way.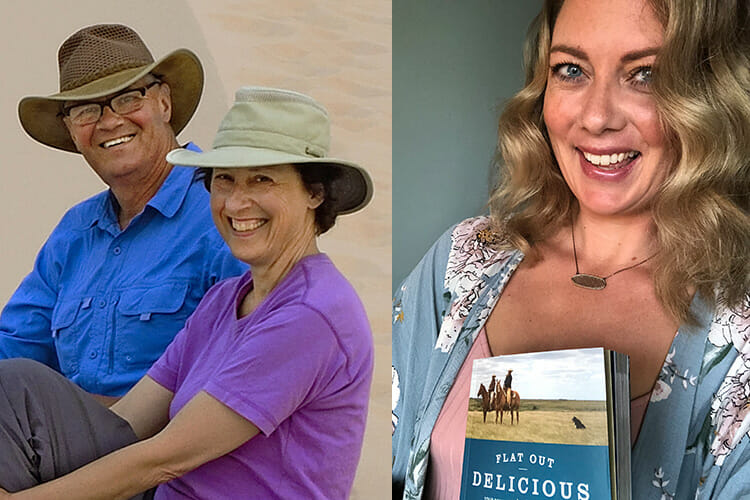 How to Enter
• Subscribe to photojourneys.ca (if you're already subscribed, you're halfway there). Sign up below in the footer, or on the sidebar.
• Go to the comments section below in this posting and tell us your favourite place in Saskatchewan to go for a drive. That's all there is to it. One entry per person.
• On June 3, 2021, we will draw from all valid entries and contact the winner by email for a mailing address to ship the books. In order to comply with Canadian contest regulations, the winner will be required to answer a skill-testing question. The winner's first name only will be announced.
Contest Rules
• The contest is open to all photojourneys.ca subscribers who are Canadian residents at least 18 years of age and have a mailing address in Canada (because of different contest regulations in Quebec, this contest is not open to residents of Quebec).
• The prize is one copy of the book, Saskatchewan's Best Scenic Drives, with a value of $24.95 and one copy of Flat Out Delicious, with a value of $25. The books will be sent to the winner postage paid.
• No purchase is necessary to enter the contest.
• The draw will be based on valid entries received in the comments section of this posting between May 27 and June 3, 2021.
• Chances of winning will depend on the number of valid entries received.
• The contest is sponsored by Parkland Publishing and Sharp Communications.
Double your chances to win
Jenn is also giving away the same two books on her Instagram and Facebook so be sure to enter there to double your chances of winning!
SUBSCRIBE to Photojourneys below