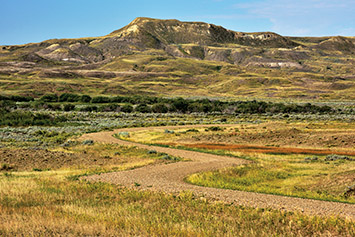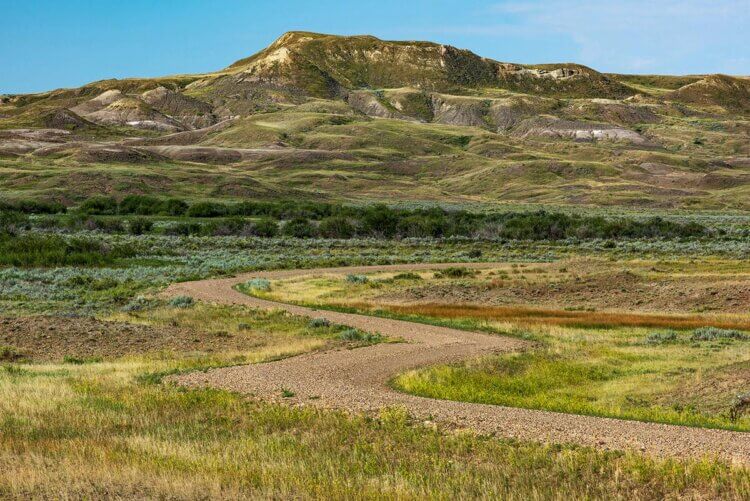 This scenic drive sees little traffic but is one of the most spectacular routes in and around Grasslands National Park. It can be explored as an extension to the park's popular Ecotour Scenic Drive in the West Block, an 80-km route that heads east of Val Marie on Hwy #18, south and east through the park, then west and north along grid roads back to Val Marie. While this is definitely a fantastic trip, it is possible to venture farther afield to see countryside that is just as striking but where relatively few people go. We describe the route in our books Photographer's Guide to Saskatchewan and Saskatchewan's Best Scenic Drives, but here is a brief overview.




As you drive the Ecotour road through the Frenchman River Valley, past prairie dog colonies and the Frenchman Valley Campground, you eventually come to an intersection where the Ecotour route turns right and heads out of the valley. But you can also continue driving east along the river valley. Some of this land is in transition; it was recently acquired by the park, but has been temporarily leased to ranchers for grazing. Just after crossing the river, you come to an intersection and can turn north or south.
The southern route follows the Frenchman River Valley to just short of the US border, then goes east, climbing steeply onto the valley rim, with gorgeous views over the rugged slopes and expansive valley. Immediately after reaching the valley rim, watch for a minor grassy trail heading south. The last time we were there, it led to the edge of a cliff where two of Parks Canada's famous red chairs overlooked the valley.




Return along the grassy trail to the main road which winds north, staying on the rim, but with views into the valley part of the way. About halfway along this section is the trailhead for the North Gillespie Hike, taking you near Little Breed Creek in a very remote and little-visited part of the park. It is not a marked trail, but rather a suggested 15-km route using GPS waypoints, detailed in the park's guide to hiking routes. A bit farther north, the road leaves the park and ends at a T-intersection. If you turn west, the road will lead back onto the park, making this an excellent loop trip. Turning east takes you to Mankota on Hwy #18, an attractive short-cut route to the park's East Block. If you decide to travel roads in this remote part of the park, it's a good idea to get updates on road conditions at the park information centre in Val Marie.

Fore more information, see Parks Canada's website.
SUBSCRIBE to Photojourneys below
Feel free to PIN this article on Scenic Drive in Grasslands National Park