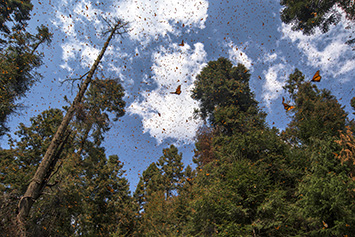 Last Updated on December 1, 2019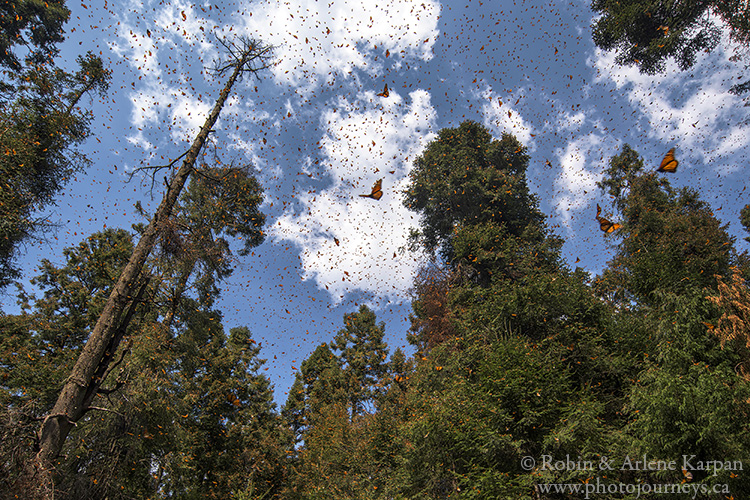 In the last post we talked about visiting Mexico's Monarch Butterfly Biosphere Reserve, home to one of nature's great wildlife spectacles. This time we'll get into the logistics of how to go about it. Guided excursions operate from Mexico City, Morelia, and other places around Mexico, but it is also fairly easy and economical to do it on your own (although it helps if you know a bit of Spanish). One advantage of travelling on your own is that your time is more flexible. Your experience at the reserve will depend heavily on the weather. The butterflies will be flying around in full force on a warm, sunny day. If it is cool, or even cloudy, they will tend to stay on the trees more and not fly around as much. When your time is flexible, you can always go the next day if your first visit was less than ideal. Or, if you're like us, go again the next day again simply because it's such a great experience.
Taking the Bus
The biggest and most accessible part of the reserve is El Rosario, up the mountain from the small valley town of Angangueo. Another reserve, Sierra Chincua, is also nearby. From Mexico City's Poniente Bus Terminal, there are a half dozen or so buses per day to Angangueo (Zina-Bus company), taking about 3.5 hours. Alternatively, several direct buses run per day to Zitacuaro, and from there frequent buses make the hour or so run to Angangueo.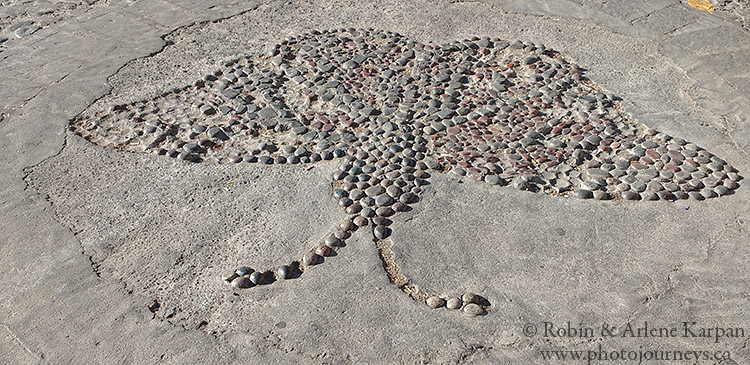 Piedra Herrada
On our recent trip, we wanted to visit another reserve, in addition to those near Angangueo. Piedra Herrada is about a half-hour outside the lakeside town of Valle de Bravo, a pleasant place to visit in its own right. From Mexico City's Poniente Terminal, Valle de Bravo is only two hours by direct bus (not all are direct). From there, we arranged with a taxi driver to take us to the reserve, then come back for us four hours later (200 pesos each trip). During our visit there were about 15 pesos to the Cdn Dollar, or 20 pesos to the US Dollar.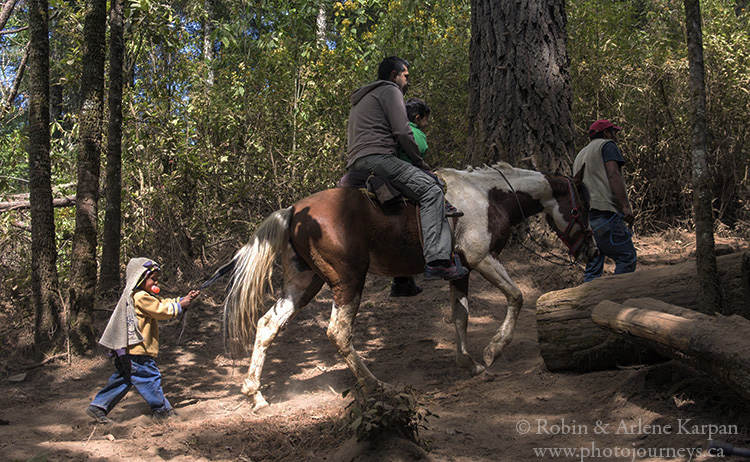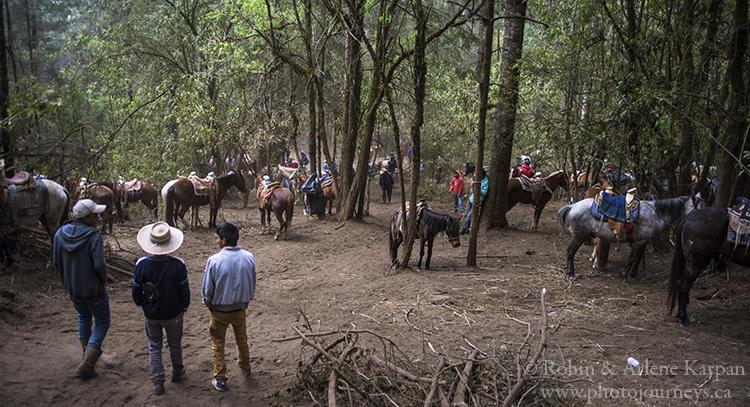 Admission to Piedra Herrada is 60 pesos. It's quite a walk uphill to get to where the Monarchs are hanging out, so there's the option of hiring horses (200 pesos), which we did. Even taking the horses, you have to walk the last short stretch to get to the butterflies. We could feel the altitude, so we were glad we had opted for the horses. As we got closer, we could the see branches of trees thick with Monarchs. While it was certainly an impressive sight, the weather had turned cloudy and stayed fairly cool, so only a few butterflies were flying around.
Angangueo and El Rosario
The next day, we decided to press on to Angangueo. There is no direct bus route; we had to take one bus to Villa Victoria at the crossroads of two highways, take another bus to Zitacuaro, then another to Angangueo. It all worked fairly smoothly. One thing we really like about Mexico it that you can go almost anywhere by bus.
El Rosario is about a half-hour from Angangueo. There's plenty of taxis, and also a shuttle bus that runs very limited times (30 pesos each). We took the 11:00 am shuttle, which turned out to be good timing because the butterfly activity was at its peak in late morning and early afternoon. Admission to El Rosario is 50 pesos, and that includes a guide (all visitors have to be accompanied by a guide). Our guide was Filiberto, who had been working at the reserve for many years and was very knowledgeable. Here too, it's an uphill walk mostly along stairways to get to the butterflies, and you can hire horses. However, we didn't find the walk too bad, and didn't bother with horses. Still, we could feel the altitude of over 3,000 metres, and had to take it easy.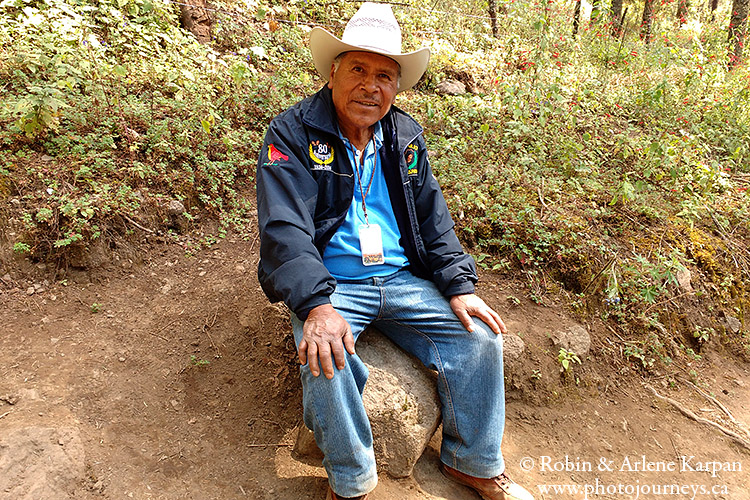 The scene was nothing short of magical, and it kept getting better the farther we went. At one point, we looked over an area of the forest where almost every tree branch was drooping with heavy layers of butterflies. Most impressive was the thousands upon thousands that filled the air. As a general rule, you are not supposed to spend too much time at the main viewing area, so that it doesn't become congested with people. But since visitors were few on this Tuesday in mid-February, we weren't rushed at all. If there is one main thing to take away from this posting, it's the importance of visiting on a weekday. Visitor traffic is light during the week, even though this is prime season. Things change dramatically on weekends, when a lot of people come from Mexico City and other nearby places. At the end of our visit, we had hoped to take the shuttle back down to Angangueo, but it was uncertain when it would come, if at all. Just by luck, we met people who were heading back in their car who offered us a ride.

Our original plan was to go to the reserve at Sierra Chincua the next day. But we heard reports that fewer butterflies were in that vicinity, so we decided to go back to El Rosario. Our second visit was just as good, but different. The butterflies may move to different areas from day to day, so the reserve may open or close various pathways depending on the activity.
This time we hired a taxi to take us to the top (100 pesos). The driver arranged for someone at the reserve to call him when we wanted to return. But for whatever reason, he didn't show up. We were able to take a shuttle to the town of Ocampo, just down the road from Angangueo, then a taxi from there. If you don't want to take your chances with transport, the most reliable would be to have a taxi take you to El Rosario and wait while you visit the reserve.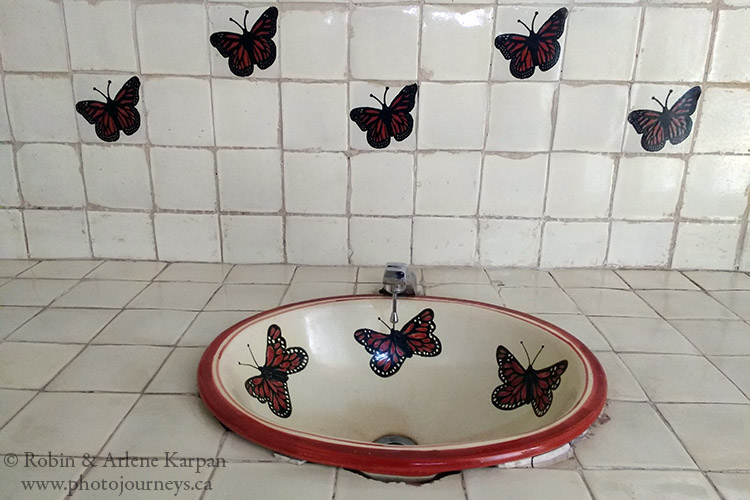 The Photography Experience
To capture the phenomenon of a gazillion butterflies in the air, it's essential to go when it's warm. During our visit, prime time was around midday. Midday light generally isn't ideal for photography, so it's a trade-off. If you go too early, it might be too cool and the Monarchs might stay on the trees. A wide-angle lens is great to capture the grand scene, although a telephoto is also useful to zero-in on individuals and clusters. While a fast shutter speed helps to stop the action and better your chances of getting sharp images, don't overlook purposely using a slow shutter speed to blur some of the butterflies in the air, heightening the feeling of movement. We found that manual focus worked best. Focus on a tree branch in the middle of the scene, for example, and leave it there. With so much movement in the air, the autofocus is constantly searching, resulting in more fuzzy images.
Save
Feel free to PIN this article