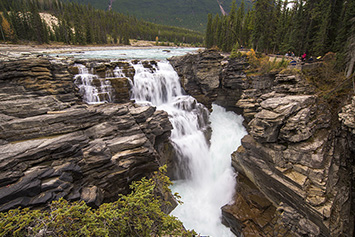 The Icefields Parkway is one of the world's most spectacular driving tours. Towering snow-capped peaks, magnificent river valleys, picture-perfect waterfalls galore, wandering wildlife, and walls of ice dripping from the largest glaciers in the Rockies can all be seen without leaving your vehicle. Of course, you'll want to get out of your vehicle – a lot. There's viewpoints and walking trails all along, from short easy strolls to challenging backcountry treks.



The parkway runs for 230 kilometres between Lake Louise and Jasper, encompassing parts of Banff and Jasper National Parks. There are so many waterfalls along the way that you may have to pick and choose. Immediately beside the highway is Tangle Falls where Tangle Creek forms a series of wispy drops. Also visible from the road is the Weeping Wall, where thin waterfalls stream down a massive cliff face, making it look like it's weeping. Sunwapta Falls is another highlight; a short path leads to viewpoints where the Sunwapta River drops through a narrow canyon. The big daddy of them all is powerful Athabasca Falls, where the Athabasca River has carved an impressive gorge. Walkways and lookout points get you close enough to feel the spray.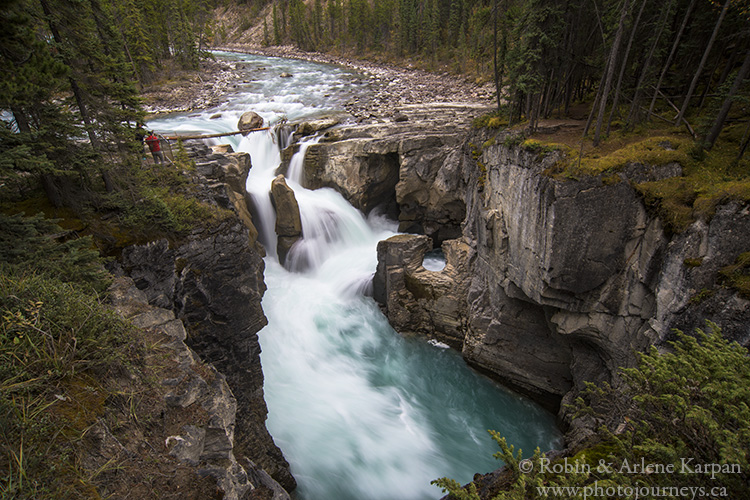 Our favourite stop on the southern part of the route is Peyto Lake near Bow Summit, the highest point along the road. Its almost unreal blue colour is caused by particles in the glacial water. The officially designated lookout point is so popular that it is almost always jam-packed with selfie-stick wielding tour bus crowds. Walk just five minutes farther along a minor trail, and you come to a rocky point where few people venture and the view is even better.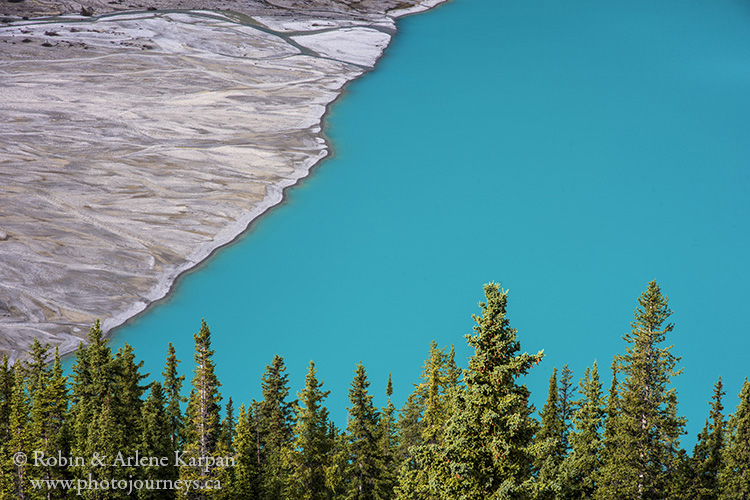 Glaciers Galore
As the name suggests, this is a route for ice where you can see seven major glaciers and around 25 smaller ones. The highlight is roughly halfway along where glacier tongues in close proximity extend from the expansive Columbia Icefield. The largest is the Saskatchewan Glacier, where the North Saskatchewan River originates. Melt water from the mountain peak above Snow Dome Glacier feeds three oceans: the Pacific, Atlantic and Arctic.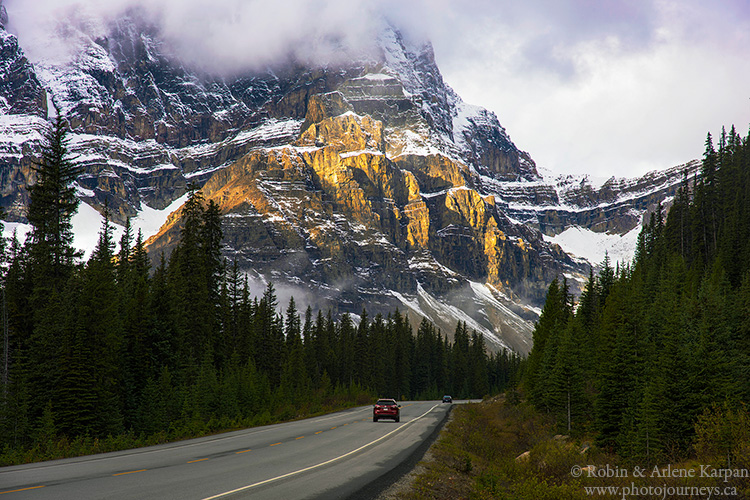 The most accessible is the Athabasca Glacier. Facing it, the Icefield Centre has exhibits, an information office, restaurant and hotel. A walking trail leads almost to the edge of the ice, but to get up close and personal, you can take a trip onto the glacier itself.
Walk on a Glacier
Unique and massive Ice Explorer vehicles, built specifically for this purpose, travel up the steep, rocky moraine and then onto the ice. Standing on the surface of an imposing glacier was a surreal experience. We looked above and below at the uneven ice sheet sandwiched between high walls of glacial moraine and peppered with crevasses, rivulets and pools of melting water. If you prefer sitting, there are Parks Canada's familiar red chairs on the ice.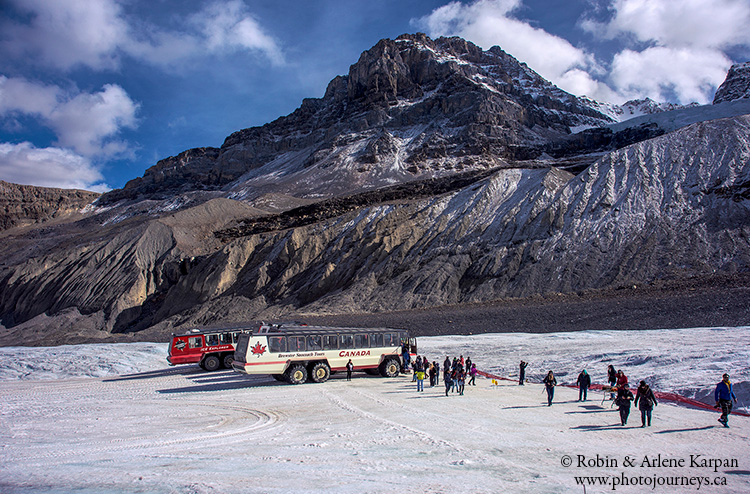 A relatively new addition is the nearby Glacier Skywalk, a cliff-edge walkway that extends onto a glass-floored observation platform where you look down to the Sunwapta Valley 280 metres below. It was an eerie feeling as we took our first dizzying steps onto the platform and looked straight down to the river and waterfalls way below.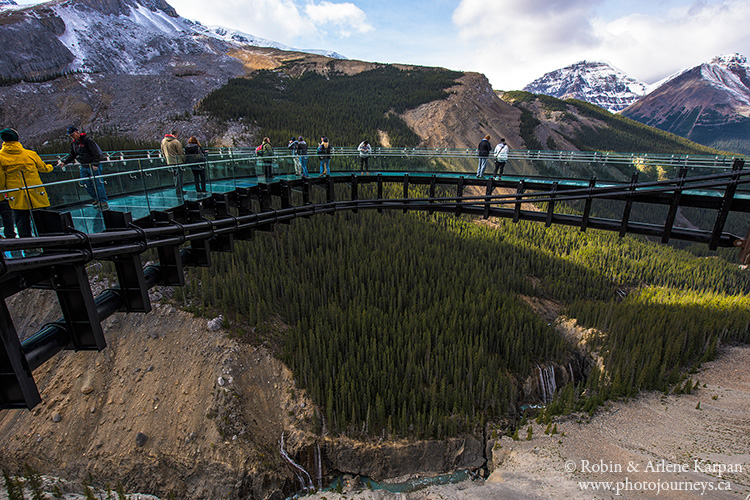 While 230 kilometres doesn't sound far, this is a trip that shouldn't be rushed. We consider two days to be the absolute minimum, preferably longer, not counting exploring Jasper and Lake Louise at either end.

Admission is free to all national parks in 2017 in recognition of Canada's 150th anniversary. For more information, visit www.pc.gc.ca. See Brewster Travel Canada's website at www.brewster.ca for information on the Glacier Skywalk and Glacier Adventure walking on the Athabasca Glacier.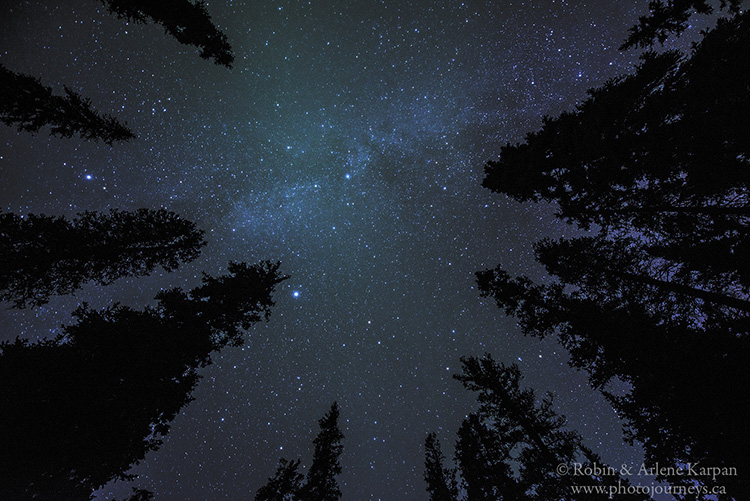 Feel free to PIN this article