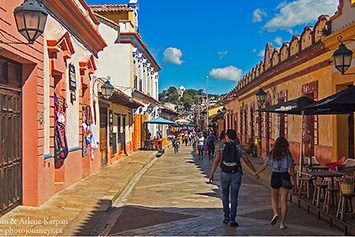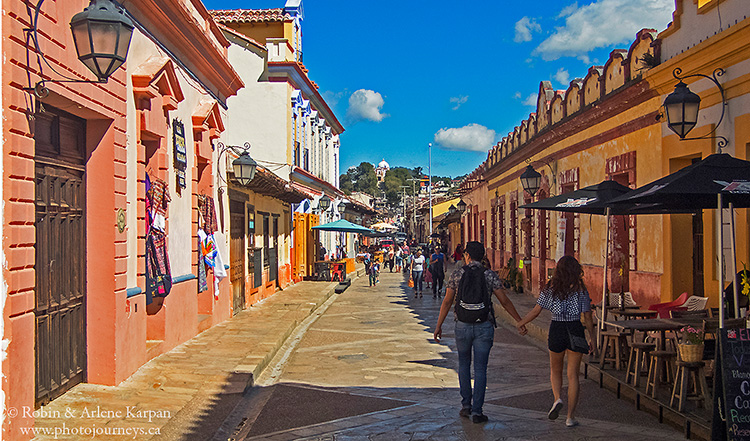 San Cristobal de las Casas is considered the cultural capital of Chiapas, Mexico's southernmost state and certainly one of its most scenic. It sits in a high mountain valley lined by pine forest. Surrounding it is a land of rainforest, mountains, wild rivers and waterfalls. The town's high proportion of indigenous residents impart a distinct Mexican flavour in the arts, culture, and traditions.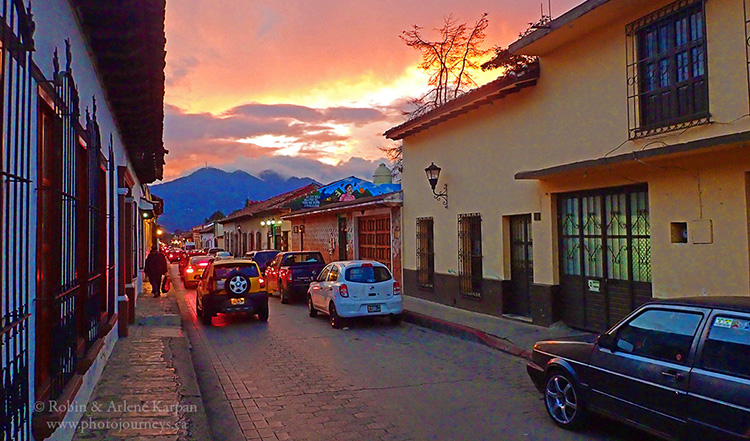 Founded in 1528, the Spanish colonial town has narrow cobblestone streets lined with vibrant multi-hued buildings and ornate ancient churches. It's an official "Magical Town" as designated by Mexican tourism authorities, because of its historical and cultural significance. UNESCO also designated it a Creative City of Crafts and Folk Art.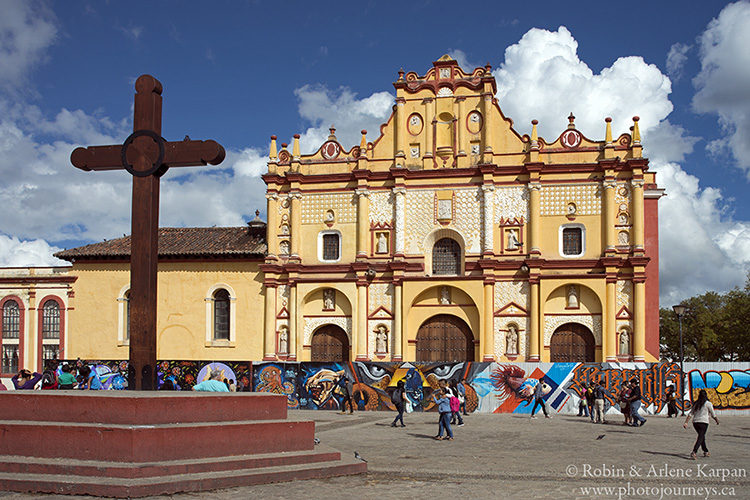 It is a pleasant, walkable place, with some pedestrian-only streets in the centre lined with sidewalk restaurants and colourful markets. Dominating the centre square is the brilliant yellow cathedral dating to the 16th century, with numerous other ornate colonial churches nearby. If you really want a workout, head to the Guadalupe Church and the Temple of San Cristobal, each on hilltops at opposite ends of town and accessed by a long series of steps. The views are worth it.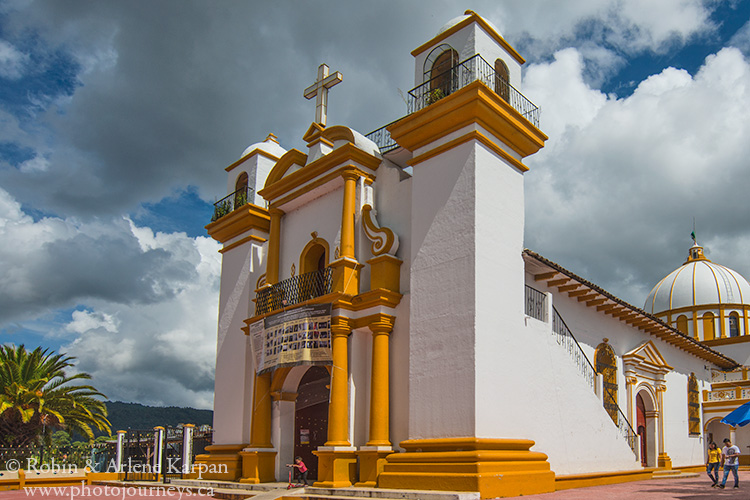 The first thing we noticed during our fall visit was the climate. We had just come from Palenque where it was sweltering hot day and night. Even nearby Tuxtla Gutierrez, at lower altitude, was fairly hot. But San Cristobal's 2,200-metre elevation makes the air a bit crisper. We found it pleasantly warm during the day, but in the evening we needed sweaters or light jackets.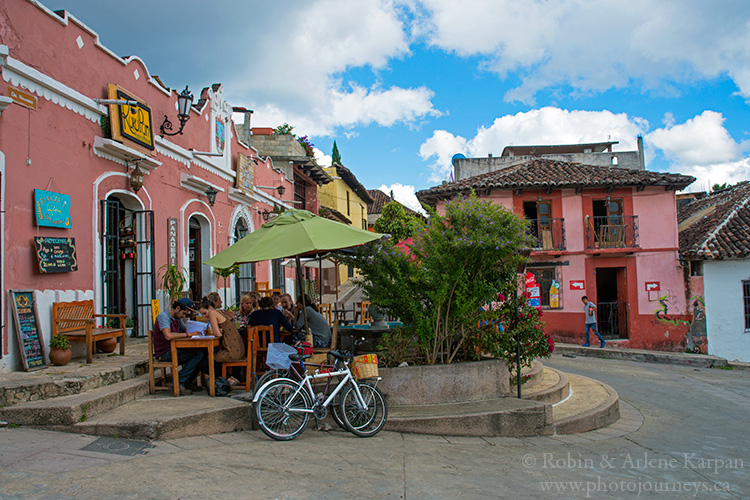 Restaurants, bars, and specialty coffee shops cater to every taste. A famous spot is La Vina de Bacco on the main pedestrian street. Primarily a wine bar, it's famous for its down to earth prices (with excellent wines starting at 20 Pesos per glass – or just over a dollar) and free tapa snacks. Sitting at one of their sidewalk tables, sipping wine, and watching the world go by isn't a bad way to while away some time.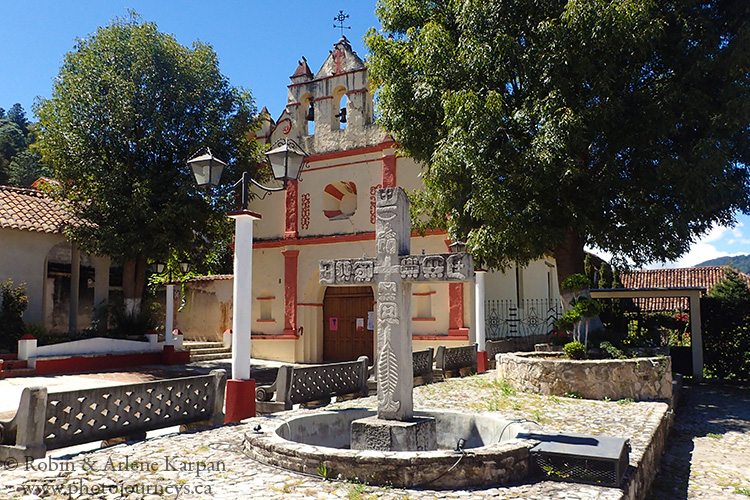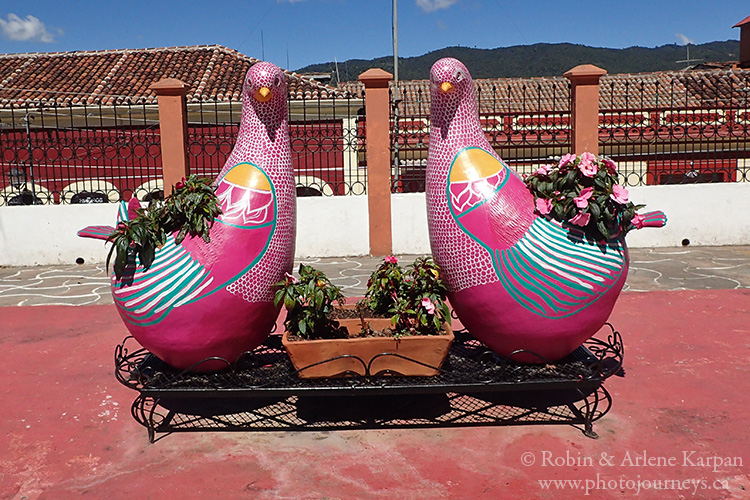 A big bonus is that your money goes a long way here. For example, our organized day trip to the Sumidero Canyon (easily booked the day before) cost just 350 Pesos each (about $23 CDN or $18 US), including hotel pickup, the two-hour boat tour, national park admission, a drive to three lookout points on the canyon rim for views that were just as impressive as from the water, plus a stop at the colonial town of Chiapa de Corzo.
Free Walking Tour
What could be better value than free? San Cristobal has twice-daily free walking tours. We expected a quick overview, but instead got an excellent in-depth walk around town that lasted well over three hours and left us exhausted.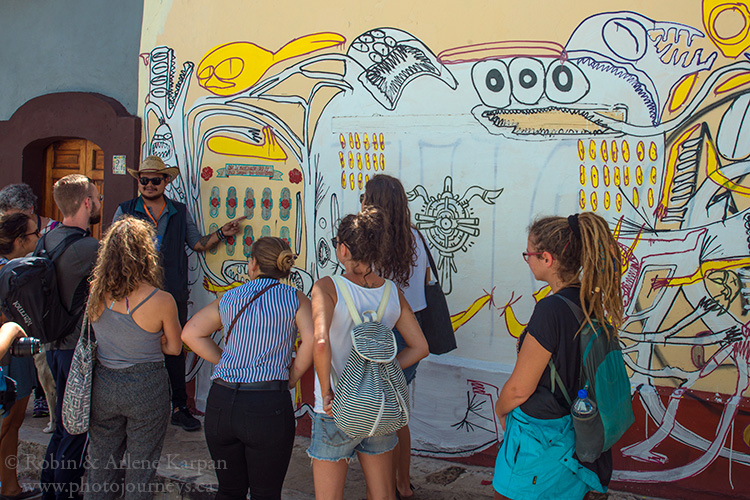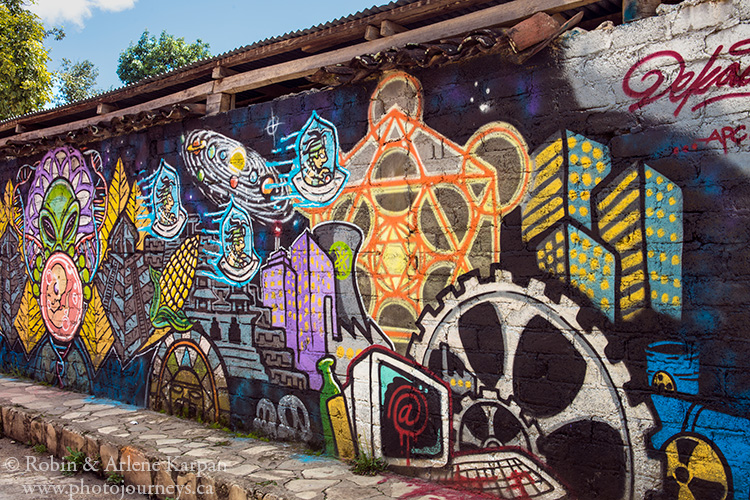 Our guide, Tony, speaking Spanish and English, not only covered the main historical highlights, but also took us to hidden-away spots that we would never discover on our own. There were even stops to sample locally grown coffee (for which Chiapas is justifiably famous), cacao and chocolate, and most intriguing — pox, pronounced "posh".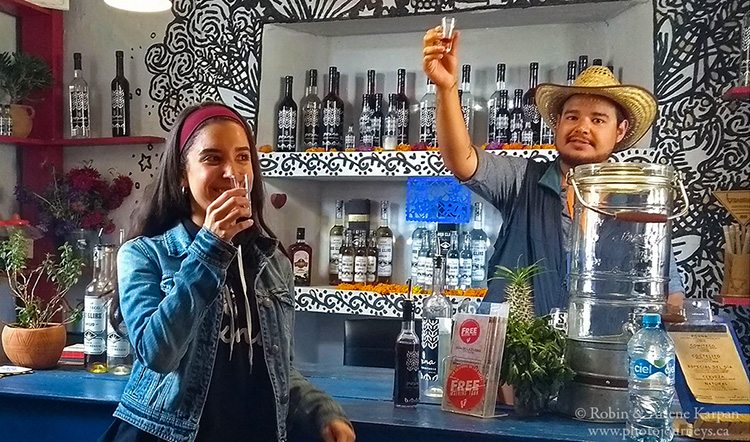 Pox was a moonshine-like drink made from distilled corn and used in age-old traditional Mayan ceremonies. More recently, it has become a mainstream drink, even going upscale with refined distilling and infused flavours. Mixing it with coffee is said to make you wide awake yet calm at the same time.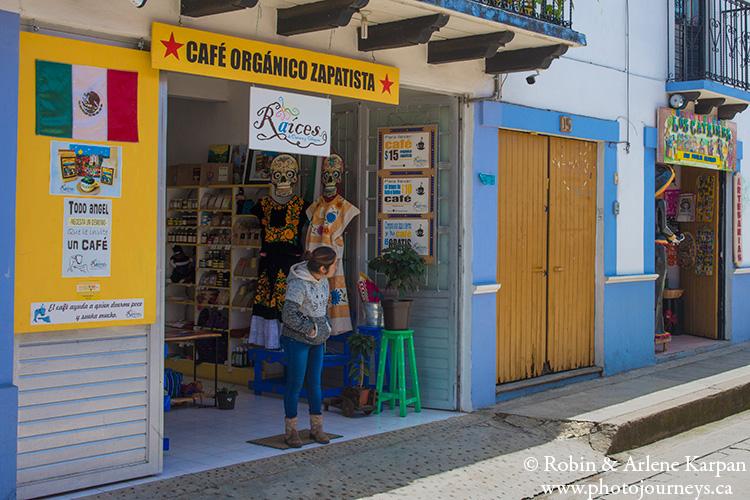 Most unusual were shops dealing with posters and paraphernalia of the Zapatista era, which seems to have almost a cult following. Chiapas, and particularly San Cristobal, burst onto the world news in 1994 with the short-lived Zapatista uprising, which began on the day that the North American Free Trade Agreement came into force.
The main grievance was that the mostly indigenous farmers of the area feared loss of their communal landholdings, which would no longer be protected under the terms of NAFTA. The fighting didn't last long, yet today there are still some remote parts of the state where the federal government has only tenuous control.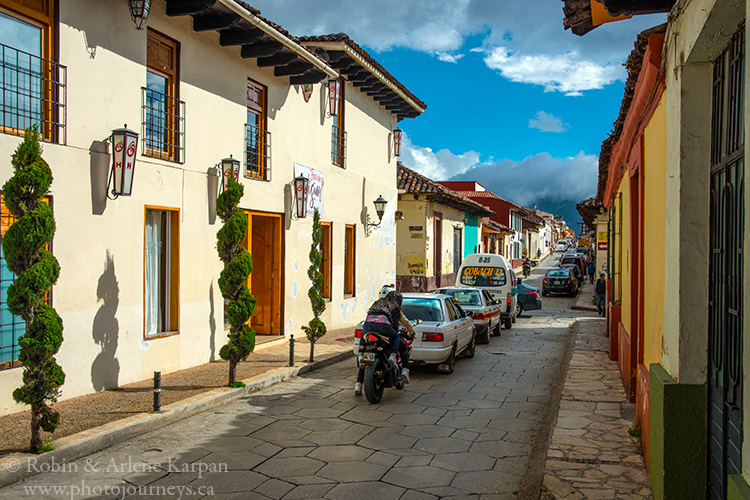 Sumidero Canyon
Part of the draw of visiting San Cristobal is that the city is also the jumping-off point for visiting other sights in this part of Chiapas. Local tour companies offer a number of trips to traditional villages, lakes, and waterfalls. But the top excursion is undoubtedly to the nearby Sumidero Canyon.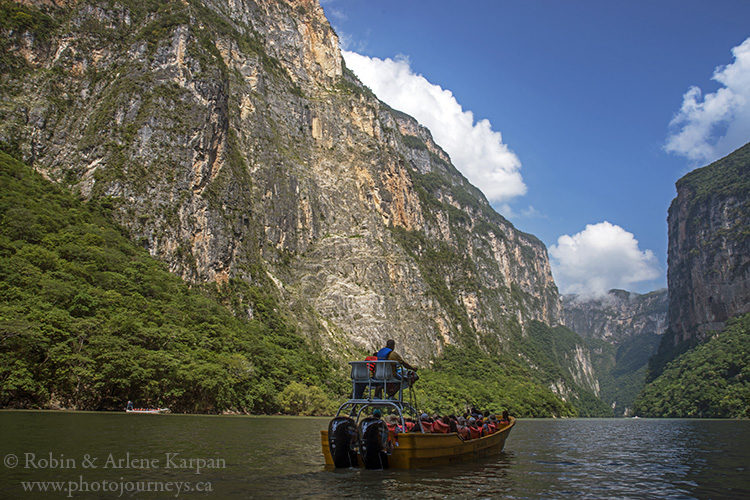 The Sumidero Canyon is one of Mexico's most magnificent natural sites. The mighty Grijalva River slices through a major fault line, lined with massive vertical cliffs, some up to a kilometre straight up. You can enjoy the awesome scenery in two different ways – from a boat trip through the canyon, as well as from road-accessible viewpoints along the canyon rim. And the best part is that visiting is both easy and very inexpensive.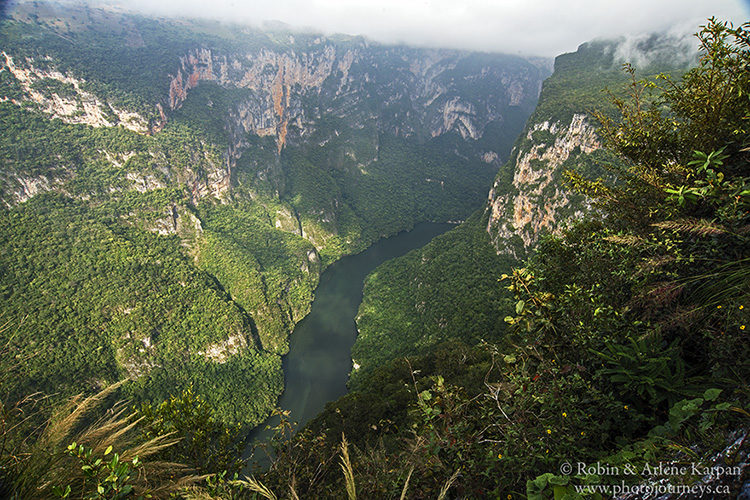 We gazed up at sheer cliff faces as our boat zigzagged through narrow passages between canyon walls. We stopped to see caves and strange rock formations, or to get closer looks at birds or spider monkeys playing in the trees.
Most impressive was the Christmas Tree Waterfall. Wispy streams of water from a small cataract halfway up a cliff keep moss-covered rock formations perpetually wet, resembling boughs on a Christmas tree.
For a more detailed description, see our posting Visiting Mexico's Spectacular Sumidero Canyon.
Getting to San Cristobal
We arrived in San Cristobal by bus from Palenque, Chiapas' other famous destination, as do many travellers. There are two main routes – the long route via Villahermosa (close to nine hours) which the ADO bus takes, and the shorter route via Ocosingo (5-6 hours) in a small bus or van, along rough roads where there have been ongoing reports of security problems such as roadblocks and robberies. We didn't find it a difficult choice at all. The ADO bus trip, though longer, was very comfortable and worry-free.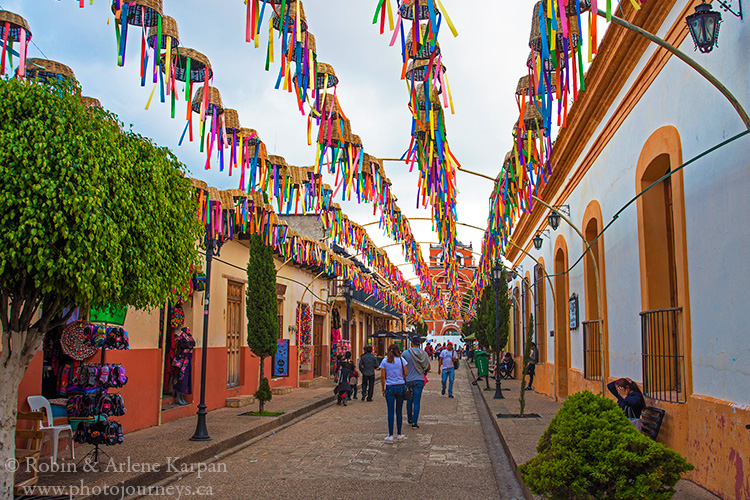 A reason that some people choose the Ocosingo route is that the transfers sometimes include stops at waterfalls along the way, although these can also be done as day trips from Palenque. Before considering the Ocosingo route, be sure to get updated information on the security situation.
At the end of our visit, we flew to Cancun, where we had started our journey. While San Cristobal seems tucked away near the bottom of Mexico, it is only an hour away by bus from the airport in nearby Tuxtla Gutierrez, the state capital, with frequent shuttles between the airport and San Cristobal. We found that domestic flights within Mexico can be fairly inexpensive, especially if you're flexible with dates. For longer distances, flights are sometimes cheaper than the bus.
SUBSCRIBE to Photojourneys below
Feel free to PIN this article