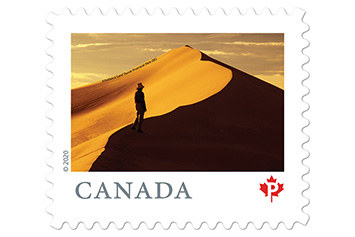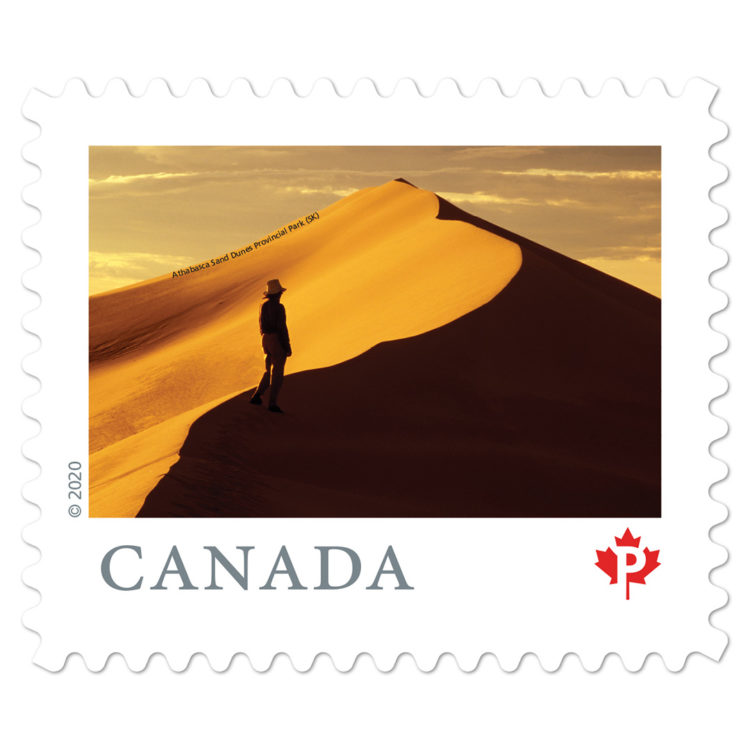 We're thrilled to have our photo of Saskatchewan's Athabasca Sand Dunes featured on a new postage stamp. It's part of Canada Post's From Far and Wide 2020 stamp series featuring "Nine Must-See Canadian Sites". This is a permanent domestic rate stamp good to use for years to come. It is also available as a postage-paid postcard that can be mailed to anywhere in the world. Today we'll look at what was involved in getting that shot. It was anything but straightforward.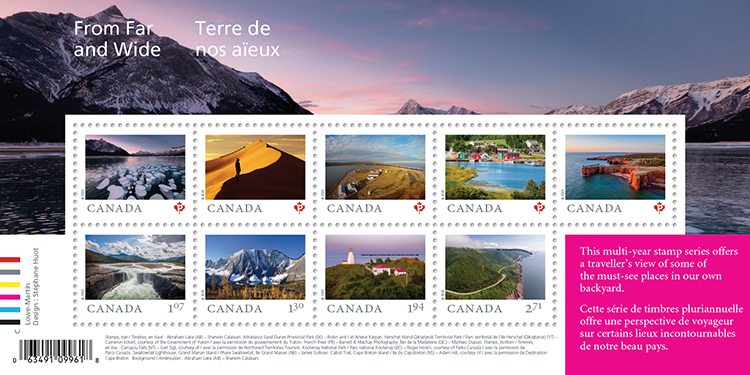 Canada Post's official announcement called these nine places "Canada's most breathtaking vistas". The Athabasca Sand Dunes certainly fits that description. Here we find the largest active sand surface in Canada, and the most northerly major sand dunes in the world. They extend for about 100 km on the south shore of Lake Athabasca, near the northwest corner of the province.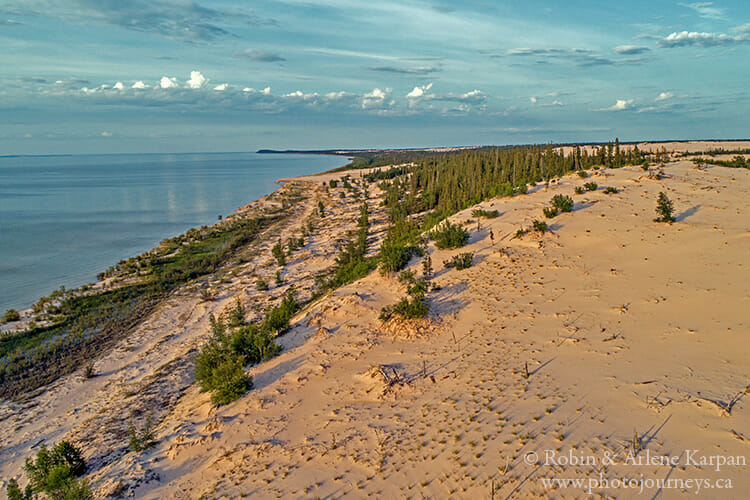 Unlike most of the world's great sand dunes which are in deserts or at least arid areas, these dunes lie in the midst of boreal forest and lakelands, and are sliced by three rivers that flow into Lake Athabasca. The unique and fragile ecosystem, which includes several rare and endemic plants, is protected within Athabasca Sand Dunes Provincial Park.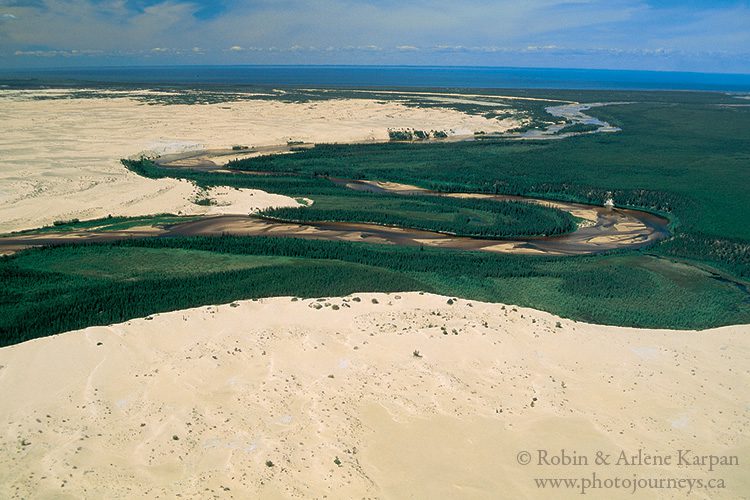 This is strictly a wilderness park, very remote with absolutely no infrastructure – no roads, no regular transport, no buildings, no people, and don't even think about cell service. The only way to travel here is to be completely self-sufficient for wilderness camping.
To get to the dunes you either have to fly in by chartered float plane or arrange for boat transport from one of the communities on Lake Athabasca, which are remote in their own right. Once at the dunes, the options are to hike or travel by boat or canoe along the south shore.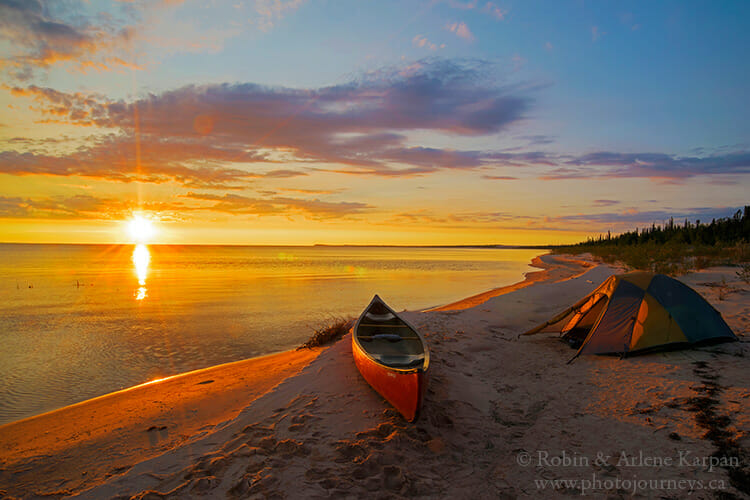 William River is Gateway to the Biggest Dunes
The William River is the main waterway running through the dunes. For most of its length it is riddled with rapids and shallow rock gardens, then suddenly it gets so clogged with sand that it spreads into a wide, shallow braided stream with not a rock in sight.
To get to the spot where we got the photo for the stamp, we first have to canoe upstream on the William River for 18 km to end of the rapids. This is only possible when water levels are high enough. And even when there is enough water, it takes us a day and a half because we're battling the current and frequently running aground in the shallow, sand-clogged river.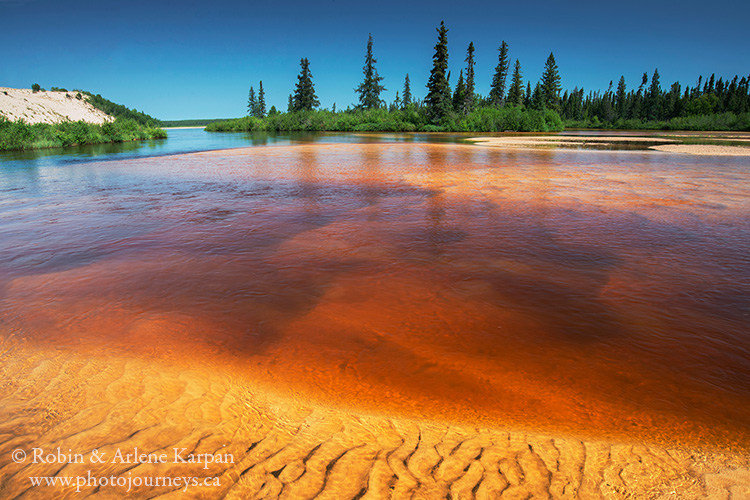 Once we paddle as far as we can upstream, it's at least a two-hour hike into the vast William River dune field to get to the first of the giant dunes. It is only possible to do this hike when winds are low enough so that we don't get caught in a sandstorm. There are some 40 giant dunes, some reaching 30 metres high and extending up to a kilometre long. Many towering dunes have a knife-edge crest, sculpted by wind action.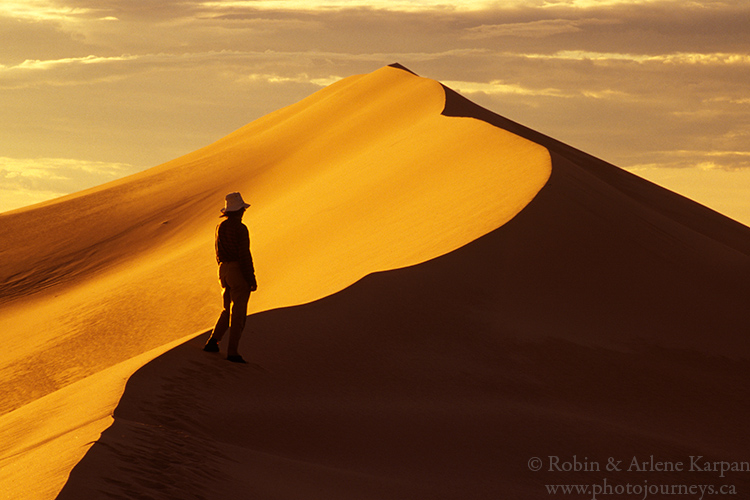 The prime time for photography is just before sunset, as the low sun throws one side of the dune into shadow and illuminates the other side with a rich golden glow. It may not be easy to get here, and conditions have to be just right to get the photo we want. But as we stand atop the magnificent dune, with no signs of "civilization" anywhere in sight, there is nowhere we would rather be.
For more details and photos, see our blog posting Exploring Saskatchewan's Athabasca Sand Dunes.
See Canada Post's website for details on the From Far and Wide 2020 Series
SUBSCRIBE to Photojourneys below
Feel free to PIN this article