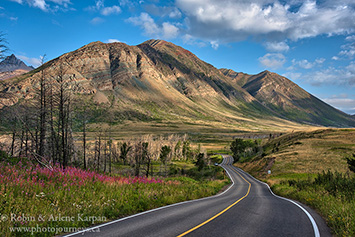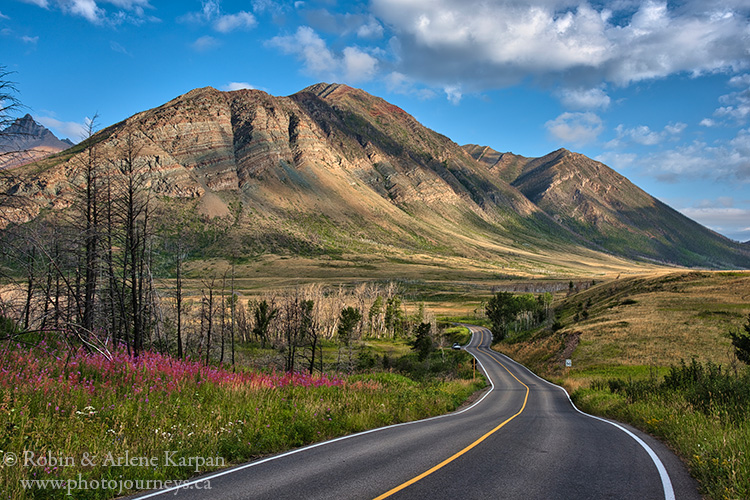 Waterton Lakes National Park is unique in so many ways. Tucked into the southwest corner of Alberta, the most obvious part of the landscape is the abrupt change from the Great Plains to mountains. Unlike farther north, no foothills provide a gradual transition. One minute you're travelling across open prairie, then suddenly you're surrounded by massive mountains.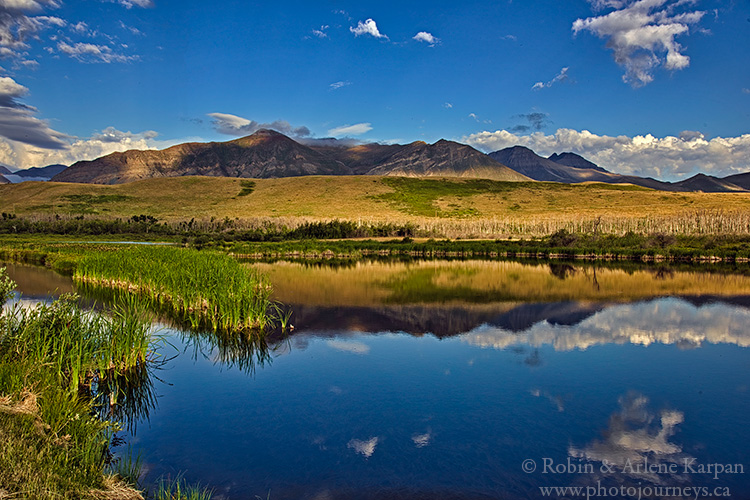 What Makes Waterton Unique
Though it's the smallest of Canada's Rocky Mountain national parks, Waterton packs in more than its fair share of biodiversity. It's home to a rich array of wildlife, including large predators such as bears, wolf, coyote, and cougar. It has over half of Alberta's plant species including a long list of rarities and has more plant species than any other park in the Canadian Rockies.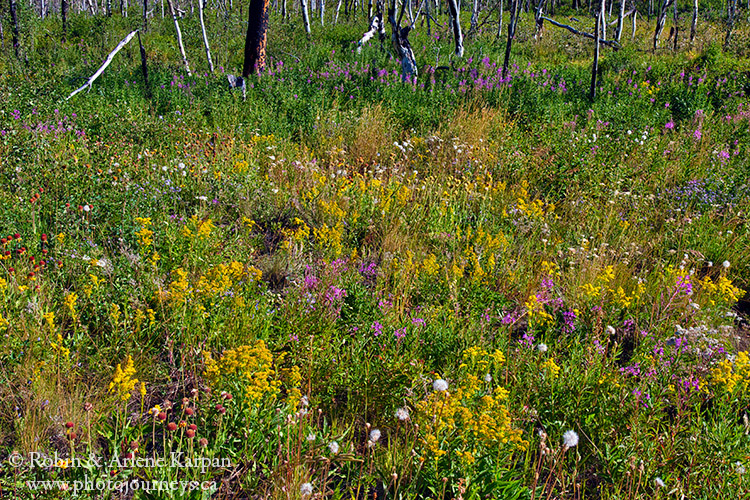 The park is famous for having some of the best wildflower displays in North America. Spring and early summer are considered prime time for flowers, but things were not too shabby during our visit in mid-August. Indeed, fireweed that now carpets much of the forest floor reaches its peak bloom later in summer.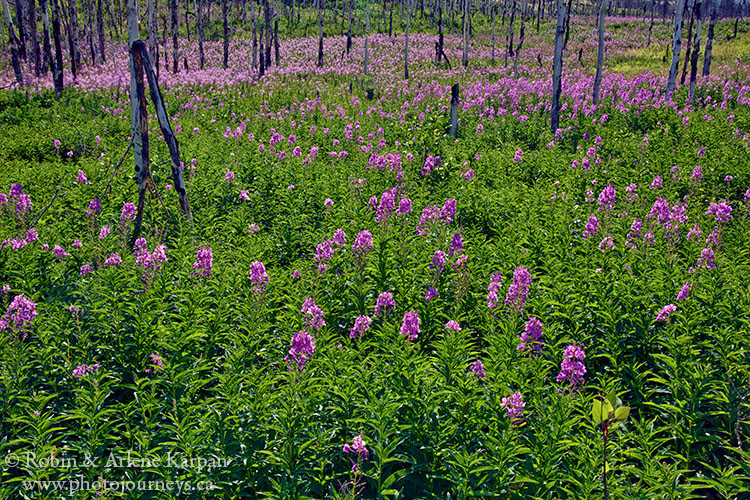 The park has been recognized by a long list of official designations including UNESCO World Heritage Site, Biosphere Reserve, and International Dark Sky Park. Next door to Glacier National Park in Montana, the park is part of the Waterton-Glacier International Peace Park.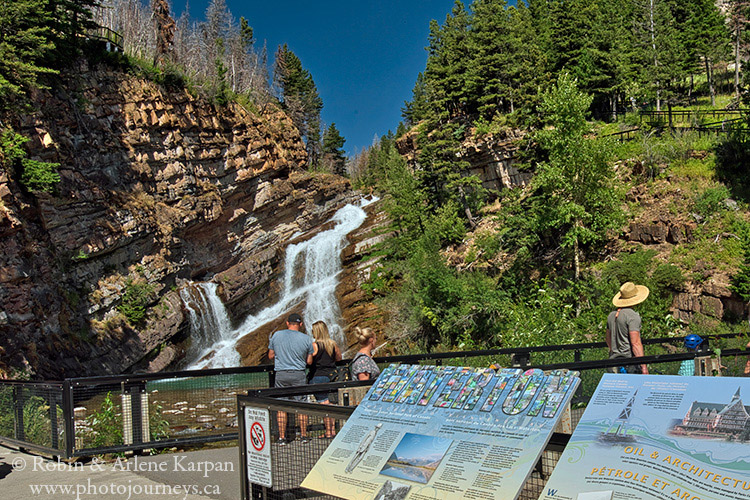 Challenges with 2017 Kenow Fire, and 2020 Pandemic
All national parks faced shutdowns and restrictions, then gradually reopened in light of Covid-19. But that wasn't Waterton's only challenge. In 2017, the massive Kenow Fire swept through, burning over a third of the park. Rebuilding much of the park's infrastructure took years. The good news is that a lot, though not all, of that rebuilding is either done or nearing completion.
This summer saw the reopening of two of the park's top attractions – the Red Rock Parkway road to the spectacular Red Rock Canyon, and the Bear's Hump Hike with its breathtaking view over Waterton's townsite and the lakes and mountains beyond. The Akamina Parkway to Cameron Lake was still closed during our visit though road repaving was almost finished.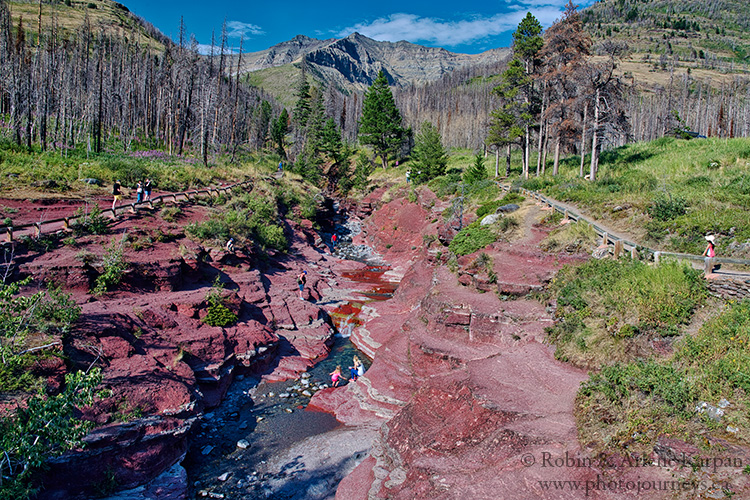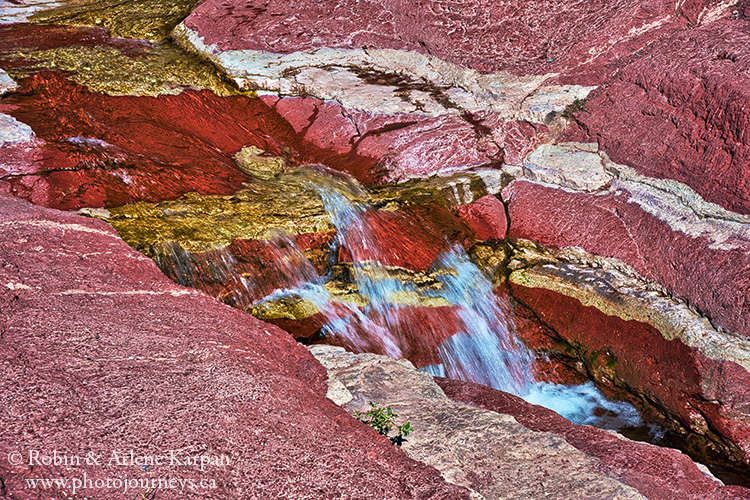 Activities to Suit Everyone
One of the top park activities is hiking, with wonderful trails ranging from challenging backcountry treks to some short and fairly easy hikes through some amazing terrain (we'll be following up with a posting on a few of these shortly).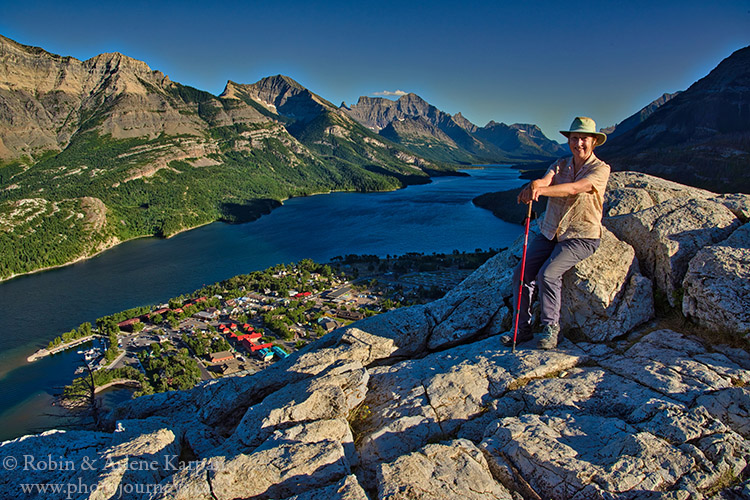 Biking is quite popular as well, with a local shop, Pat's, doing a bustling rental business with various types of bicycles including electric bikes. Recently, the park has been closing the Red Rock Parkway to vehicle traffic certain mornings to make it easier for cyclists to travel this iconic route.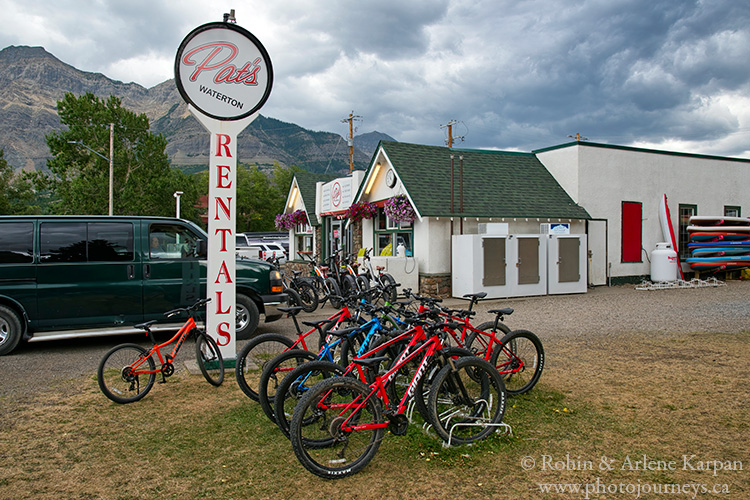 Wildlife viewing, scenic drives, canoeing and kayaking, swimming, photographing wildflowers, and the non-stop scenery round out some of the other activities. The tour boat operated by the Waterton Shoreline Cruise Co. started running again this summer, complete with commentary as you travel through gorgeous surroundings.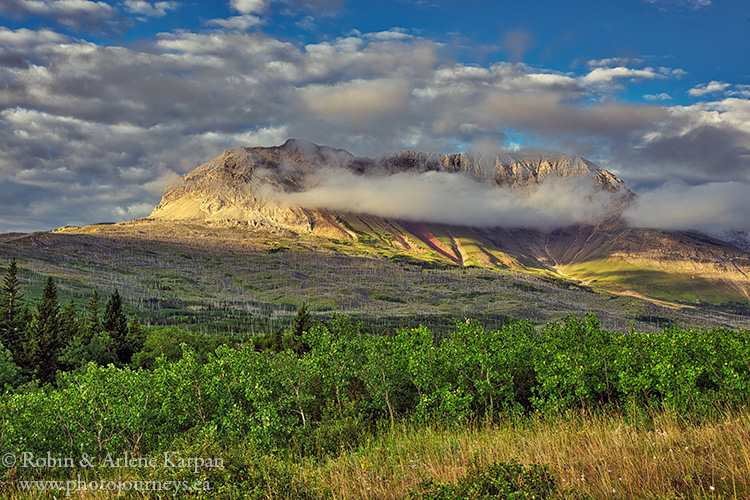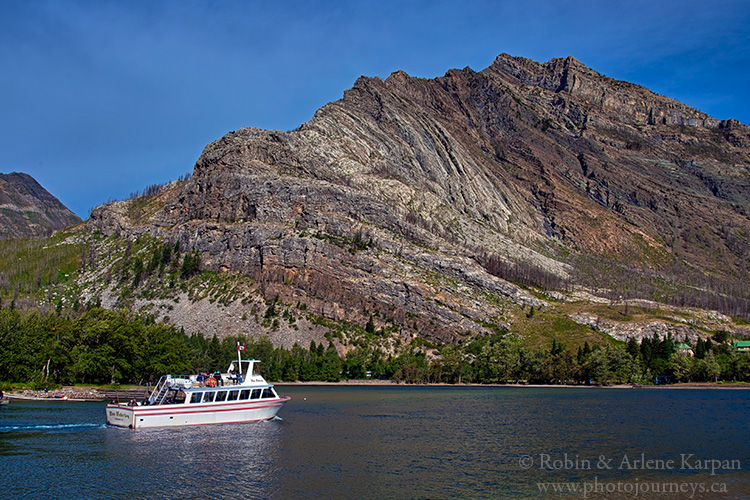 A definite highlight for us was the trip run by Dark Sky Guides. We travelled well away from the townsite, then hiked another kilometer to a remote spot with absolutely no light pollution for the best in star-gazing and stories of the night sky. Much more about this in an upcoming post.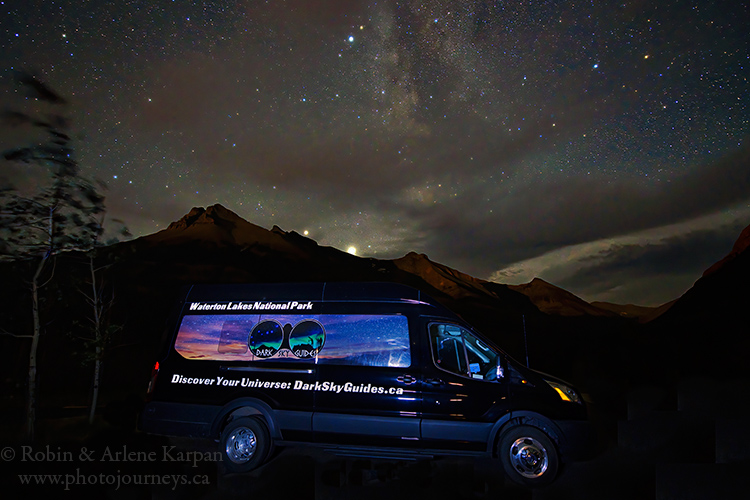 Eateries and Places to Stay Abound
The Waterton townsite is fairly small – you can walk everywhere – a welcome change from some parks which have a more urban feel. Yet Waterton has everything you need including a variety of accommodation, eateries and other shops. One of the most popular take-out spots is Wieners of Waterton, which bills itself as "not your ordinary hot dog shop". The meat is grilled when ordered and they bake fresh buns every day. The range of toppings is nothing short of impressive, and many regular customers consider the sweet potato fries reason enough for a visit. Be prepared for line-ups near mealtime. If fine dining and international cuisine is more your style, a popular choice is the Lakeside Chophouse, complete with meals prepared by an award-winning chef, and a lakefront patio with stunning views.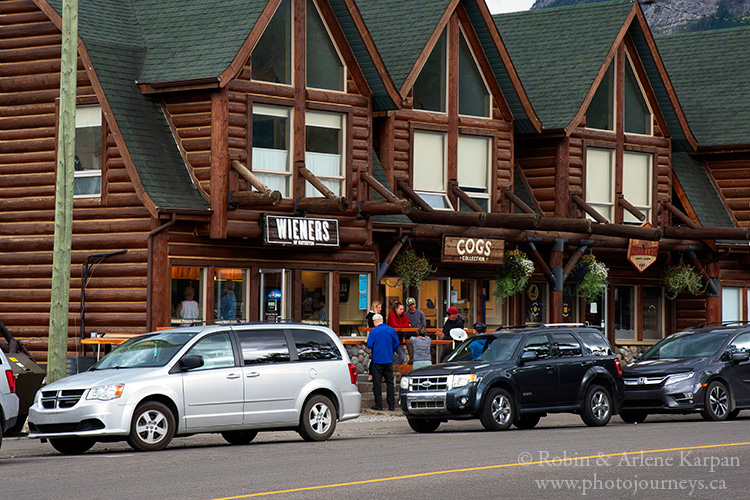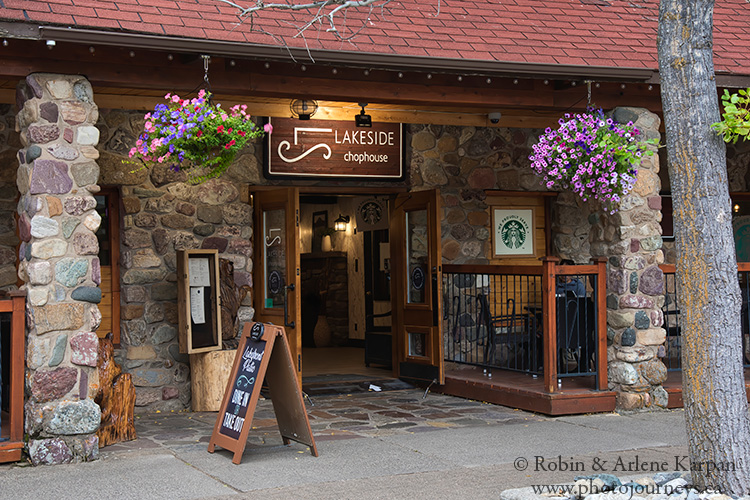 Currently, the main campground in the townsite is the only one open. The Crandell Mountain Campground along the Red Rock Parkway has been closed since the fire, and will be rebuilt. Other accommodation runs the gamut from simple to snazzy. At the top of the list is the famous Prince of Wales Hotel, which is one of the most beautifully situated of any hotel in Canada. The historic railway hotel was built in 1927 and remains the most iconic feature of Waterton.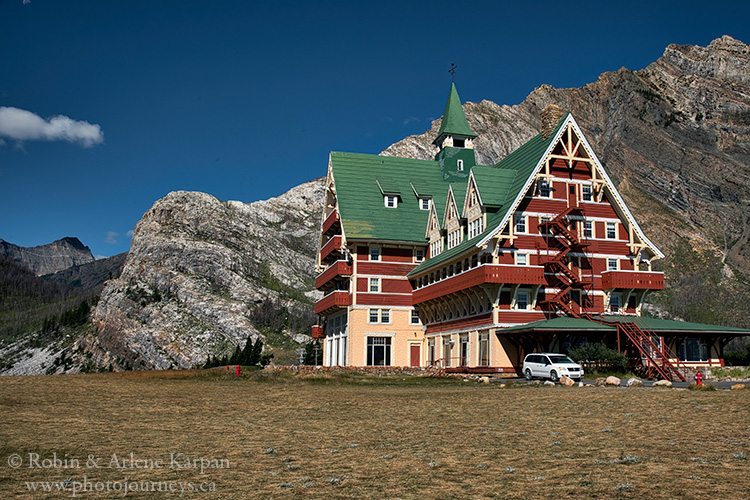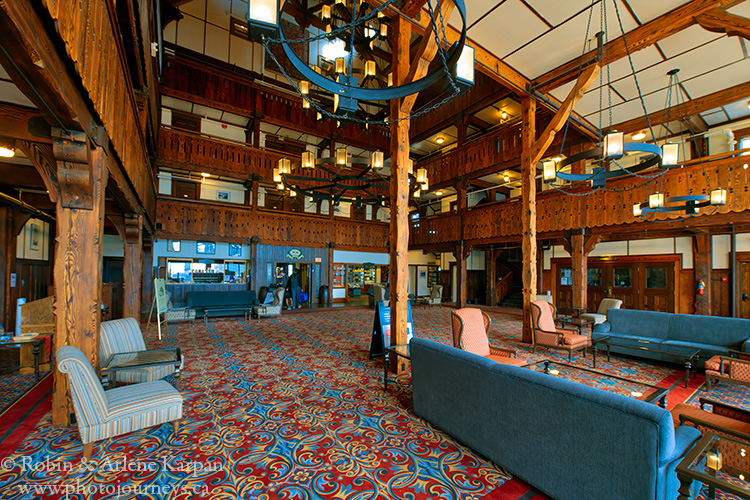 We stayed at the Bear Mountain Motel which, while more basic, has some nice features. Rooms have fridges, and the outdoor cooking area with barbecues, a microwave, and picnic tables make it convenient to prepare some of your own meals. Each room has chairs and a table outside, so you can chat with other guests. Hand sanitizer and sanitizing wipes are stationed at every turn – amenities that are top of mind these days.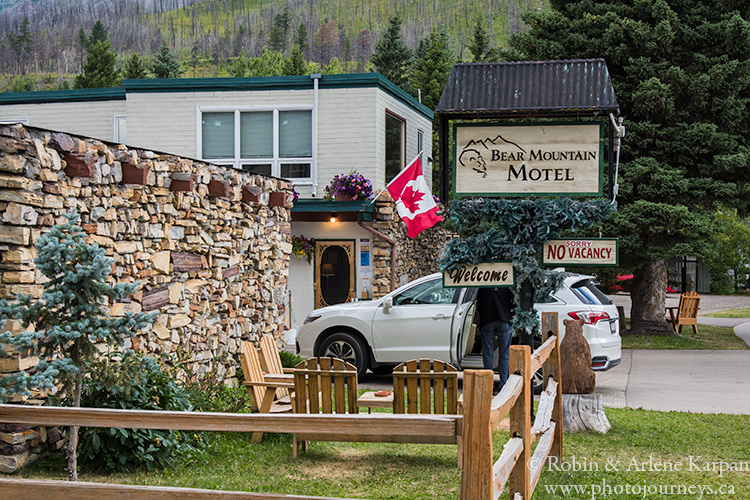 Recovery After the Fire
This was our first visit to Waterton since the big fire. As photographers, we weren't sure how photogenic things would be in the aftermath of the fire. But we were pleasantly surprised. Sure, there are a lot more dead trees to contend with, but the landscape is greening up nicely and in some places the vegetation is already thick and lush. We were told by frequent visitors that the wildflower displays have become even better after the fire. The townsite and the Prince of Wales Hotel were spared, though the fire came extremely close. There are still many places that haven't been touched by fire for a long time.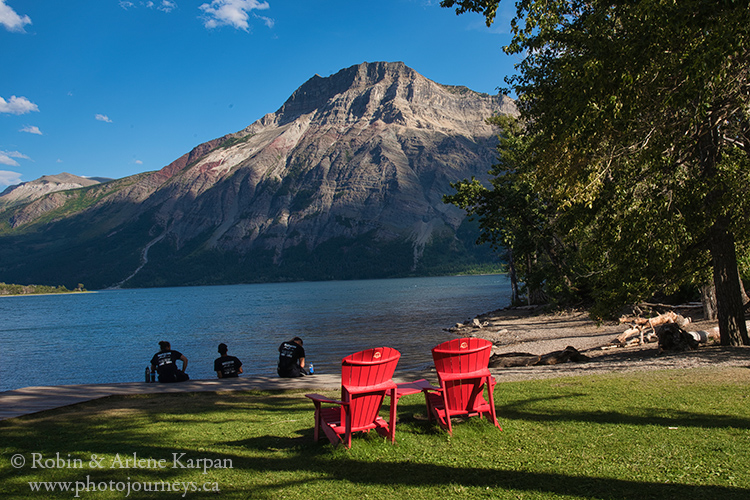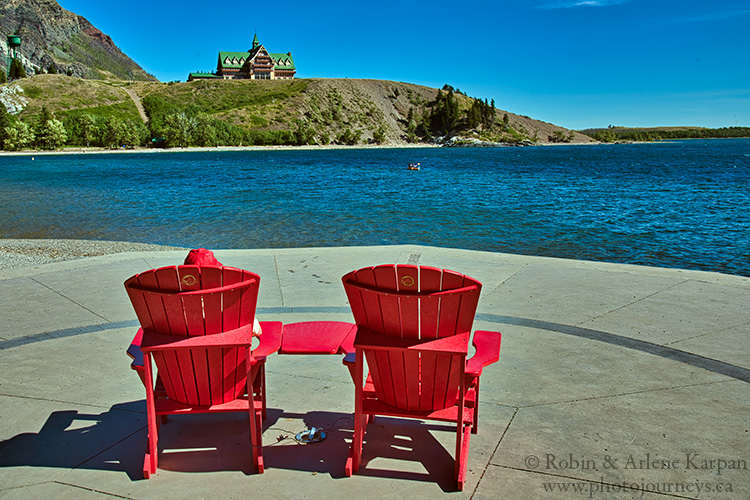 The other major consideration in visiting now is that there is less traffic. Being next door to Glacier National Park traditionally meant a lot of cross-border traffic. But with the closed border, international traffic is gone.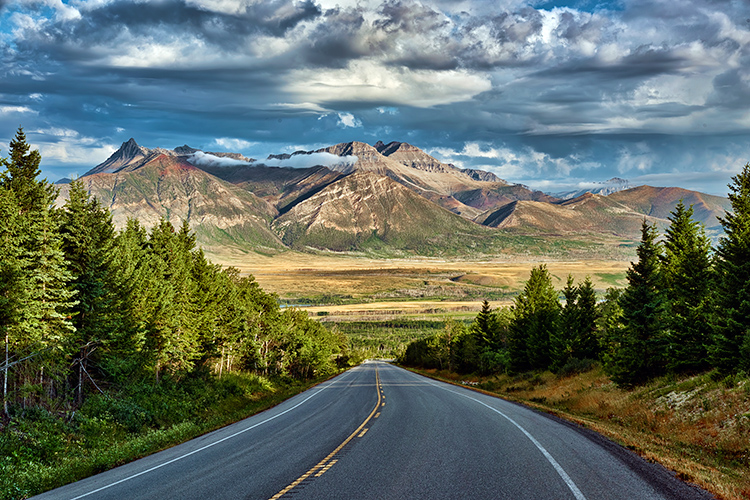 For more information on what to do, where to stay, where to eat and other details, check out the Waterton Lakes National Park website. Also see the Parks Canada site.
SUBSCRIBE to Photojourneys below
Feel free to PIN this article