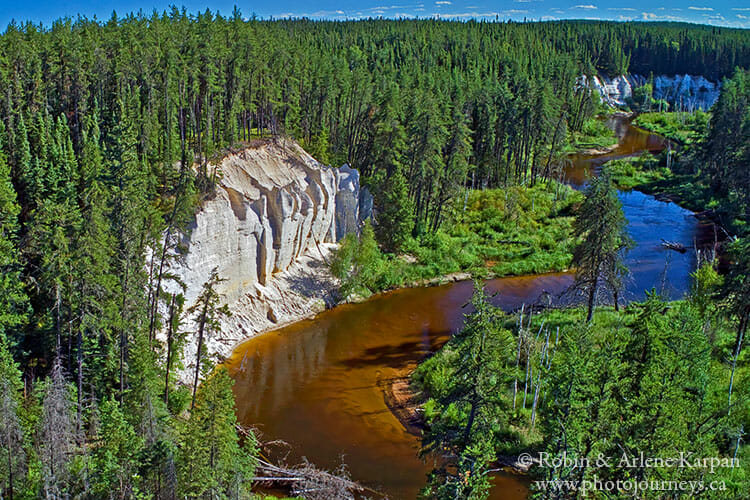 Last Updated on April 26, 2023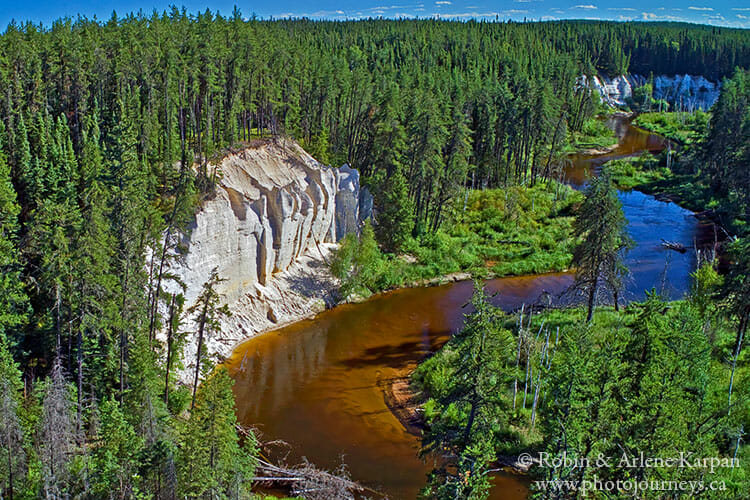 The quickest route between Prince Albert and La Ronge is along paved Hwy #2 that takes about two and a half hours. But if you have more time to explore, this alternate suggestion for a road trip goes slightly east by Candle Lake and the fascinating Nipekamew sand cliffs, with optional short detours to Clarence Steepbank Lakes Provincial Park, and parts of Narrow Hills Provincial Park along the way. The route follows paved and major gravel roads. Some of the optional side trips, such as to Clarence Lake, are along minor roads that could be an issue in wet weather.
Prince Albert to Candle Lake and Area
From Prince Albert, take Hwy #55 heading northeast. Just outside of the city, it's worth stopping at Little Red River Park, one of Prince Albert's natural gems. This 1200-acre forested four-season park has a network of hiking and biking trails, river scenery, wildflowers, picnic sites, and playgrounds.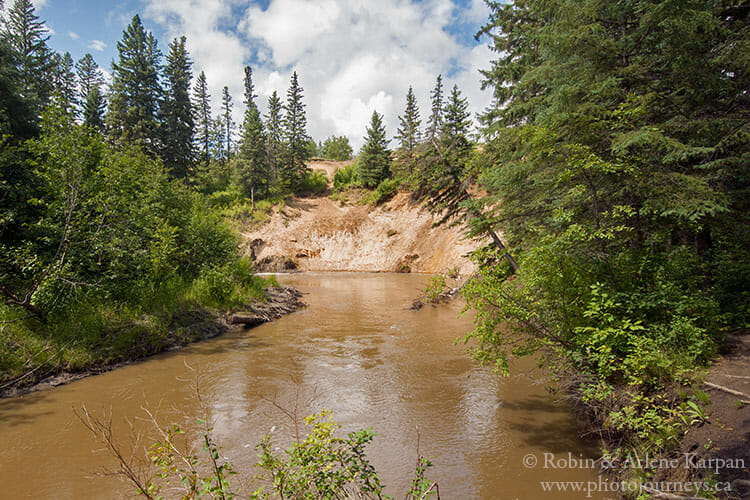 Continue on Hwy #55 toward Meath Park, then take Hwy #102 north to Candle Lake. Just south of Candle Lake, watch for a sign on the west side of the highway to the Aschim Homestead and Trails. Over 6 km of trails wind through the forested site where you can see an amazing variety of habitats in a short distance—white spruce forest with some enormous old-growth trees, stands of black spruce carpeted with a mossy understory, marshes with beaver activity, a creek, and an old homestead yard.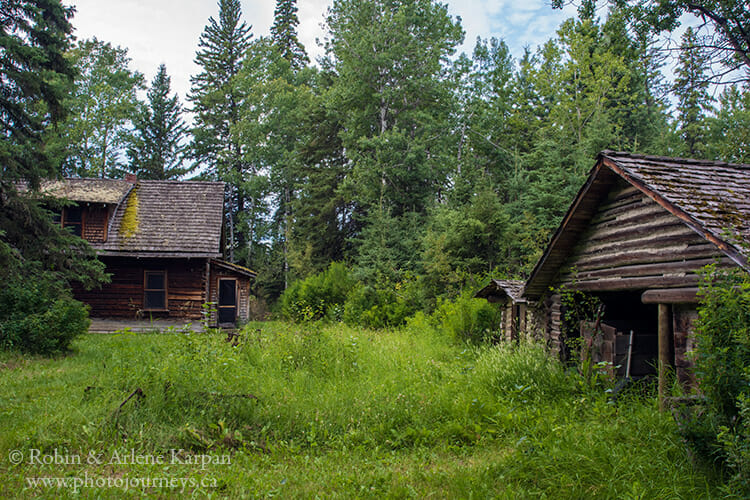 Travelling along Hwy #120 we pass several access roads to Candle Lake including the townsite, and two parts of Candle Lake Provincial Park. The last turnoff, just after crossing the Torch River, leads to Minowukaw Beach where fragile active sand dunes line the shoreline. This popular area of the provincial park is also a bustling place with campgrounds, inviting sandy beach, and watersports including fishing, canoeing, and kayaking.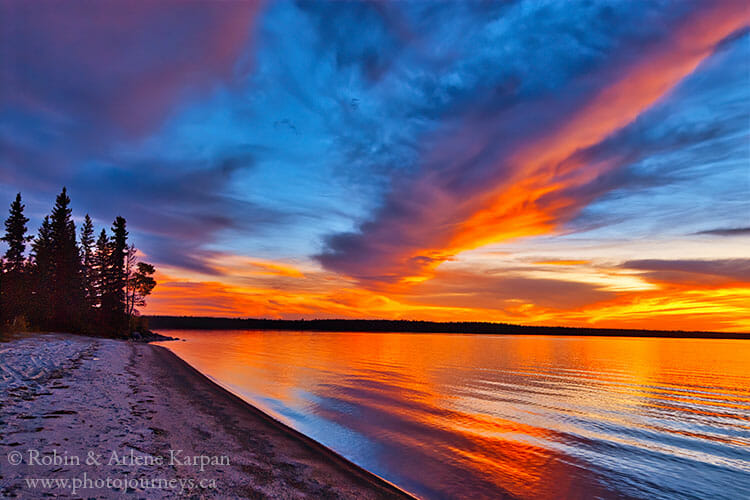 Just northeast of Candle Lake, turn north at the junction with Hwy #913 that passes beside a string of lakes including Heritage Lake, Whiteswan Lake, and Pinkey Lake.
Gem Lakes Side Trip
Where Hwy #913 curves to the east, turn north onto Hwy #912. But before doing this, you can take an optional side-trip farther east along Hwy #913 for about 10 km one-way to the approach to the Gem Lakes in Narrow Hills Provincial Park. These five picture-perfect lakes named after gemstones have the uncanny ability to reflect dazzling shades of green and blue. You can walk the network of hiking trails around the lakes and stay at walk-in wilderness campsites. The Gem Lakes are worth a separate trip in their own right, so watch for more highlights in an upcoming post.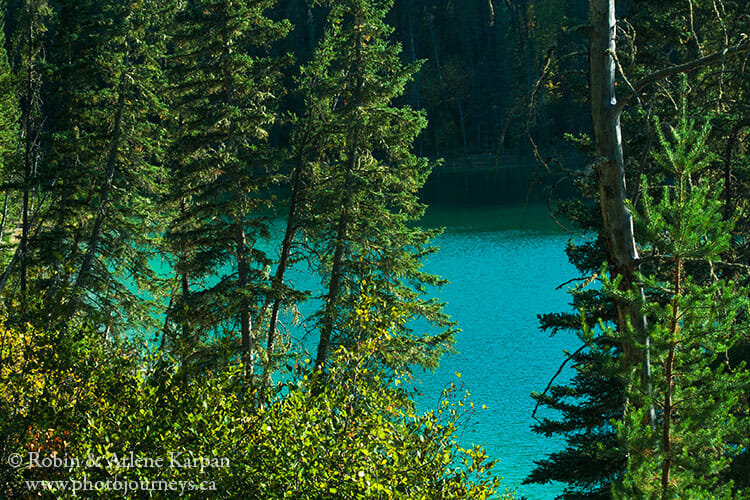 Return to the junction with Hwy #912 and go north for about 5 km to the junction with Hwy #927. Here we have the option of taking a side trip to Clarence Steepbank Lakes Provincial Park. The park was established to preserve an old-growth forest with some enormous trees. It is intended as a wilderness park so facilities are minimal and road conditions are rough.
To get there, travel northwest on Hwy #927 (a fairly good gravel road) for about 6 km then turn left on the access road to the park. The narrow sandy road is not maintained, and you travel here at your own risk. Be especially careful if your vehicle has low clearance or if there have been recent rains. Also be aware that there might not be cell phone coverage if you happen to get stuck, and help could be a very long walk away. Clarence Lake is about 2 km along where there's lake access, and a few basic campsites and toilets. While the road continues to Steepbank Lake, the last time we visited it was not realistic to drive beyond Clarence Lake because of a damaged bridge and vegetation taking over the roadway.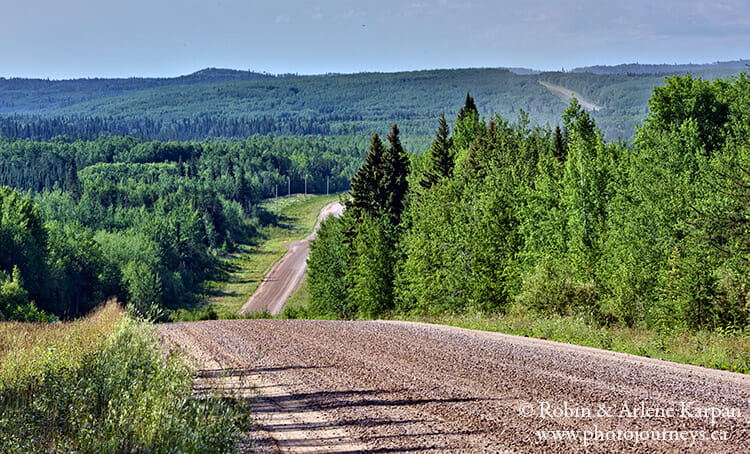 Back again on Hwy #912, keep going north about 62 km to the junction with Hwy #165, then turn west. After about 10 km, you cross the Nipekamew River, home to the unique Nipekamew sand pillars and cliffs just upstream. Just west of the bridge, watch for a sign directing you into a cleared area where a narrow, 1-km access road begins. Follow it to the parking area, where you can walk a lovely nature trail to see the cliffs close up.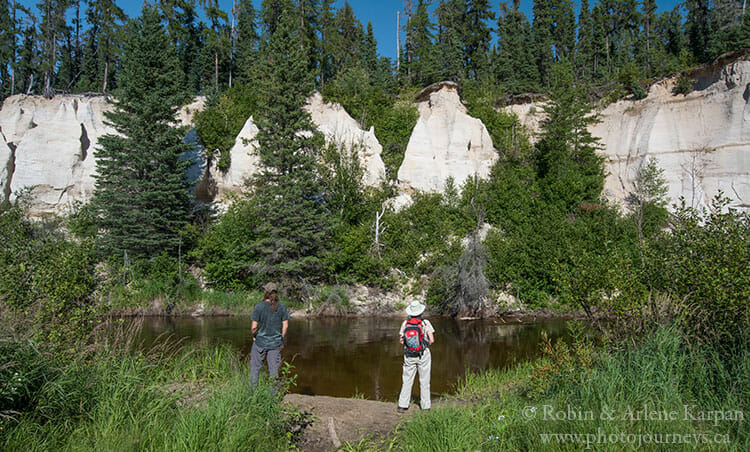 Signs in the parking area relate the fascinating geologic history of the sand cliffs. Over 100 million years ago, Saskatchewan was covered in sub-tropical forests, and a large river flowed through the area. The flowing water brought deposits and sediments including quartz sand, and feldspar. Weathering of the feldspar formed kaolin clay, a binding agent in the sand, which contributed to the white colour. Flowing water carved the sandstone, leaving some cliffs perfectly vertical, while others have been eroded into pillars and fanciful shapes.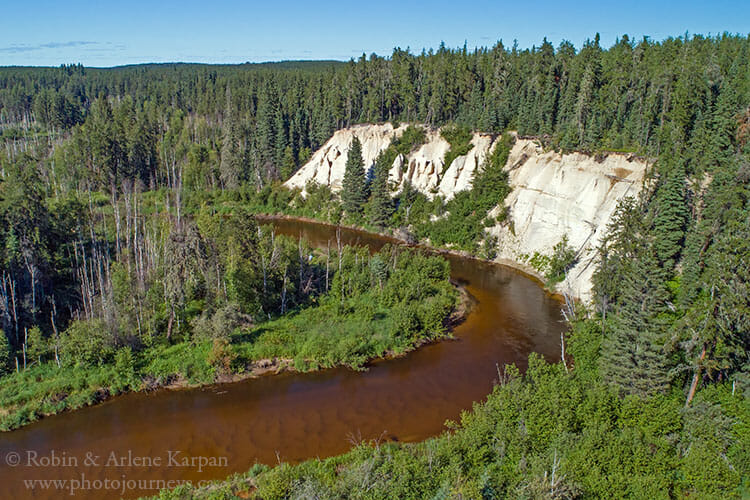 Allow at least an hour or more to walk the easy trail through the forest that is 2.6 km return. It takes you to a viewing spot on the banks of the Nipekamew River where you have an excellent view of the cliffs on the other side. These formations are very fragile and must not be disturbed.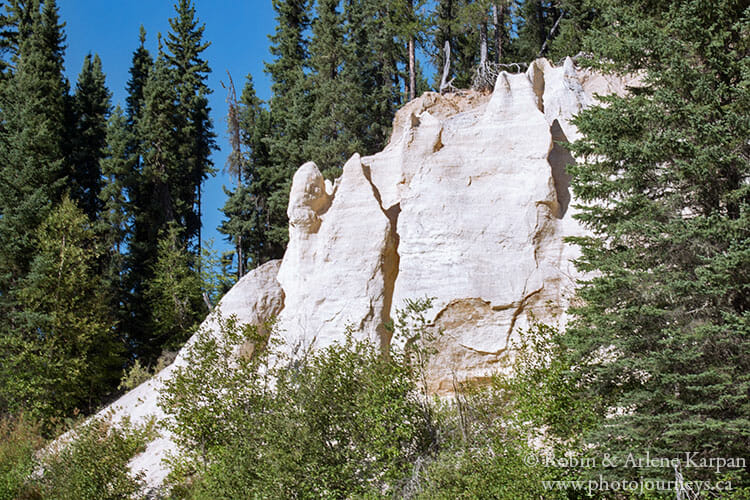 Continue west on Hwy 165 for about 22 km to the junction with Hwy 2, about 32 km south of La Ronge.
We have highlighted the Nipekamew Sand Cliffs as one of Saskatchewan's 50 top natural wonders in our book The Great Saskatchewan Bucket List – 50 Unforgettable Natural Wonders to See Before You "Kick the Bucket" This route and others in the region are also described in more detail in our travel guide Saskatchewan's Best Scenic Drives.
SUBSCRIBE to Photojourneys below
Feel free to PIN this article on the Scenic Route between Prince Albert and La Ronge