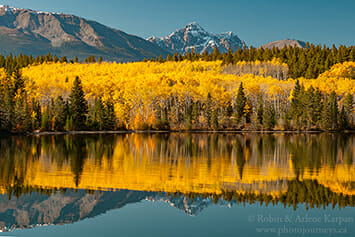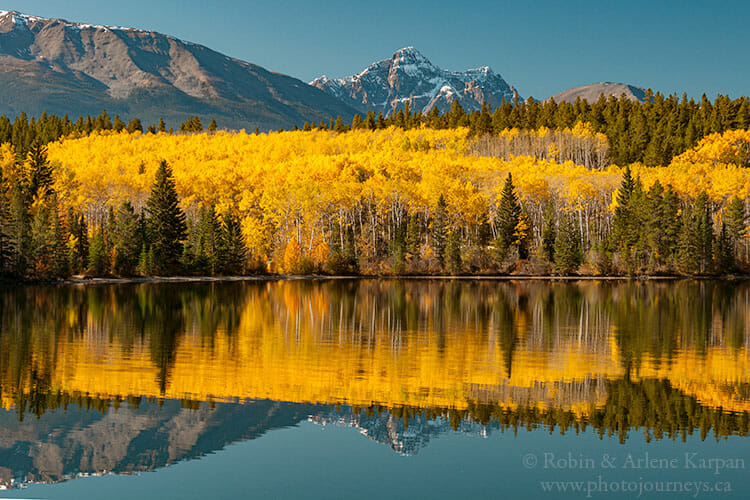 Fall colour season is just around the corner, so it's time to prepare for most landscape photographers' favourite time of year. On the surface, it seems fairly straightforward – wait for the leaves to change and start snapping away. But a bit of planning can go a long way to getting the most out of this special time. We're not going to deal with technical stuff such as gear and camera settings here, but rather ways of approaching fall colour photography to maximize our potential before we head out.
1) Find a backdrop to give the photo a sense of place
A photo of the forest or even a single tree during fall colour season is fine, but we can add another dimension to the image if we put it in context. In the following two photos, as well as the opening image, including the mountain as a backdrop helps give that context. They are no longer just fall colour photos, but fall colour photos in the Rocky Mountains. Besides mountains, we can also incorporate rivers, lakes, waterfalls, badlands and various other landforms as backdrops to provide a sense of place.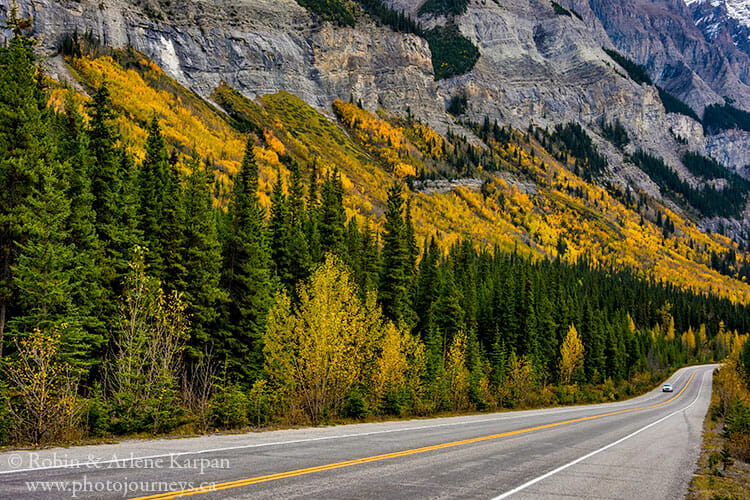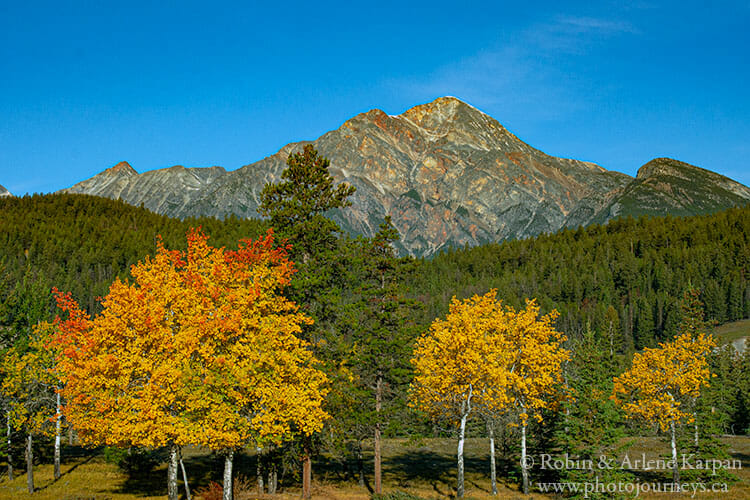 2) Go beyond the forest
While trees immediately spring to mind when thinking about fall colours, going beyond the forest can be just as colourful and just as rewarding for photography. We are fortunate where we live because we can go north to the forest, or south to the prairie. The natural prairie can be dazzling in the fall, especially in some of the coulees with a wide array of shrubs, grasses, and other vegetation.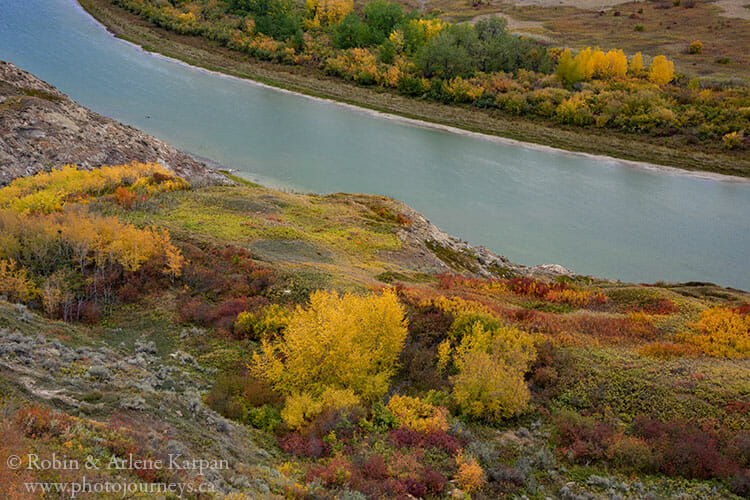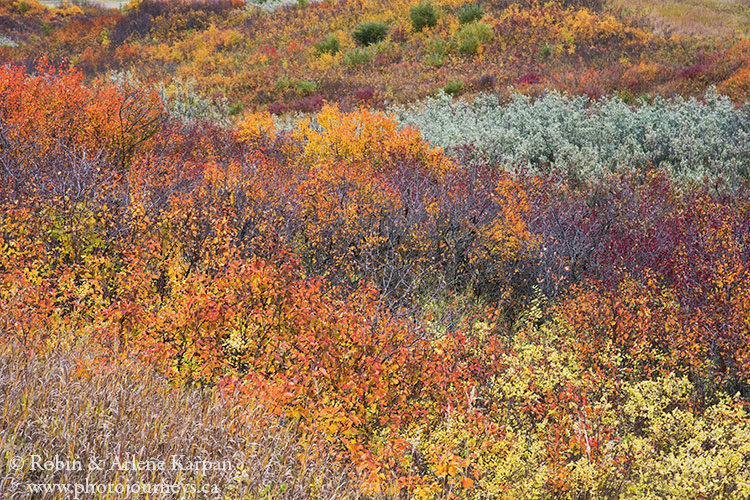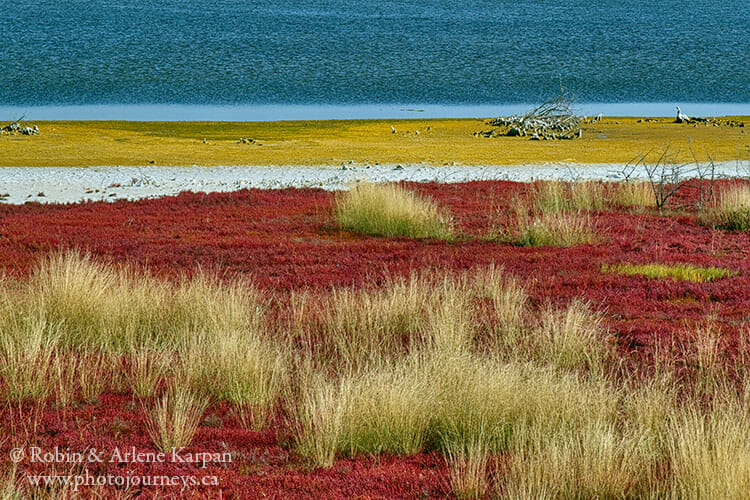 3) Look straight up… and straight down as well
Try different perspectives in addition to straight-on forest views. For example, shoot straight up at the forest canopy as well as straight down to capture the forest floor.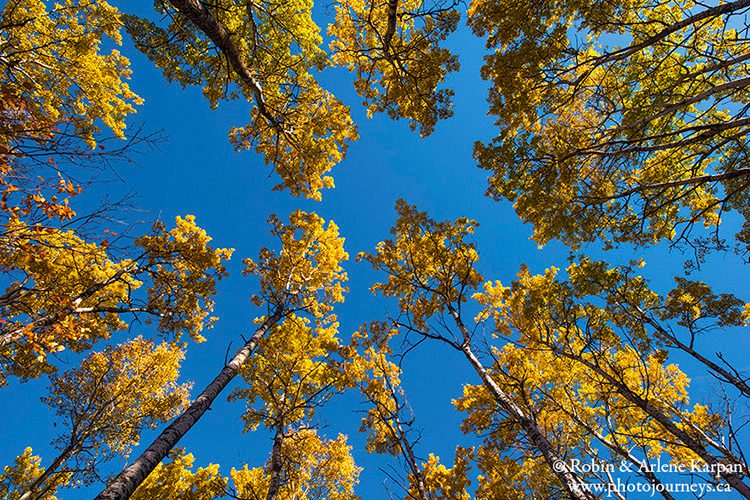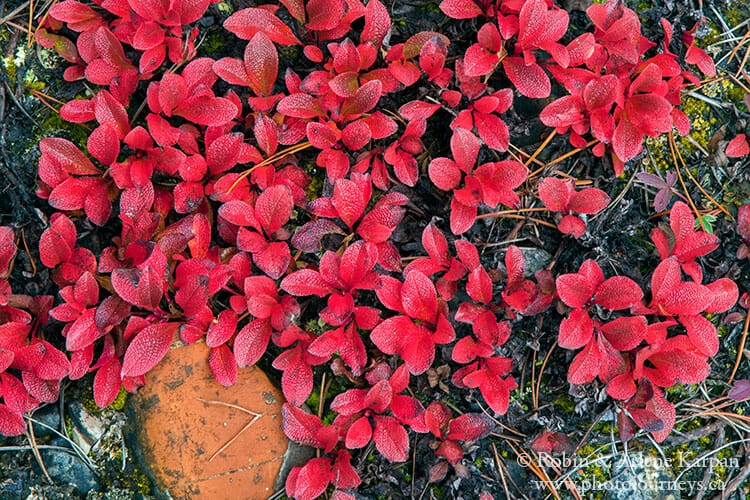 4) Embrace cloudy weather
While sunny weather is great for grand overview photos, cloudy weather can also be preferable for fall colours. This is especially the case when we try to photograph under the forest canopy. Sunny conditions can be intensely contrasty in the forest, with dark shadows and overly bright sunlight that filters through the canopy. A cloudy sky produces softer light with a better balance between shadows and highlights. When there are different colours in the scene, the softer light also makes it easier to capture subtle differences.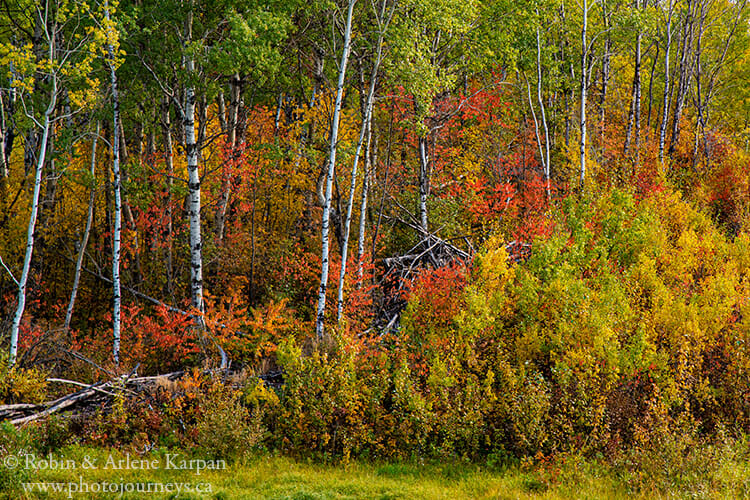 5) Get close
Sometimes a close-up scene can be just as compelling as a long view.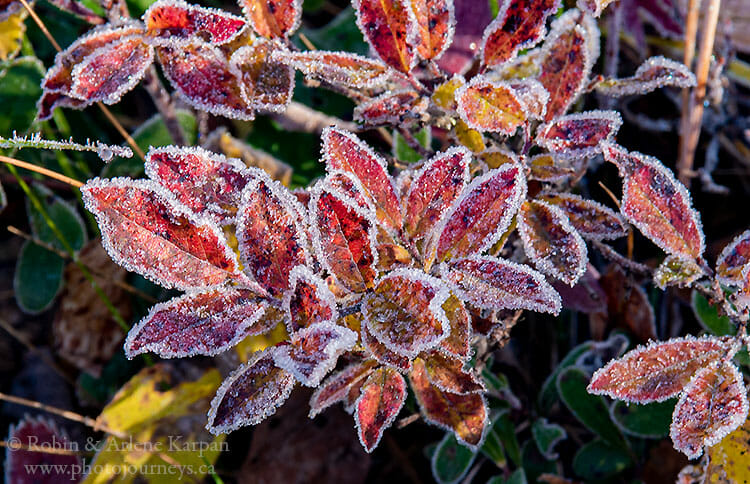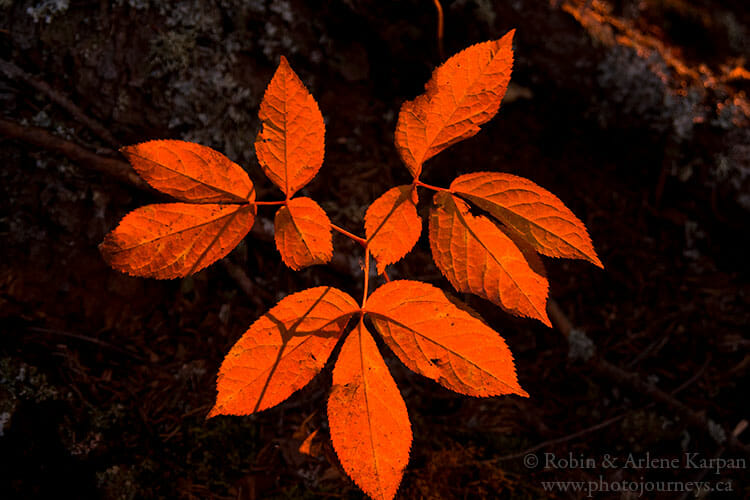 6) Look for a mix of colours
When the leaves are just beginning to change, some remain green while others take on shades of gold or red, resulting in distinct colour differences. Look for opportunities in prairie coulees and riverbanks where different types of vegetation can also add to the colour mix.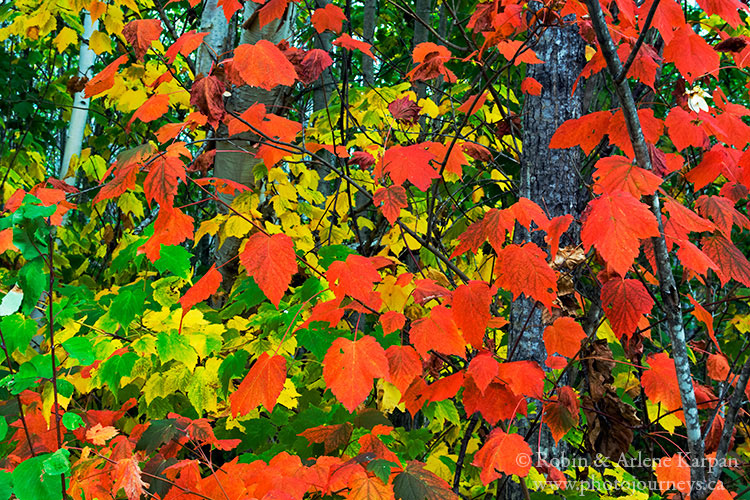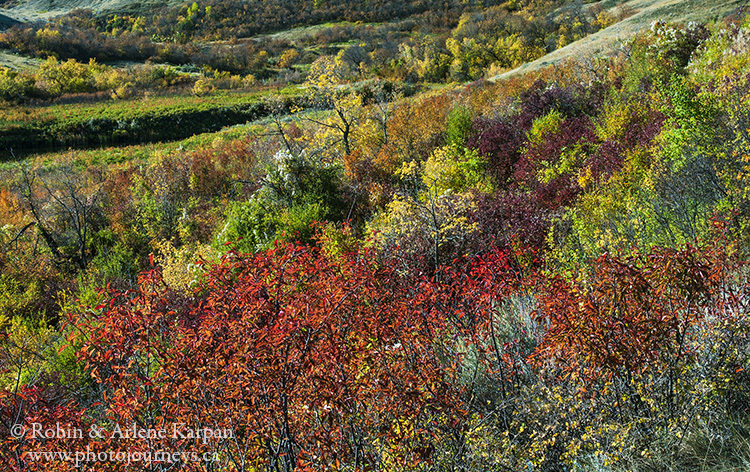 7) Look for reflections
Trees reflecting the water provide excellent photo opportunities at any time of year, but fall is definitely the prime time. Calm water usually produces the best results, often in early morning just after sunrise before the wind picks up. However, don't discount photographing when the water surface has a slight ripple, which can bring surprising results.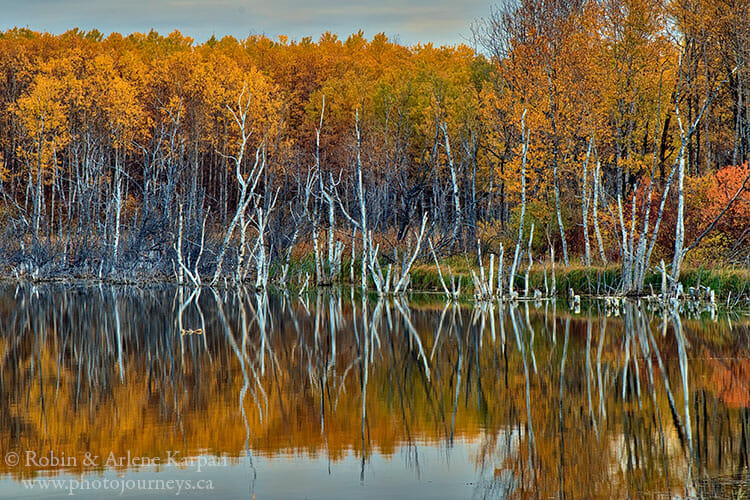 8) Put people or wildlife in the landscape
In most cases, fall colour landscapes can stand on their own, but sometimes you might want to add life to the scene. For example, people can give a sense of scale. Wildlife can add to the context or augment the colour. The photo of the tree below has attractive red berries, but the image would be quite mundane without the bluejay.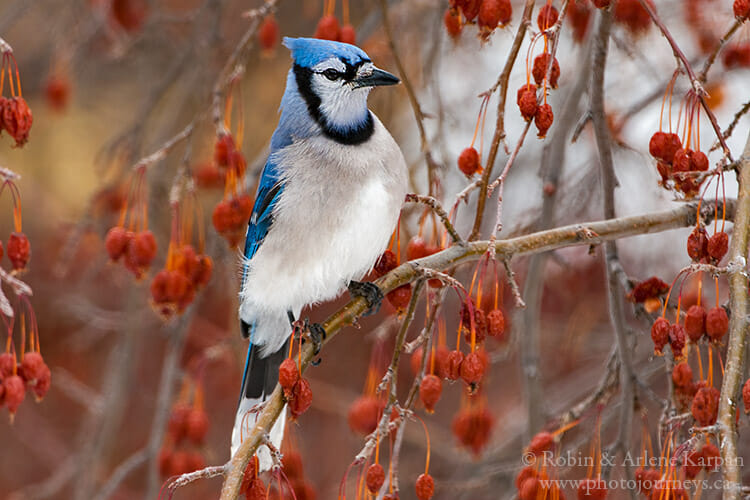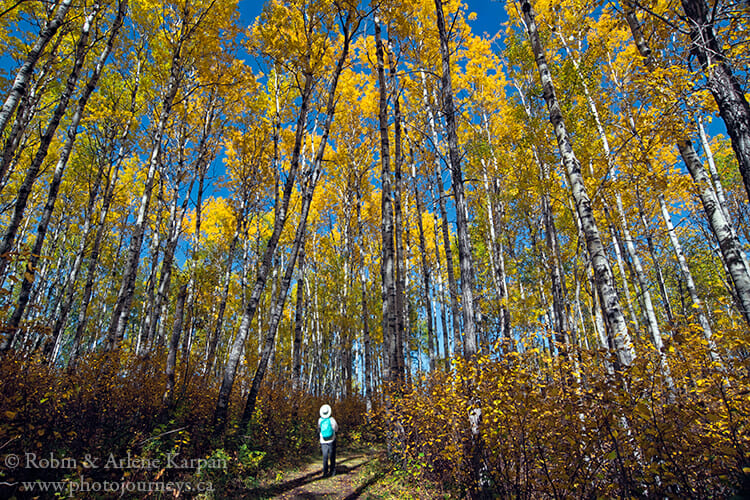 9) Create fall abstracts
Take time to think outside the box. Not every photo has to be a realistic representation. Play around with long exposures, blurring, double exposures, or anything else you might imagine. Although we can do this at any time of year, fall brings on more possibilities because of the dazzling colours.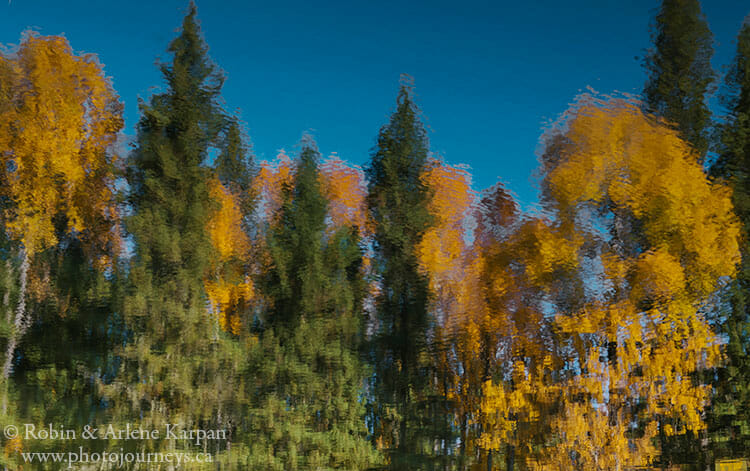 10) Make use of entire fall colour season
Fall colours can come and go quickly. We usually try to time our photography when colours are at their peak, but that isn't always possible. There is always the danger that if we wait too long, a big wind may make short work of most of the leaves. Instead of worrying about trying to time things perfectly, just get out whenever you can, since each part of the fall colour season presents different possibilities. Early in the season when most leaves are still on the trees, the gradual change means that there may be more colour variations.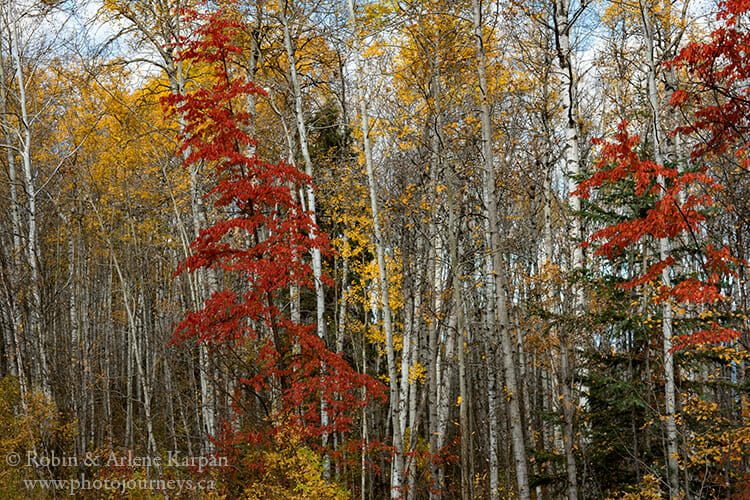 The end of the season is different again. Most leaves have fallen, yet the remaining ones tend to display more intense colour. This is also a good time to capture the fallen leaves or smaller plants and shrubs on the forest floor.
SUBSCRIBE to Photojourneys below
Feel free to PIN this article