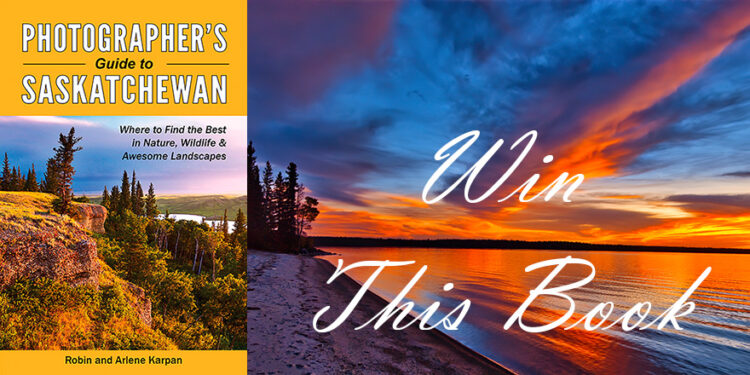 The Winner is announced. Congratulations to Marija who will be receiving a copy of Photographer's Guide to Saskatchewan. The draw was made using a random number generator. Thank you to all those who entered.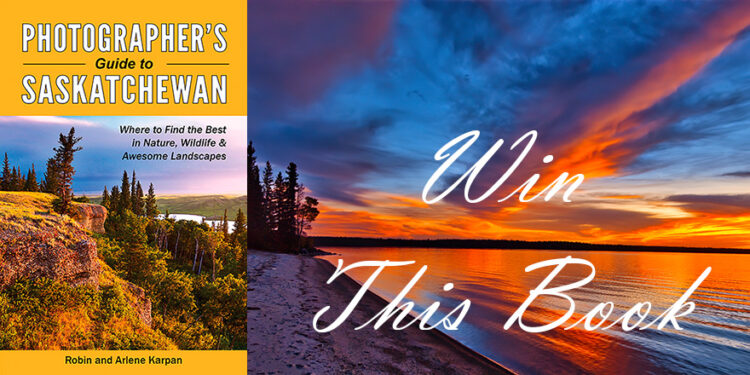 To celebrate the upcoming holiday season, we're giving away a copy of our book, the Photographer's Guide to Saskatchewan. It's a popular item for Christmas gift-giving, so what could be better than getting a copy free?
Saskatchewan is a photographer's dream, with ruggedly beautiful native prairie, some of Canada's baddest badlands, breathtaking wildlife spectacles, and legendary northern waterways brimming with jaw-dropping scenery. Saskatchewan is the sand dune capital of Canada – home to both the largest and second largest dune fields in the country. Our sunrises and sunsets are simply the most dazzling on the planet. Then there are those enchanting hidden gems that seem straight from the pages of a fantasy novel.
With a focus on nature, wildlife and awesome landscapes, award-winning writers and photographers, Robin and Arlene Karpan, guide you to their favourite haunts throughout the province, from prominent national and provincial parks to little-known photogenic treasures. Supplemented by maps, GPS coordinates, and 250 stunning photographs, the 208-page book not only takes you to awesome photo hot spots, but also reveals what you need to know to capture amazing images.
Check out this posting for a more detailed description of the Photographer's Guide to Saskatchewan.
Also see more about the guide and how to order copies at Parkland Publishing.
How to Enter
• Subscribe to photojourneys.ca (if you're already subscribed, you're halfway there). Sign up below in the footer, or on the sidebar.
• Go to the comments section below in this posting and tell us what is your favourite place in Saskatchewan for photography. There is no right or wrong answer – all places indicated are equally valid entries. That's all there is to it. One entry per person.
• On Nov. 12, 2021, we will draw from all valid entries and contact the winner by email for a mailing address to ship the book. In order to comply with Canadian contest regulations, the winner will be required to answer a skill-testing question. The winner's first name only will be announced.
Contest Rules
• The contest is open to all photojourneys.ca subscribers who are Canadian residents at least 18 years of age and have a mailing address in Canada (because of different contest regulations in Quebec, this contest is not open to residents of Quebec).
• The prize is one copy of the book, Photographer's Guide to Saskatchewan, with a value of $24.95. The book will be sent to the winner postage paid.
• No purchase is necessary to enter the contest.
• The draw will be based on valid entries received in the comments section of this posting between Nov. 4 and Nov. 12, 2021.
• Chances of winning will depend on the number of valid entries received.
• The contest is sponsored by Parkland Publishing.

Be sure to stay subscribed for additional book giveaway contests coming soon. Also follow us on Twitter, Instagram, and Facebook for notification on other contests (links in sidebar).
SUBSCRIBE to Photojourneys below
Feel free to PIN this article