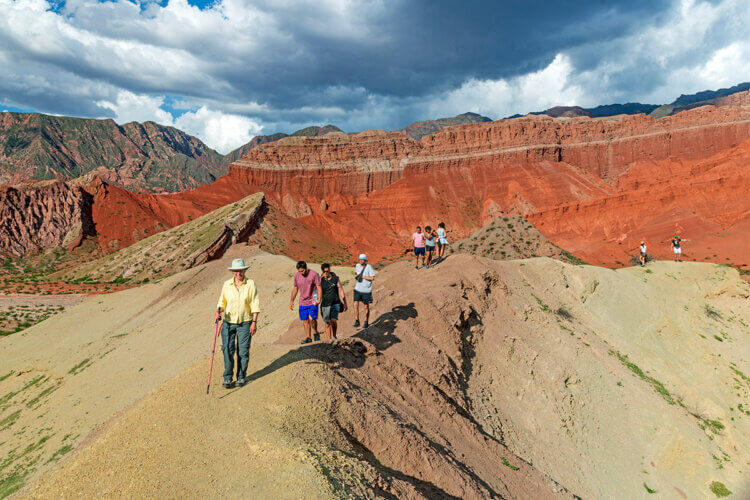 All photos © Robin and Arlene Karpan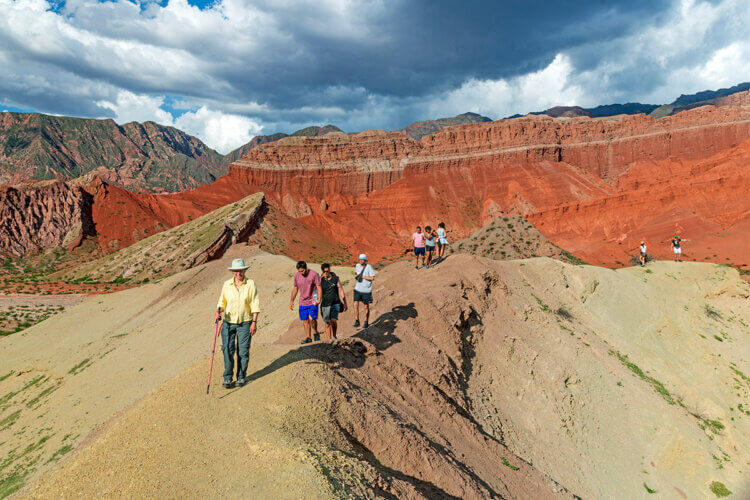 The town of Cafayate was one of our favourite spots during our recent travels around northern Argentina. It's fairly small and easygoing, in the midst of a major wine-growing region, and surrounded by wild landscapes that seem like they are from another planet. It's hard to go wrong with a place that combines great wine with great scenery.
We travelled to Cafayate by taking a four-hour bus trip south from the city of Salta (which is a two-hour flight north of Buenos Aires). The last part of the road passes through the amazing Quebrada de los Conchas (Canyon of Shells) with its series of deep ravines, weird rock formations, and mountain slopes that look as if they have been splashed with paint. Sometimes also referred to as the Quebrada de Cafayate, geologic forces over millennia transformed it from once being on the ocean floor (hence the shells) to now having a semi-desert look. This route always makes the list of the top scenic drives in Argentina.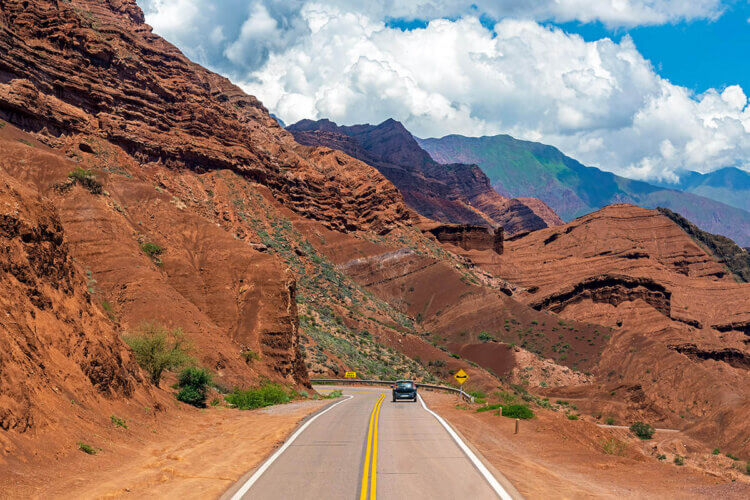 Exploring the Quebrada de los Conchas
The highlight of our visit was the organized day trip we took northeast of Cafayate to get a closer look at the Quebrada de los Concahas, where we stopped at various viewpoints for photographs, went hiking into the hills, and crawled around a lot of rocks. Our guide knew plenty of cool out-of-the-way spots that would be difficult to find on your own.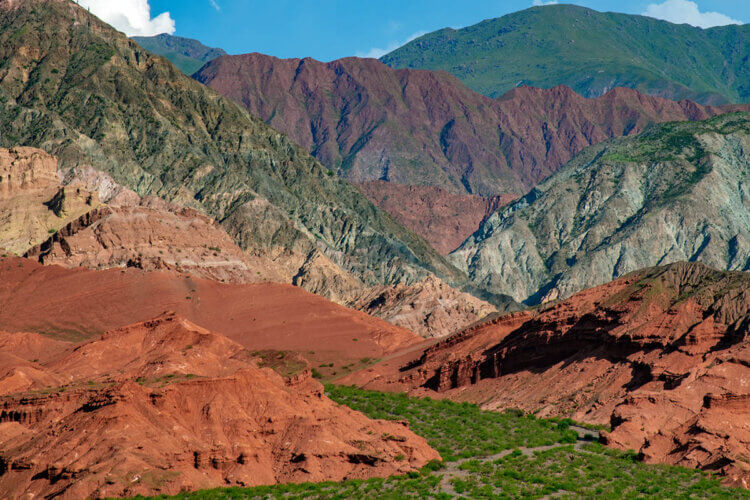 Some highlights included Los Castillos (the Castles) where sheer red cliffs looking like castle ramparts rise straight up from the edge of the river. The Obelisk is a tall, slender rock standing by itself. We visited window formations where various-sized holes, some quite large, appear in the rocks.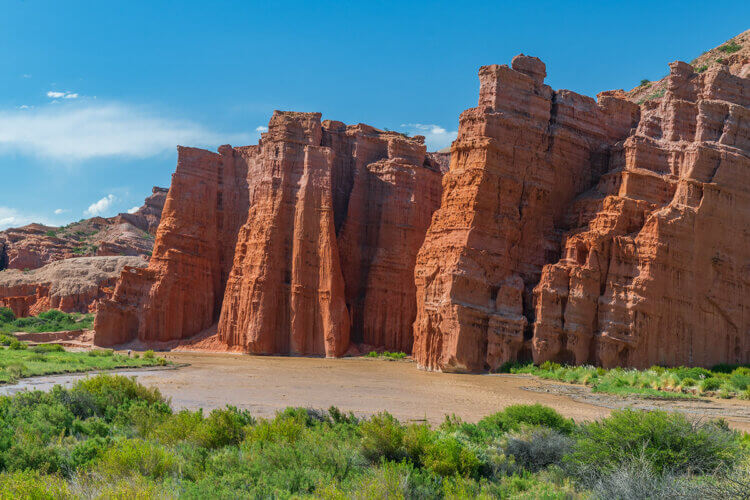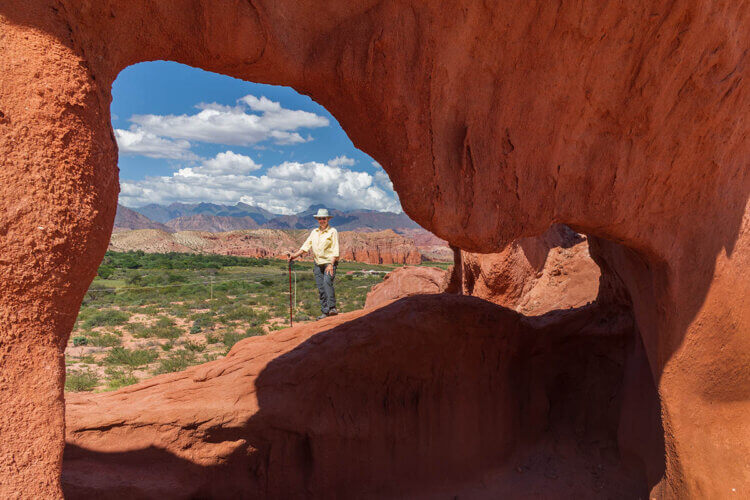 Two prominent formations are almost next to each other. The Garganta del Diablo (Devil's Throat) was formed by an ancient waterfall but is now completely dry. We enter through a narrow opening and climb up a series of rocky inclines to get to the main opening. The nearby Amphitheatre is similar in many ways, although it is an easy level walk to get inside and look up, way up, to the expansive walls. We could hear the constant chattering of parrots that call the Amphitheatre home.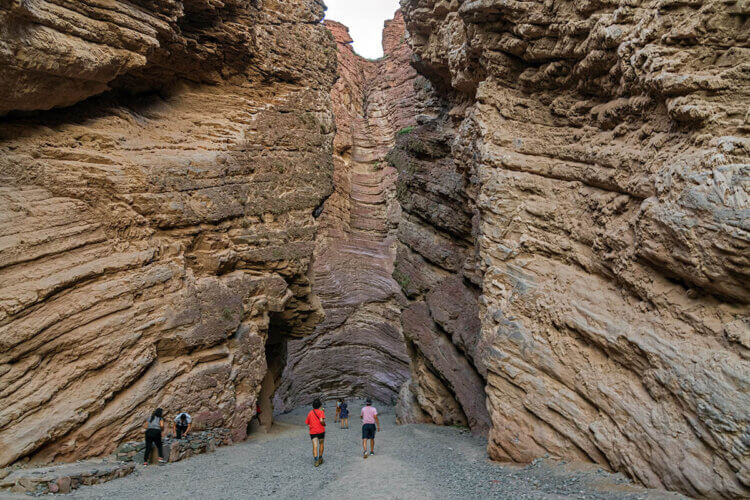 The highlight was walking the Los Estratos Trail which was one dazzling colour after another. Los estratos means strata or layers, and in some places, multi-coloured layers from minerals such as iron, zinc, and copper covered the terrain. Some hills looked like rainbow pancakes. One thing that we appreciated about this tour was that we visited these prime areas in late afternoon and early evening when the low light was ideal for photography.
Quebrada de las Flechas
We also did a day trip a bit northwest of Cafayate to the Quebrada de las Fechas (Canyon of the Arrows). Unlike the Conchas trip which followed a major paved highway, this followed a section of Argentina's famed Ruta 40, the country's longest road stretching over 5,000 km from the far northwest all of the way south to Patagonia. This part of Ruta 40 is rough, rocky gravel most of the way, with a few washouts, detours, and other obstructions. During the summer rainy season (when we visited), a major rainstorm can suddenly make the road impassable. There were only four of us on the excursion, along with our guide driving a four-wheel-drive pickup truck. Traffic along the road was extremely light.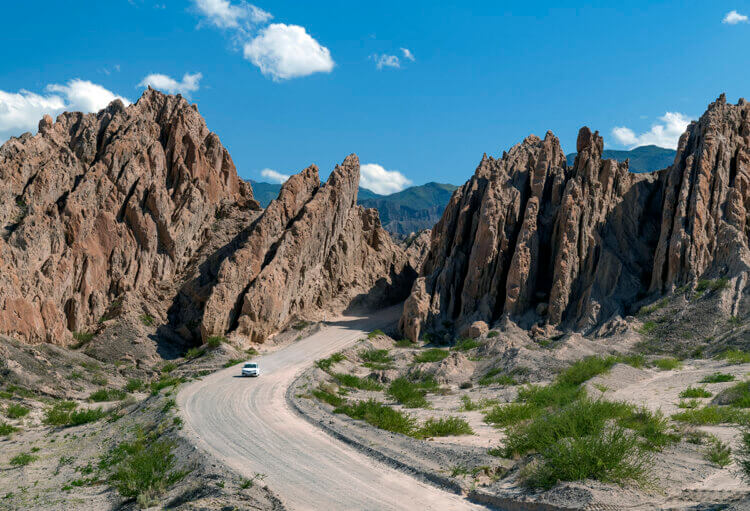 Though not far away from the Quebrada de los Conchas, the terrain here is completely different. Following the Calchaqui River Valley much of the way, we eventually came to the lunar-like landscape where huge layers of sedimentary rocks jut out at steep angles. Many rocks have been eroded into sharp tips, looking somewhat like arrows. We've also seen the formations referred to as "flaky pastry", which seems like an apt description as well.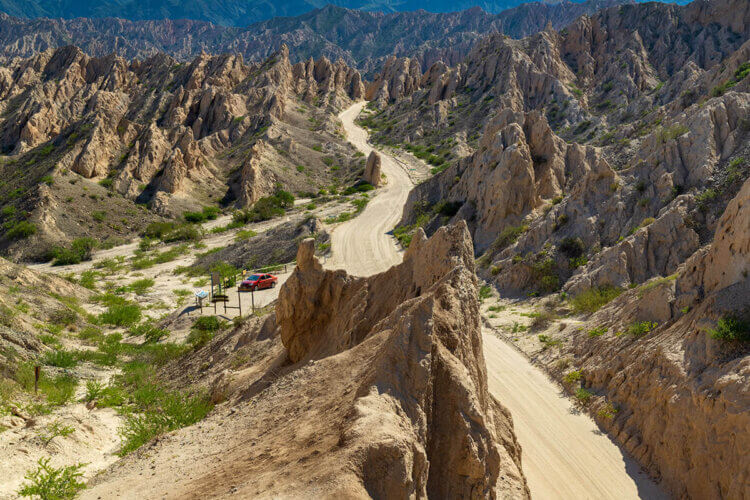 Here too, it was one photo op after another. There was a series of viewpoints along the road and where could get up partway into the hills for panoramic vistas. At the small village of Angastaco, our guide drove the truck up a steep hill where we had a sweeping view over the Calchaqui River.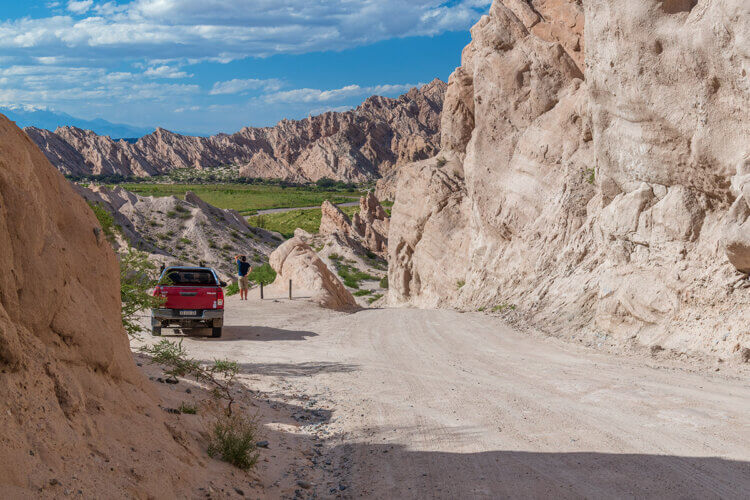 Sipping wine and hanging out in Cafayate
While we came primarily for the spectacular landscapes, Cafayate is equally famous for its wines. Its production is small compared to large wine-growing areas such as Mendoza, however, Cafayate wines have won a disproportionate number of awards. The area is considered the highest altitude major wine-growing region in the world. Cafayate is around 1700 metres, and some vineyards are considerably higher than that. It seems that the combination of climate, sunlight, and soil is just what a lot of vines like. While the region produces a variety of wines, it is especially famous for Torrontes, a crisp, aromatic white wine that has become synonymous with Cafayate.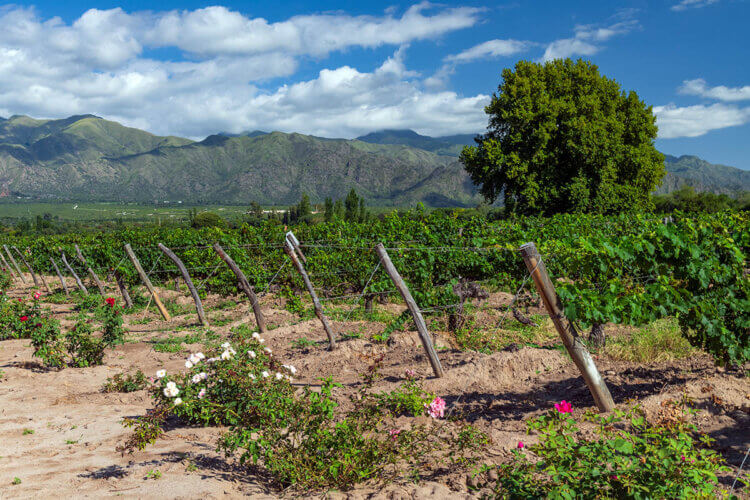 A lot of visitors come to Cafayate mainly to go wine tasting. Most of the vineyards surround Cafayate in the Calchaqui River Valley. Many wineries have tours, tasting rooms, and restaurants. Some are right in Cafayate or on the outskirts, such as Bodega Vasija Secreta, the oldest winery in the area. It's also worthwhile visiting the Museo de la Vid y el Vino (Vineyard and Wine Museum). A self-guided tour (complete with bilingual explanations in Spanish and English) takes you through everything you ever wanted to know about wine production in this region.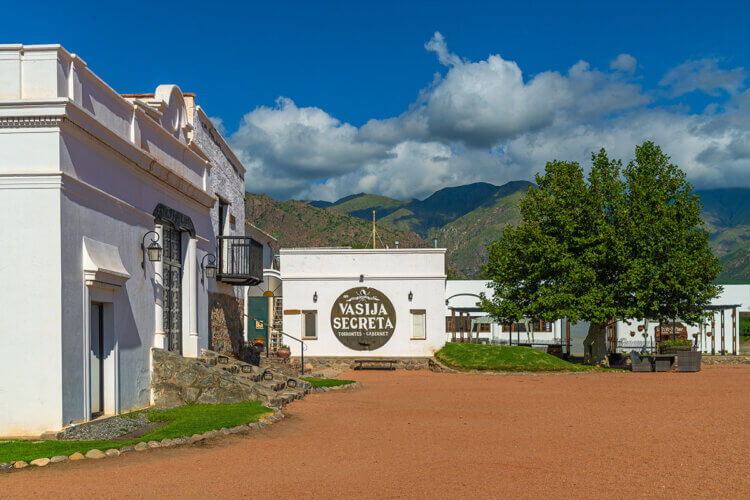 Wine and scenery aside, we found Cafayate to be a pleasant place to spend a few days. It's big enough to have all the services you need but small enough to be uncrowded and easy-going. The focus of the town is the large colonial-style square, dominated by the Cathedral of Nuestra Senora del Rosario. All sides of the square are surrounded by a series of sidewalk restaurants and shops – not surprisingly several wine shops.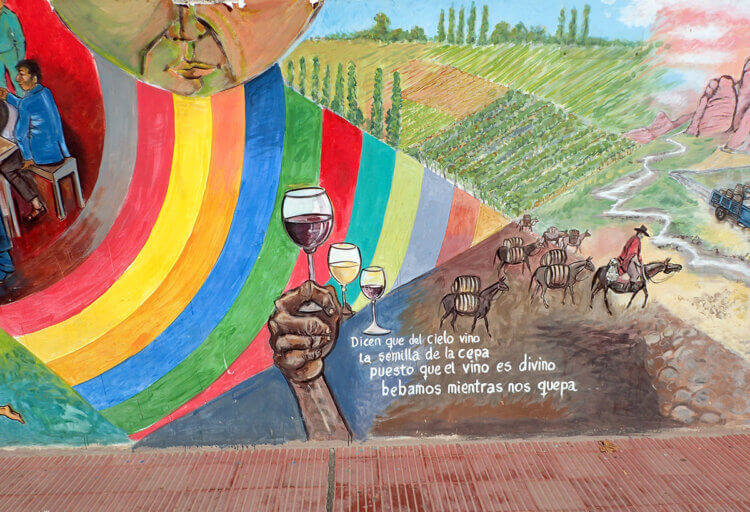 Then there's the ice cream, which here comes with a special twist. Besides the normal ice cream shops, some have included wines such as Torrontes or Malbec as flavor choices. So on a hot afternoon when you can't decide whether to have a glass of wine or ice cream, you can easily solve the dilemma by having both at once!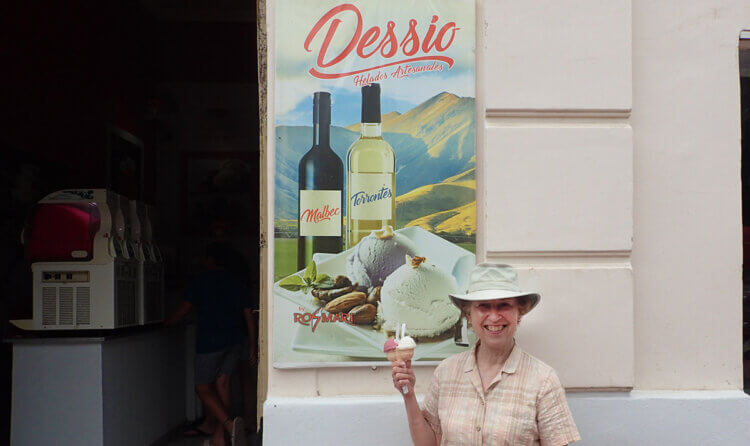 See more of Argentina's famous coloured hills in our post on Purmamarca.
SUBSCRIBE to Photojourneys below
Feel free to PIN this article on Cafayate, Argentina