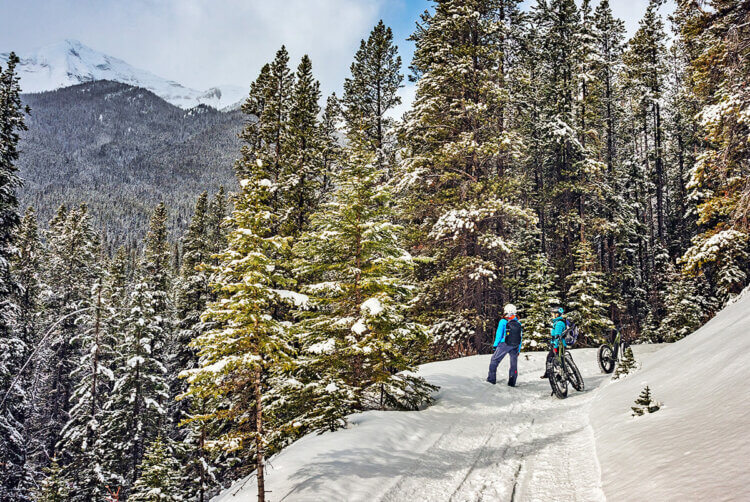 All photos © Robin and Arlene Karpan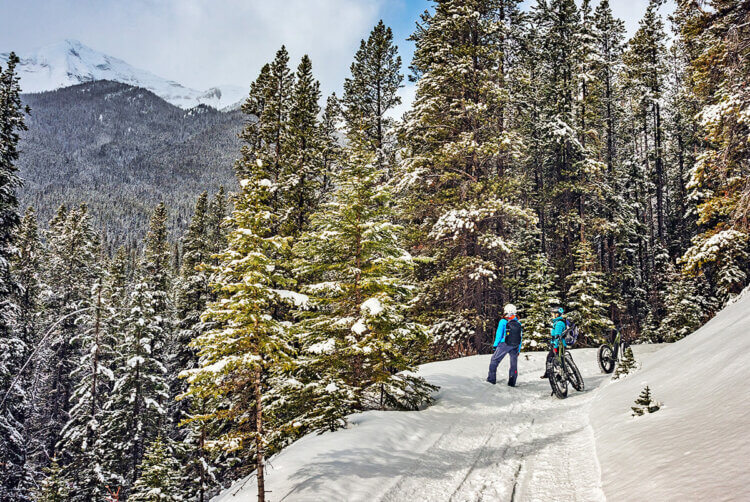 It's not very often that you have a chance to take an e-fat bike trip to a remote backcountry lodge in a national park in the winter. We were especially excited to be heading back to Sundance Lodge in Banff National Park, a place we had visited earlier on a summer horseback trip with Banff Trail Riders. Read about that trip here. We couldn't wait to see what it looked like in winter.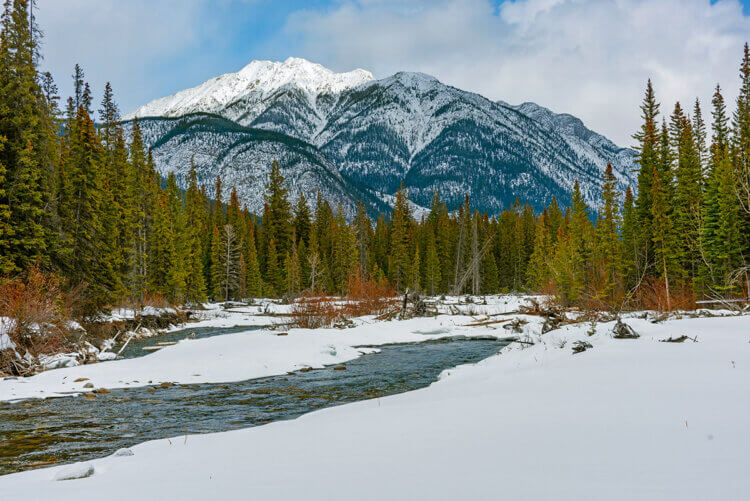 Banff is by far the most popular national park in Canada, with well over 4 million yearly visitors. The Banff townsite and surrounding area can get quite busy, even in winter. But Sundance Lodge, about 16 km from Banff townsite, is a world away. The only way to get there in winter is by bike, skis, or snowshoes. So it remains a true wilderness setting away from the crowds – but a wilderness with a few luxuries.
Leading our trip was Clare McCann, the head coach and guide of Bikescape, a company that runs a variety of bike-related trips year-round in Banff National Park, with an emphasis on getting off the beaten path.
"We are the only operators who can bring people on guided winter mountain bike tours to Sundance Lodge," Clare explained. Besides guided mountain bike tours, Bikescape offers private coaching sessions, specialized skill-improvement programs, and winter cross-country ski tours and lessons.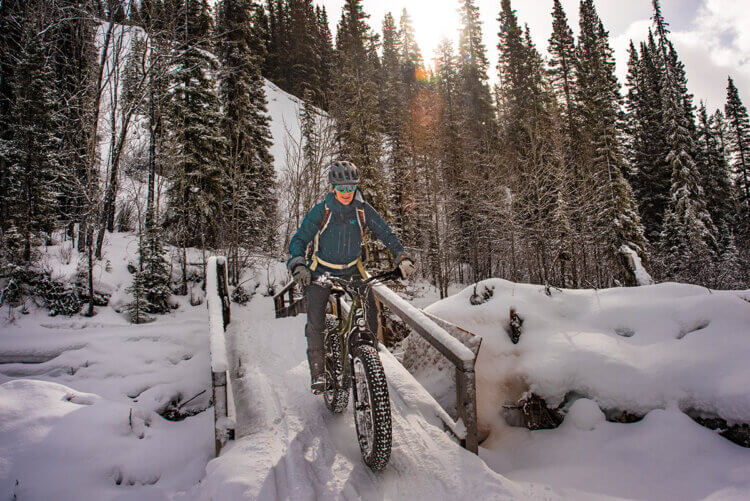 Getting Used to our E-fat bike
This would be a completely new experience for us, so it was good to know that we were in capable and experienced hands. We haven't done a lot of cycling and had never ridden fat bikes or e-bikes before, or ridden any type of bicycle in winter. The ride up to Sundance Lodge is rated as Intermediate, mostly uphill with an elevation gain of 568 feet.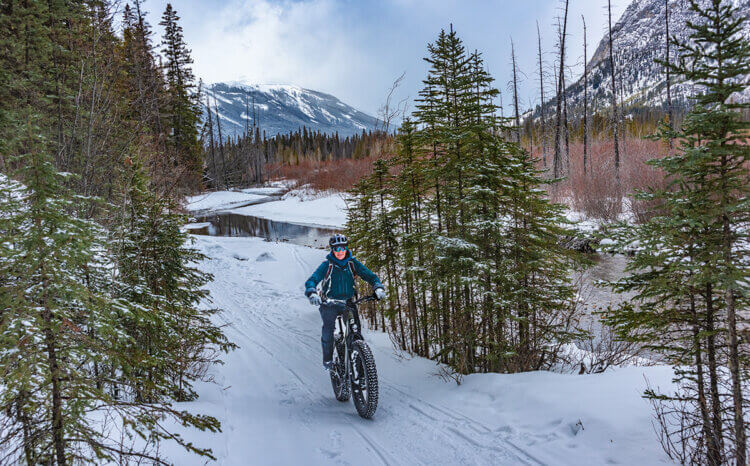 A fat bike is so named because of its oversized "fat" tires that at first glance look as if they belong on a four-wheel-drive truck rather than on a bicycle. But that's what makes them so suited to off-road travel. With low pressure in the tires, they provide a cushioned ride over obstacles and rough terrain and more traction in snow. The bikes we used also had studs on the tires for additional grip.
An e-fat bike takes things to another level. Fat bikes are heavier than other types of bicycles (the ones we used were about 65 pounds) and take more effort to pedal. But add an electric battery and all that changes. You still have to pedal, but not nearly as hard.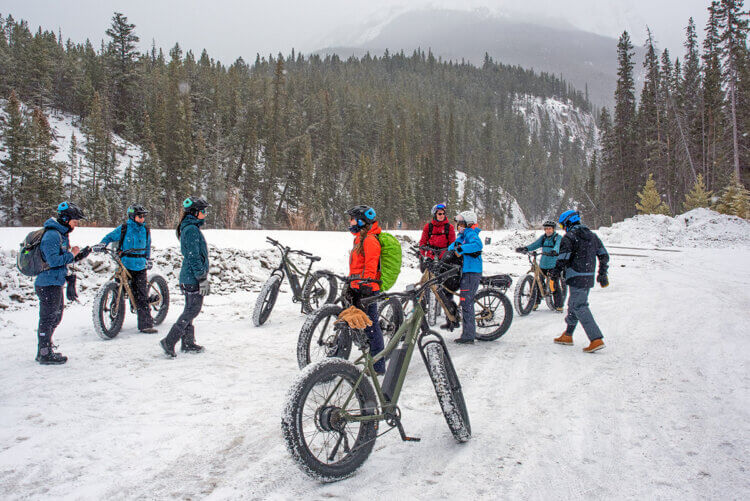 We started with an orientation session to get used to the bikes. We first rode around on the snow-covered parking lot without battery power, just using the bike's gears.
"Now we'll try it with power," said Clare. "Once you try an e-bike, it will completely spoil you for any other type of biking."
What a difference! With battery power on, it only took a little bit of pedal power for the bike to take off. On flat ground it was almost effortless.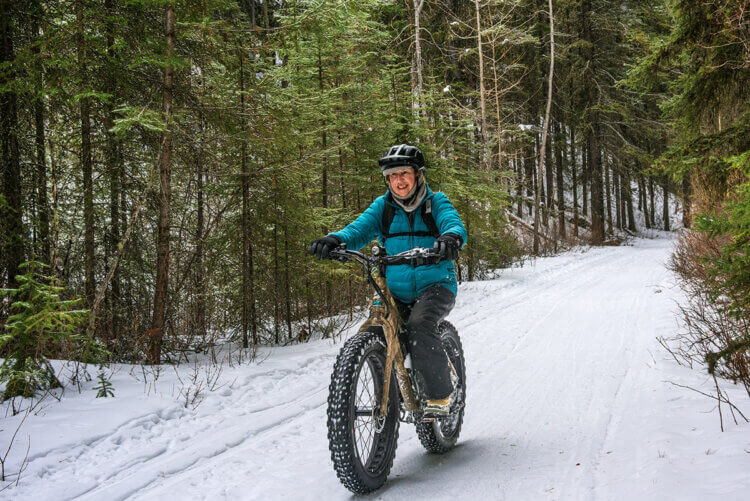 Then we were off, first along a 2-km mostly level section following Healy Creek. At a junction, we turned away from the creek and started the ascent. Though gradual, there was a lot of up and down and a few steep sections where we had to do a lot more pedaling to work up enough momentum to get up the hill, then make sure to cut back the power so as not to lose control on the downhill stretches.
We had to get used to finding the right combination of gears and the five power settings, all while wearing warm gloves which can be cumbersome on the small power control buttons. But with Clare's expert coaching, we eventually got the hang of it.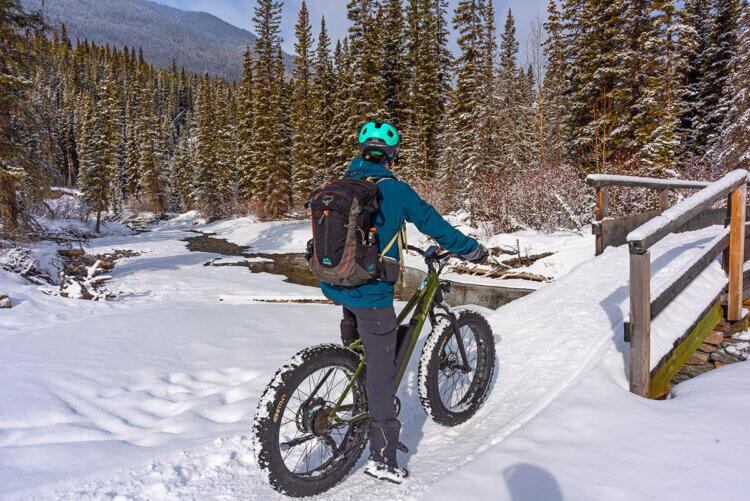 The trail runs mostly through forest, with the occasional opening where we can look over the awesome mountain scenery. We stopped often for photos, especially where we crossed bridges over Brewster Creek. It was amazing how different the landscape looked from our previous trip in the summer, with green valleys replaced by a white winter wonderland. There were no worries about running low on battery power. By the time we arrived at the lodge, the bike batteries still had about 80% power left.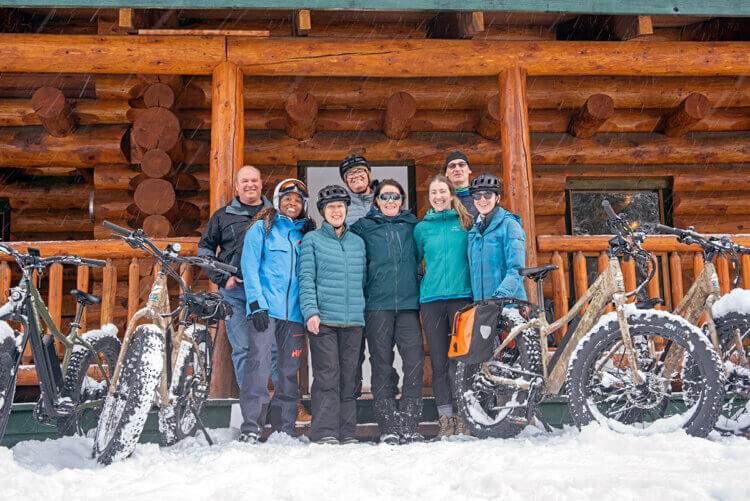 Sundance Lodge
While Sundance Lodge isn't a long way from Banff, it feels much more remote, especially in the winter. The 11-room, two-story log building sits in a picture-perfect setting next to Brewster Creek, backed by soaring mountain peaks. The main floor is divided into a comfortable sitting room with a wood-burning stove, and a spacious kitchen-dining room where all meals are served. The lodge is off-grid with no electricity, phone or cell service, though power is supplied by large solar panels. Despite the remote location, bathrooms are inside and even boast hot showers.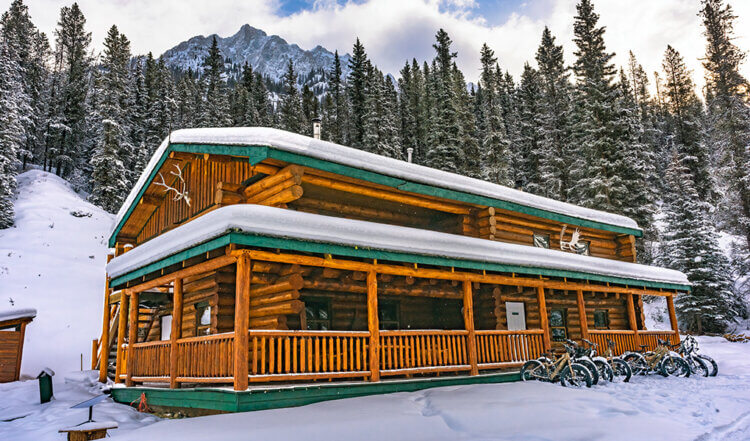 The log building next door is now an historic site. Named 10 Mile, a rather straightforward name because it was 10 miles from Banff, it was originally an outpost established by the CPR. Crews cut logs nearby and then floated them down Brewster Creek and the Bow River to be used for building the railway.
As we arrived inside the lodge we were greeted with snacks, including a large charcuterie board with plenty of cheeses, sausages, and vegetables. The lodge is justifiably famous for its food and is especially attentive to visitors with dietary restrictions. The baked ham we had for supper and the extensive breakfast spread with a crepe bar the next morning would put many fancy restaurants in town to shame.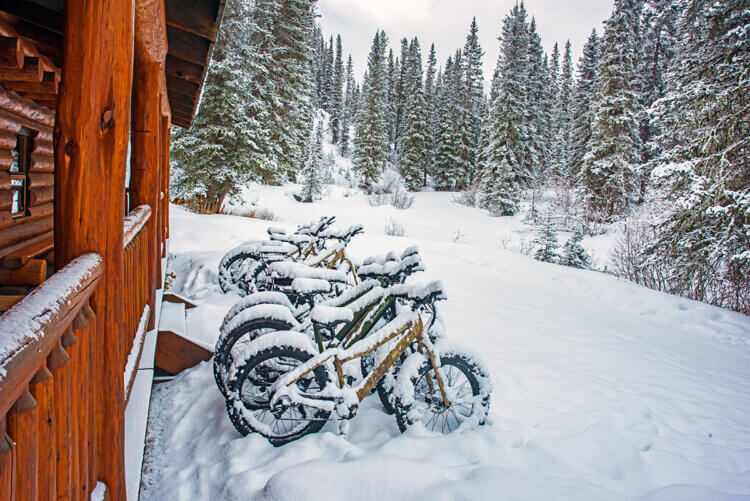 Fresh Snowfall on the Trip Back
We woke the next morning to a fresh coating of fluffy snow which made the wintery landscape even more gorgeous. We were looking forward to the downhill trip back to Banff, which promised to be a fun run, but the new snow would complicate things a bit. Instead of biking on packed snow as we did on the way up, we now had to go through fresh snow, some of which started getting mushy and slippery in the fairly warm weather.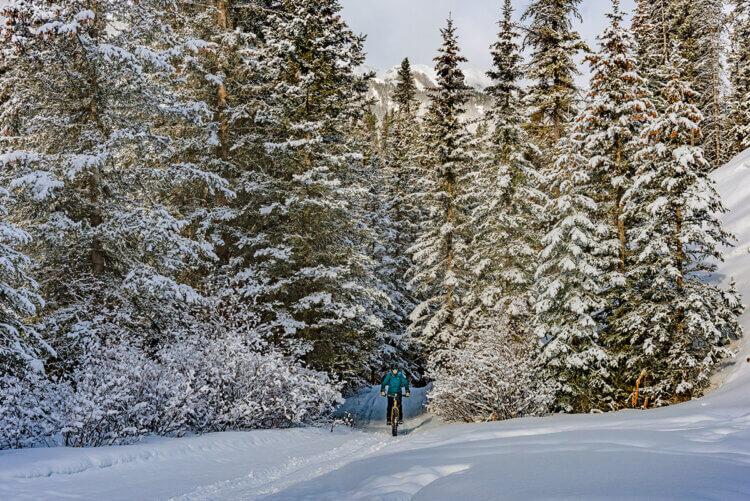 It was mostly easy going on the straight sections, but the downhill corners were another matter. It was all too easy to get one wheel caught in the deeper snow and lose control, which we did a few times, and end up toppling over. Fortunately, the fluffy banks provided a soft landing. Even a member of our group who is an experienced cyclist managed a dramatic face-plant in the snow bank.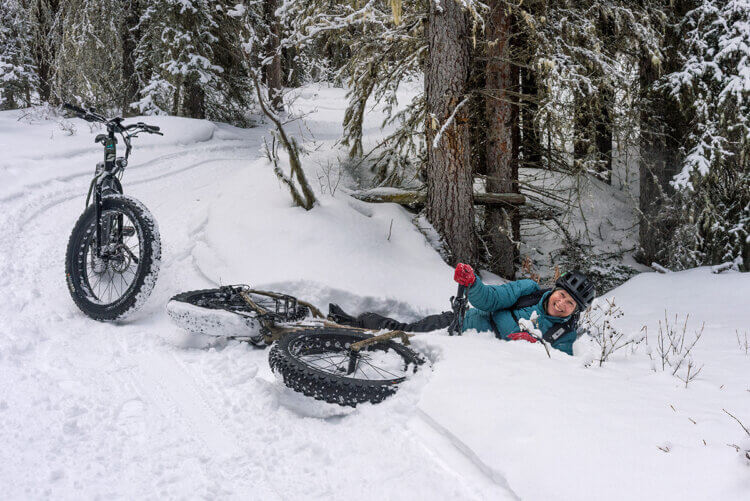 It's all part of the adventure of trying new things. Biking into the backcountry has some challenges but it opens up another exciting way to experience a part of Banff's amazing winter landscapes away from the crowds.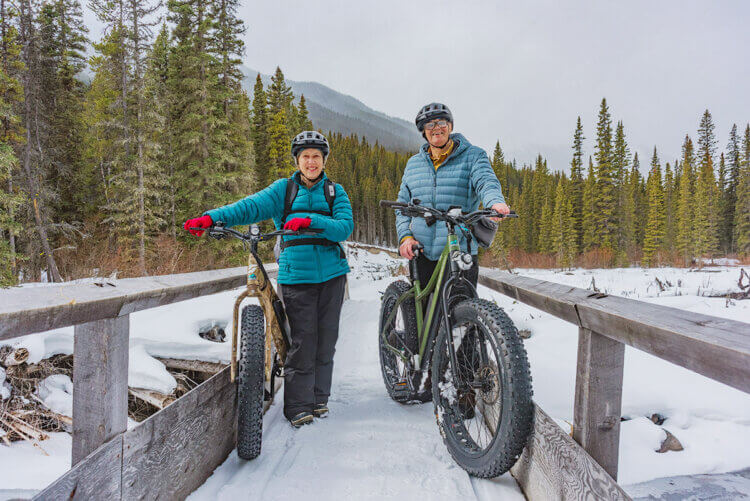 Resources: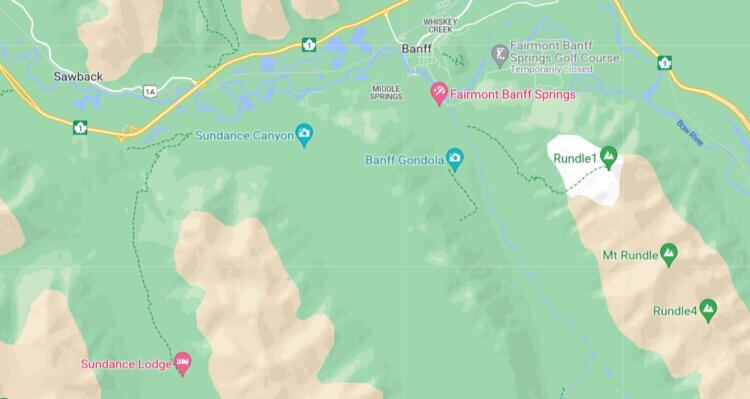 SUBSCRIBE to Photojourneys below
Feel free to PIN this article on E-fat biking to Sundance Lodge
[lgc_column grid="50″ tablet_grid="50″ mobile_grid="100″ last="false"]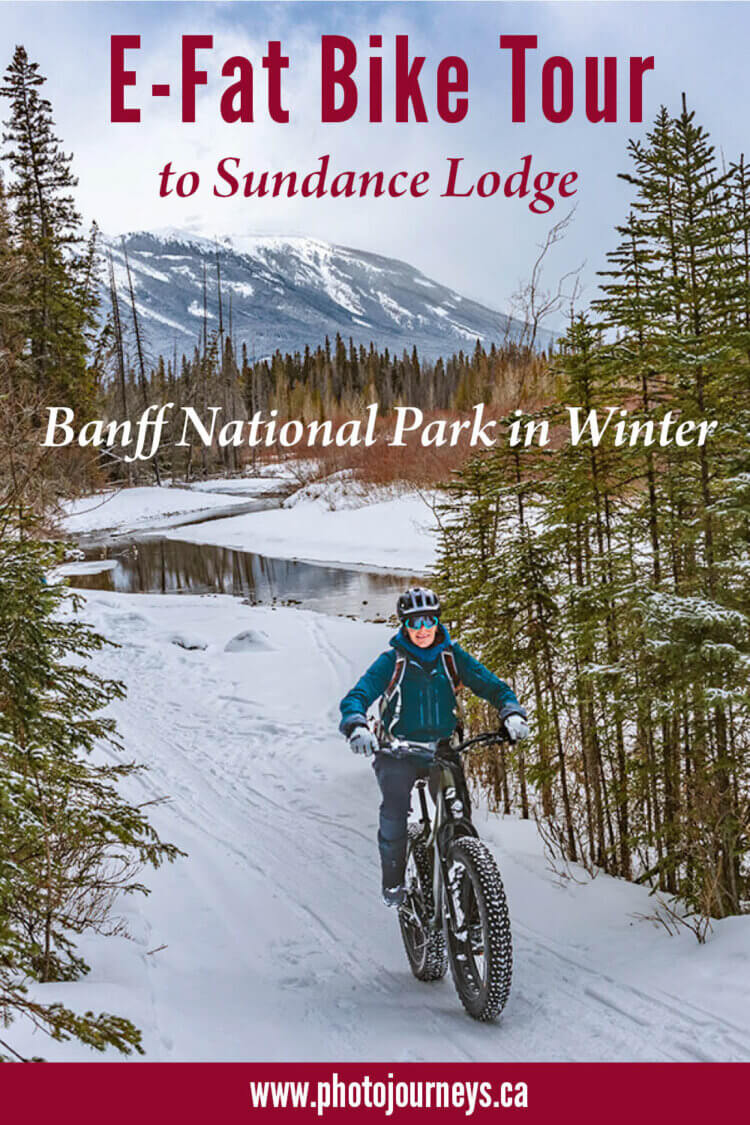 [/lgc_column]
[lgc_column grid="50″ tablet_grid="50″ mobile_grid="100″ last="true"]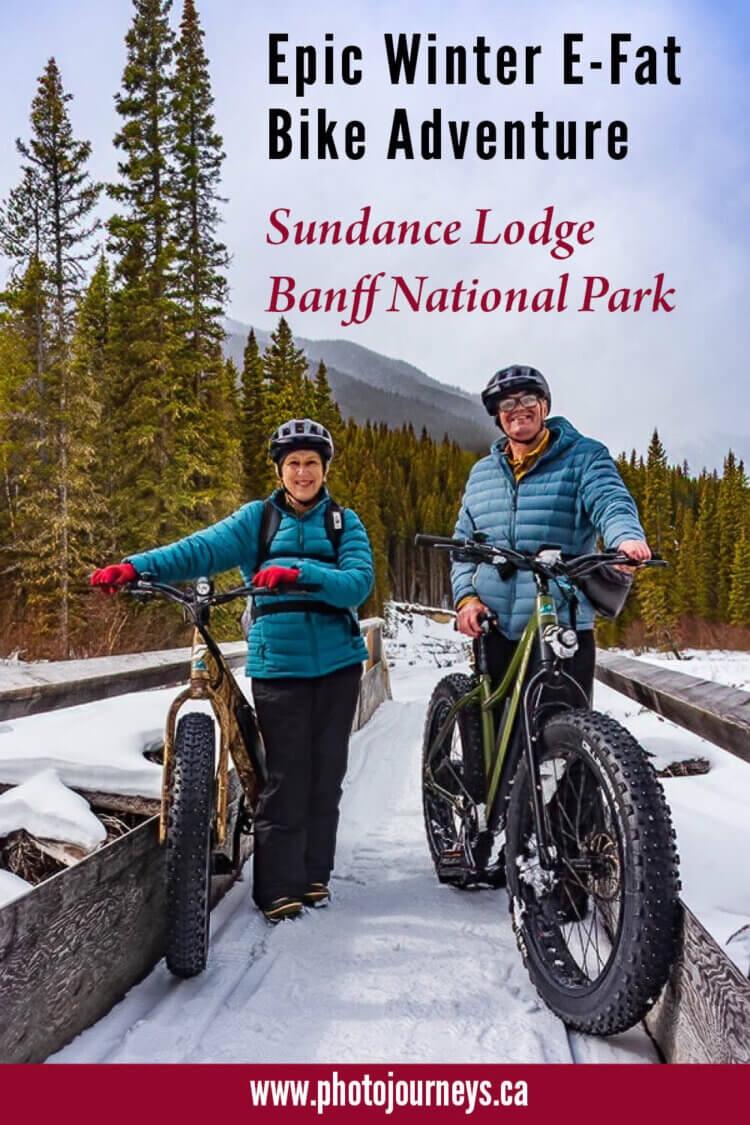 [/lgc_column]