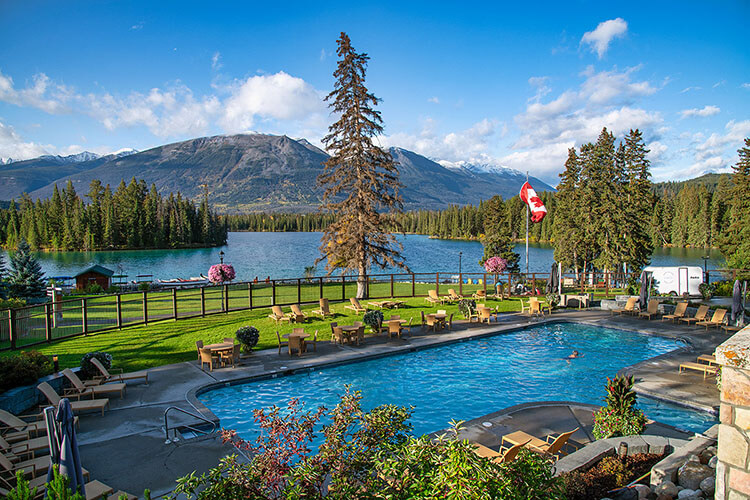 All photos © Robin and Arlene Karpan except where indicated.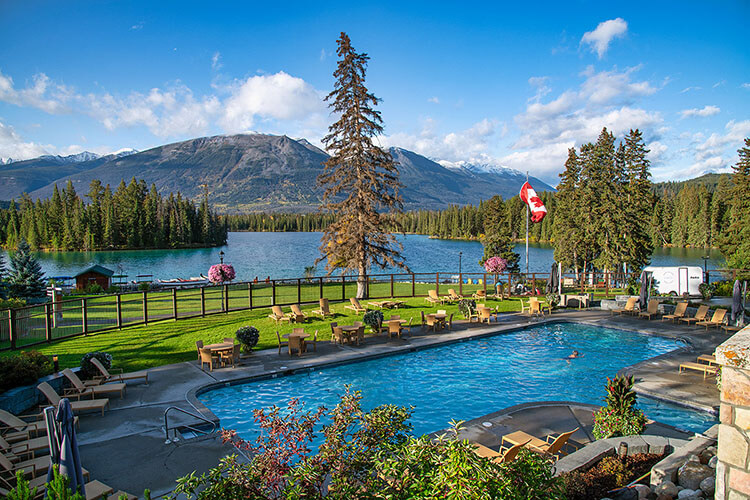 For over a century, Fairmont Jasper Park Lodge has remained among the top places to stay in the Canadian Rockies. Jasper National Park is the largest of Canada's Rocky Mountain national parks and, in our view, the most spectacular. The park boasts dazzling mountain vistas at every turn, fabulous hiking, some of the Rockies' most accessible glaciers, and excellent wildlife viewing.
Then there's the feeling of spaciousness, partly because the park is so large. But even around the Jasper townsite the main points of interest are fairly spread out, so when busy it doesn't feel as crowded as some parks.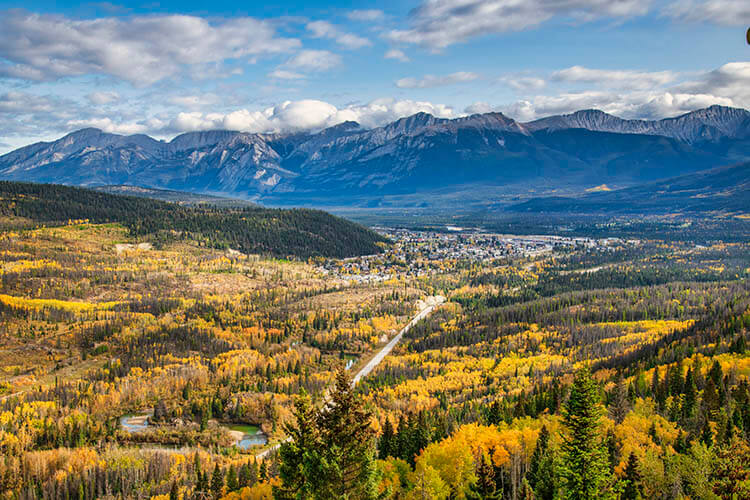 That spacious feeling also extends to Jasper Park Lodge, with more than 700 acres of gorgeous mountain, river valley, and lakeside scenery. It's only a few minutes' drive from Jasper townsite but it seems a world away. You cross the bridge over the Athabasca River then follow Old Lodge Road with views over the river, and along the shore of Mildred Lake. Other roads branch off to nearby Annette Lake and Edith Lake with picnic spots, beaches, and hiking trails.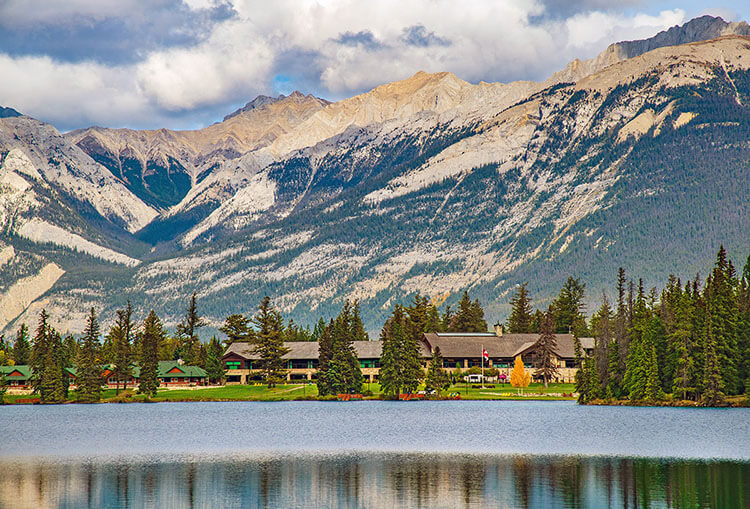 Jasper Park Lodge has frequently made the list of the top resorts in Canada by Conde Nast Traveler and Travel and Leisure magazines. It's a luxury resort but one with a difference – think hiking boots rather than high heels.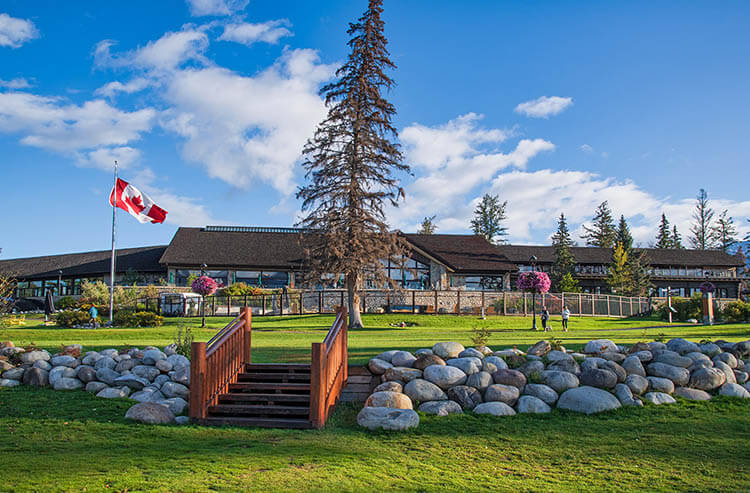 The early days of Jasper Park Lodge
The lodge had modest beginnings, dating to 1915 when guests stayed in a "Tent City" with 10 tents and a large dining area. After World War I, bigger plans for a grand resort were drawn up when the property was taken over by the Canadian National Railway. With lofty ideas and money to spend, the railway eagerly backed the project – self-contained log cabins laid out over a large area like a camp with the central lodge as the hub. Since it was close to the railway, there was convenient access for guests arriving by rail.
Work on the lodge began in 1921 with the construction of permanent log buildings. Logs were sourced from nearby areas, and local stone was used for fireplaces. When it was completed, the central lodge was purported to be the largest single-story log building in the world at the time. Two years later, Jasper Park Lodge welcomed guests looking to experience the wilderness and majesty of the Canadian Rockies while enjoying swanky accommodation.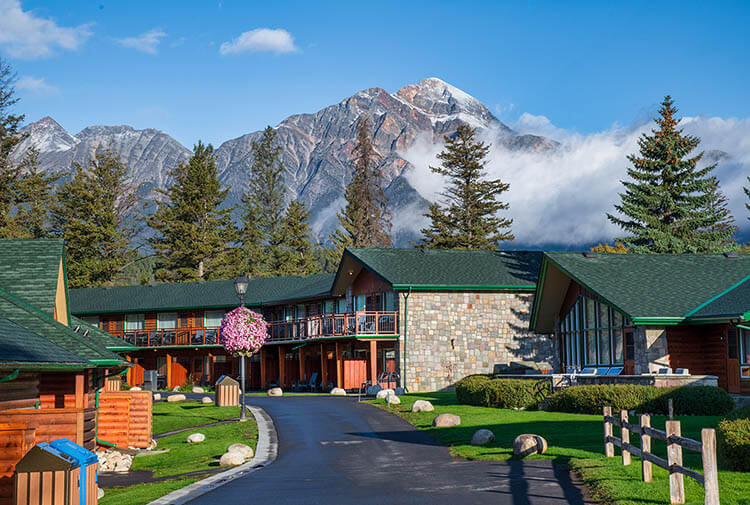 It didn't take long for the lodge's reputation to spread as a premier destination. Movie stars such as Jimmy Stewart, Bing Crosby, and Marilyn Monroe stayed here, as did several members of the Royal Family. Various high profile politicians, musicians, and corporate moguls have visited as well.
Accommodation away from the crowds
We recently had a chance to spend a couple of days at the lodge, staying in one their comfortable Junior Suites. It was that feeling of spaciousness that first struck us. Although the lodge is large with over 400 rooms, those rooms are spread among several buildings in the 700-acre property. So when the place is fully booked, as it was during our stay, it doesn't feel crowded because people are so dispersed.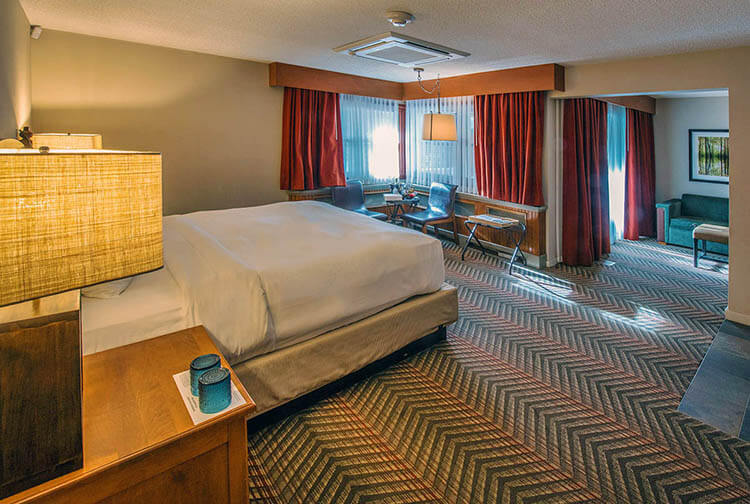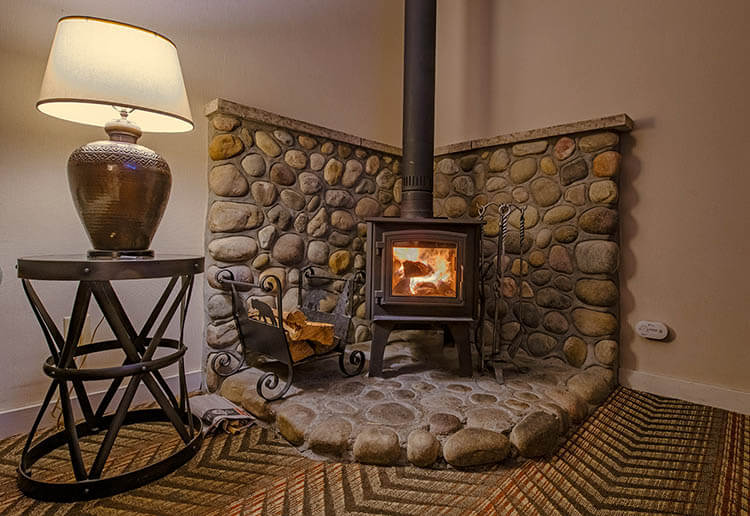 The other thing that stands out is that nature is literally out your door. The primary natural feature is Lac Beauvert which lines the front of the lodge grounds. It's a stunning bluish-green colour and incredibly clear, with the colour tones changing somewhat with light and time of day. A nature trail circles the entire lake, with links to other trails in the area. For a closer look, you can head to the lodge's boathouse and rent a canoe or paddleboat to get onto the lake itself.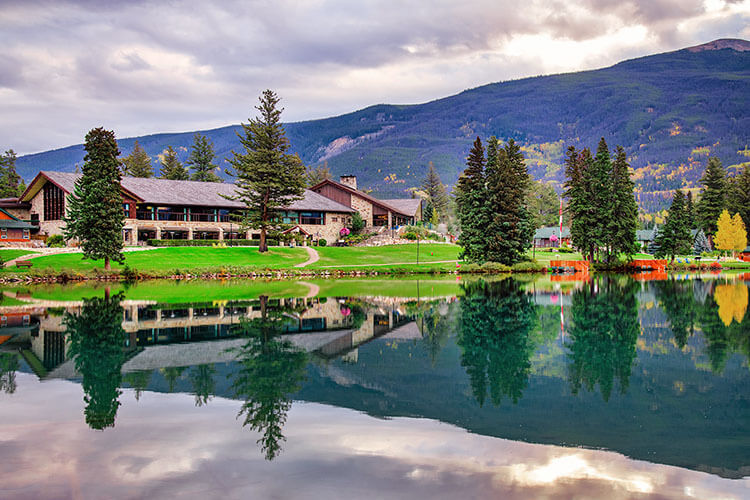 One reason why we like Jasper so much is its abundant wildlife. During the fall elk rut, or mating season, it's the top place in Canada to see some of the action such as bull elk bugling to attract females and warn away competing bulls. Because of its prime setting beside the Athabasca River Valley and next to lakes and open grassy areas, the elk often hang out in and around Jasper Park Lodge. It's not unusual to see them wandering along the pathways and grazing on grassy areas near the cabins.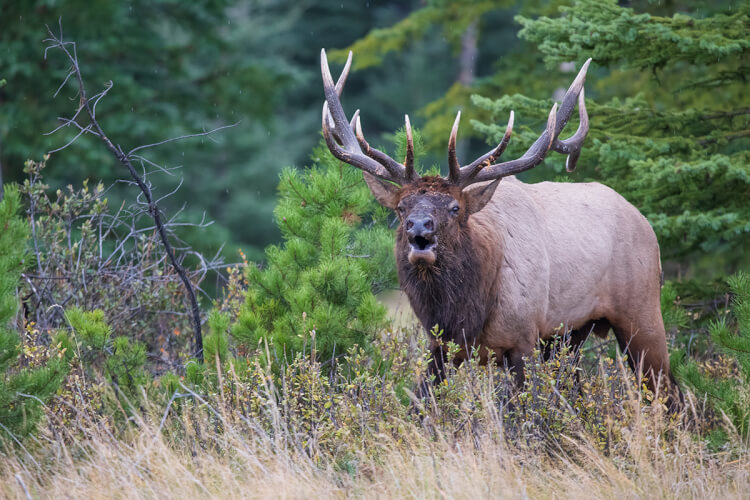 During our September visit, we often heard bull elk bugling to announce their presence. At this time of year guests have to a bit more vigilant so as not to get close to a bad-tempered bull. An important early morning job for grounds-keepers at the lodge is to scoop up elk poop from the walkways.
In the spring, bears sometimes wander through the golf course, and at any time there could be squirrels, chipmunks and other critters scurrying about.
Signature Cabins at Jasper Park Lodge crank the luxury up a few notches
Self-contained chalet-style Signature Cabins takes things to another level. Some come with massive stone fireplaces, full kitchens, pool tables, hot tubs, games rooms, and outdoor firepits. One even has its own putting green. With one to eight bedrooms, they are popular for special occasion get-togethers, and with guests desiring an extra level of privacy. They have proven ideal for the rich and famous who want a little time out of the limelight. Someone famous could be staying only a few doors away and you may never know.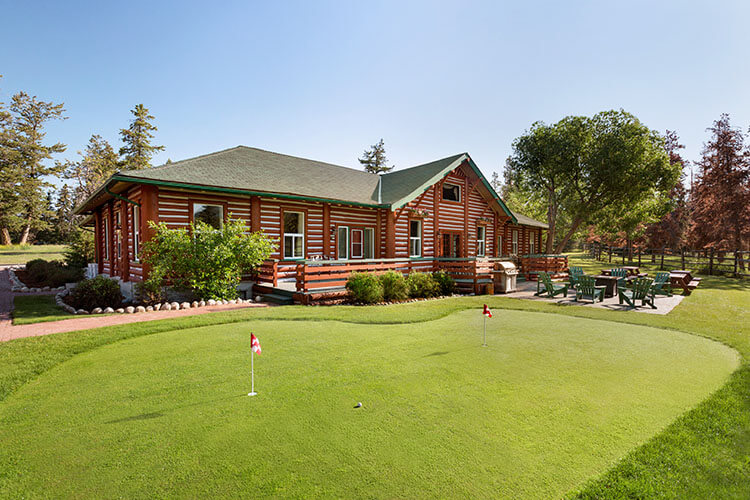 An added perk for those staying in Signature Cabins is butler service. Your butler could bring breakfast to your cabin, stock your fridge with goodies, arrange activities, or flip your steaks on the barbecue. If you want to go for a hike, you could arrange for your butler to meet you along the way with a gourmet lunch.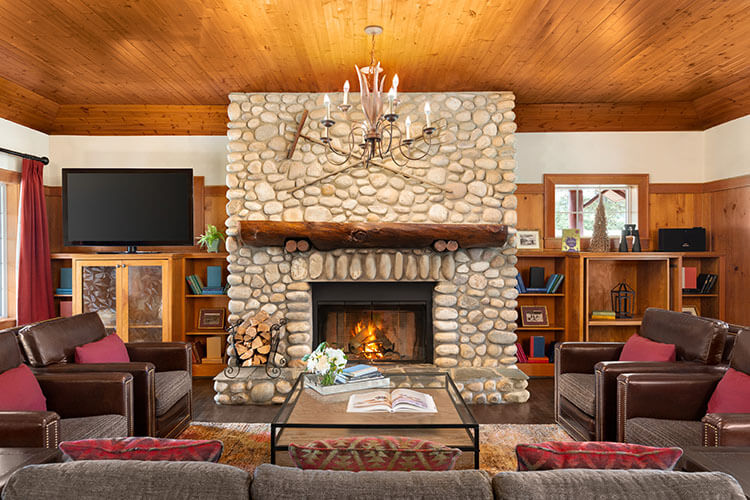 Food for thought
The main lodge building is food central. The Great Hall features classic favourites such as bison burgers, ribs, steak, pub food, and afternoon tea. The hotel also has its own special beer – Jasper Park Lodge Premium Lager. If you're partial to sushi, Oka Sushi is said to be Jasper's longest running dining institution.
Orso Trattoria is the restaurant for more elegant yet still casual dining, with views over Lac Beauvert. The focus is Italian specialties, but with a local twist. Seafood dishes loom large, or you can tie into the Cowboy Tomahawk Steak. We're still in Alberta after all. Most popular is the three-course menu for a set price where you order a starter, main dish, and dessert.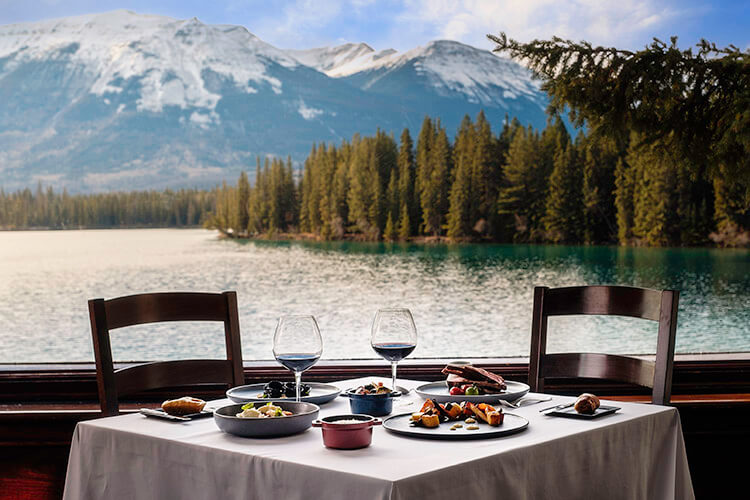 One of the more imaginative options is the Adventure-Ready Picnic to go. Fitzhugh's Fine Foods in the hotel can put together a lunch of gourmet foods, complete with champagne, and pack it in a classic wicker picnic basket for you to take with you as explore the park.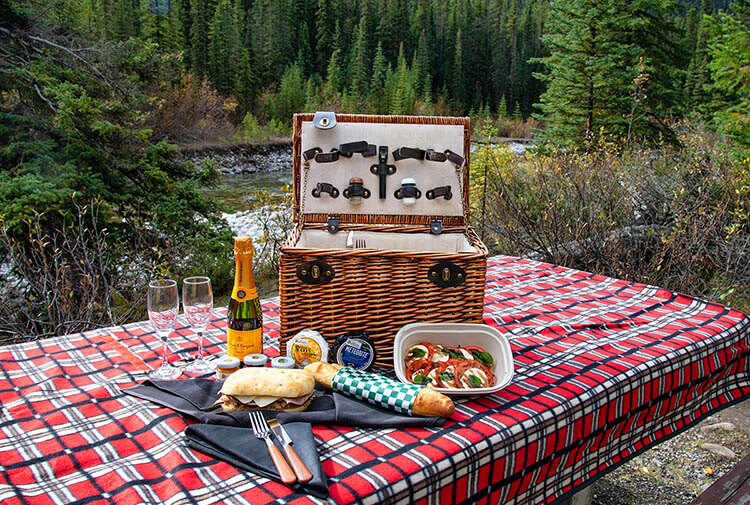 Top rated golf course and more
For golfers, playing the 18-hole Fairmont Jasper Park Golf Course is as good as it gets. The challenging course was designed by famous golf architect Stanley Thompson in the mid-1920s, who incorporated it into the surrounding forest and mountain landscape. It has consistently been highly rated as among the top courses in Canada, with this year rated Number 3 by SCOREGolf. The course has amassed a long list of other awards over the years, including the Most Beautiful Golf Course in Canada by SCOREGolf and being rated among the top golf resorts in the world by Conde Nast Traveler magazine.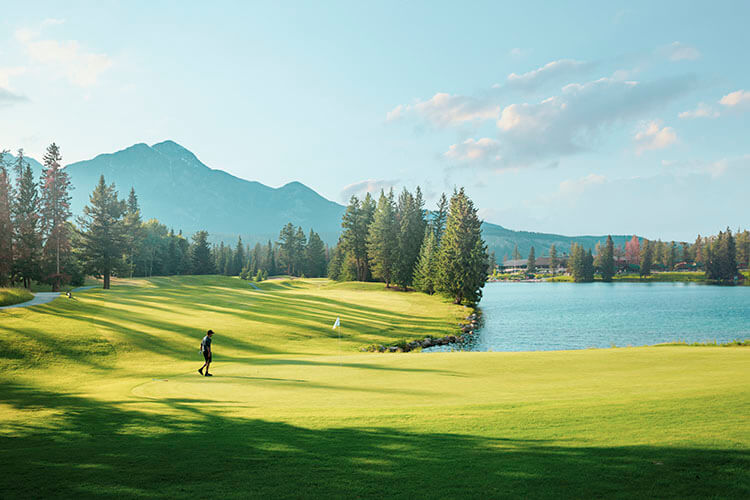 Rounding out some of other lodge features is the Health Club & Pool (the outdoor heated pool is open year-round), Fairmont Spa, yoga and fitness classes, and Mountain Galleries highlighting contemporary Canadian art. At the onsite planetarium you can join astronomy experts for some stargazing.
Special events
Various special events are held throughout the year. Among the most popular is Symphony under the Stars held in October when members of the Edmonton Symphony Orchestra play at the lodge under the starlit skies. This event is one of many held in the park in conjunction with the Dark Sky Festival that features everything from a choreographed drone light show, to workshops, science demonstrations, and of course stargazing through telescopes. Jasper National Park has been declared a Dark Sky Preserve, and is the second largest dark sky preserve in the world according to Parks Canada.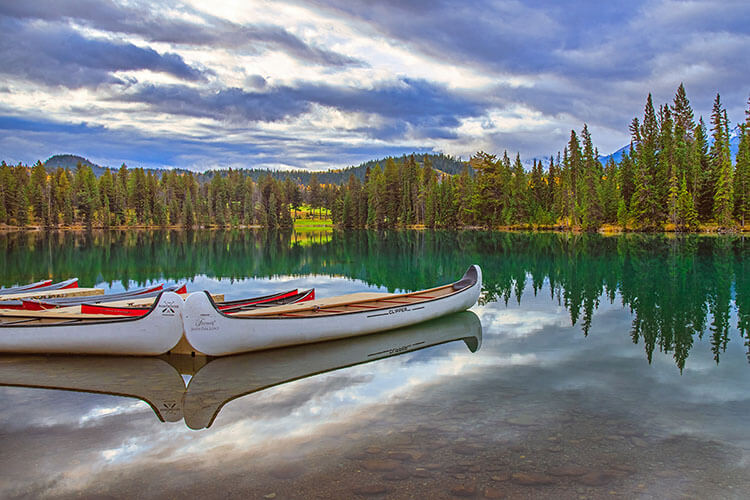 Resources
Special thanks to the Fairmont Jasper Park Lodge who hosted us during our visit.
SUBSCRIBE to Photojourneys below
Feel free to PIN this article for later on Fairmont Jasper Park Lodge in the Canadian Rockies.