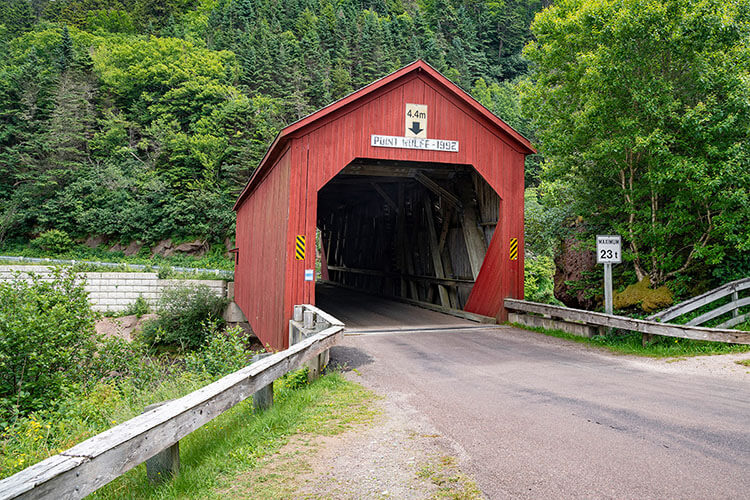 All photos © Robin and Arlene Karpan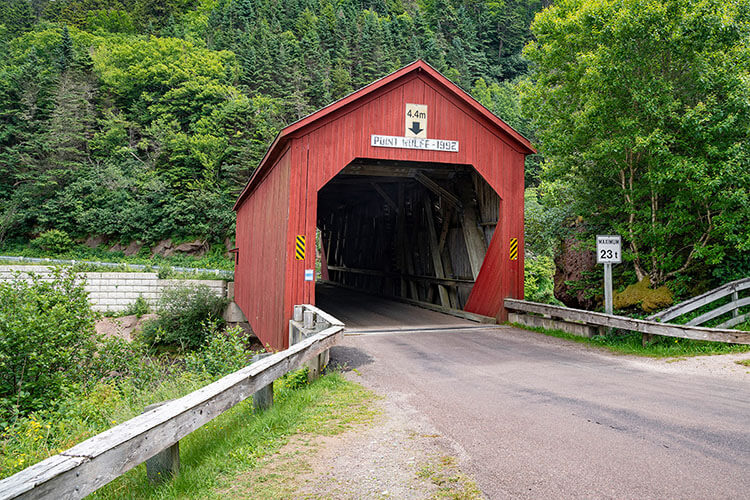 One of the most pleasant parts of our road trip through New Brunswick was coming across picturesque covered bridges. Timber-truss bridges used to be covered with siding and roofs to protect the wood from the elements. While built for practical purposes, they have aesthetic appeal as well and are an iconic feature of New Brunswick.
Covered bridges are primarily an Eastern Canadian thing, with the vast majority occurring in either New Brunswick or Quebec. Though a relatively small province, New Brunswick has 58, close to half of the 131 historic covered bridges in the country. While that may sound impressive, there were around 340 in the 1950s. Over the years many deteriorated and were replaced by modern structures, while some were lost to floods.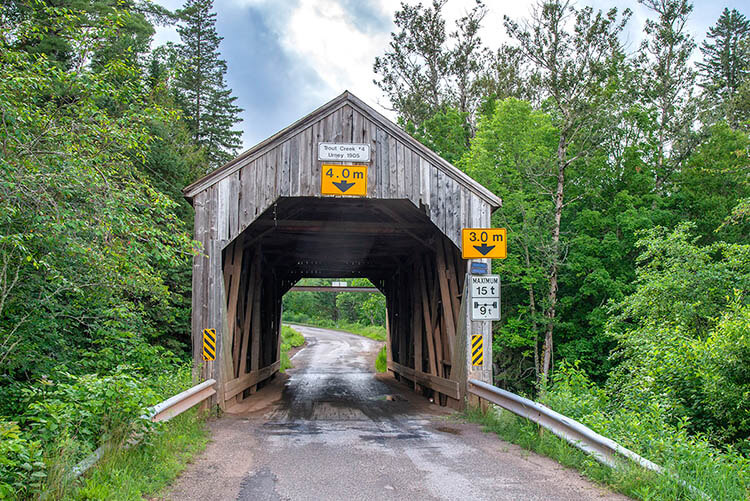 "Kissing Bridges"
They were also known as "kissing bridges". In the horse and buggy days, young couples could sneak in a kiss or two while under the roof, away from prying eyes. Some fellows would even train their horses to mysteriously stop halfway through a covered bridge. Although there isn't a lot of time for smooching while driving through today, covered bridges still capture the romance of an earlier time. They are an important link to the past and New Brunswickers considered the bridges an essential part of their heritage. The province has a Society for the Preservation of Covered Bridges, and there is even an annual celebration called Love Your Covered Bridges Days.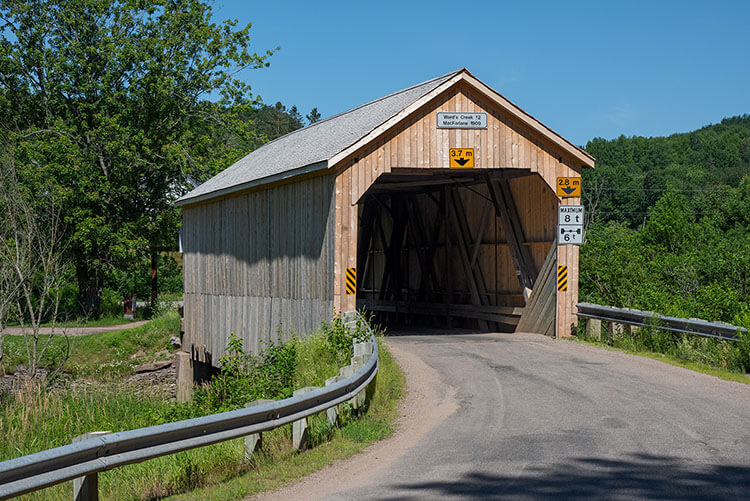 World's Longest Covered Bridge
New Brunswick boasts the Longest Covered Bridge in the World at 390 metres or 1,282 feet. Crossing the wide Saint John River in the town of Hartland, the one-lane bridge was built in 1901 and then covered 20 years later. It was considered an engineering marvel at the time, although not everyone was in favour of covering it. Some feared that covering a bridge that long would corrupt the morals of young people.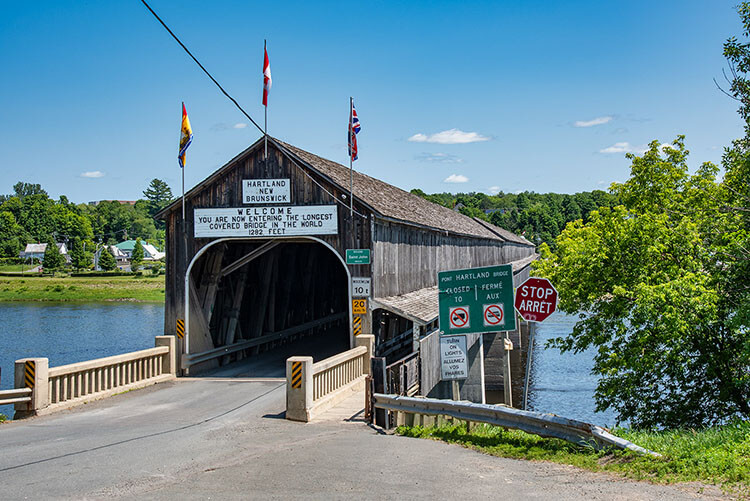 However, covering the bridge had a more practical drawback. The roof kept snow off the bridge, which you would think would be a good thing. But in the 1920s, there were still many people using horse-drawn sleighs in winter, so they had to haul snow onto the bridge so that the sleighs could get across.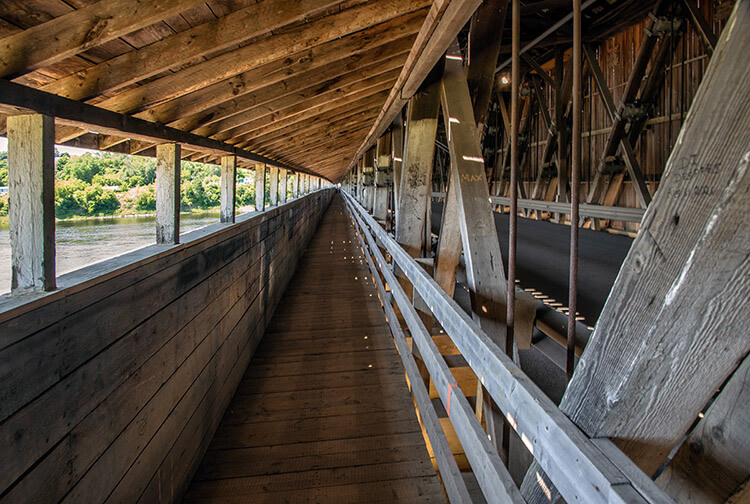 Hartland is one of the most visited covered bridges, convenient to access since it is only a few kilometres off the Trans Canada Highway (#2). It seems to always be busy, with regular local traffic plus tourists who can't resist driving back and forth a few times. There are places to park at either end. You can also cross the bridge on the pedestrian walkway, which was added in 1945, providing a close-up look at the bridge's construction.
An unusual bridge in potato country
One of the most usual covered bridges that crosses the Saint John River is in Florenceville, a bit north of Hartland. It is 46.9 metres or 154 feet long, with one part of it looking like a traditional wooden covered bridge but the other part open and built of steel.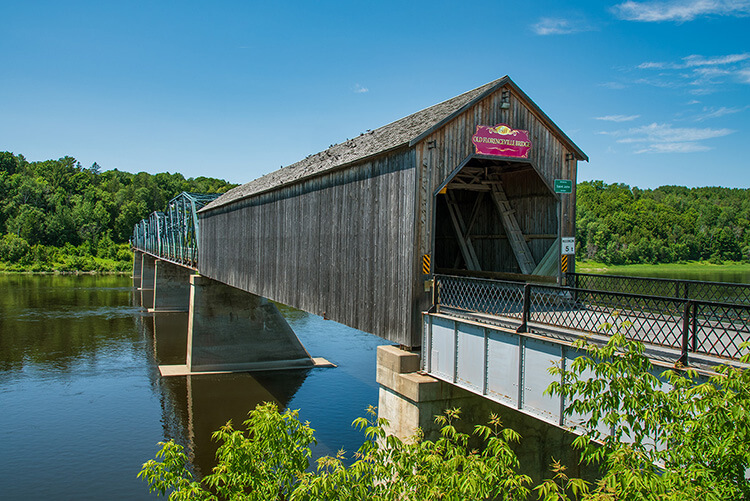 There is a nice park on the east side of the bridge, with one feature being a wooden statue of a potato. Florenceville bills itself as the French Fry Capital of the World. The town is in a major potato farming area and is home to McCain Foods which, through its many production facilities, produces one-third of the french fries consumed in the world.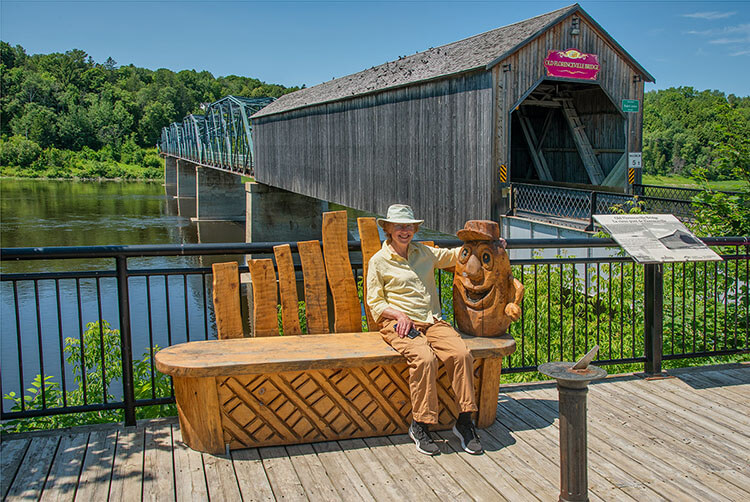 The only national park with a covered bridge
The most scenic locale for a covered bridge that we came across was the Point Wolfe Bridge in Fundy National Park. This is the only national park in Canada where you can drive across a covered bridge. The bright red bridge, built in 1992 to replace a previous bridge which was damaged, is 29 metres or 94 feet long. It crosses the Point Wolfe River just before emptying into the Bay of Fundy. It's unusual in that it has been painted, whereas covered bridges in New Brunswick generally aren't painted.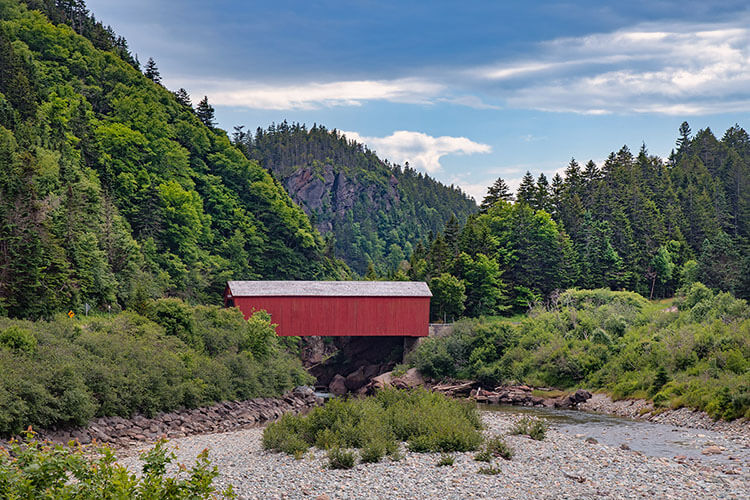 Bridges of St. Martins
The small community of St. Martins on the Bay of Fundy is a popular tourist destination with spectacular sea caves that you can visit in low tide. During high tide they disappear as they fill with water. It's also the main jumping-off point to visit the scenic Fundy Trail Parkway. Here we find two covered bridges, fairly close to each other. St. Martins is said to be the only place where you can see two covered bridges, plus a lighthouse, in the same view.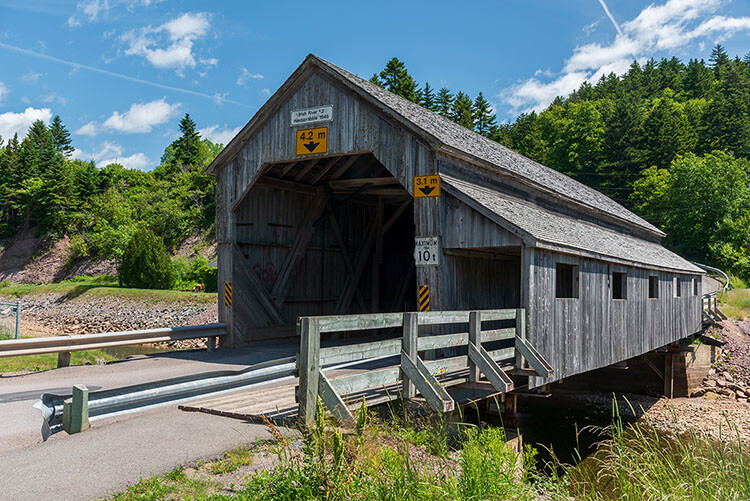 The Hardscrabble No. 2 Bridge, built in 1946, is 22 metres or 72 feet long. It also has a pedestrian walkway with windows. The nearby Vaughan Creek Bridge was built in 1935 but was removed when it badly deteriorated. It was recently replaced with a new bridge but built in a traditional covered bridge style. It is the only two-lane covered bridge in New Brunswick and the first covered bridge built in over 70 years.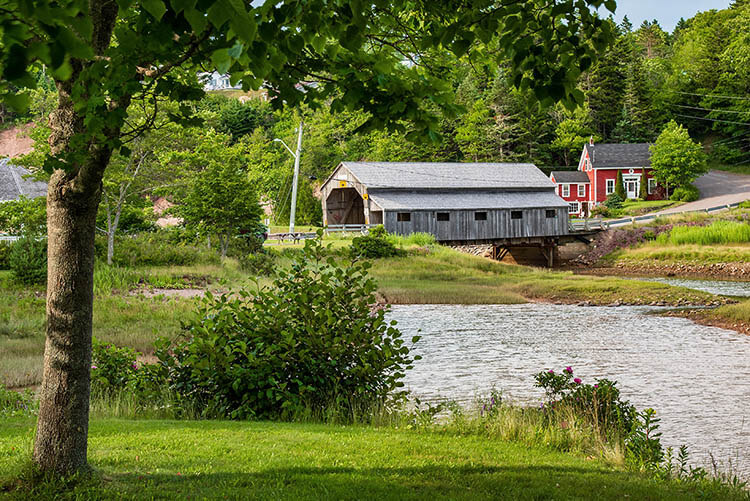 Covered bridges on and off the beaten path
Some bridges are close to well-travelled routes, such as Highway 114 which travels along the Fundy coast between Fundy National Park and Hopewell Rocks Provincial Park. One is the Sawmill Creek Bridge, no longer used but sitting right next to the highway, with an ice cream stand conveniently located in the parking area. Dating to 1905, it still has a sign reading "Walk Your Horse and Save a Fine".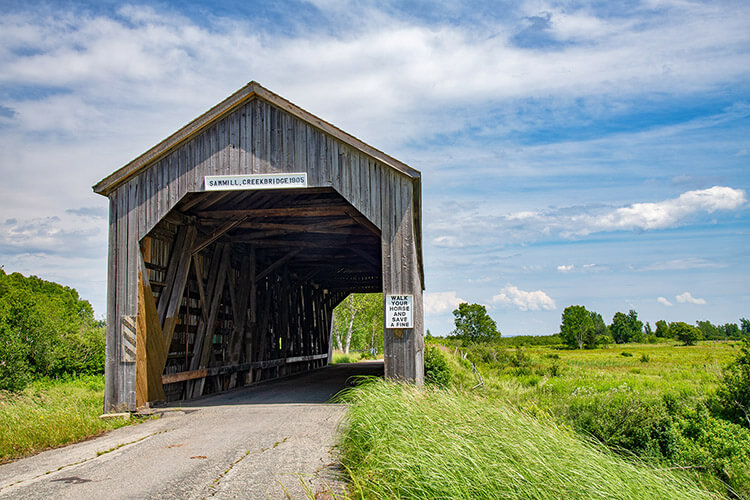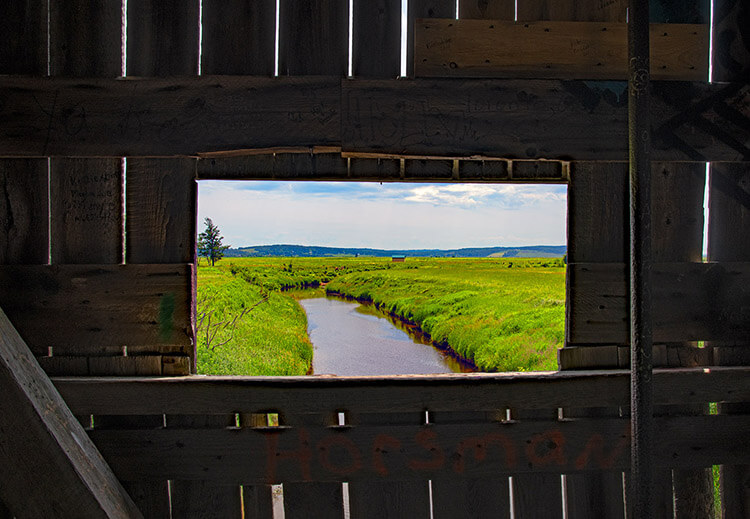 The Shepody River No. 3 Covered Bridge is just off Highway 114 near Germantown, although it's easy to miss if you're not looking for it. Turn southeast onto Midway Road. Built in 1903, it is 19 metres or 61 feet long.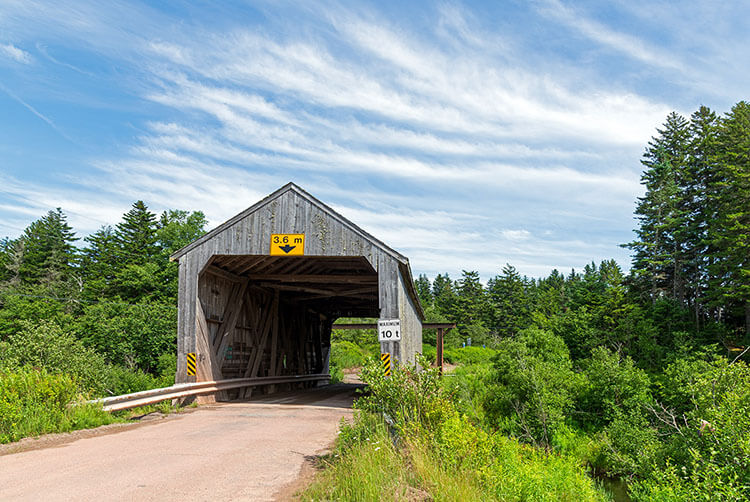 Equally rewarding was coming across covered bridges a bit more off the beaten path, away from major tourist routes. Many are still used for normal everyday local travel. Some are no longer in service but have been designated as historic sites.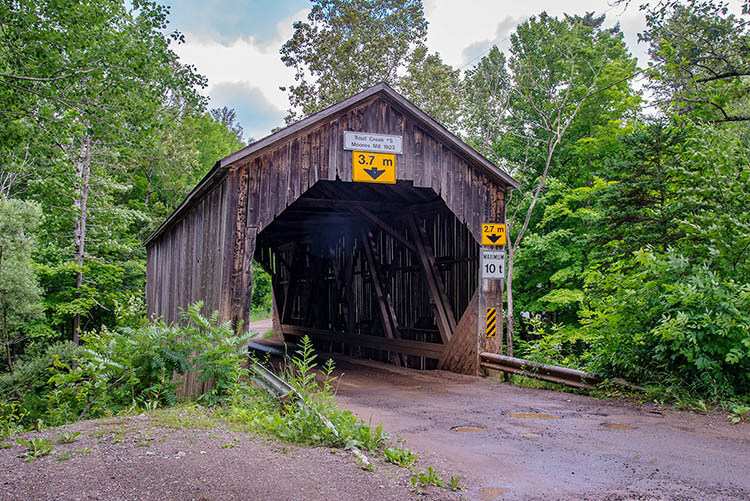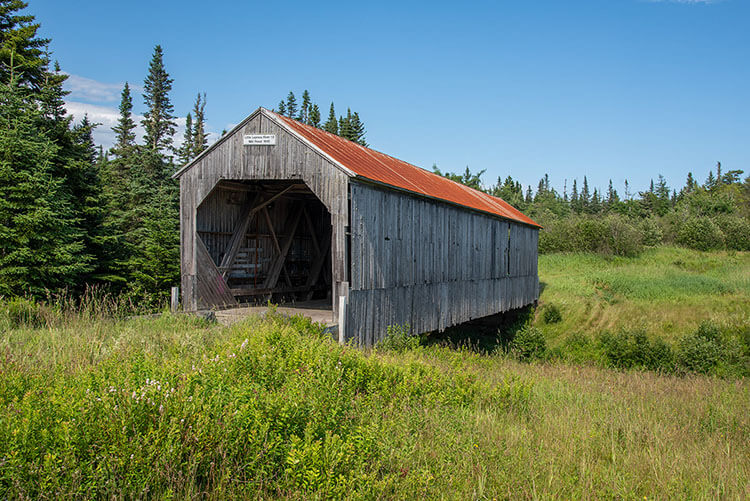 We've only seen a handful of the province's many covered bridges, so discovering more of them will certainly be on our agenda for future trips to New Brunswick.
Resources
If you want to find where all of the covered bridges are located, this New Brunswick government website has a map with directions to all of the bridges. Tourism New Brunswick has extensive information on travel throughout the province, as well as more details on many of the covered bridges.
Other posts on Photojourneys on New Brunswick that you might enjoy:
SUBSCRIBE to Photojourneys below
Feel free to PIN this article on Covered Bridges in New Brunswick