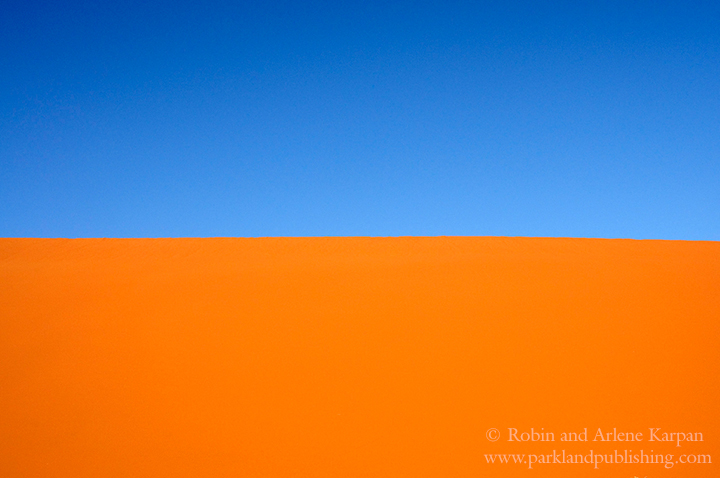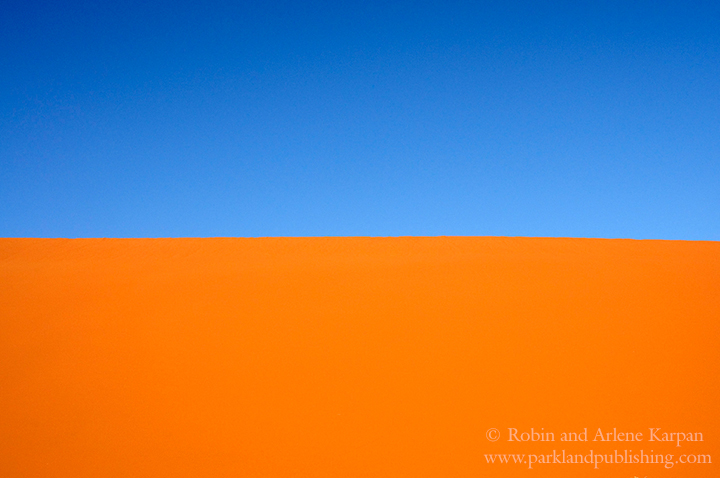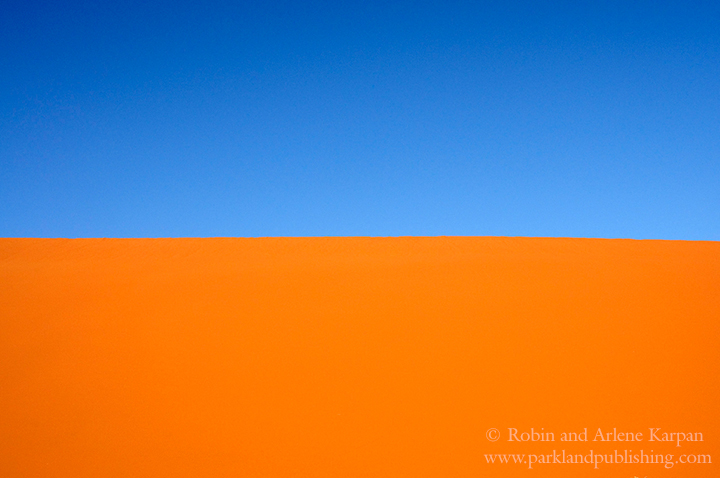 Photography has a lot of "rules" of composition to help you make a more pleasing image. These are very useful for the most part, but they should be taken as guidelines rather than something to follow religiously. Sometimes, doing something different or unconventional might be preferable. Besides, it's just plain fun to break rules!
One of those rules is that you shouldn't put the horizon across the centre of the frame. Conventional wisdom says that if the sky is more important, you should put the horizon lower to emphasize the sky. If the foreground is more important, place the horizon higher to minimize the sky. In this image, which we call Dune and Sky, we purposely put the horizon smack in the middle. But why?
We were photographing the amazing sand dunes of Namibia's Namib-Naukluft National Park. Each morning, we left our camp before sunrise in order to be at the dunes in time to catch the rising sun saturate the reddish-orange sand, turning colours almost unreal shades. We already had a magical early morning of photography, then about an hour or so after sunrise, we noticed another change taking place. It was still early enough for the sand to remain a dazzling saturated orange, but now the slightly higher sun was turning the sky a brilliant blue. It was as if the blue and orange competed for dominance, and the contest was a tie. It seemed to reduce the Namibian dunes to their basic, but most important elements – sand and sky.
A few months later, we were pleased to learn that our dabblings in minimalist art made it to the final round of judging in the Creative Visions of Nature category in the BBC Wildlife Photographer of the Year Awards. So the moral of the story is to definitely be aware of conventional elements of design and composition, but to be flexible enough to alter them as you see fit. Above all, don't be afraid to break rules.