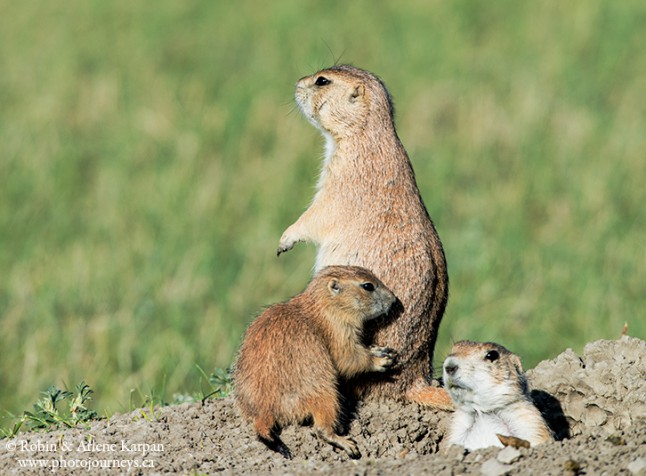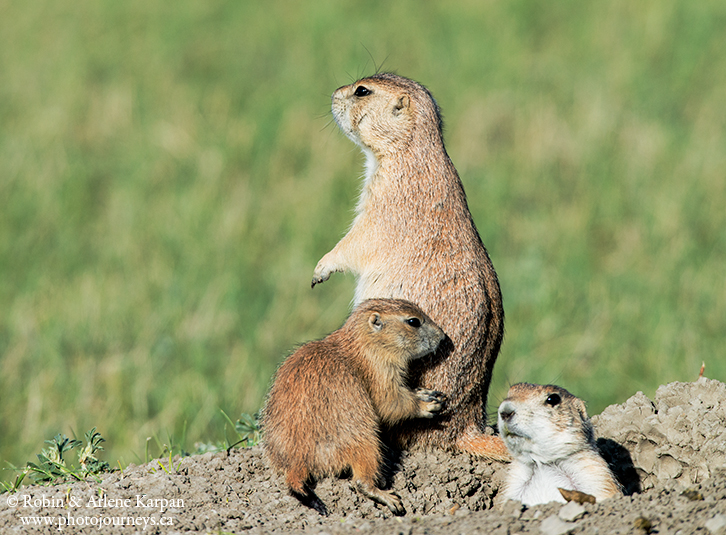 Wildlife viewing and photography is seldom a sure thing. Animals move around a lot and aren't always where we think they will be. Black-tailed prairie dogs, however, are an exception. Come here in summer and you'll certainly find plenty of these spirited critters scurrying around and chattering away. The Frenchman River Valley in the West Block of Grasslands National Park of southern Saskatchewan is the only place we find them in Canada. This the northern tip of their range that stretches all the way to Mexico.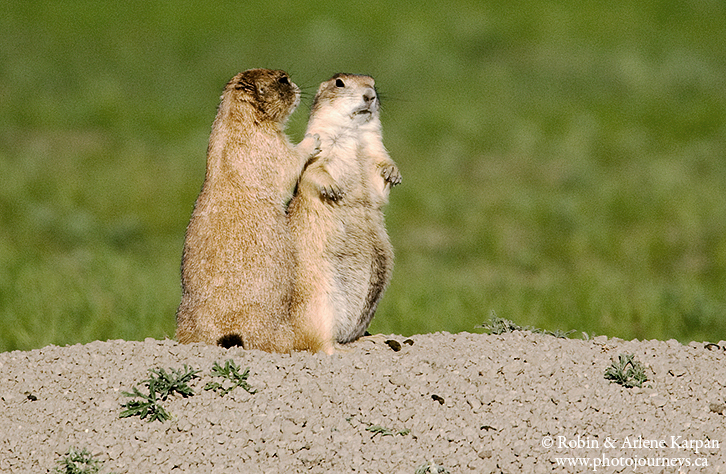 Black-tailed prairie dogs look somewhat similar to the ubiquitous Richardson's ground squirrels (more commonly referred to as gophers) that we find throughout the Canadian prairies. But they are a lot bigger and have that distinctive black tip on the ends of their tails. These highly social animals live in huge colonies that can stretch for a kilometre or more. Fortunately for photography, the main Ecotour Road that runs through the valley cuts right through some of the colonies, so many of the little critters have their burrows immediately beside the road. A few have even dug burrows right on the road.




Because they are so close to the road, the easiest way to photograph them is to stay in your vehicle. Some may immediately disappear down their burrows when you stop, but after a few minutes they often continue going about their business. They tend not to feel threatened if you stay in your vehicle. It's fairly easy to get portrait shots of them sitting on their burrows, but it's more fun to try to capture some behaviour such as feeding, or family members nuzzling each other as a greeting. More difficult to photograph is the "jump-yip" behaviour which happens extremely quickly. Here the dog jumps straight into the air while making a dog-like yipping sound, thought to be an all-clear signal to the colony.

A longer lens (such as 400mm or more) certainly helps to get close-up shots, but since they are so close to the road, you can get away with shorter lenses as well. Since most colonies are on both sides of the road, you can decide which side is best according to the light conditions.


SUBSCRIBE to Photojourneys below