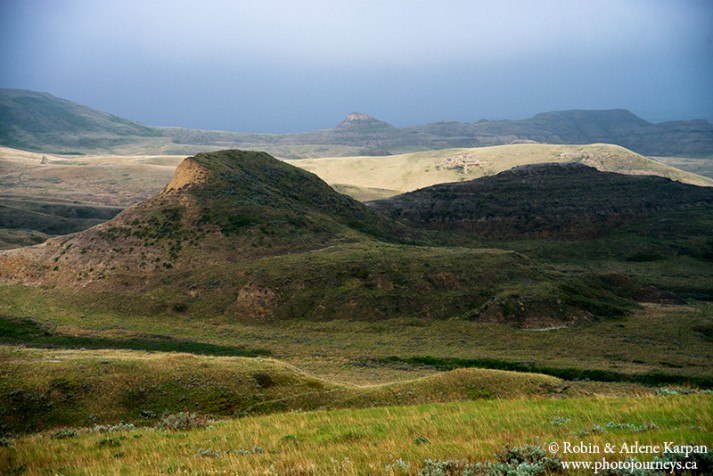 Grasslands National Park in southern Saskatchewan offers a wealth of photo possibilities. With one of the largest expanses of native prairie in North America, the park abounds with sweeping river vistas, imposing buttes atop rolling uplands, rugged badlands, and a rich array of wildlife from bison, to mule deer, pronghorn, rare burrowing owls, and the only black-tailed prairie dogs in Canada.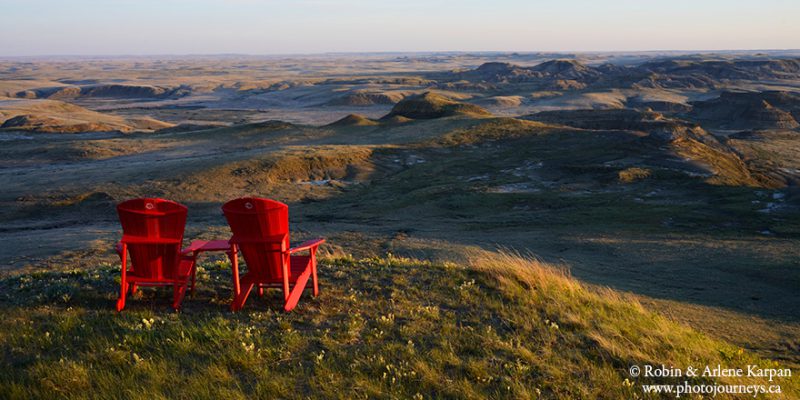 If we had to pick our favourite part of the park for scenery, it would the Rock Creek Badlands in Grasslands National Park East Block. It's a wild, other-worldly landscape of free-standing buttes, eroded hillsides and whimsically-shaped formations. It was here that the first dinosaur bones in western Canada were discovered in 1874. During settlement, the rugged nature of this land kept it from being plowed for agriculture. Instead, it became part of the vast ranchlands of southern Saskatchewan and remained mostly unchanged. More recently, the badlands and surrounding area became incorporated into Grasslands National Park.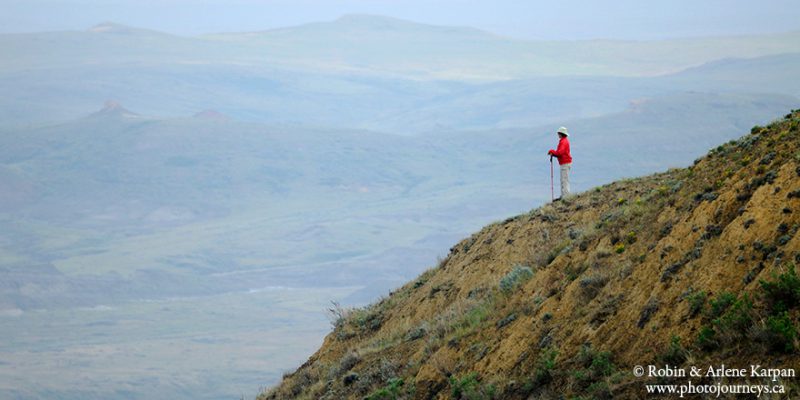 Despite being remote, the badlands are quite easy to visit. In fact, you can drive along a valley rim right up to the best viewpoints. For photography, just after sunrise and just before sunset are prime times, when one side of the buttes takes on a warm glow, contrasting with strong shadows on the other. It's also here that you'll find a couple of the famous red chairs that Parks Canada has been placing at viewpoints in national parks throughout the country. If you're camping at the Rock Creek Campground (the only place to stay in the East Block of the park), it's a fairly short drive to be at the lookout for prime photography times. The campground has electric sites, oTENTIks (framed cabins for rent), a cooking shelter with barbeques, and a visitor centre.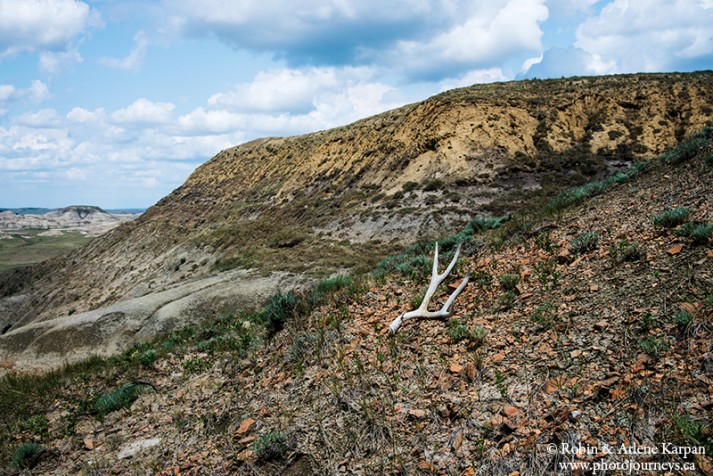 Various hiking routes start from the campground, but if it's mainly badlands you're interested in, it's best to take the lovely paved Badlands Parkway to the badlands viewpoint, then hike into the valley from there. There is no one "best" route to take. The open nature of the country allows you to get a bird's eye view of the area, then head to the parts that look most interesting.




We generally take a minimum of camera gear when hiking into the valley – lenses in the wide to standard range are usually sufficient, perhaps supplemented with a short telephoto zoom such as a 70-300mm to help isolate certain features. While there's certainly a reasonable chance of finding wildlife (muledeer are always around), we've usually found that the West Block of the park is better if your main interest is wildlife.
We've included the Rock Creek Badlands as one the 50 must-see places in our bestselling book The Great Saskatchewan Bucket List – 50 unforgettable natural wonders to see before you kick the bucket. Also see our popular book Saskatchewan's Best Scenic Drives Revised Edition for more ideas on road trips in the area.
Other articles you might enjoy include Saskatchewan's Baddest Badlands and Grasslands National Park Photos.