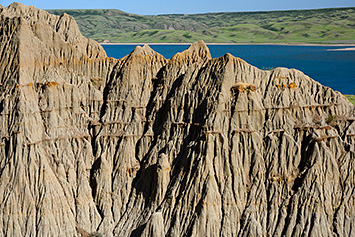 Last Updated on January 26, 2021
Note: As of 2019, access to the Sandcastles has been closed due to increased visitation and associated risks.


A few days ago we made a return visit to one of our favourite spots in southern Saskatchewan – the Sandcastle of Lake Diefenbaker. Recent spring rains have turned the hills a brilliant green, dotted with wildflowers and blooming cactus, and contrasting against the sandy-coloured Sandcastle, named for its castle-like spires. Known as a hogsback, steep and deeply incised by erosion, the strange badland-like formation lies about half way down the north slope of the lake.




The view takes you by surprise as you follow a fairly level pasture trail, then suddenly arrive on the valley rim and look over the dramatic terrain below, lining both sides of the long, narrow lake. While the Sandcastle itself is the highlight, the entire setting is spectacular – the wild prairie at its best. The trail continues a bit past the sandcastle to an overview over the Sunken Hill, where a portion of the hill simply collapsed in 1949. While early morning and evening light are usually best for landscape photography, you can't wait too late to get nice light on the sandcastle formation itself, since the hills to the west start throwing shadows on it in early evening.


SUBSCRIBE to Photojourneys below