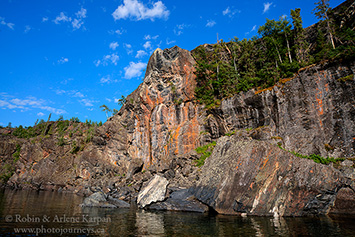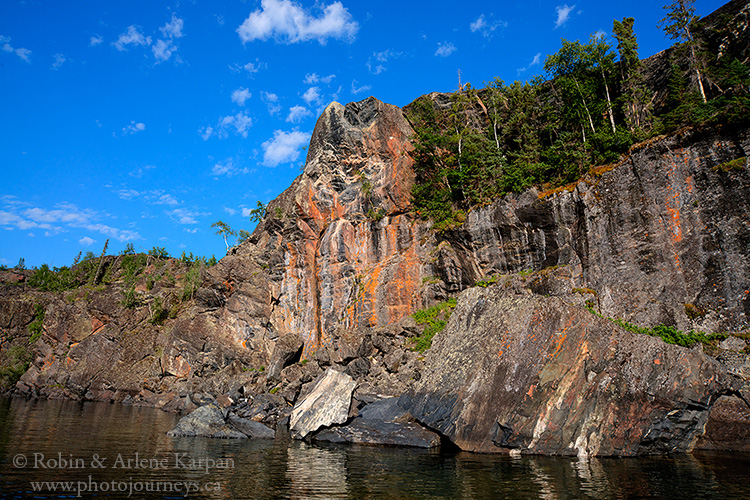 In the last posting, we followed Lake Athabasca's north shore as far as Lodge Bay. Now we'll continue from Lodge Bay to the Oldman River, one of the most magnificent stretches. It's only 30 kilometres in a straight line, but could be two or three times that length if you explore the many bays and islands along the way.


Caldwell Bay
While the entire north shore abounds in wildly colourful rock formations, one of our favourites is a stony beach just west of Caldwell Bay (N 59.44260 W 108.38015). The rocks scattered near shore look like they have been splashed with paint. Even the beach ridges sculpted by ice and waves are multi-coloured, and behind them are low cliffs with brilliant reddish-orange hues. It's easy to spend several hours here. One thing we like about photographing rocks is how cooperative they are; we don't have to worry about them running away or fluttering in the breeze.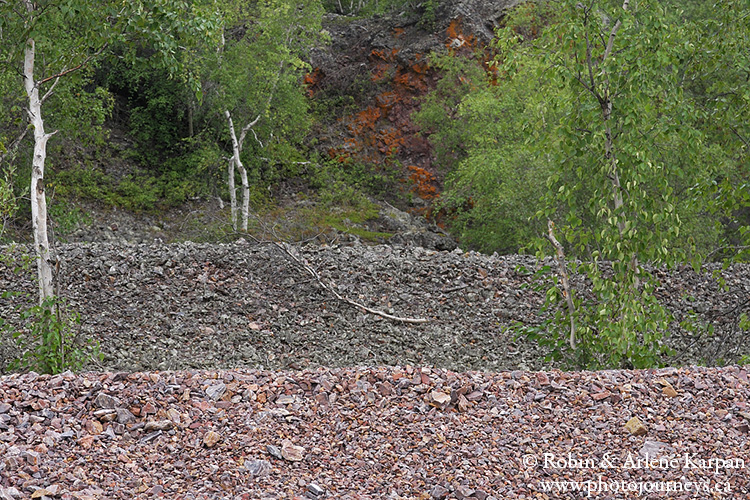 MacIntosh Bay
From Caldwell Bay, a narrow protected passage flanked by high rocky hills between Moose Island and the mainland leads to another inlet and the entrance to expansive MacIntosh Bay. The bay is so large that it's almost like being in a separate lake (N 59.48091 W 108.32800—entrance). The island-studded bay is lined with bulbous, fairytale hills. One of the islands here is among our favourite places to camp while exploring the north shore. And the fishing ain't bad either.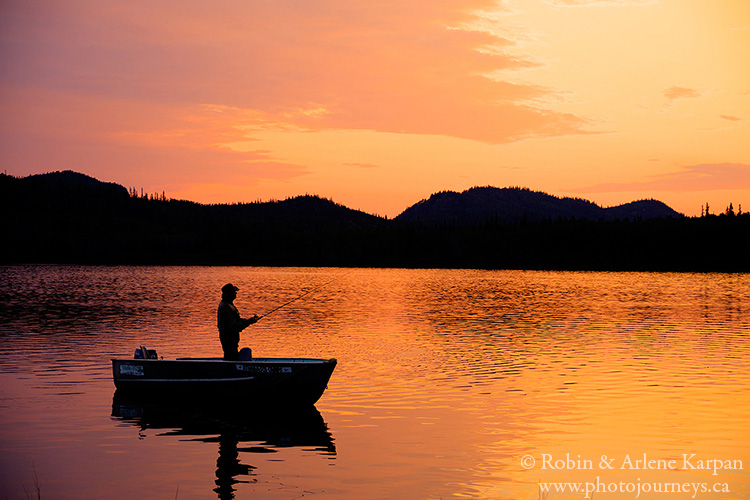 Reed Bay and the Oldman River
Another protected channel runs between the mainland and Cameron Island towards Reed Bay. Near the eastern end of this channel, many rocky outcroppings have a brilliant pinkish tinge. This combined with unusually clear shallow water makes for some great photo possibilities. Be careful where you step if you walk around these outcroppings. These are favourite nesting sites for Arctic Terns. They make extremely simple nests, often just a gap between a couple rocks, so their camouflaged eggs are easy to miss.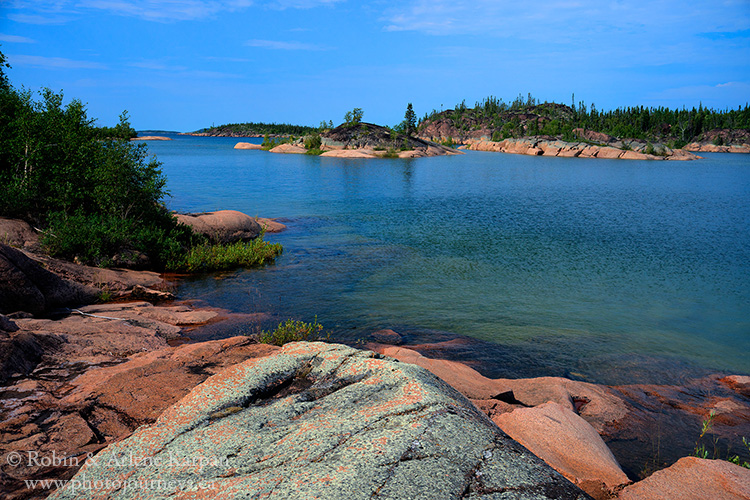 If we had to pick the single most impressive sight on the north shore, it would be the cliffs of Reed Bay (N 59.46770 W 108.12407). The vertical cliffs rise straight from the deep water, but what really makes them special is the multi-coloured seams in the rocks and lichen growing on the surface. Late in the day is best for photography when the west-facing cliffs become even more vibrant in evening light. The only way to photograph the cliffs is from a boat, so hope for calm conditions.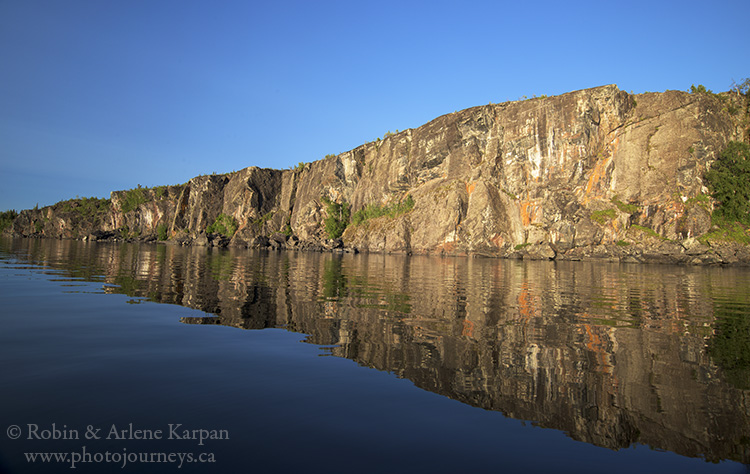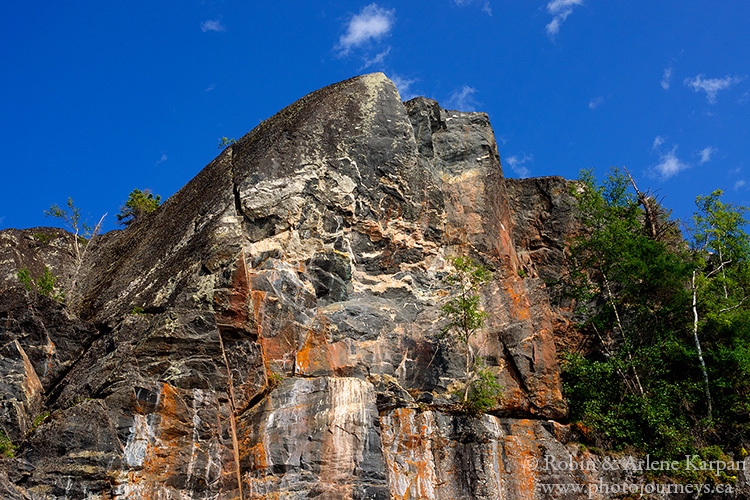 The mouth of the Oldman River (N 59.45366 W 108.08768) is just east of Reed Bay, after you travel through ominously-named Dead Man Channel. The story behind the name isn't all that sinister, however. The story goes that the river was named after an old trapper who lived in the area, and Dead Man Channel was named for the place they found him when he finally died. The area is protected from the open part of the lake by several partially forested islands with broad rocky outcroppings. One of these islands is another of our favourite spots to camp. It's a great fishing spot, with water so clear near shore that it seems as if you're watching fish in an aquarium.



On our most recent trip there (this summer), we had a couple days of howling winds and rough water (not unusual), followed by a dead calm evening. We had a wonderful evening in ideal conditions photographing Reed Bay, then when we returned to our camp in Oldman River Bay, the islands' reflections in still water seemed nothing short of surreal.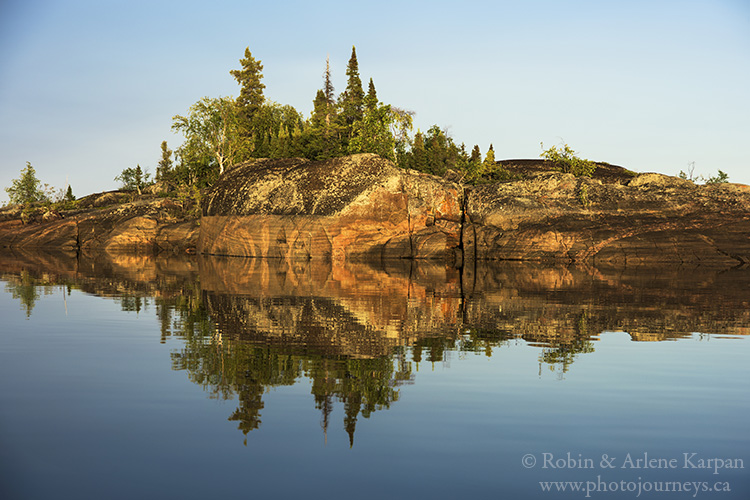 PIN ME