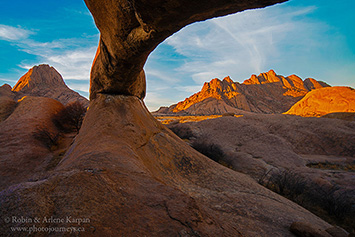 Last Updated on April 6, 2020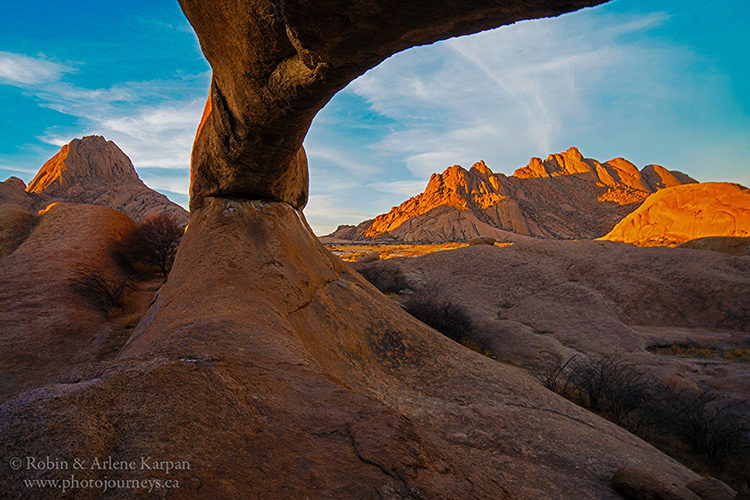 Namibia abounds in dramatic landscapes – deep canyons, sand dunes, arid desert terrain, and plains and grasslands thrown in for good measure. One top highlight from our recent visit was Spitzkoppe Nature Reserve, about 150 km north-east of the Atlantic coastal city of Swapkomund. It consists primarily of bald, granite peaks rising about 700 metres above the sun-baked Namib Desert, looking strangely out of place in this mostly level landscape.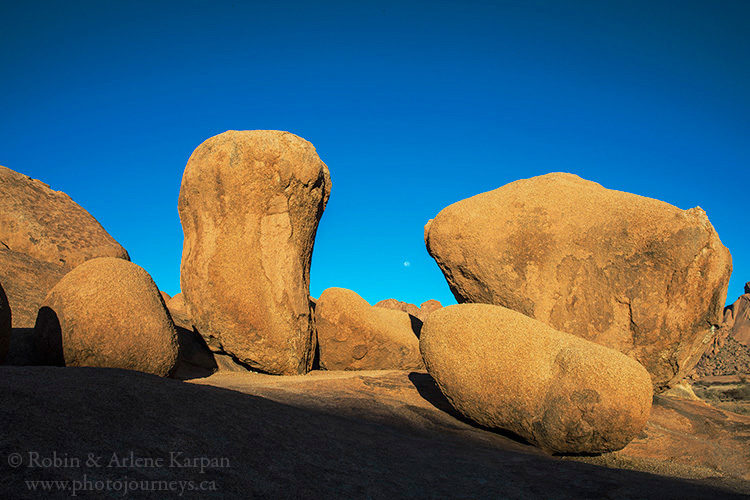 Spitzkoppe refers both to the nature reserve, and to the area's distinctive formation, often referred to as the "Matterhorn of Africa". Translated from German, Spitzkoppe means "pointed dome". Complex geological forces in the distant past created this peak that now reaches 1,728 metres above sea level. Eons of erosion from water washing over the surfaces, and sand-blasting winds have contributed to its unique shape. Apart from the main peak, the magical landscape has everything from rounded boulders, arches and caves, to mushroom-shaped pedestals and spires.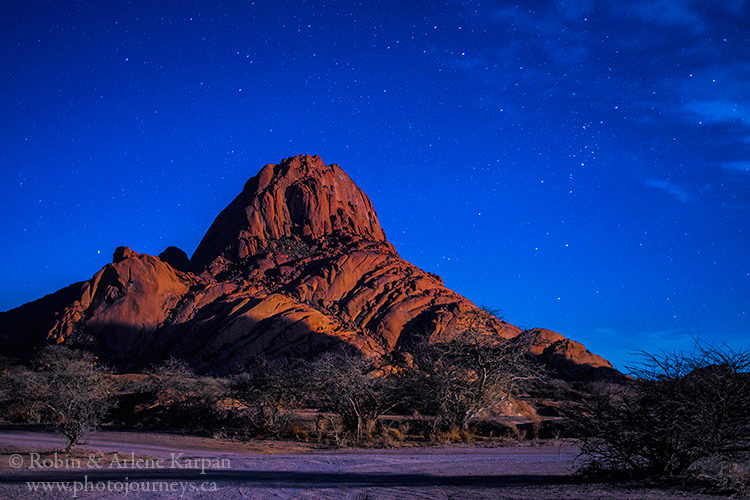 After driving through the spread-out village where 500 or so traditional Damara people live, we entered the reserve and set about finding a camp site. A wonderful aspect of this place is that the campsites aren't lumped together in a single location, but are scattered throughout the reserve; in most cases, you don't even see the neighbouring site. Facilities are spartan but adequate, with a pit toilet, place to barbecue, occasionally a table, and that's about it. There's a wash house with showers at the reserve entrance.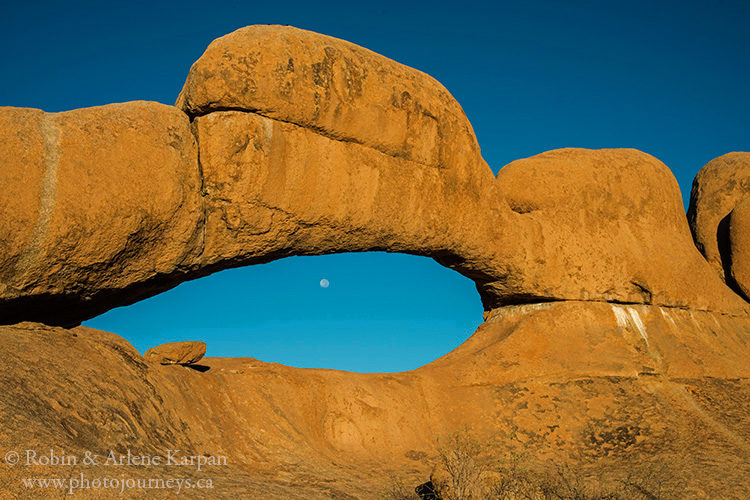 The guy who checked us in told us to take any campsite that wasn't occupied, and we were delighted to find that the site next to one of Spitzkoppe's most famous features, the giant natural stone arch, was up for grabs. Before even setting up, we climbed the sides of the rock face leading up to the arch for a better look. This perfect vantage point would give us access to both morning and evening light, with plenty of chances to capture the features of the arch and nearby formations. The site also had a tiny bit of shade for the tent; not much, but in the hot desert sun you take any you can get.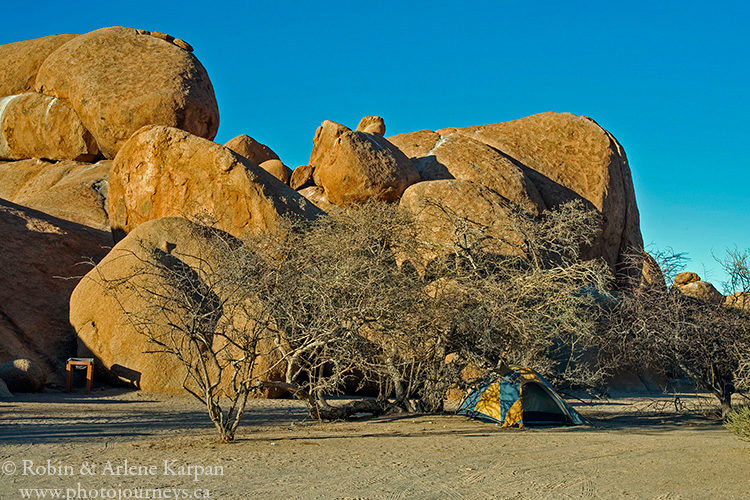 The effects of erosion on the landscape are dramatic. Surfaces have been worn away leaving a jumble of rocks with rounded edges reminiscent of the backdrop for Flintstone cartoons. Boulders look like they could topple in the next major wind storm. Fissures slice through the granite surfaces, and columns with smooth tops now stand separated on their bedrock base like fingers in a glove. Climbing the rocks for a closer look was often easier than it looked at first glance, since the rough surface provided some traction.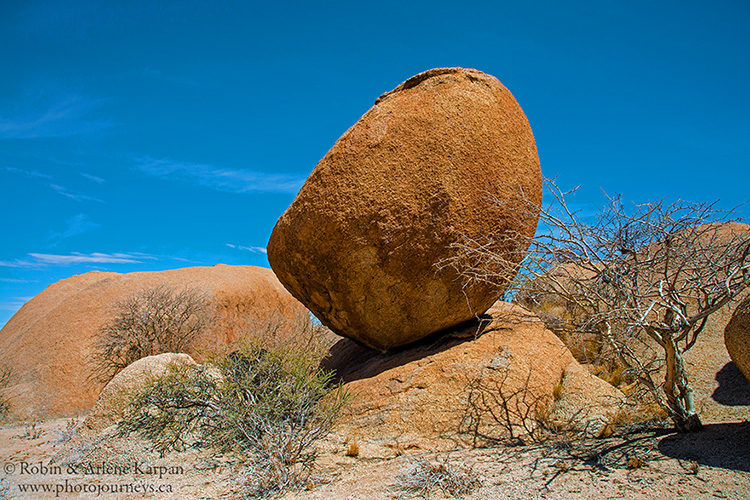 Just before sunset, the reddish-tinged stone seems to be on fire. But the colour didn't stop after the sun went down. A full moon illuminated the Spitzkoppe, turning it a deep blood red and casting deep shadows that accentuated its folds and spires. Despite the bright light of the full moon, it seemed like every star in the universe had been switched on, twinkling in the clear night sky. Bulbous rock formations just behind our campsite were silhouetted against the Milky Way. The absolute quiet made us feel as if we had the whole desert to ourselves.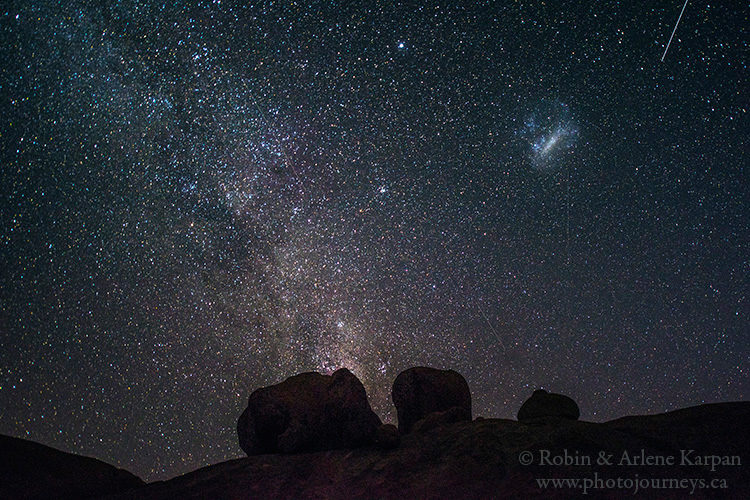 During the mid-day heat, we took it easy chasing the skimpy shade around our campsite. There was still plenty of activity – Dassies (an animal that looks like a giant ground squirrel) scampered around the rocky ledges, hopeful starlings hung around hoping for food handouts, and a couple of lizards including the showy male Rock Agama played king of the castle on a rounded rock.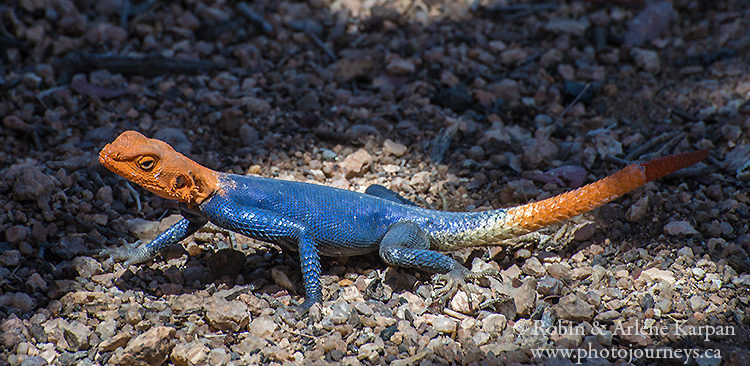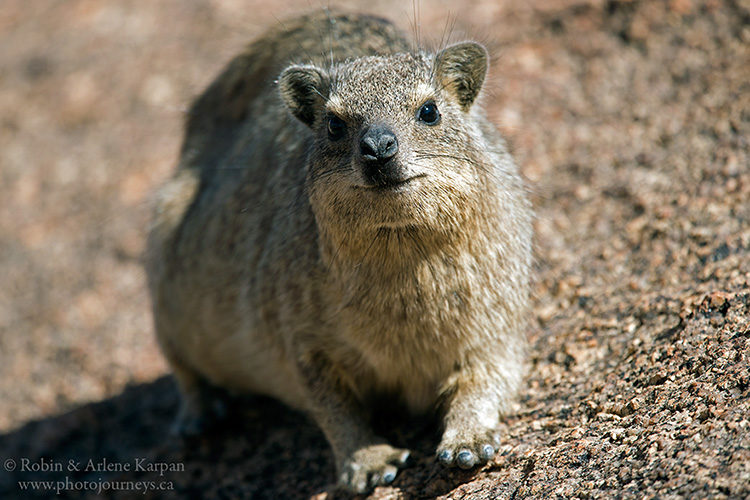 We took a tour with a local Damara guide who took us to a restricted area where we saw dozens of pictographs painted ages ago by people who frequented this region. Images of humans, rhinos, giraffes, a zebra with stripes etched into the rock, and other figures were clearly visible on the vertical rock face. One interpretation is that some animals are portrayed pointing the way to water. The designs were made with ochre mixed with ostrich egg yolk, blood, and animal fat; remarkably, after many years, perhaps thousands, some of them are still quite bright.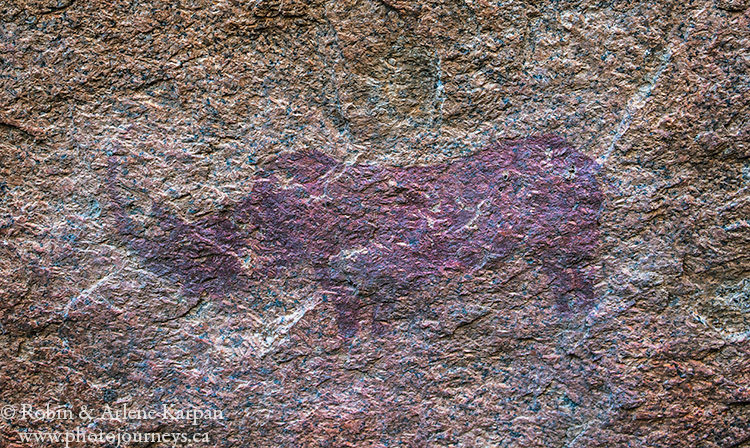 Later he showed us the deteriorating remains of a goat hanging in a tree. It was a leopard kill, and the big cat had dragged its prize into the tree for safekeeping and later snacks. We also learned about certain plants that benefit your health, and a couple that you only sample once since they will kill you if you're exposed to even small amounts. It pays to know the difference.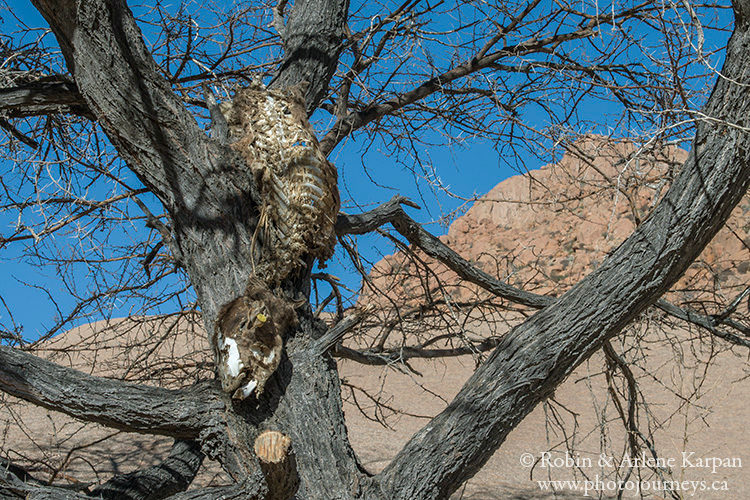 Carcass left in a tree by a leopard.
If you Go
Spitzkoppe is a couple of hours or so drive from Swakopmund. Most of the distance is on the paved B2 highway, though the last 30 km is on a very rough gravel road. We got used to plenty of corrugated gravel roads in Namibia, but the last stretch before Spitzkkoppe was one of the worst we encountered. In some places we crawled along at around 20 km/hour and it still felt as if the car would shake apart. The drive is still definitely worth it, however. Once inside the nature reserve, the roads were smooth and well maintained.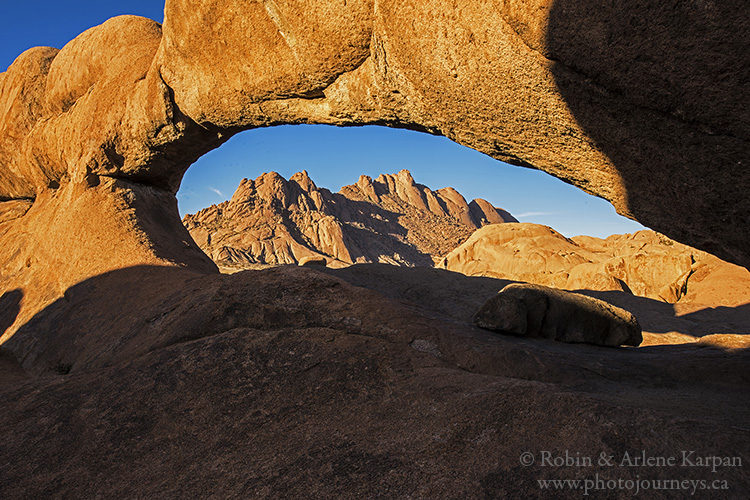 Sadly, some websites on Spitzkoppe suggest that you can see the area if you have about 4 hours to spare. While that may be technically possible, making it a destination in its own right is far preferable to just driving through. If you're a photographer, staying over is essential, since the light near sunrise and sunset is absolutely magical. We came here with the intention of spending one overnight, but ended up staying two. Camping rates are per person. We paid $N 340 for both of us (about $33 CDN or $25 US). Day visitors to the nature reserve are charged a $N 60 fee. Bring all of your food supplies with you, although there is also a restaurant at the reserve entrance. For more details see the campground website at www.spitzkoppe.com.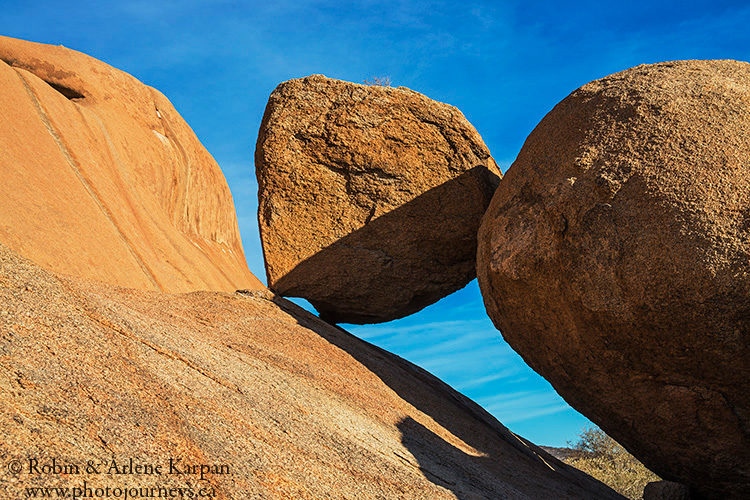 SUBSCRIBE to Photojourneys below
Feel free to PIN this article