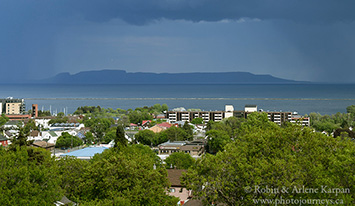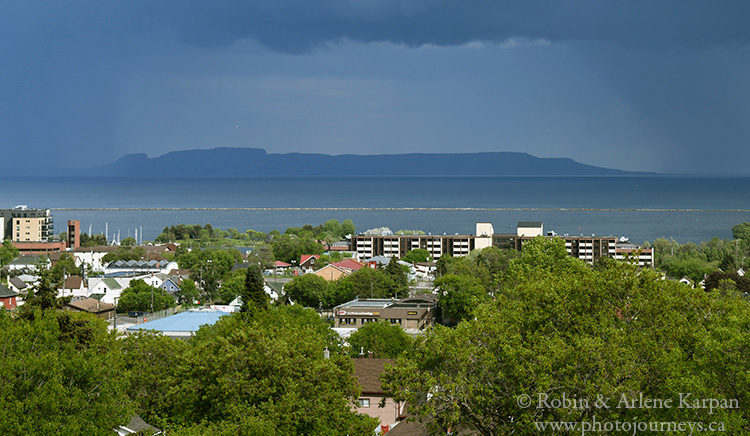 What impresses us most about Thunder Bay is the setting. Known as the Gateway to Northwest Ontario, the city looks over the world's largest lake, with a backdrop of thousands of smaller lakes. It's home to the iconic Sleeping Giant, nearby rivers with roaring waterfalls, spectacular canyons, and forested Canadian Shield. Add a rich history and diverse culture, and we have a destination that's definitely worth a few days of exploring.
The Overview
When we visit somewhere new, we look for a spot with an overview of the lay of the land. A great place for this in Thunder Bay is Hillcrest Park, on a height of land just back from the city centre. We look over the city and the waterfront, along with port facilities such as the massive grain terminals. Located near the western end of Lake Superior, this is the terminus for the St. Lawrence Seaway System where western Canadian grain and other products are loaded on ships bound for Europe and beyond.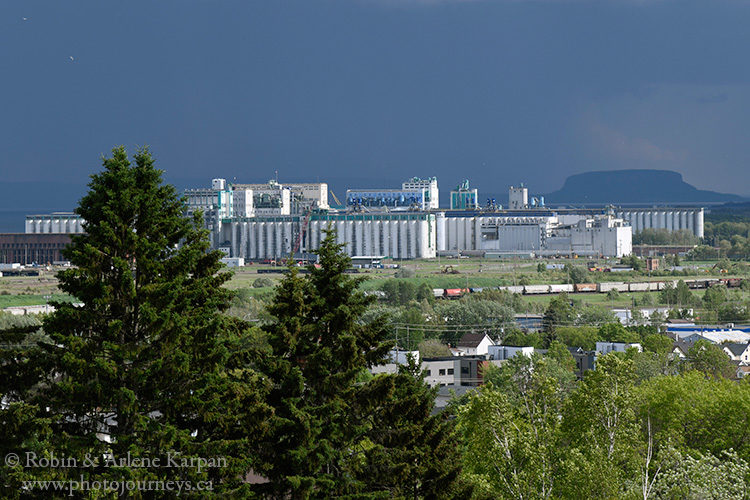 The most spectacular view from here, however, is of the Sleeping Giant, a massive formation that resembles a giant lying on his back, his arms folded on his chest. It almost looks like an island far out in Lake Superior, but the formation is actually at the end of a long peninsula, so we can drive there as well.
The best views of the giant are from various high points around the city, with Hillcrest Park being one of the best. However, we also had an excellent view of the big guy right from our window at the Prince Arthur Waterfront Hotel, Thunder Bay's elegant and historic railway hotel.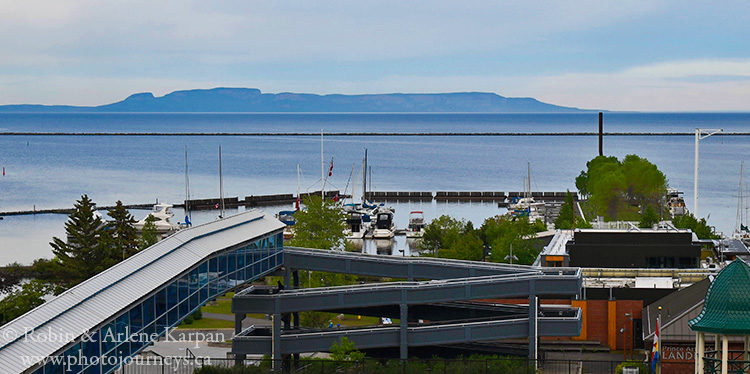 The Hoito
While Thunder Bay has a tremendously diverse ethnic make-up and culture, it is especially known for its strong Finnish heritage. So it's no surprise that the most famous restaurant, Hoito, specializes in Finnish dishes featuring Finnish pancakes – thin, tasty, and the size of a dinner plate. Established in 1918, it is thought to be the oldest cooperatively owned and operated restaurant in Canada. It began when logging camp workers wanted a place with reasonably priced home-cooked meals, so a co-operative was started in the Finnish Labour Temple building. It still operates much the same way today.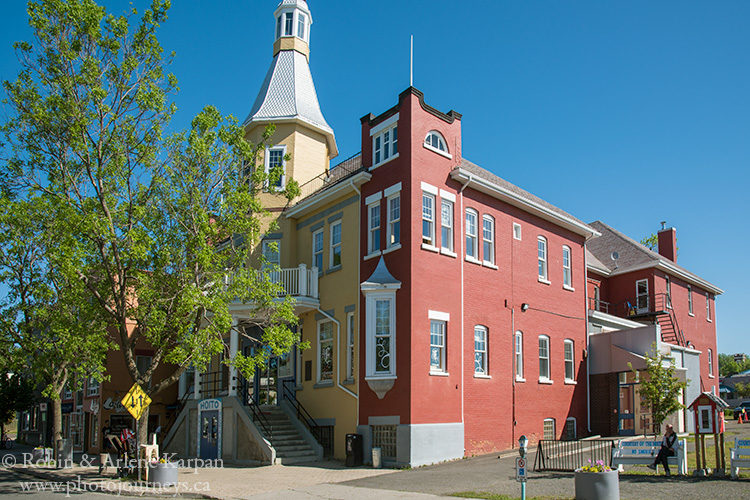 The Terry Fox Connection
It was just east of Thunder Bay that Terry Fox was forced to end his Marathon of Hope in 1980. The courageous one-legged runner made headlines as he attempted to run across Canada raising funds for cancer research. After completing over 5,300 km, his cancer spread and he had to stop. He died less than a year later. The Terry Fox Monument, just off the Trans Canada Highway, features a large bronze statue and tells the story of his remarkable achievements. The site also features a visitor centre and spectacular views over Lake Superior.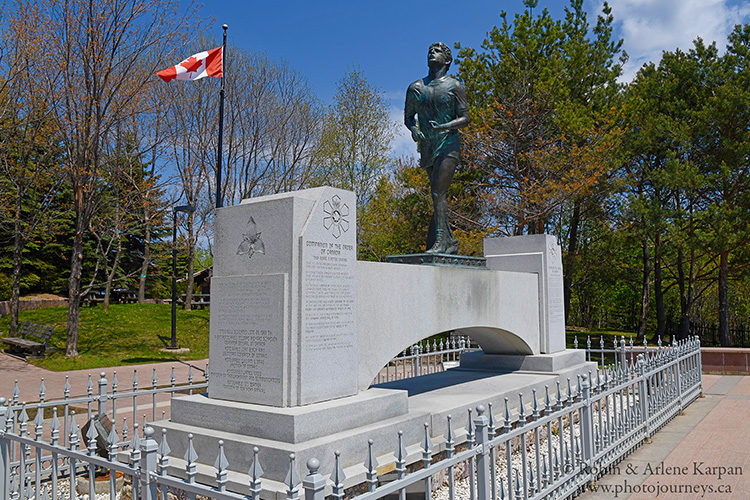 Fort William
The City of Thunder Bay has only existed since 1970, when the cities of Fort William and Port Arthur amalgamated and took on a new name. Fort William has an especially long history. In the early days when the fur trade was Canada's prime industry, Fort William was at the centre of it all, providing a crucial link between east and west.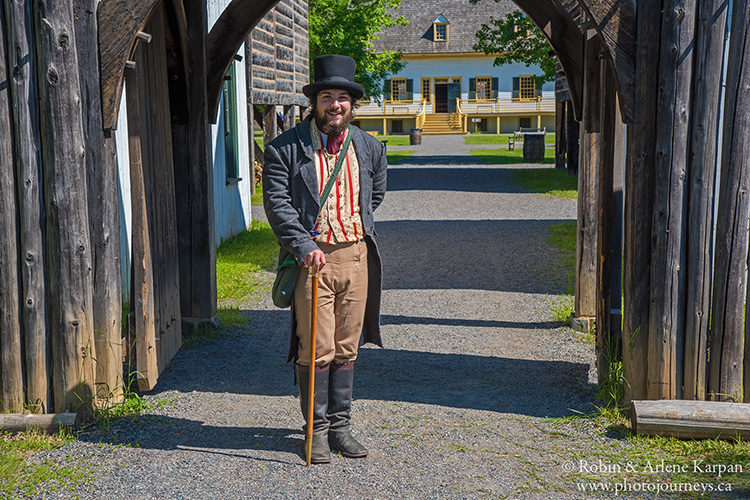 The place to get in touch with this fascinating era is Fort William Historical Park, billed as the World's Largest Fur Trade Post and one of the largest living history attractions in North America. Covering 250 acres and spread across 57 buildings, the fort recreates life in 1816 at this important North West Company post. Set aside a few hours to take it all in.
A highlight is the series of interpreters in period dress who relate stories of life at the fort, such as voyageurs, Metis traders, blacksmith, tinsmith, cooper, among many others. Unlike many fur trade posts, Fort William also had a working farm, which has been recreated as well. We were particularly impressed by the canoe shed, with its impressive collection of birch bark canoes, along with a complete workshop for building and maintaining them.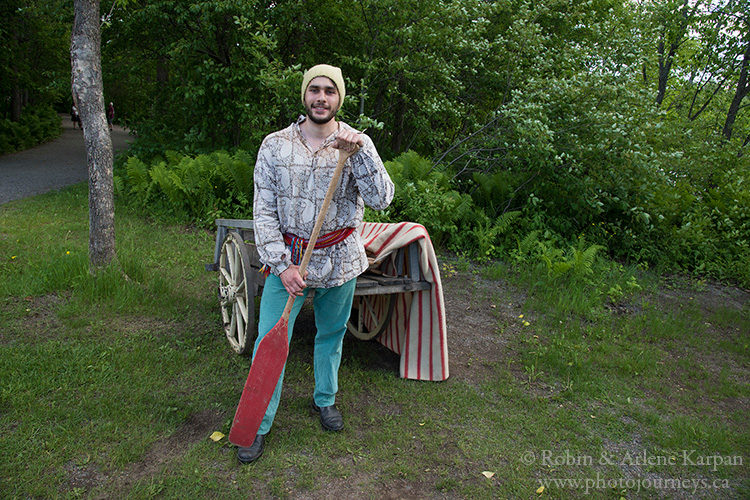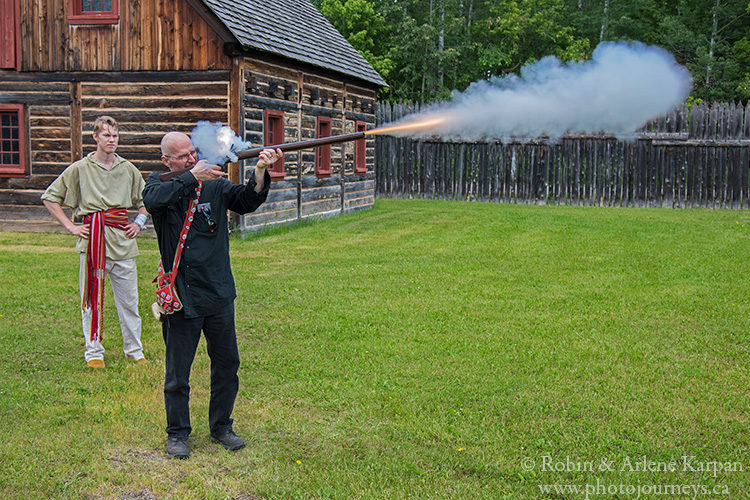 Waterfalls and Canyons
Only a short drive west of Thunder Bay, Kakabeka Falls Provincial Park is home to the second highest falls in Ontario where the Kaministiquia River plunges 40 metres into a breathtaking gorge. Boardwalks run along both sides of the falls, as well as on top, making for some spectacular close-up views and different angles for photography. Other short walking trails taking you farther afield, such as along the old portage route used during the fur trade.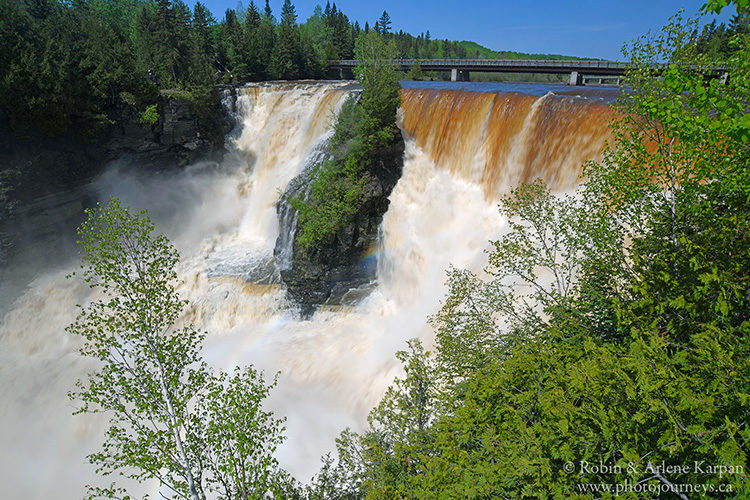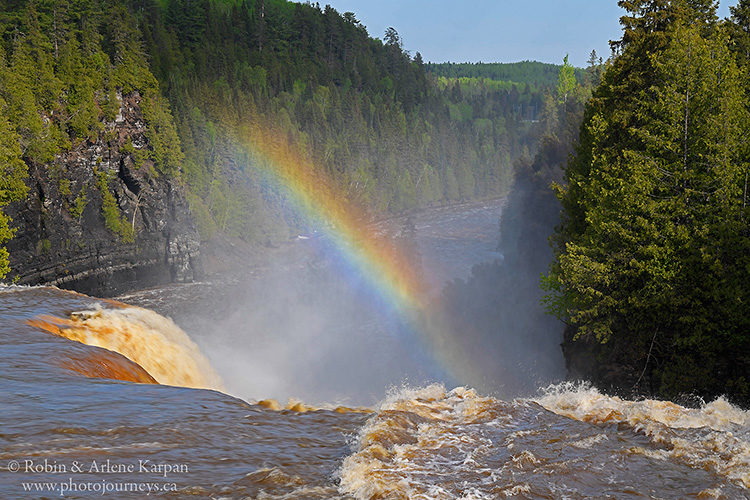 An hour or so drive southwest brings you to Pigeon River Provincial Park, where the river flows into Lake Superior. Several short hikes are possible, the highlight being the 2-km High Falls Trail through beautiful forested shield country. The appropriately named High Falls drop 28 metres, and are smack on the Ontario/Minnesota border.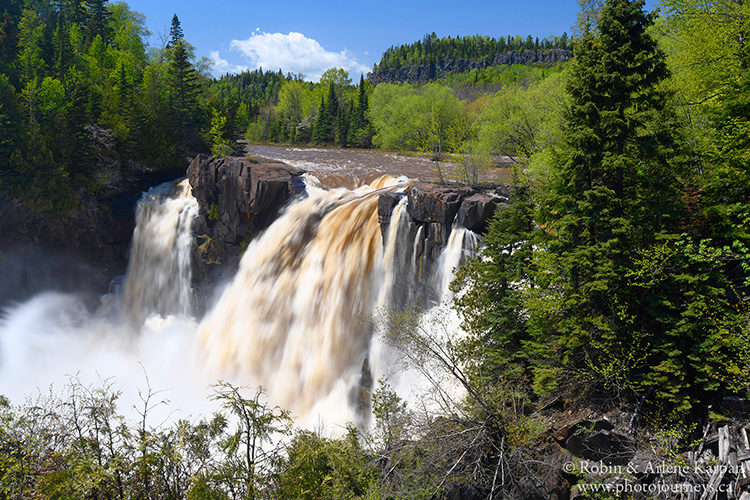 A little over an hour northeast of Thunder Bay looms Ouimet Canyon Provincial Park where sheer cliffs drop 100 metres straight down to the canyon floor. Visiting is very easy with a 1-km walking trail along the canyon rim taking you to two viewing platforms with amazing vistas across the 150 metre-wide canyon.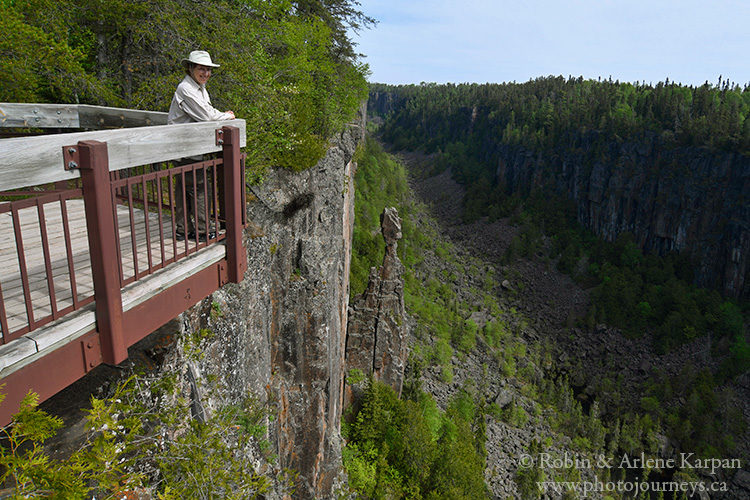 Sleeping Giant
While the best grand views of the Sleeping Giant are from Thunder Bay, you should also get up close and personal with a visit to Sleeping Giant Provincial Park. Incredible hiking possibilities abound with over 100 km of trails, plus wildlife-rich forest, and picture-perfect small interior lakes in addition to Lake Superior itself. Of the many things to do here, two stood out for us – one was very easy and the other a bit more challenging.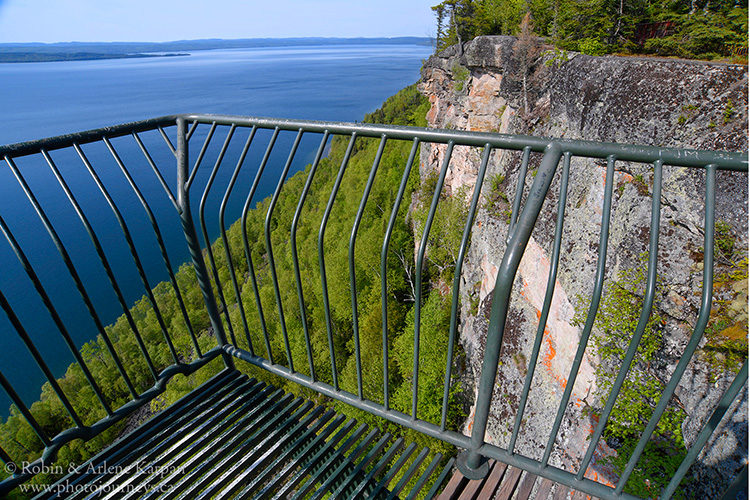 The easy one is the drive to the Thunder Bay Lookout, accessed on a narrow 9-km gravel and dirt road off the main road through the park (cars with low clearance have to be careful). At the end, a lookout point not only takes you to the sheer cliffs dropping straight down, but also beyond! A metal walkway extends a couple of metres past the edge of the cliff, and you can see right through the metal grate floor. It can be quite a queasy sensation to step out and look straight down to the edge of Lake Superior far below.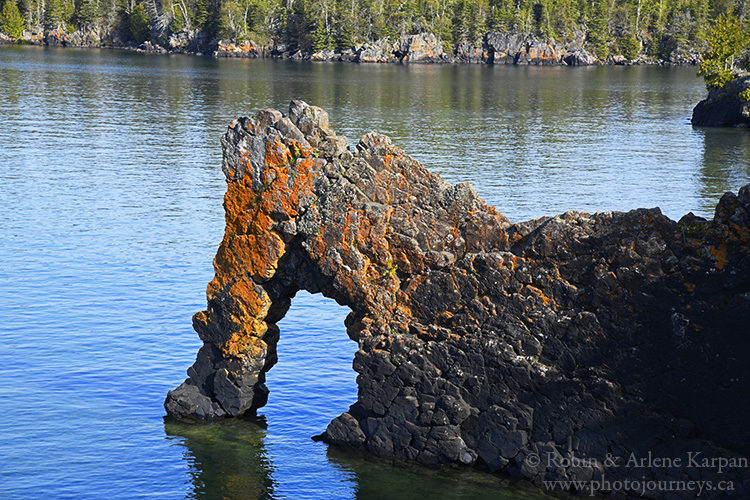 The Top of the Giant Hike stands in a class by itself – long, and rated as difficult. Including an optional but recommended short detour to see the impressive Sea Lion rock formation along the way, the hike is about 23 km return. But the views are outstanding, especially where we end up on top of the giant's knees, and a deep gorge seems to drop into oblivion on the edge of Lake Superior. We recently spent three weeks exploring various spots along Lake Superior's north shore, and this was easily our favourite spot.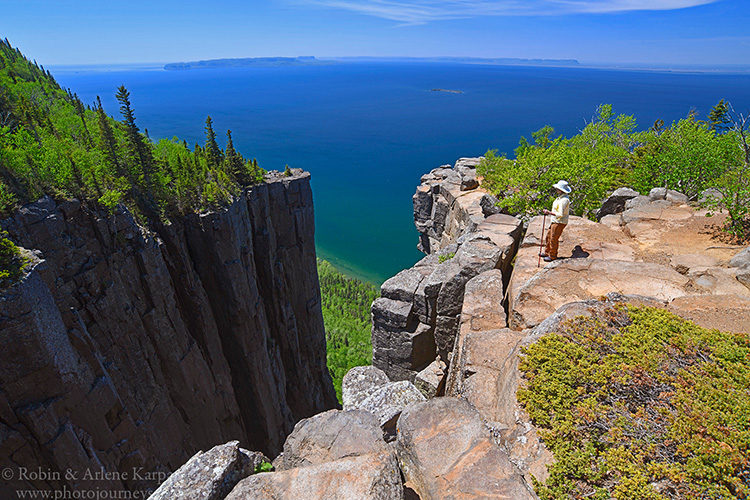 For more details, visit Thunder Bay Tourism. For more information on the nearby provincial parks, visit Ontario Parks.
Be sure to subscribe or return to Photojourneys where we will be following up with more extensive looks at some of our favourite spots around Thunder Bay.
SUBSCRIBE to Photojourneys (below) to receive our latest posts
Feel free to PIN this article