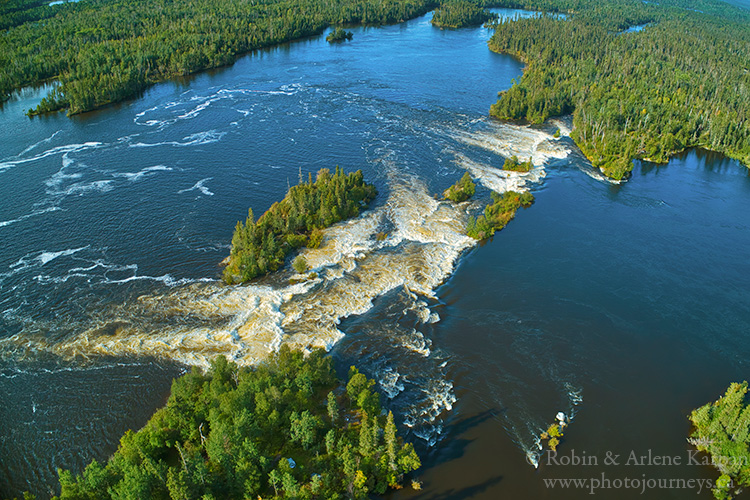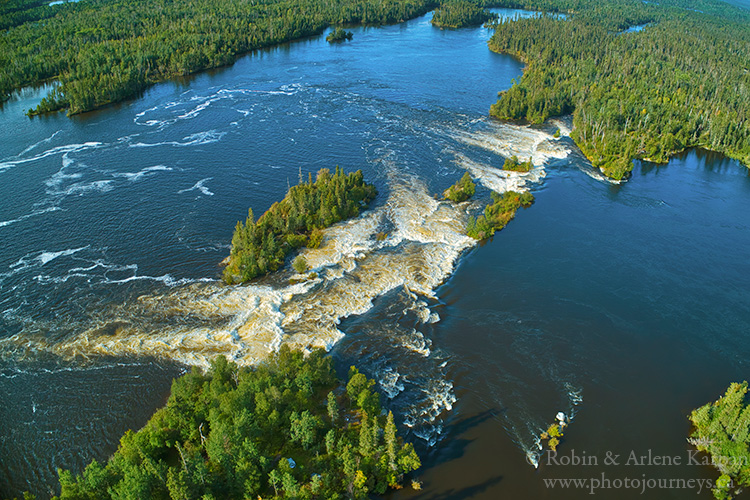 Northern Saskatchewan excels as a destination for canoeing and wilderness camping, from easy, short paddles to remote, multi-day expeditions where you're unlikely to see other people. When we're looking for an easy-going trip for a few days, it's hard to beat the paddle to Robertson Falls. It's lake travel all the way, with no portages. The falls themselves are stunning, with an exceptionally nice spot to camp overlooking them.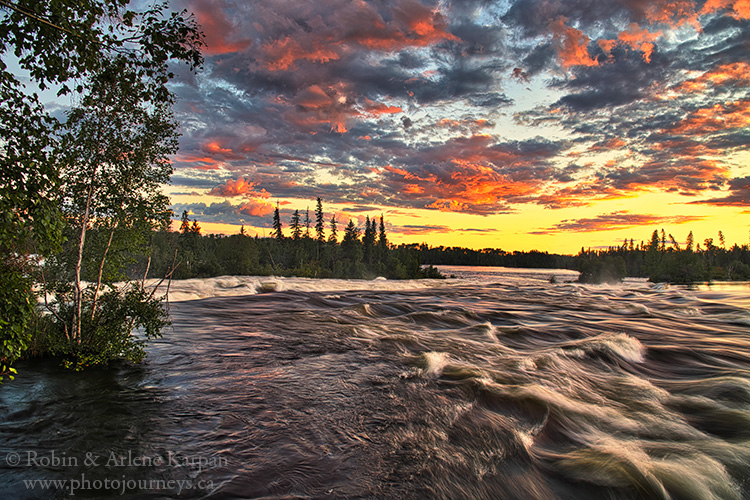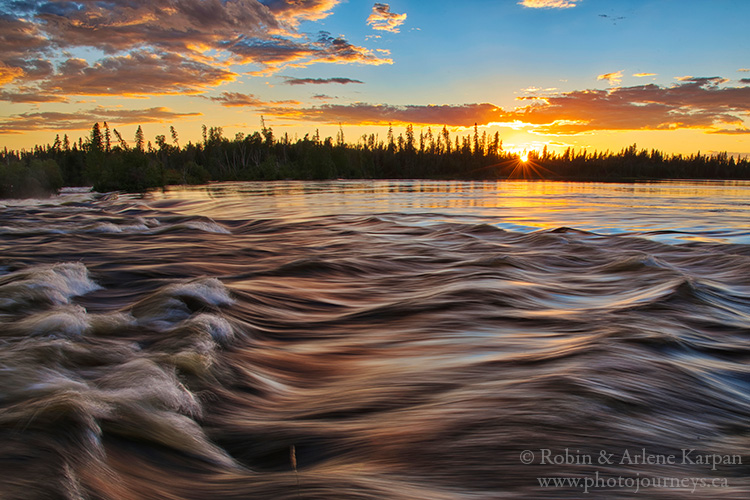 Canoe Trip Starts at Missinipe
The jumping-off point is Missinipe, about 80 km north of La Ronge. The resort community sits on the shore of Otter Lake, part of the historic Churchill River system that played a key role in the fur trade and northern exploration. Today it ranks among Canada's great canoeing waterways. Parts of Otter Lake are also in Lac La Ronge Provincial Park, among the largest parks in Saskatchewan.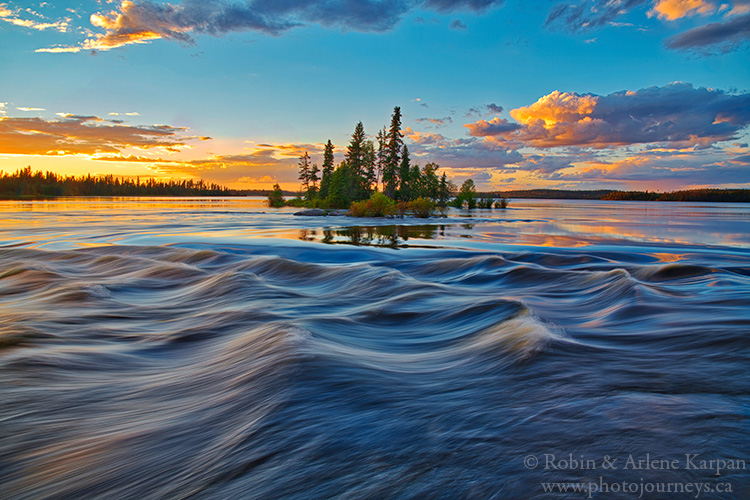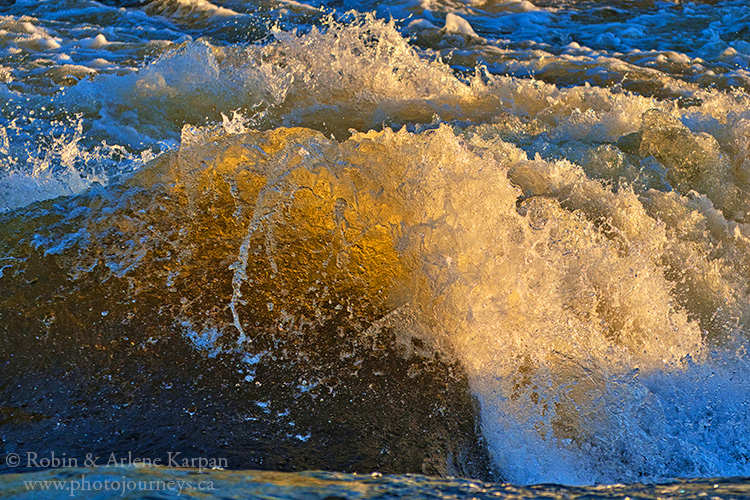 A must stop in Missinipe is Churchill River Canoe Outfitters where they rent canoes, run guided canoe trips and instruction courses, and offer accommodation. Most important, owner Ric Driediger is the source of information for anything to do with canoeing in northern Saskatchewan. Ric will also point out where to leave your vehicle in Missinipe while you're on your trip.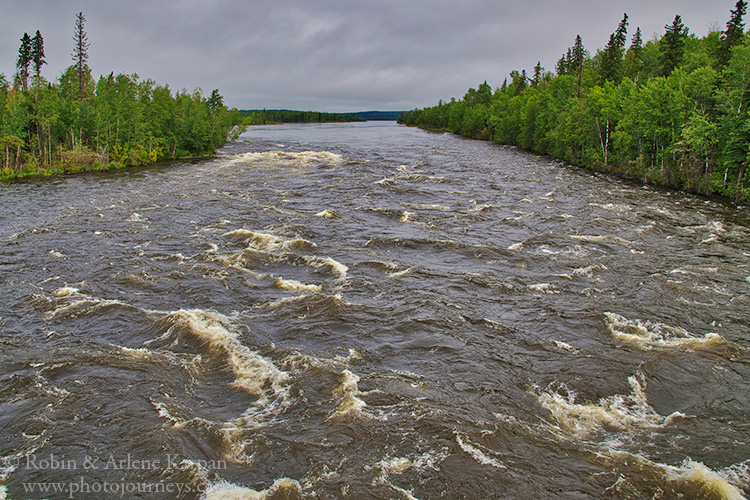 Only 5 km north of Missinipe, the road crosses the Churchill River Bridge at Otter Rapids, which is definitely worth a side-visit while you're in the area. A pedestrian walkway crosses the north side of the bridge to give you an uninterrupted view of the frothing rapids. It was here in 1820 that Sir John Franklin's first Arctic expedition suffered its first casualty. They were tracking their canoes upstream when one was swept away by the current and overturned. One man made it to shore but the other was never found.
Two hundred years after Franklin's trip, we gaze over these rapids which are boiling away thanks to record high water levels on the Churchill River. Rainfall accumulations in some parts of northern Saskatchewan lakes and rivers exceeded 200% of normal this summer. We suspect that Robertson Falls will be putting on an impressive show as well.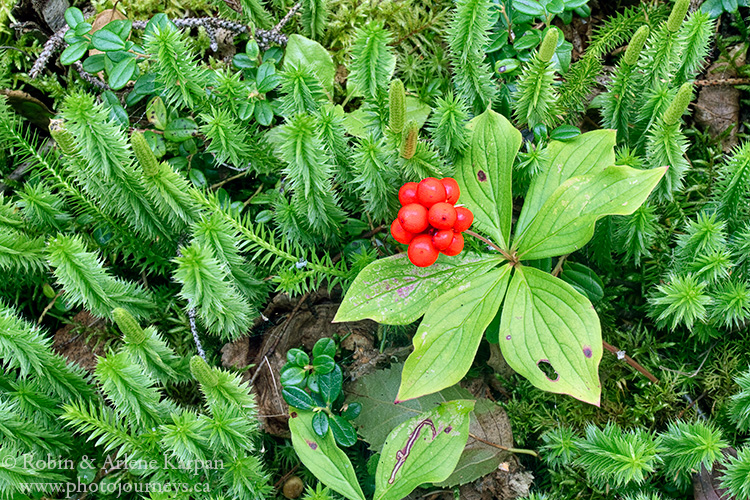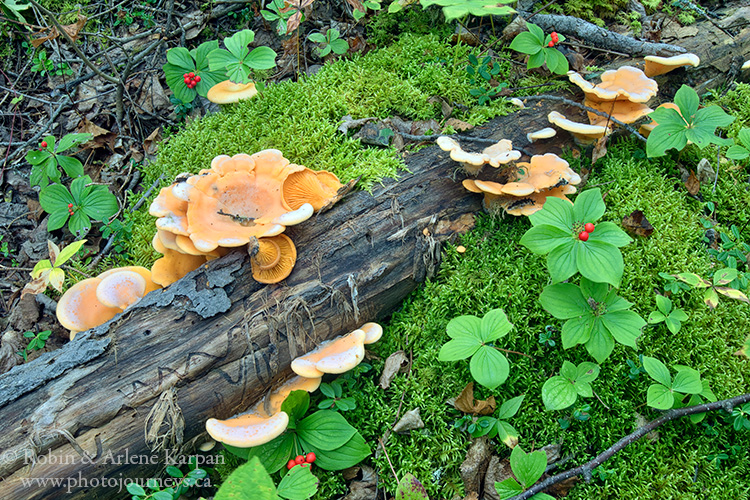 It's about a four-hour paddle southeast from Missinipe to Robertson Falls, going at a leisurely pace and stopping for lunch along the way. While Otter Lake is huge, it's filled with islands, a few of which have nice wilderness campsites used often over the years. It's worth taking note of these in case the wind and waves come up, making it difficult or occasionally too dangerous to travel.
Fortunately, for this trip we had calm conditions on the way out. For the return, fairly strong winds behind us all the way helped push us back – something that seems to happen only rarely on the many canoe trips we've taken.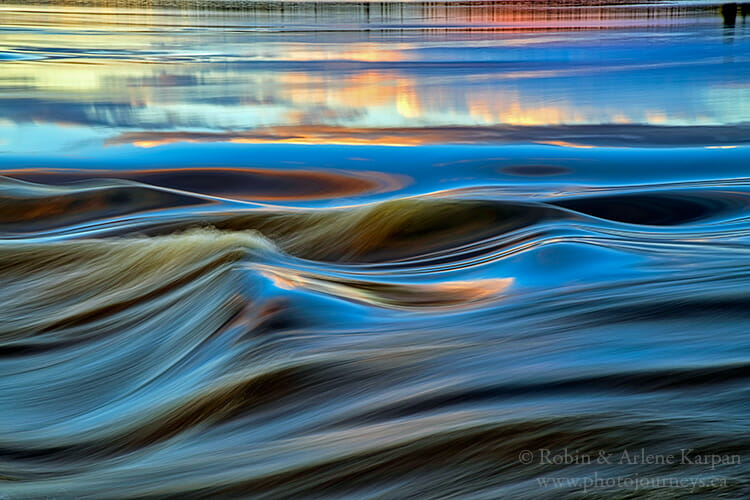 We could hear Robertson Falls long before we arrived, so we knew that this would not be a typical visit. We had been to this spot where the Churchill River drops from Otter Lake to Mountain Lake a few times over the years. Robertson Falls is wide with several drops and, depending on water levels, can be a relatively quiet series of cataracts or a raging cauldron of powerful waves. Our suspicions were confirmed as we looked over mighty waves, and high water inundating the rocky outcrops overlooking the falls.
Camping at Robertson Falls
Campsites extend along the very short portage trail between Otter Lake and a small lake below the falls, and also right next to the falls. A recent addition since our last visit was a new composting toilet, quite a luxury for a wilderness campsite. It's a great spot for photography, especially this year with the wild water. The sun sets on the opposite side of the falls so the viewpoints from the campsite are ideal for golden hour photography. The fishing in the area ain't bad either. One night we dined on pike and then walleye another night.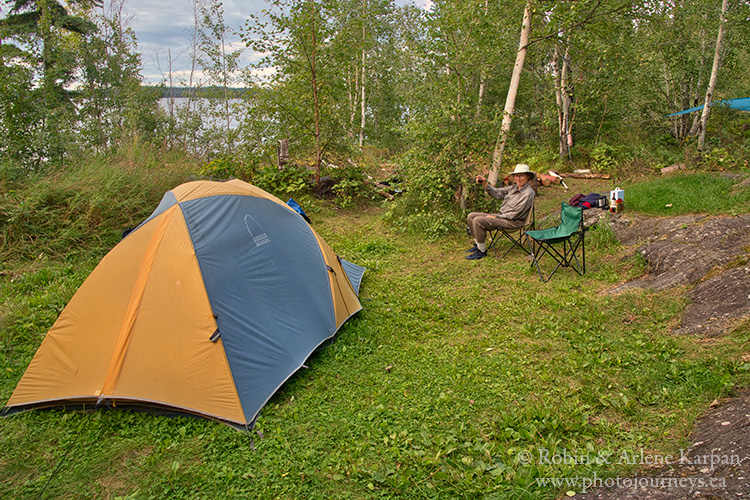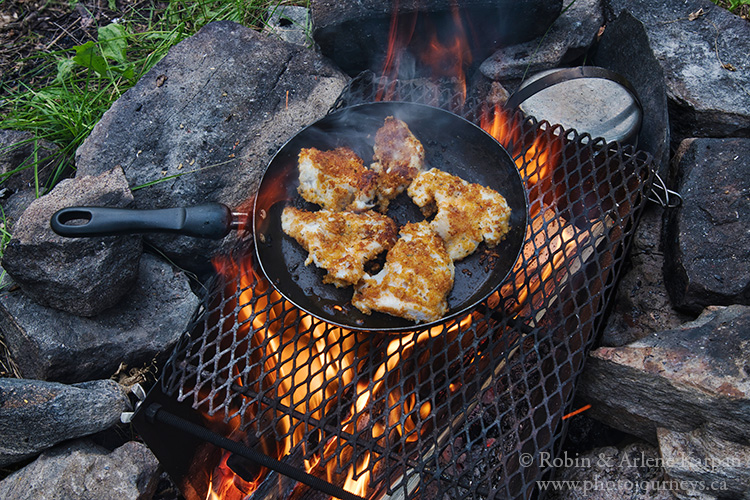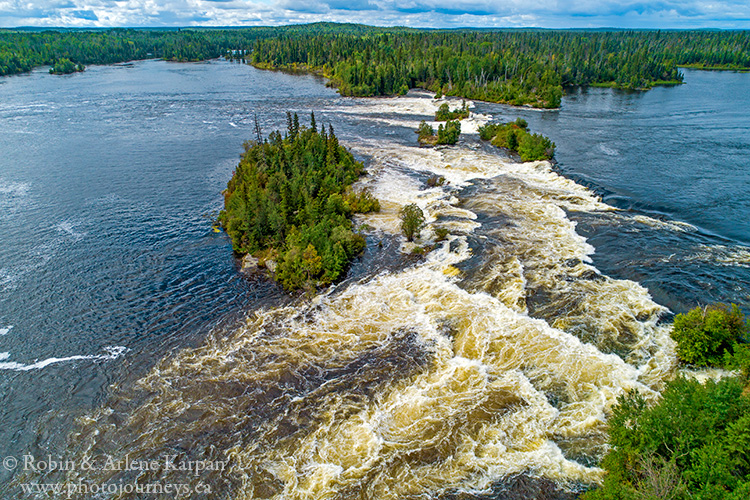 Churchill River Drops Again at Twin Falls
Robertson Falls is just the first drop that the Churchill takes between Otter and Mountain Lakes. A small lake less than a kilometre wide lies at the base of Robertson Falls, then almost immediately the Churchill plunges again over Twin Falls into Mountain Lake.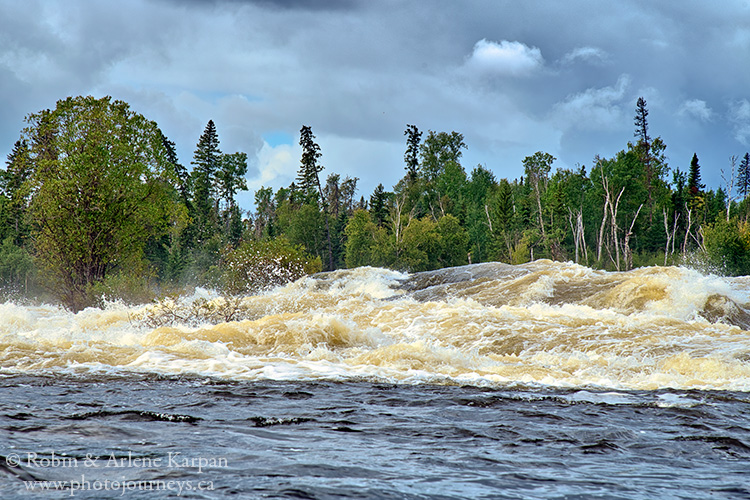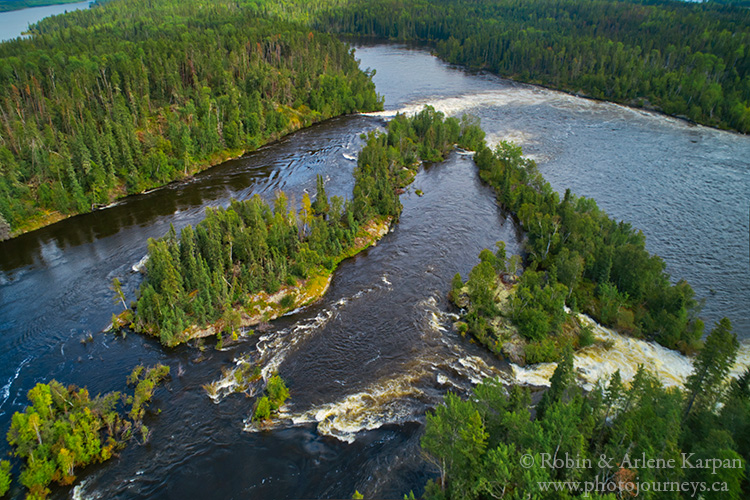 To see nearby Twin Falls, it's necessary to first portage into the small lake below the falls. From the end of the portage trail we look across the lake to Twin Falls Lodge where the next portage into Mountain Lake is located. The lodge, which welcomes canoeists coming through, is also in a beautiful spot. During our visit they were putting the finishing touches on a new lodge building with marvelous views across the lake to the base of Robertson Falls. From the portage trail near the lodge, another trail loops through the bush to the base of one section of Twin Falls – another gorgeous part of the Churchill River.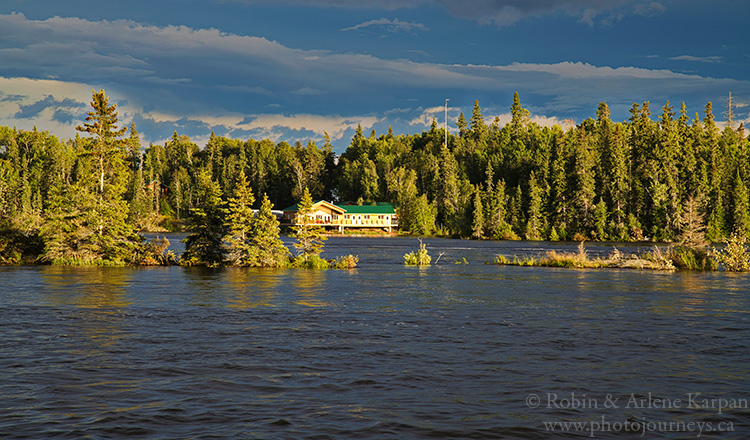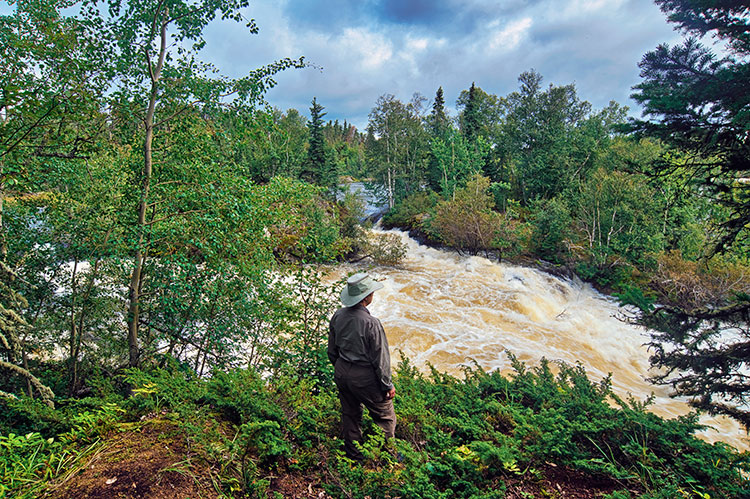 If you are interested in more possibilities for short trips to beautiful places along the Churchill River, check out our posting Journey to Nistowiak Falls, Saskatchewan.
SUBSCRIBE to Photojourneys below
Feel free to PIN this story on Robertson Falls