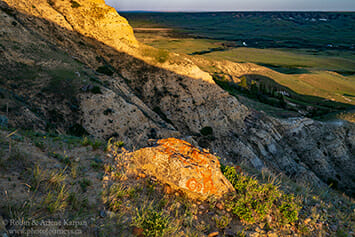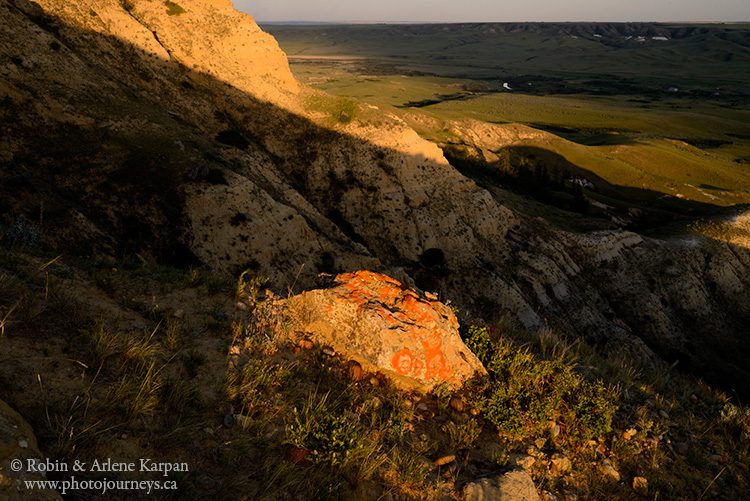 Last summer we devoted a Photo Journeys posting to 5 Easy Places to Check Off Your Saskatchewan Bucket List. These are special landscapes that made our best-selling book The Great Saskatchewan Bucket List – 50 Unforgettable Natural Wonder to see Before You Kick the Bucket, but are surprisingly easy to visit. This time around, we have 5 more to check off your Bucket List this spring or summer. These too take a minimum of effort to reach but take you to some amazing places.
Jones Peak
This is the highest peak along the Frenchman River between Eastend and Ravenscrag in the Cypress Hills. You can see the peak rising above the valley (and marked by a communications tower) when you drive the wonderfully scenic 22-km road between the two communities. The peak is named for Corky Jones, a local resident and amateur palaeontologist who unearthed many fossils, which in turn led to the area's famous dinosaur discoveries.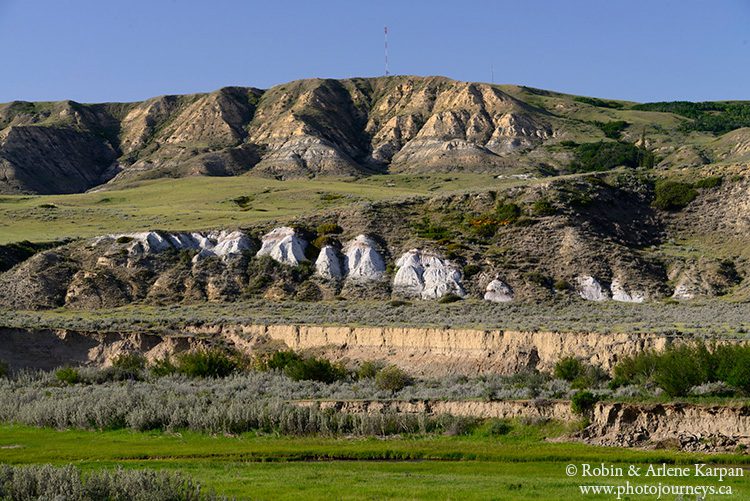 Since there is a communications tower on the peak, you can drive right up to it. From Eastend, head west on Grid Road 614 (which soon curves north) for about 4 km to where the road climbs out of the valley. Turn west on Middle Bench Road (the first road heading west near the valley rim) and travel for about 7 km to where an access road heads south to the communications tower. Worth visiting anytime, we especially like coming here a bit before sunset when the low sun washes a warm glow across the valley and highlights some of the sandstone formations near the valley rim.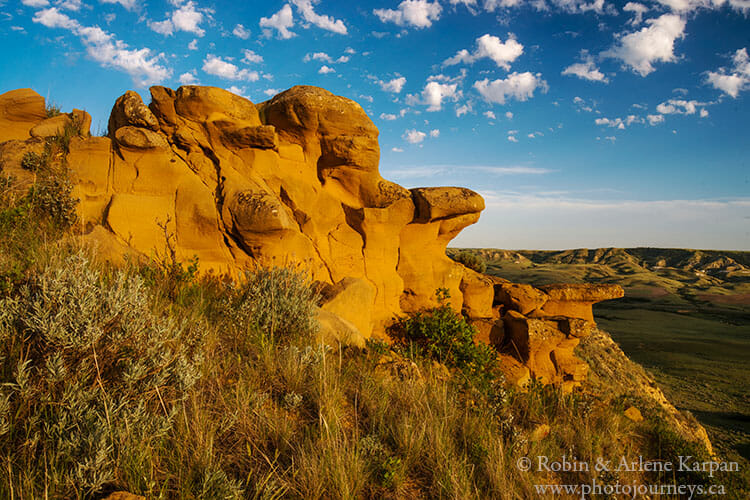 Our posting Eastend to Ravenscrag Top Drive in Cypress Hills guides you on a scenic loop trip, travelling one way along Ravenscrag Road in the Frenchman River Valley, then returning on Middle Bench Road.
Last Mountain Lake National Wildlife Area (NWA)
This place has been considered special for well over a century, in 1887 becoming the first bird sanctuary in North America. The north end of long, narrow Last Mountain Lake and the adjoining wetlands provide a haven for wildlife. It is internationally recognized as an Important Bird Area, Wetland of International Importance, and part of the Western Hemisphere Shorebird Reserve Network.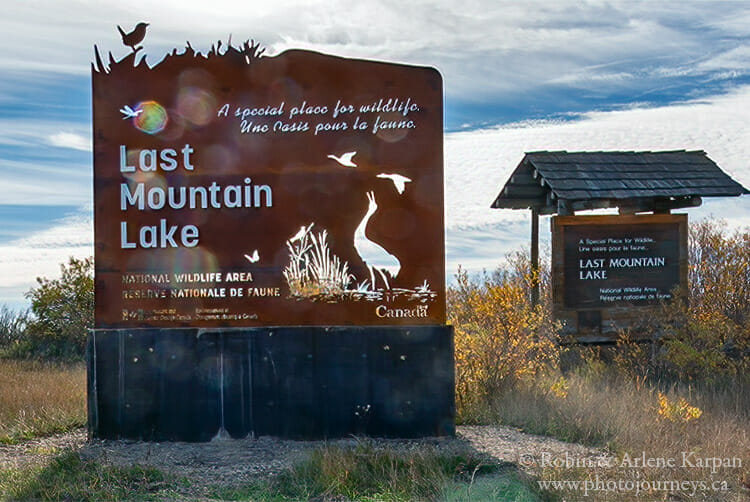 Over 300 bird species use this place, about 100 of which nest here. We find a wide array of ducks, geese, and other waterfowl, including all six species of grebes found in Saskatchewan. Then there are various shorebirds and endangered species such as peregrine falcons and the occasional whooping crane passing through during migration. This is our favourite place to photograph pelicans. Prime times to visit are spring when birds are returning to their nesting grounds and engaging in mating rituals, and again in fall when migrating sandhill cranes and geese can number in the hundreds of thousands.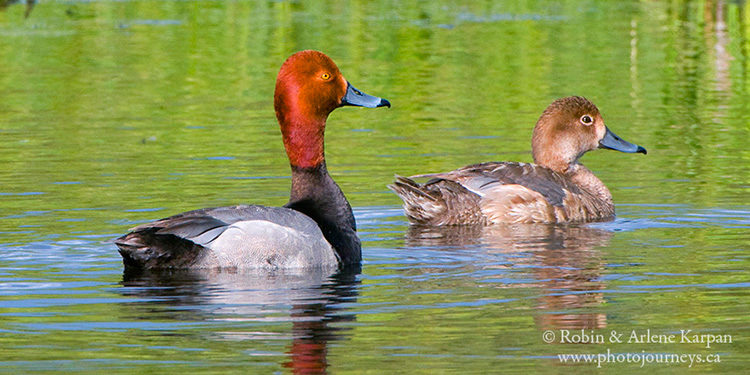 Best of all, this is a user-friendly wildlife sanctuary to visit, with several new amenities added in the last couple of years. A 14-km driving route winds along lakeshore, wetlands, and grasslands. There are four walking trails and an observation tower to give you a birds' eye view. To get there, head east of Simpson on Grid Road 748 for about 14 km, then follow the signs to the NWA.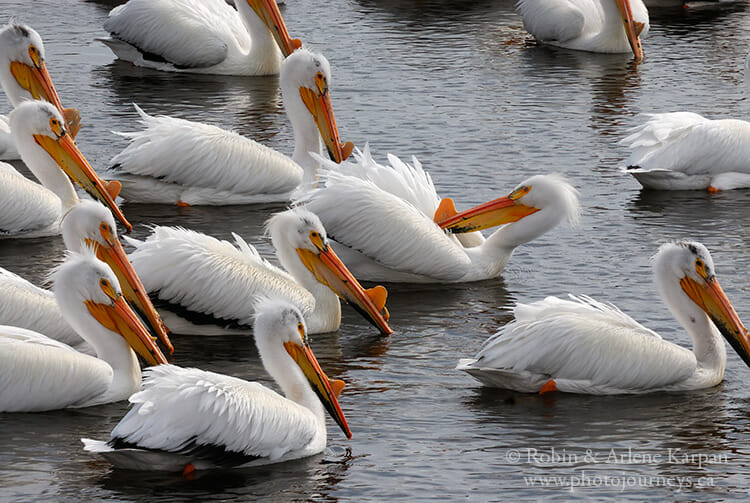 Limestone Crevices
The walls of some of the crevices are so straight and so precise that it's easy to imagine that they were cut by some gigantic machine. But these uncommon formations are natural; they're remnants of an ancient sea. Some 450 million years ago, coral reefs on the floor of a warm sea were gradually transformed into layers of limestone. Repeated freezing and thawing over the centuries has widened the cracks in the limestone, creating a labyrinth of crevices and caverns.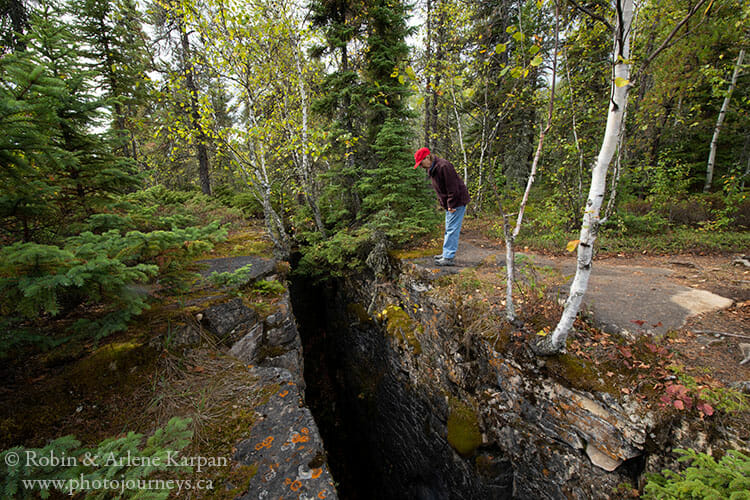 Some of the chasms are up to 12 metres deep, and even in mid-summer you might see snow or ice at the bottom. The crevices cover an extensive area so it's a great place to wander around. Be especially careful of your footing. This isn't an "official" tourist attraction, so there are no safety features or signs.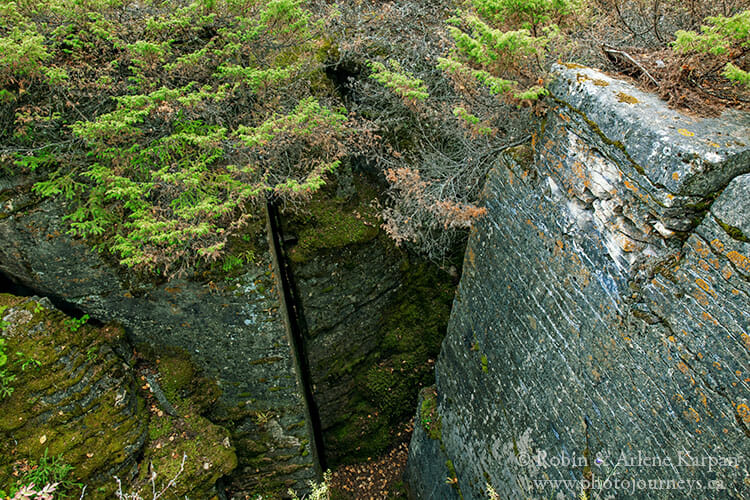 This special spot is hidden away along the east shore of Amisk Lake but is easy to get to. But because it has no official status, there are no signs to direct you there. The jumping-off point for a visit is Denare Beach, a popular tourist destination on the lake's eastern shore. To get to the crevices, head south of town on the only road that turns from paved to gravel just outside town.  After travelling about 15 km from the end of the pavement watch for a minor road to the east. A few metres down this trail you come to a dead-end near the remains of a cement structure that was once the site of a fire tower. From here, follow the informal trail into the forest where you almost immediately come across the remarkable limestone crevices.
For more details on the crevices and the surrounding area, see our posting Amisk Lake Scenic Drive.
The Snakes of Fort Livingstone
Fort Livingstone National Historic Site sits on the banks of the Swan River in northeast Saskatchewan. It was here that the North West Mounted Police established their first headquarters after their historic March West in 1874. This was also site of the first capital of the Northwest Territories. What they didn't know at the time was that they had built the most important institutions in western and northern Canada right on top of a huge garter snake hibernaculum. Come spring, the snakes emerged by the thousands to carry out their age-old mating rituals. Journals written at the fort make many references to the snakes getting into everything and causing quite a fuss.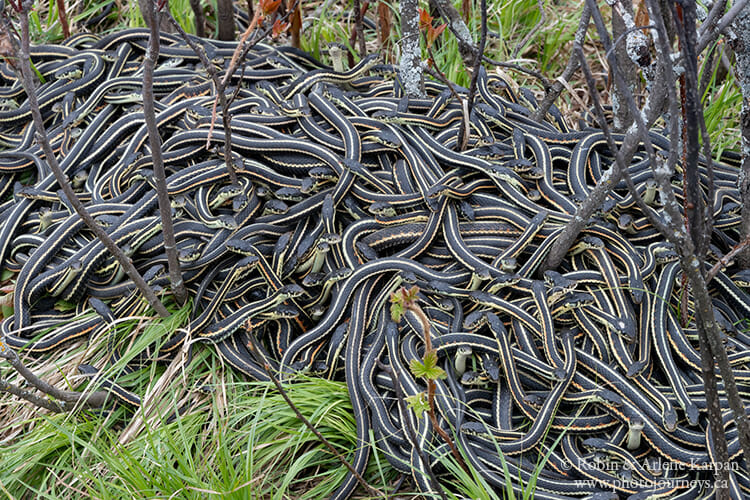 Fort Livingstone is long gone with only an historic marker and a few plaques documenting its former glory. The snakes prevailed, and now they have the place all to themselves. So every spring they continue to emerge for their annual orgy. Thousands of writhing reptiles form enormous undulating mating balls, so thick and so intertwined that it's hard to imagine how they get untangled. Some roll down the slope in a coiled mass. Some break into smaller groups, or sometimes small groups meld into a bigger mass.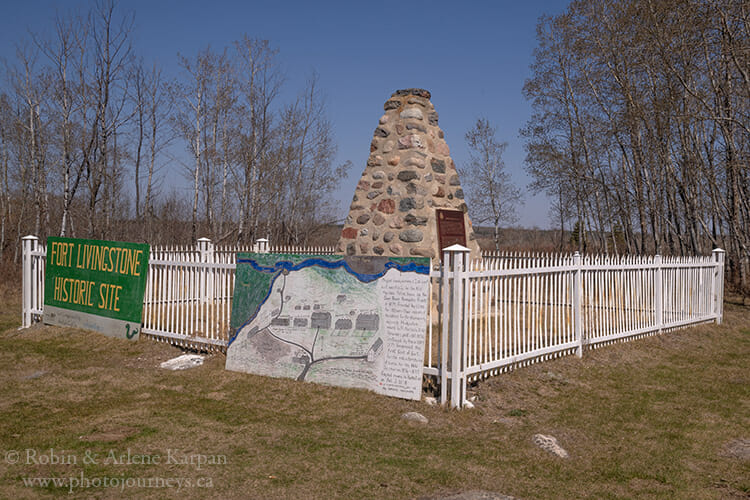 It's a short window to catch this phenomenon—a couple of weeks or so in early May. Mother's Day is usually considered about prime time, although weather conditions could affect when the snakes appear. To get there, head straight north of the village of Pelly for about 5 km then turn at the signs for Fort Livingstone.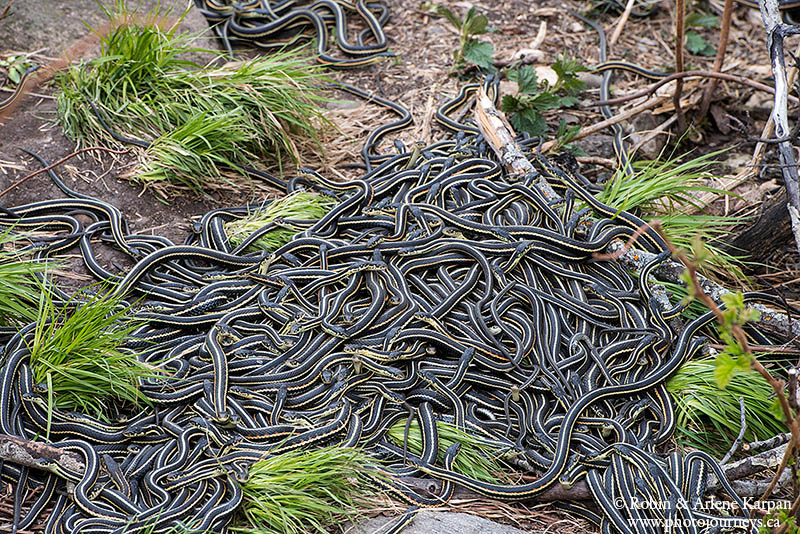 Grassland Chatterboxes in Prairie Dog Town
Wildlife viewing is often hit and miss, with animals moving around and not always where we think they'll be. But watching these prairie dogs is an exception, as close as we can get to a sure thing. Come to Grasslands National Park in spring or summer and you will almost certainly find plenty of these spirited little critters. What's more, this is the only place in Canada to find them in their natural habitat.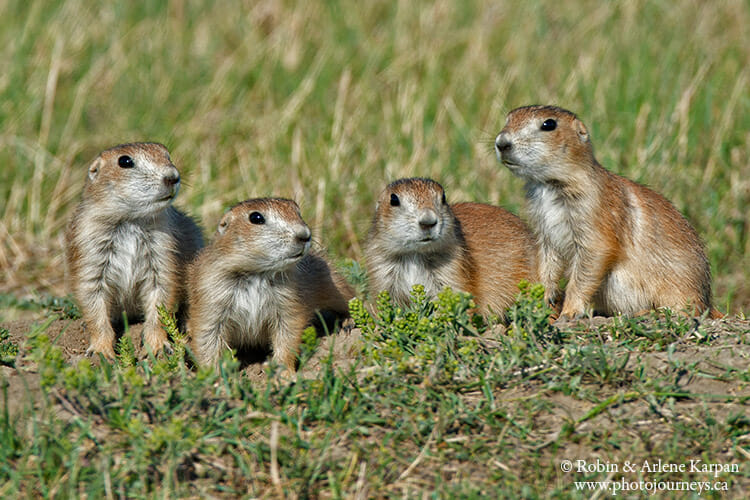 Black-tailed prairie dogs look somewhat similar to gophers (or Richardson's ground squirrels if you're a stickler for scientific correctness) that we see throughout the prairies, but they are considerably larger and have that distinctive black tip on the tails. These social animals live in enormous colonies that can reach several thousand. They are fun to watch, constantly scurrying around, feeding and making a variety of chirping and chattering sounds.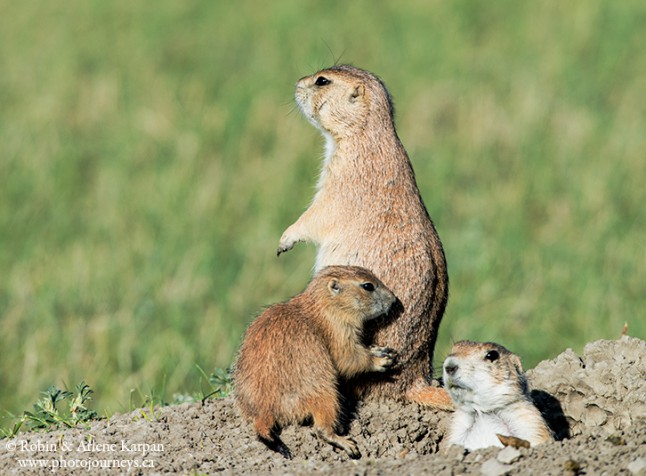 Finding them couldn't be easier. Simply take the Ecotour Road that runs through the Frenchman River Valley in the West Block of the park. Several colonies are right beside the road. While prairie dogs are the easiest wildlife to see, chances are excellent that you'll come across an array of other critters from bison to deer, pronghorn, coyotes, rattlesnakes, and grassland birds.
SUBSCRIBE to Photojourneys below
Feel free to choose one of these PINS on 5 more Easy to Visit Places for your Saskatchewan Bucket List from Photojourneys.ca
[lgc_column grid="50″ tablet_grid="50″ mobile_grid="100″ last="false"]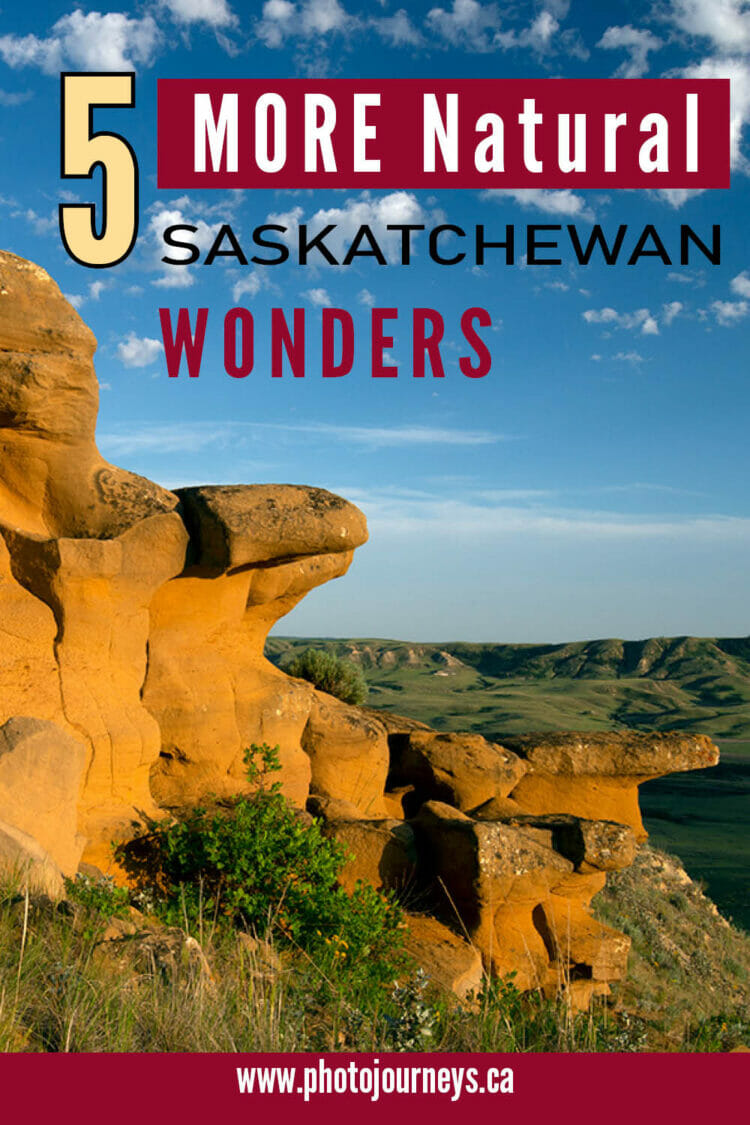 [/lgc_column]
[lgc_column grid="50″ tablet_grid="50″ mobile_grid="100″ last="true"]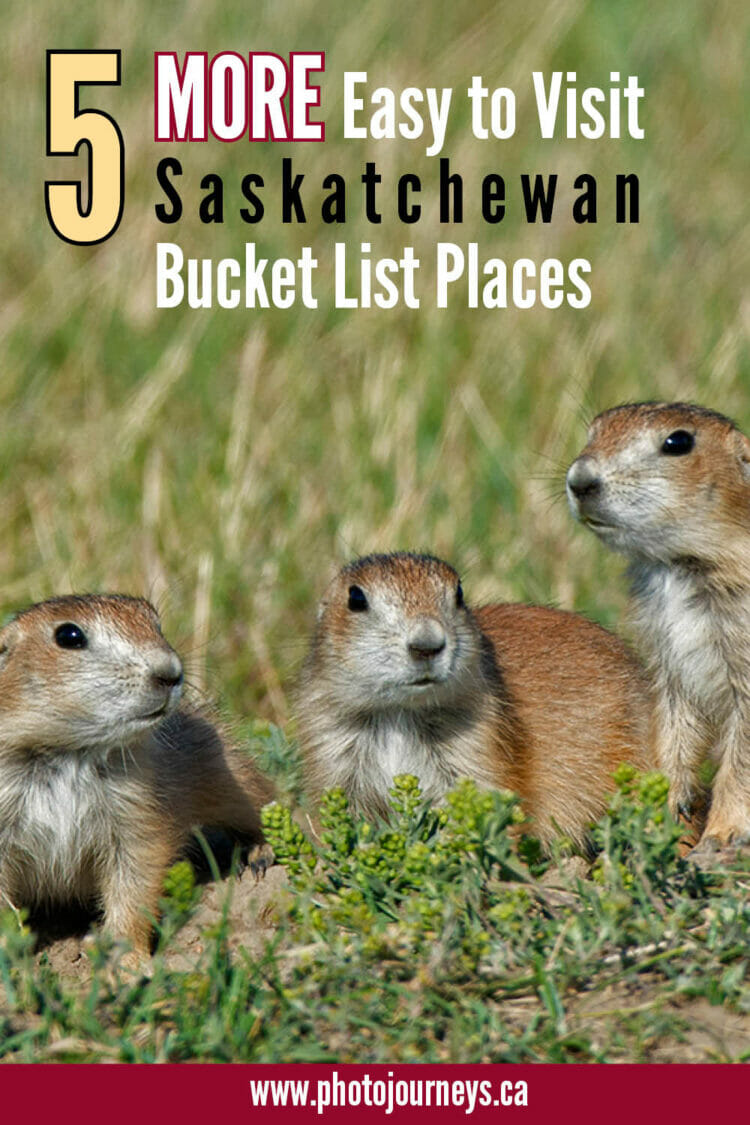 [/lgc_column]