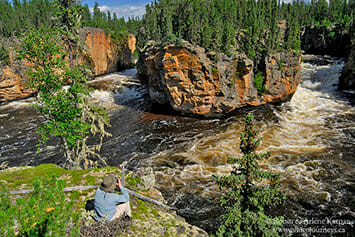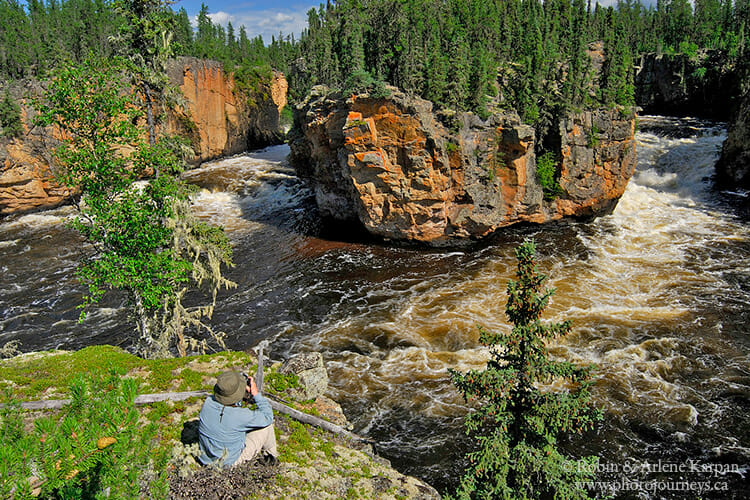 When we did our book The Great Saskatchewan Bucket List – 50 Unforgettable Natural Wonders to see Before You Kick the Bucket, we rated the majority of the places as either "Easy" or "Relatively Easy" to visit. In our last posting we discussed 5 natural wonders that are super easy to visit. This time round, we look at 5 Bucket List places that we have rated as "Considerable Effort Required" or just plain "Difficult". After all, any quest worth its salt needs a few challenges. If you do visit any of these places, you will be among the extremely few visitors that make it there each year.
Skull Canyon – Clearwater River (N 56.77300 W 109.39095)
The Clearwater River in north-western Saskatchewan is filled with dramatic whitewater features such as rapids and waterfalls, with Skull Canyon as one of the top highlights. Here the river divides around a flower-pot island into two turbulent channels, lined by 25-metre sheer cliffs covered with bright orange lichen. The only practical way to visit is on a canoe trip down this outstanding Canadian Heritage River. The best part of being here is the campsite where we can watch the lichen-encrusted canyon walls change to a deep gold with the setting sun.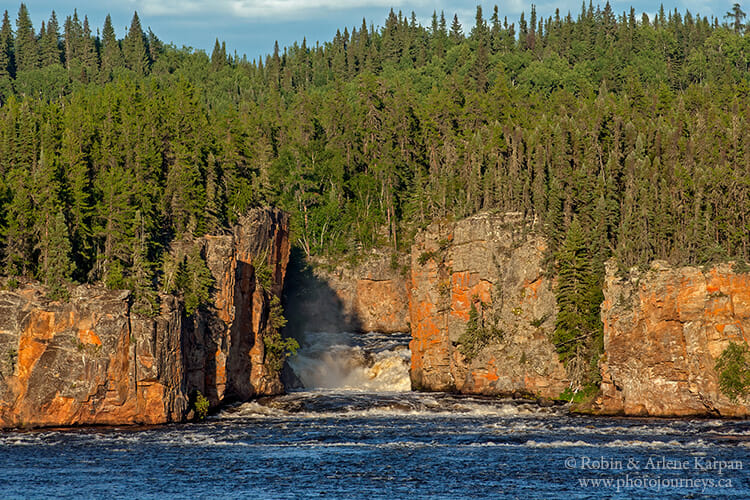 The canyon got its name because one of the cliffs looks like a skull. But the first time we visited, we wondered, where's the skull? It wasn't apparent. Then next morning the skull miraculously appeared, as the low sun threw deep shadows into the skull's eyes, amid the mysterious mist rising from the water.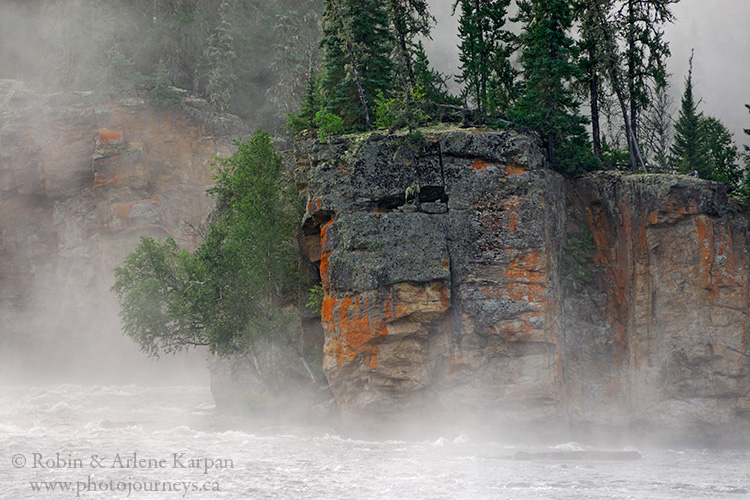 The Eye Cave of "Dead Man's River" (N 59.35861 W 104.50539)
The Porcupine River starts near the Northwest Territories border, taking a tortuous zigzag route south to where it joins the Fond du Lac River near Black Lake. This part of northeast Saskatchewan has long been an important travel route for the Dene, though they tended to avoid travel on the Porcupine, even referring to it as "Dead Man's River" because of the dangers posed by the many rapids, waterfalls, and canyons.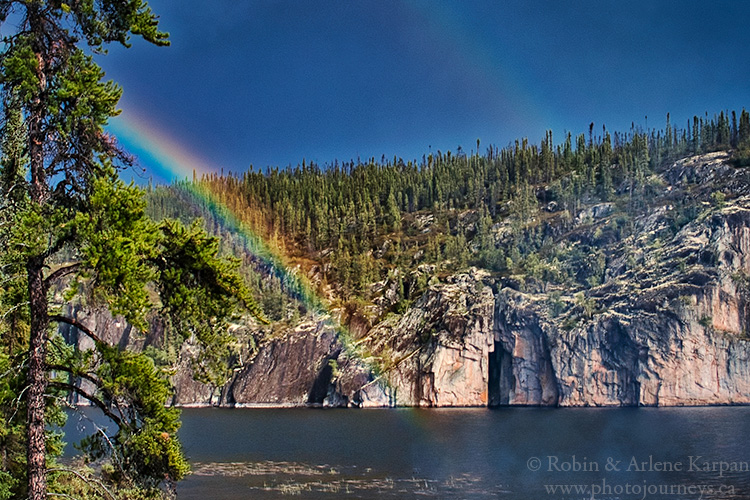 Along a stretch of river best described as mountain-like, perfectly vertical cliffs line the east bank. In one spot a fissure in the rock on the water's edge has created a cave, with an opening close to 10 metres high and just wide enough to squeeze in a couple of canoes. Once inside, we look straight up to a window-like hole in the cave's ceiling. It feels as if a gigantic eye is peering back down at us.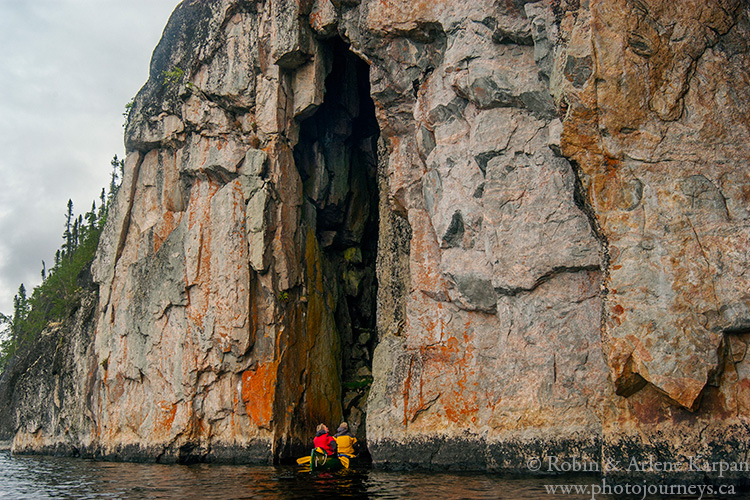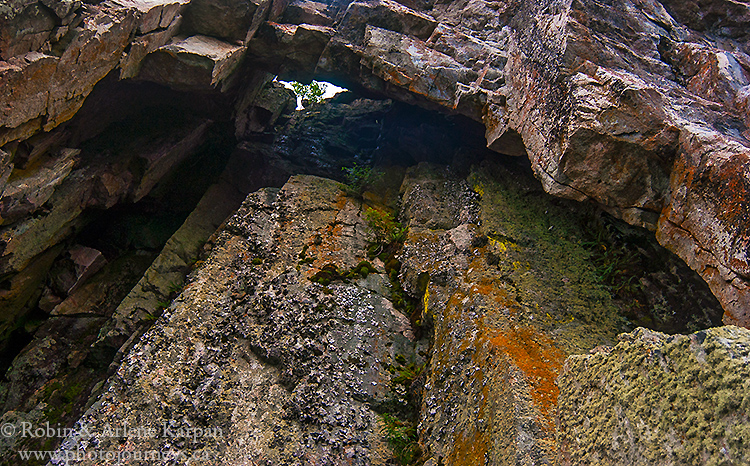 Wapumon Gorge – Churchill River (N 55.55524 W 102.95494)
When it comes to sheer whitewater power on the Churchill River, it's hard to top Wapumon Gorge. As the river flows east it picks up steam from the many other rivers emptying into it. Unlike many parts of the Churchill where it divides into different channels, here the entire river squeezes into a narrow chute then thunders through with a deep roar.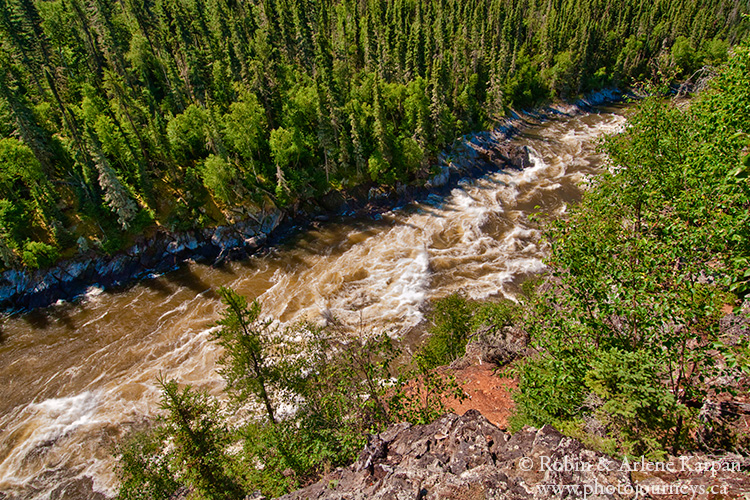 This is among the most remote and challenging sections of the river to canoe. To get to the portage trail around the gorge, canoeists have to first negotiate rapids just above then immediately duck into a bay near the top end of the gorge. Miss this bay and you're toast! Soggy toast. At the end of the portage trail, it's an easy walk to get high up on the steep cliffs for awesome views into the gorge.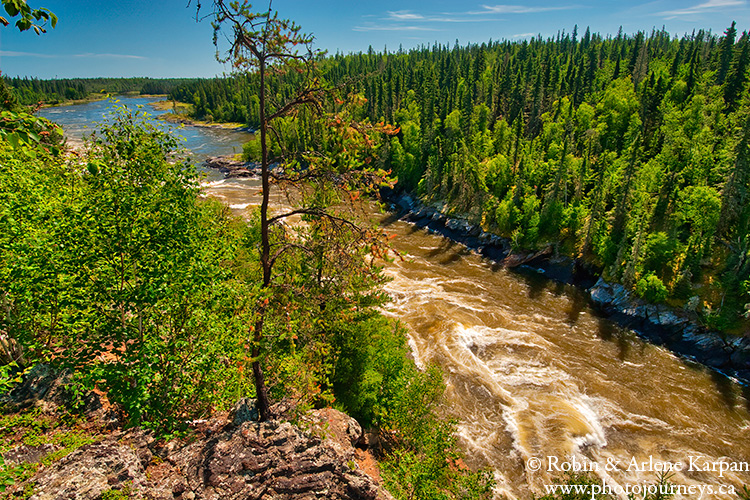 The Pinnacle of Lodge Bay – Lake Athabasca (N 59.43373 W 108.59884)
This impressive site is in Lodge Bay along the north shore of Lake Athabasca, a bit south of Uranium City. Eons ago a cliff face collapsed, leaving a chimney-shaped rock formation that is still standing. The only way to get here is by boat. It's possible to scramble up the gigantic boulders (be careful of the slippery lichen) for a close-up view of the pointed pillar looking over the bay. The Pinnacle is on the opposite end of Lodge Bay from its better-known landmark – Beaverlodge Mountain, the highest point of land along Lake Athabasca's rugged north shore.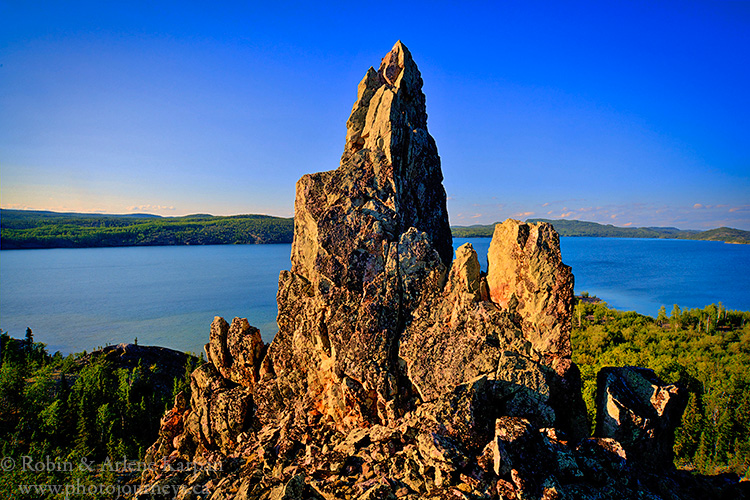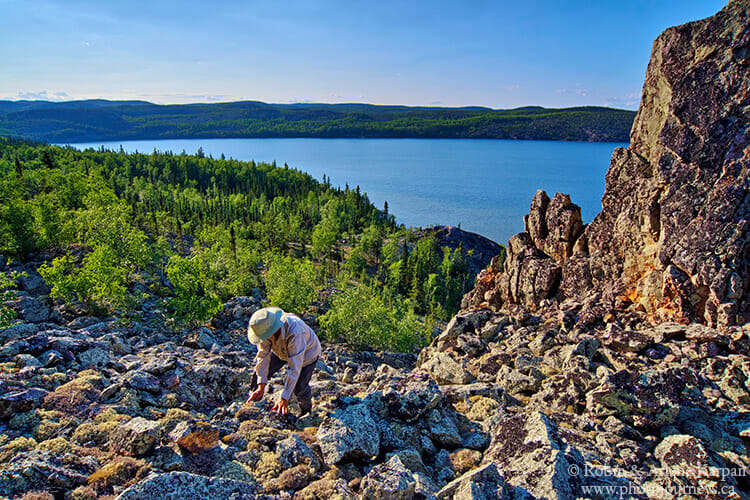 Manitou Falls – Fond du Lac River (N 58.98952 W 104.38299)
Manitou Falls is undoubtedly the highlight of the Fond du Lac River which runs between Wollaston Lake and Lake Athabasca. For most of its course, it flows through sandstone formations, characterized by step-like ledges, yellow layered cliffs, open jackpine forest and sandy beaches galore. Several rapids have to be negotiated before Manitou Falls, which lies roughly halfway along the river.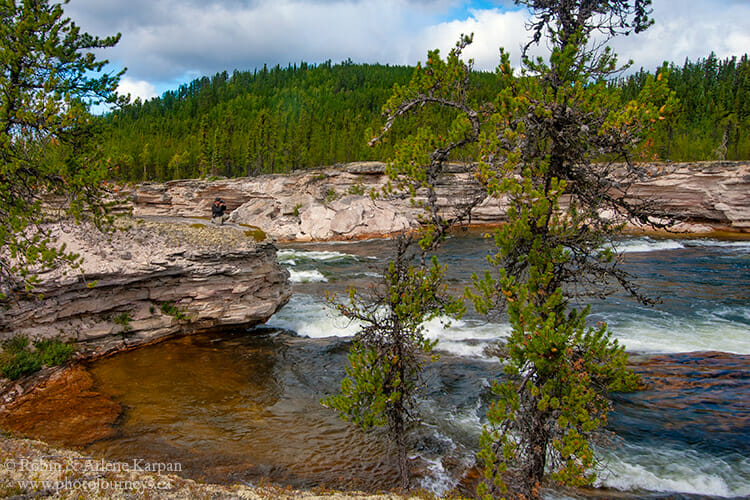 After running through a cliff-lined gorge, the river makes a sharp turn, dividing around a flower-pot island at the brink of Manitou Falls, then twisting and plunging through a wild S-turn, eroding contours and deep caverns into the sandstone layers. There's a great place to camp overlooking this magical scene, and if you fancy a closer look, all you have to do is walk onto an expanse of flat rock that resembles a smooth cement patio.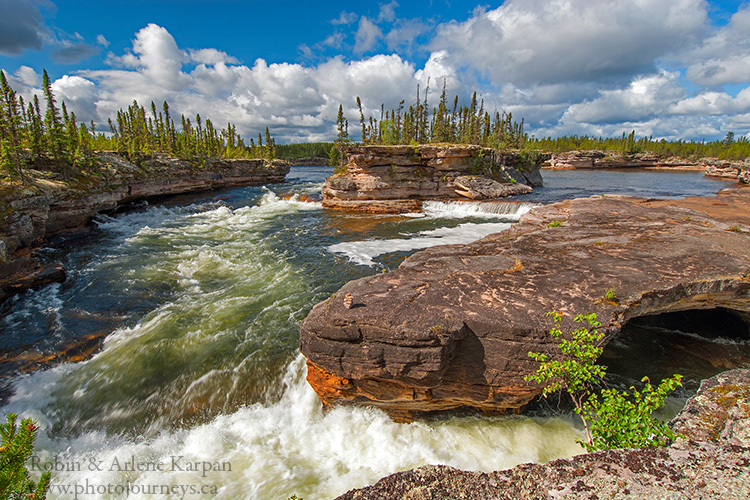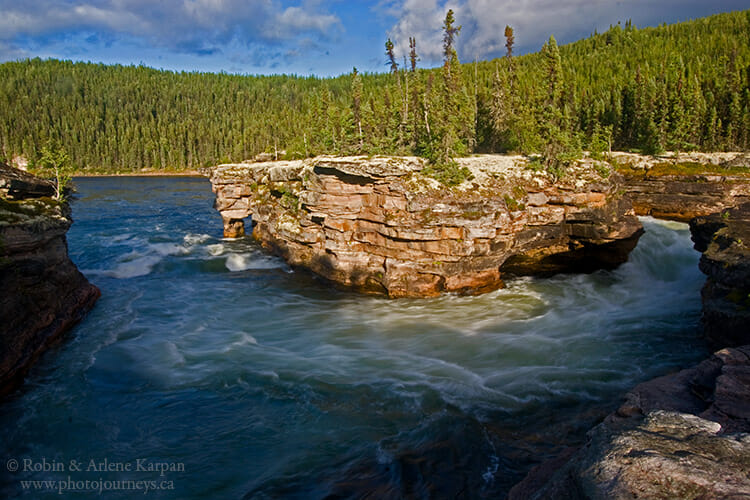 Visiting remote places
All of these places are in remote wilderness areas and are not accessible by road. The most practical way to visit most is by taking a canoe trip. These trips should only be attempted by those having whitewater canoeing and wilderness camping skills. Otherwise, it is best to join a guided trip run by a qualified canoe outfitter, such as Churchill River Canoe Outfitters. Also contact Tourism Saskatchewan for a list of tour operators offering wilderness excursions.
SUBSCRIBE to Photojourneys below
Feel free to choose one of these PINS on 5 Challenging Bucket List Places from Photojourneys.ca
[lgc_column grid="50″ tablet_grid="50″ mobile_grid="100″ last="false"]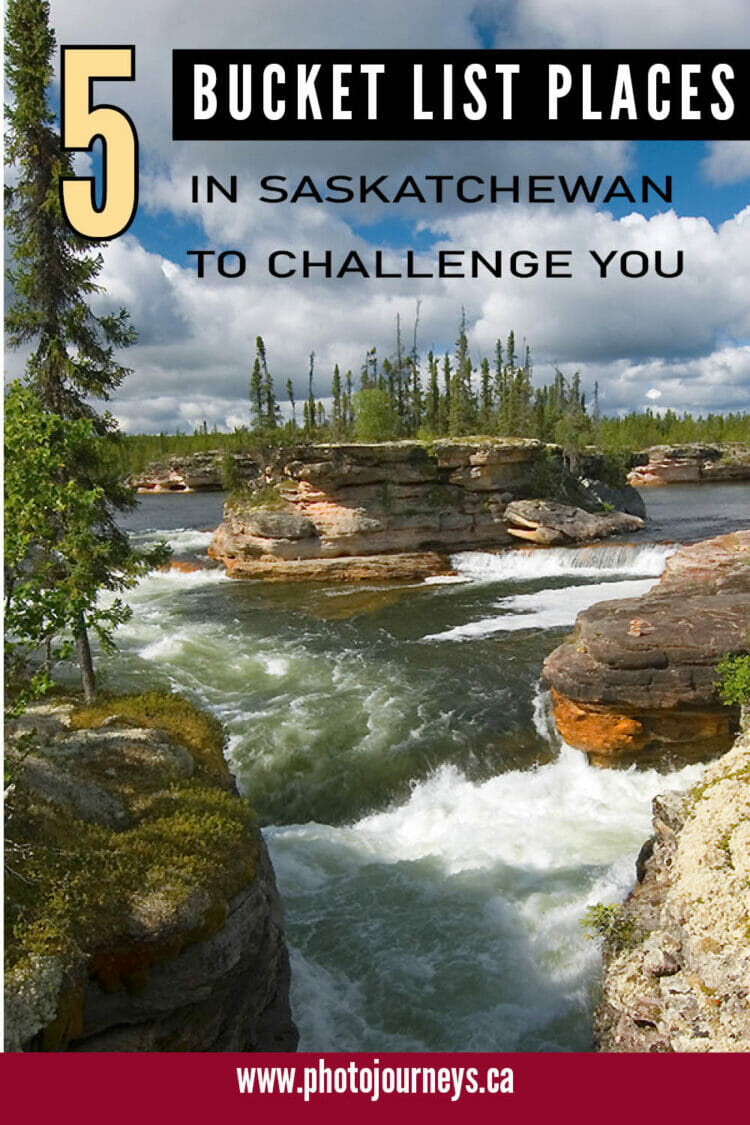 [lgc_column grid="50″ tablet_grid="50″ mobile_grid="100″ last="false"]
[/lgc_column]
[lgc_column grid="50″ tablet_grid="50″ mobile_grid="100″ last="true"]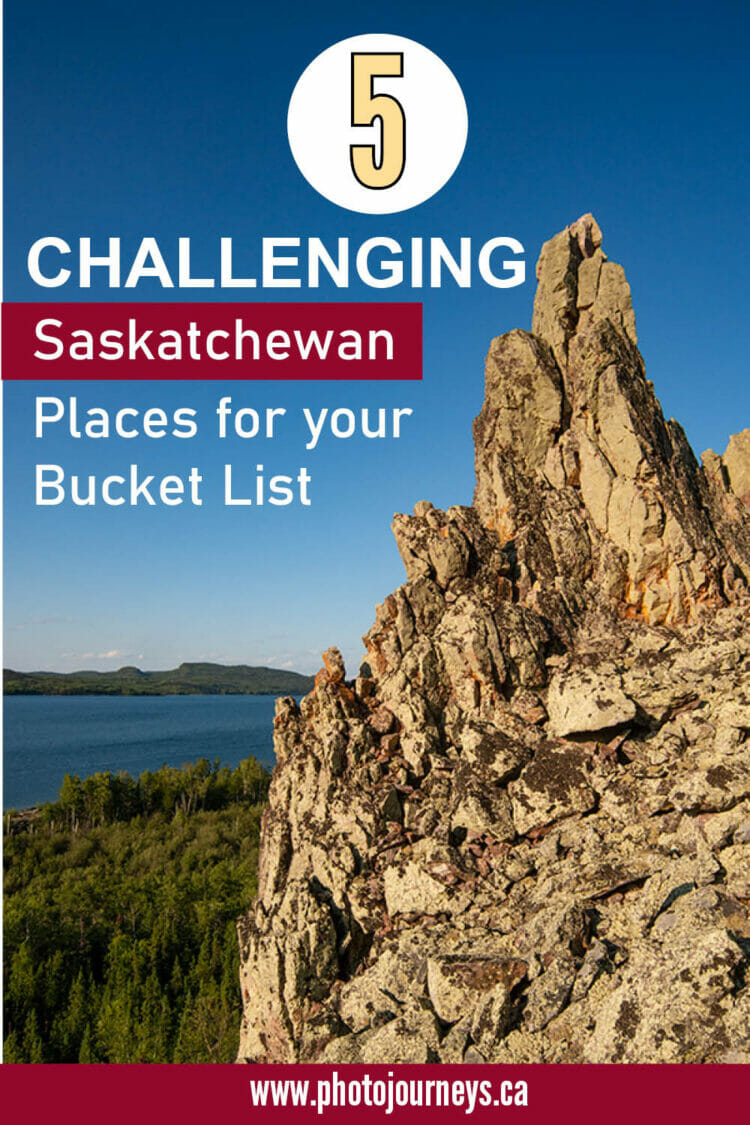 [/lgc_column]
[lgc_column grid="50″ tablet_grid="50″ mobile_grid="100″ last="true"]