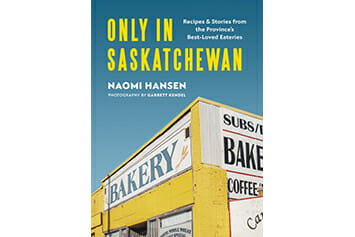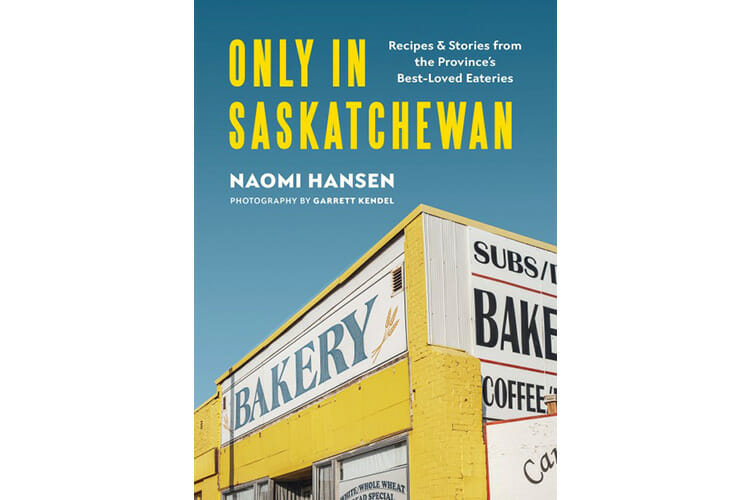 A new book by Saskatoon author Naomi Hansen called Only in Saskatchewan – Recipes & Stories from the Province's Best-Loved Eateries showcases restaurants and cuisine in the province in an innovative way.
It's a travel book, guiding us to top spots to eat, supplemented by images of food specialties, eateries, and Saskatchewan landscapes by Saskatoon photographer Garrett Kendel. But it's also a cookbook, with recipes from featured places. You too can whip up a batch of perogies just like Baba's Homestyle Perogies in Saskatoon, or baby back ribs like the ones served at Rawhides Bistro and Saloon in Stenen.
Hansen's approach takes us into the kitchens of restaurants, bakeries, cafes, and eateries throughout Saskatchewan where the magic happens. She provides a behind-the-scenes look at the chefs and families who have created diverse specialties ranging from bison bannock pockets to saskatoon berry iced tea, dill-cured Diefenbaker trout, and chickpea pancakes.
An informative background section sets the stage for each signature recipe that follows. We discover fascinating facts such as the illustrious history of bakeries on Melfort's Burrows Avenue West that date back to 1908. Tried and true recipes still remain the mainstay of Melfort's Golden Grain Bakery that features favourites such as longjohns, bismarks, and sweets made from scratch. In case you're craving a bismark fix by now, you will find all the details you need to make your own at home.
Showcasing Saskatchewan's cultural mix and local flavours
Reading through the recipes gives us a glimpse at the many cultural influences that feature prominently in Saskatchewan eateries. We find offerings representing Italian, Indigenous, Vietnamese, Thai, Mexican, and other cultures sprinkled throughout the province.
Many recipes include products grown and produced within our borders. For example, there's Wild Rice Risotto with Fiddleheads and Morels, Lentil and Chickpea Falafel, Northern Pike Fish Tacos, Quinoa Salad, and even the enticing Whole Lotta Rosie Cocktail with haskap, rhubarb, and rosehips.
The book is divided into five regions – North, Central, and South, with separate chapters on Saskatoon and Regina. A map at the beginning indicates the name of the eatery and approximate location; many are found in rural areas and small communities. Some best-loved historic restaurants have been part of the Saskatchewan food scene for a long time, while newcomers are adding their flair to the fast-growing and ever-changing culinary landscape.
Hansen worked closely with the owners of featured places. An important consideration was using locally-sourced ingredients whenever possible, everything from spruce tips to Saskatoon berries, herbs and vegetables, locally raised meats, condiments, and Saskatchewan craft beers, wines, and spirits. Where possible, vegan and gluten-free alternatives for ingredients are provided.
Each recipe includes a detailed description and method from start to finish. There are tips on cooking times, and how to assemble the components, with suggestions on various spices, substitutions, and where you might look for certain ingredients.
Don't be discouraged if you come across an uncommon ingredient listed in a recipe. Just check the Sourcing Local Guide where Hansen has listed some places such as specialty and seasonal grocery stores where you can look for locally produced meats, fish, distillery products, wild mushrooms, and more.
Only in Saskatchewan, a hardcover book of 320 pages, retails for $45.00 and is available throughout the province at major bookstores, as well as local gift shops, markets, and from select eateries and establishments featured in the book.
SUBSCRIBE to Photojourneys below