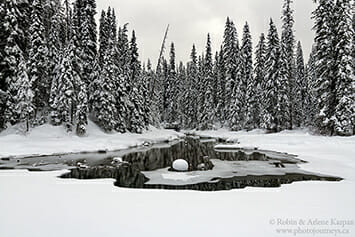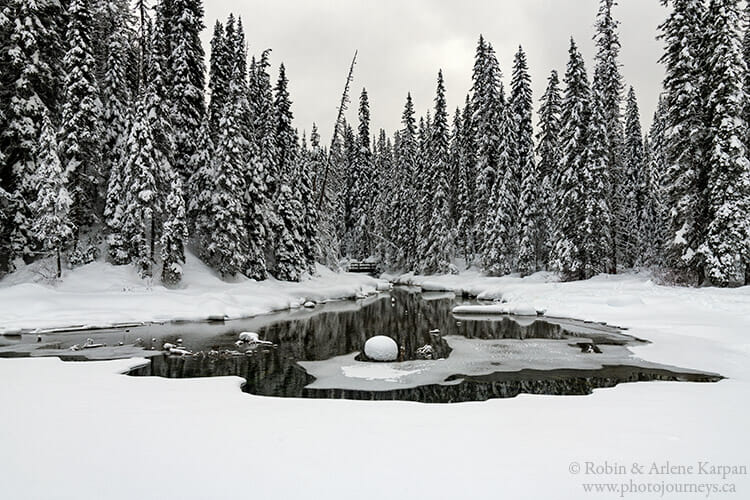 We just got back from a few days of winter travel in Banff National Park, Alberta, with a short detour into Yoho National Park, just across the border into British Columbia. This part of the Canadian Rockies is wonderful at any time of year, but winter's snow and ice brings some unique opportunities for photography. We found plenty of snow, which got deeper and deeper the farther west we travelled.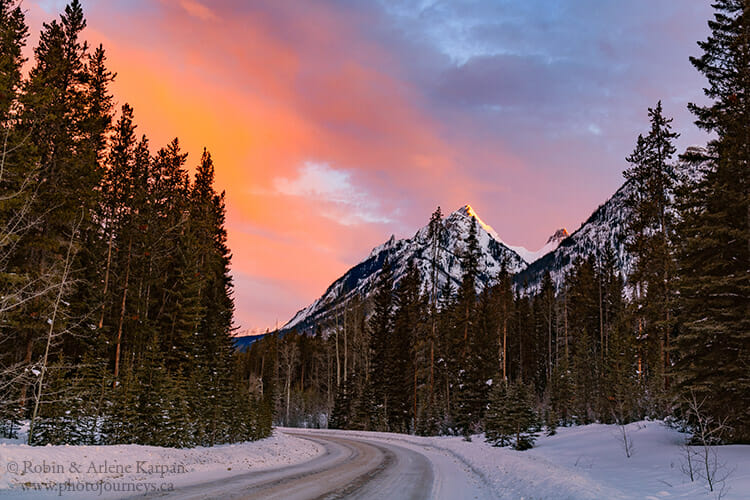 Banff townsite and surrounding area
Because of its spectacular setting, Banff townsite and surrounding areas abound with photogenic spots. A great place for an overview is from the Cascade Gardens, at the south end of Banff Avenue (the town's main street), and immediately across the bridge. A viewpoint in front of the administration building looks over Banff Avenue, with Cascade Mountain looming in the background.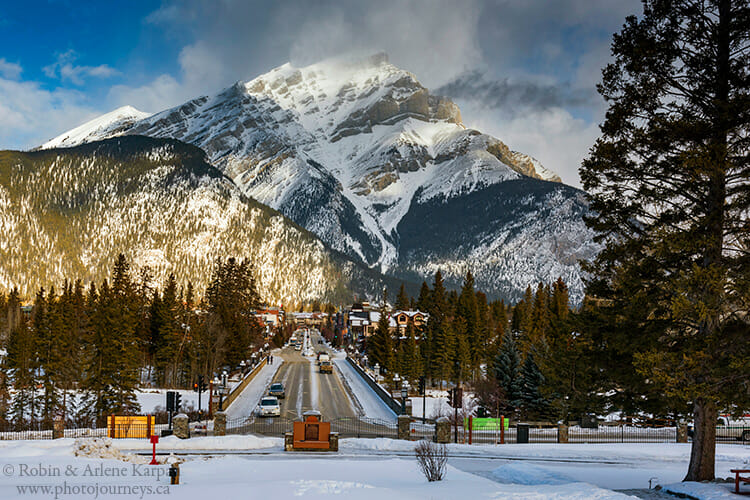 For an overview in the other direction, head north of the townsite to the Mount Norquay ski hill. The road climbs the side of the mountain through several switchbacks, with an excellent lookout point over the town and surrounding terrain just before arriving at the ski hill parking lot.
The Bow River and Valley is a defining feature of the area. Take a walk along the river near Bow Ave. on the west side of town, or go farther afield along some of the trails. The highlight is Bow Falls, which is partially frozen in winter, though plenty of water is flowing as well, in some places looking as if water is spouting from the heavy snow cover. The look of the falls can vary from one day to the next, especially if there is a temperature change.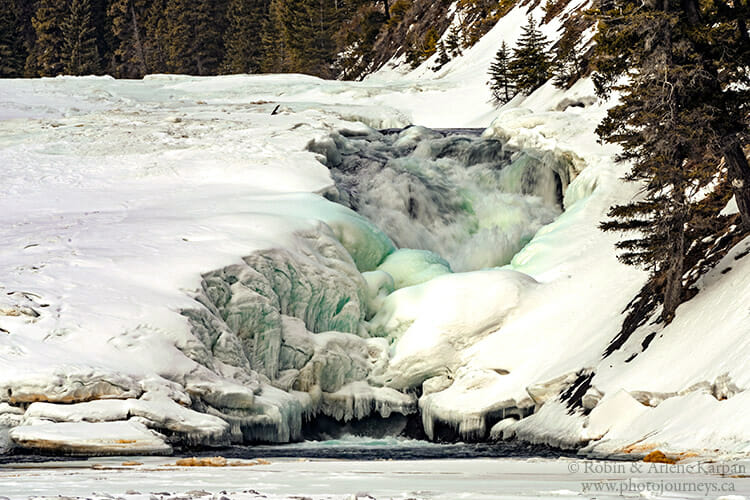 We happened to be there during the Snow Days Winter Festival. Part of the celebrations featured an impressive display of intricate snow sculptures throughout the downtown.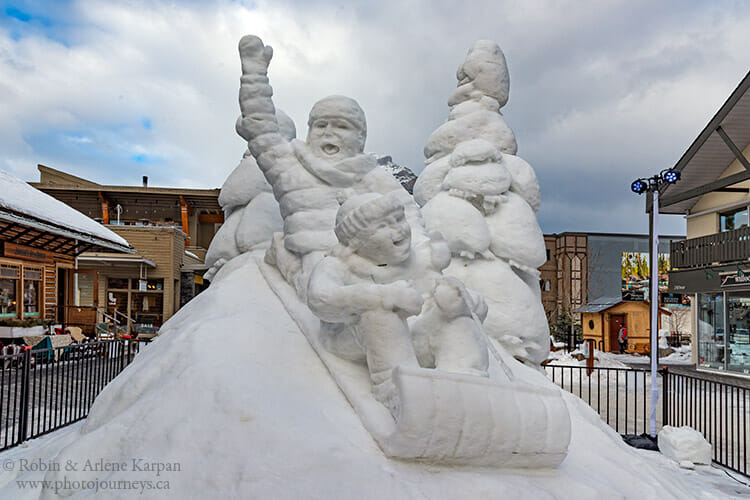 Our go-to spot for sunset is the Vermilion Lakes, immediately west of town. This complex of lakes and marshlands are framed by the imposing slopes of Mount Rundle which becomes bathed in warm light just before the sun disappears behind the mountains. When we visited, we found small areas of open water next to the road, wonderful for photographing reflections of Mount Rundle.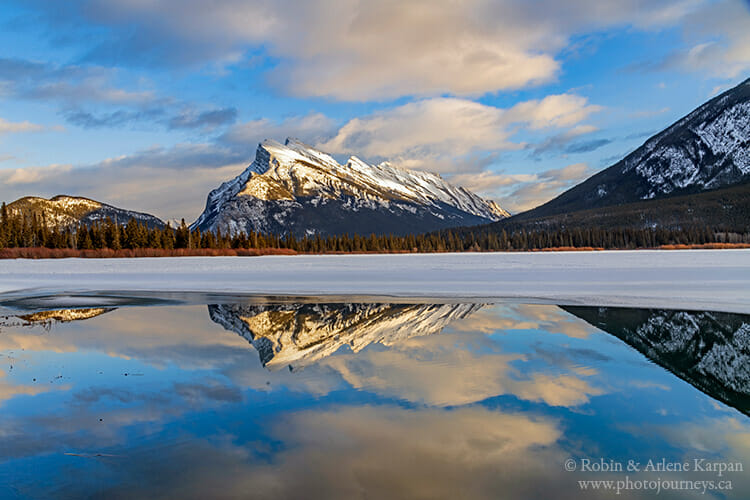 The short drive to Two Jack Lake and Lake Minnewanka yields more photo possibilities. While huge Lake Minnewanka (the largest in the park) is mostly snow-covered, some windswept areas leave patches of exposed ice. We walked out onto the lake to see interesting ice features such as methane bubbles trapped below the ice, the wild network of cracks reaching deep into the ice, and in places odd-looking ripple formations on the surface.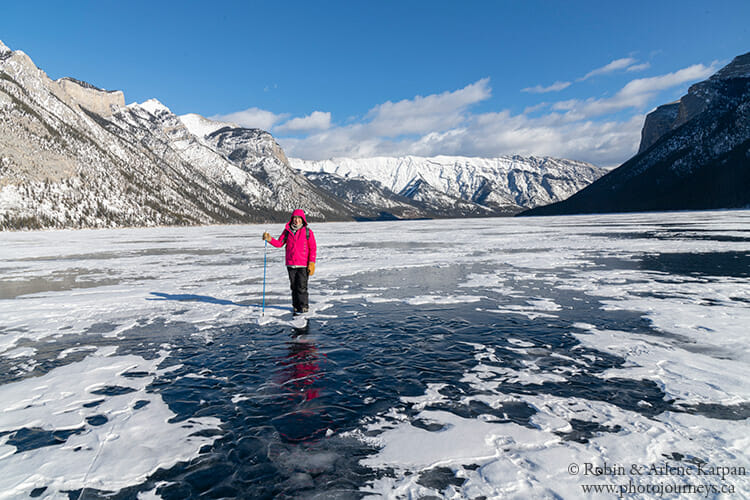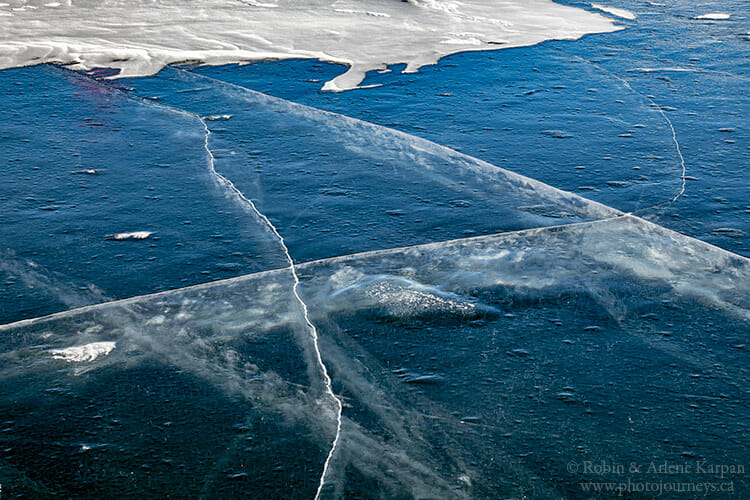 The Bow Valley Parkway to Lake Louise
The Bow Valley Parkway is the scenic alternative to the Trans Canada Highway to Lake Louise. In summer, part of this route is designated as a bicycle trail and is closed to vehicles, but in winter the entire route is open to all traffic. Since sunrise comes so late in winter, you don't have to get up excessively early to be out on this road before the sun clears the mountains and casts a warm light on the surrounding peaks. We found traffic very light in early morning so it was easy to slowly meander along and stop for photos.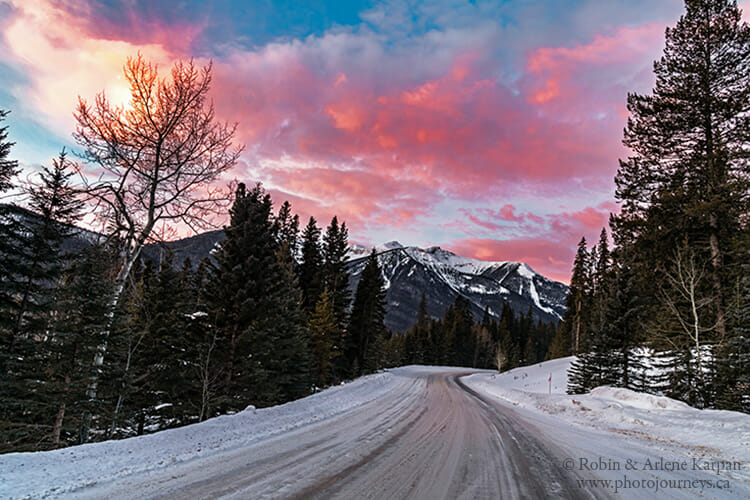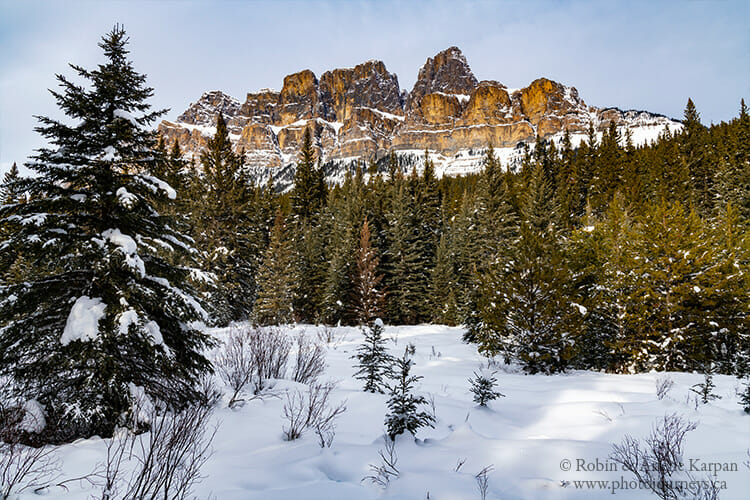 While most of the picnic sites along the way are closed in winter, there are several places to pull off the road for photos, or to access snowshoe or ski trails. The main stop about halfway along is Johnston Canyon, where a hiking trail leads into a spectacular gorge with a fast-flowing creek and waterfalls. Since this is one of Banff's most popular destinations, in summer it can get uncomfortably crowded, assuming you can even find a place to park. But when we arrived on a weekday winter morning, there weren't many people around, making it an ideal time to visit.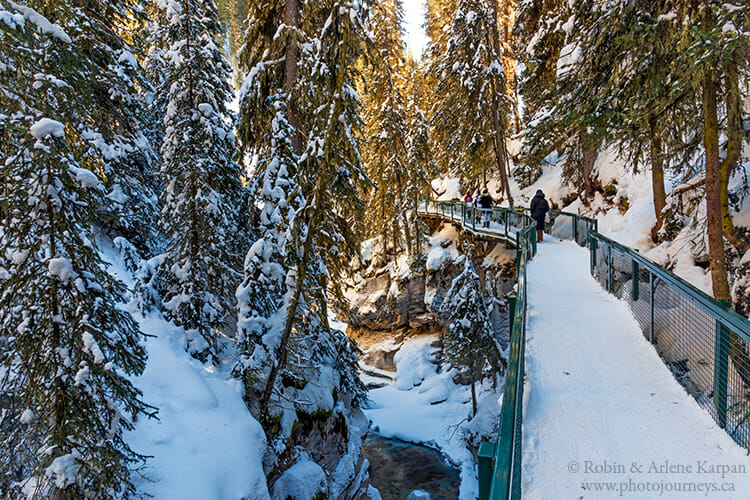 The canyon is completely transformed in winter with a thick layer of snow, huge icicles dangling from the canyon walls, and the creek an interesting mix of ice and open water. In places we could see the water flowing beneath a layer of clear ice as if we were looking through a window. The Lower Falls looked spectacular, with flowing water behind the mostly frozen surface.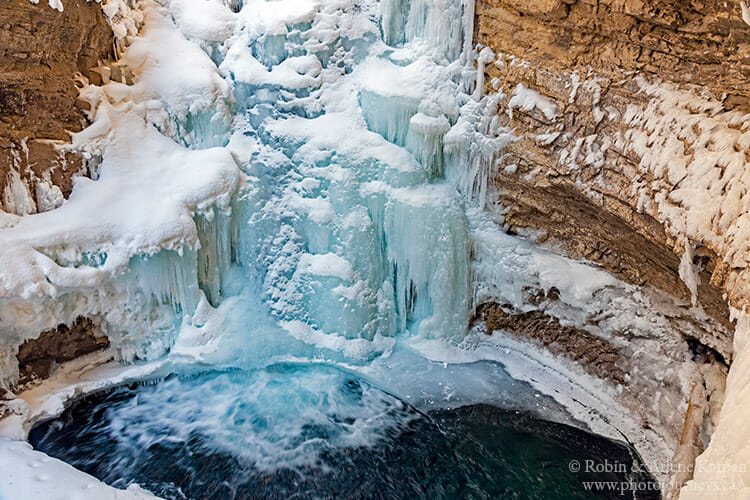 Walking as far as the Lower Falls, just over a kilometre one-way on a reasonably level pathway, is fairly easy in winter, although a few spots could be icy. Past here the terrain becomes much steeper. Packed snow and ice make it quite slippery, so cleats on your boots are highly recommended.
The snow cover kept getting deeper as we continued west, and in Lake Louise it was piled high along the roadsides. This is another of Banff's highly popular spots, where you may not even find a place to park in summer or fall. To control the high number of cars, and encourage visitors to take a shuttle bus, they charge $11.70 to park at Lake Louise from June to mid-October. Fortunately, there is no parking fee in winter, and when we arrived mid-morning on a weekday it wasn't especially busy. However, more people were around later in the day. A major winter feature is the skating area on Lake Louise, right in front of the Chateau Lake Louise, complete with a fairy-tale ice castle.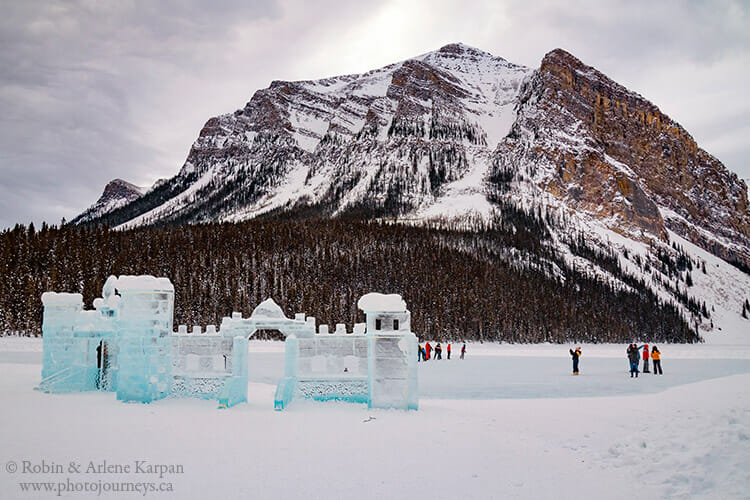 Emerald Lake Road – Yoho National Park
From Lake Louise, it's just over 30 km to this spectacular part of Yoho National Park, making it a do-able day trip if you're staying in Banff. Just after leaving Lake Louise, the Trans Canada Highway climbs Kicking Horse Pass and crosses the continental divide, marking the border between Alberta and British Columbia. The weather can change dramatically, especially in winter. In a short distance, we went from sunshine and clear weather to fog, strong winds and blowing snow on the pass, then calm but overcast conditions in the Kicking Horse River valley. The snow here was even deeper than in Lake Louise.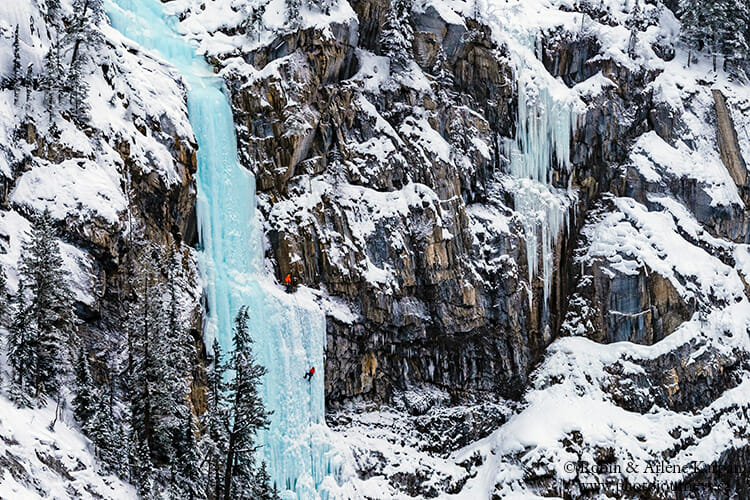 The road to Emerald Lake is just past the small town of Field, home to the park's visitor centre. The first stop along the way is the Natural Bridge, named for a rock formation that spans the Kicking Horse River after it thunders through a set of wild rapids. It's a surreal sight in winter since it looks like a cave piled high with snow. The water is still flowing, but under the layer of ice under the bridge. Here too, the river alternates between stretches of ice and open water.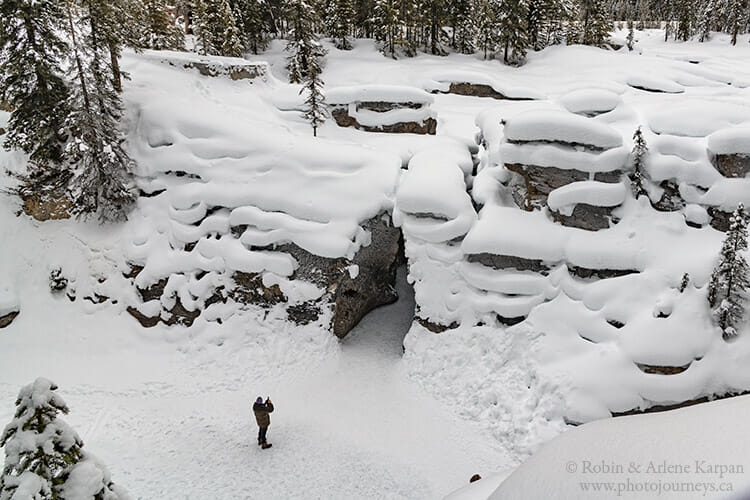 The short road ends at Emerald Lake and Emerald Lake Lodge, an exceptionally beautiful spot with turquoise water (in summer, that is) surrounded by impressive peaks. Anytime we have been here in the summer or fall, the parking area has been overflowing, with cars and a fleet of tour buses parked for quite a distance along the roadway. See our posting on The Best of Yoho National Park with information on visiting during summer.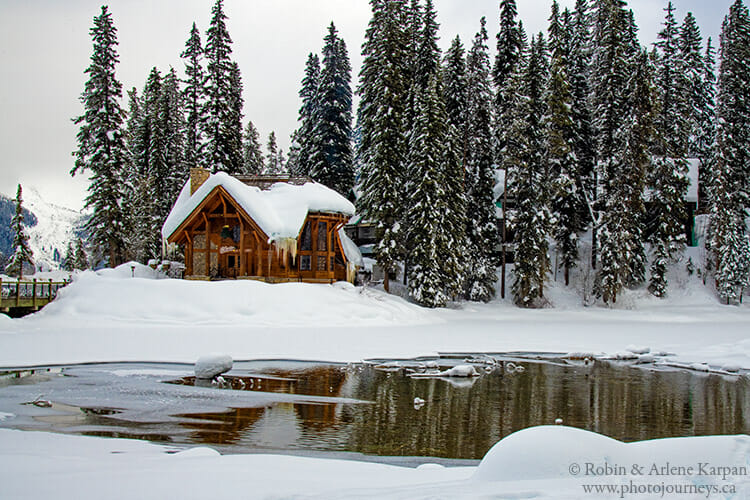 Our winter visit was much more tranquil, with only a smattering of other people around. The deep snow gave the place a magical look. Our favourite spot was almost next to the parking lot, where a patch of open water leads to a small creek and pedestrian bridge that is part of the trail circling the lake (see opening photo).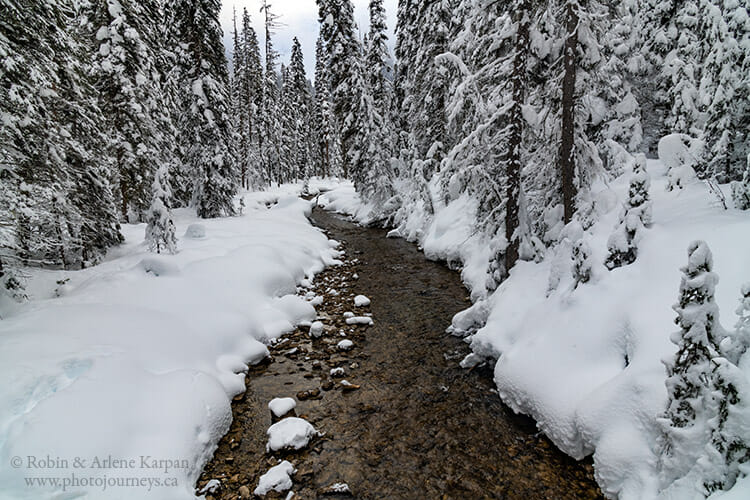 Planning tips for a winter visit and photography
If you like the Banff area but want to escape the crowds in Canada's most visited national park, winter is a great time to visit. Despite the popularity of skiing, the number of visitors is considerably lower than in summer and fall. We never found anywhere that we wanted to go to be overly busy. A big bonus is that accommodation is generally more available and with lower prices. However, it is best to visit mid-week. Since Banff is so close to Calgary, weekends and holidays can get busy at any time of the year.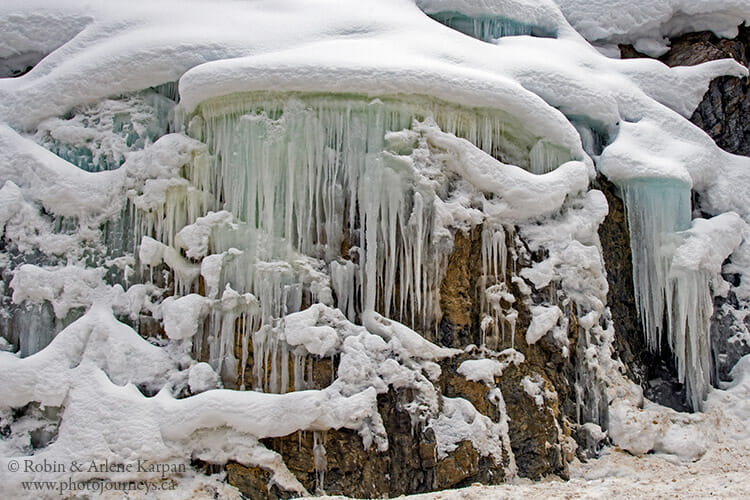 A relatively recent change to the central area of Banff townsite is that you have to pay for on-street parking, even in winter. There are a few free parking areas, such as at the train station or along Bow Ave. next to the river.
Ice conditions change from year to year and throughout the winter. Always carefully assess the ice before heading onto frozen lakes or rivers, especially if there is open water nearby. If in doubt, ask about conditions at the park visitor centre. Don't base your decisions on what other people are doing.
The weather can change quickly in the mountains and can vary from place to place over a short distance. Always carry extra cold weather gear, even when going for a drive or a short hike.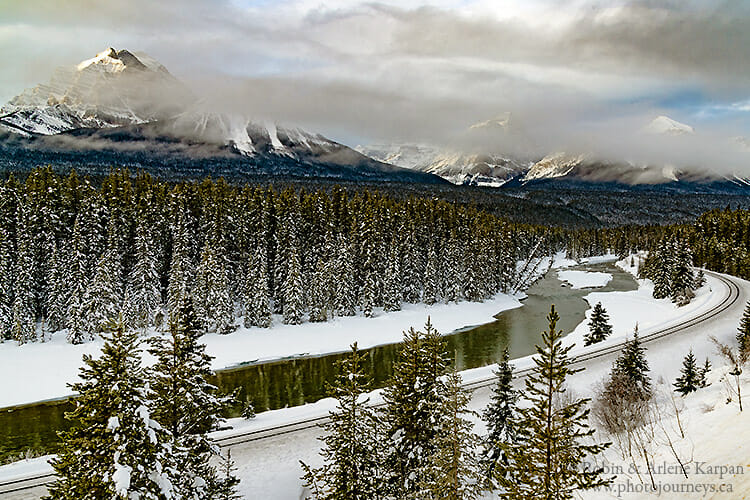 Camera Tips
When bringing your camera in from the cold, leave it in the camera bag and let it warm up gradually to prevent condensation from forming on it. If you're photographing in the cold for an extended period, keep an extra camera battery warm in an inside pocket, since batteries run down a lot faster in cold weather.
For snowy scenes, you almost always need to add some exposure compensation to your camera. Otherwise, the camera gets tricked into thinking that the scene is too bright, and photos end up being too dark. How much compensation will depend on the conditions, but we found that 2/3 to a full stop on the plus side was about right in most cases.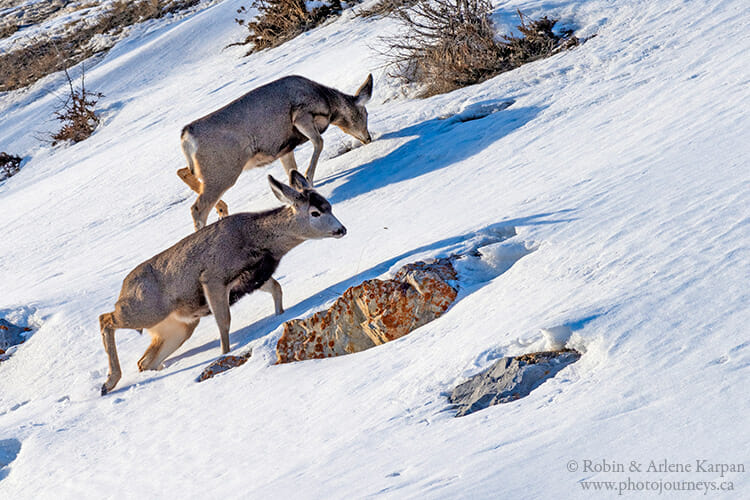 More Information
Banff National Park, Parks Canada
Yoho National Park, Parks Canada
Banff and Lake Louise Tourism
SUBSCRIBE to Photojourneys below
Feel free to PIN this article