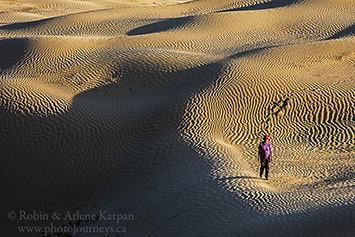 Last Updated on February 15, 2021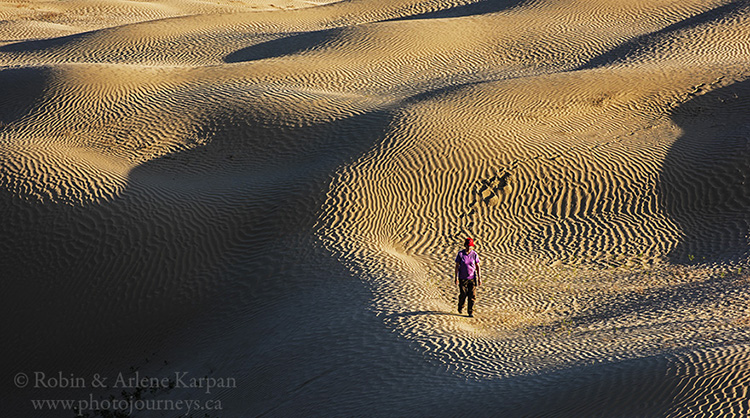 One place that we never tire of visiting is the Great Sand Hills of southwest Saskatchewan. Not only are these the second largest sand dunes in Canada (only the remote Athabasca Sand Dunes of Saskatchewan's far north are larger), they are the easiest to visit – you simply drive right up to them then go for a short hike. We recently made a return evening visit to the dunes and, as always, the photo opportunities were incredible. All of these shots are from that evening. It seems that every time we go, the light conditions vary, so we never get the same shot twice, even when returning to the same spots.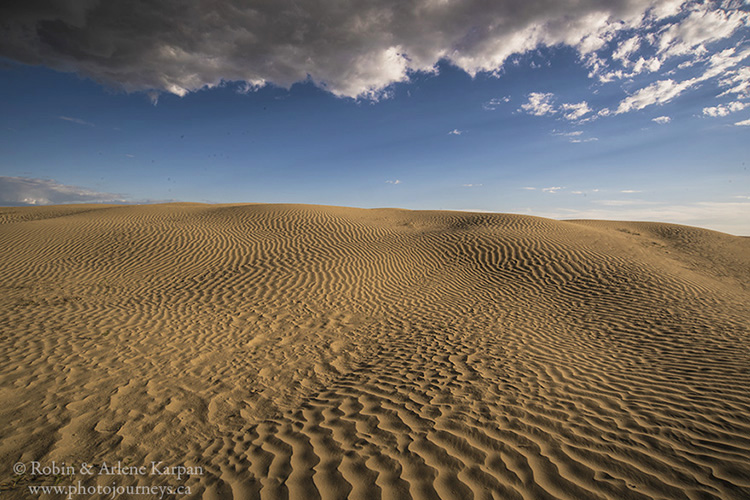 The Great Sand Hills encompass some 1,900 square kilometres, one of the largest areas of native mixed grass prairie in Saskatchewan. Stabilized hummocks covered with prairie grasses comprise most of the hills. Active moving dunes account for less than 5% of the hills, but they are definitely the most impressive feature. One major dune is right beside the parking area. An even larger dune is a 15-minute or so walk a bit to the southwest. This is usually our go-to spot since it sees fewer visitors and is usually free of footprints. If the wind has been blowing, footprints don't last very long. Early morning and late evening just before sunset are the best times to go, not only for the quality of the light, but winds tend to be quieter as well.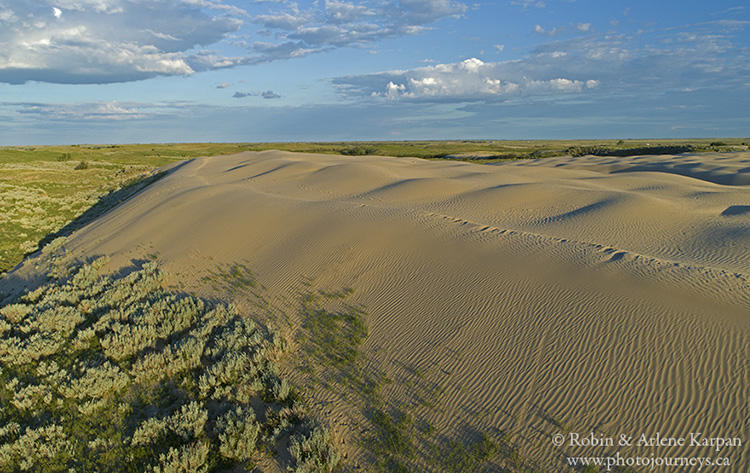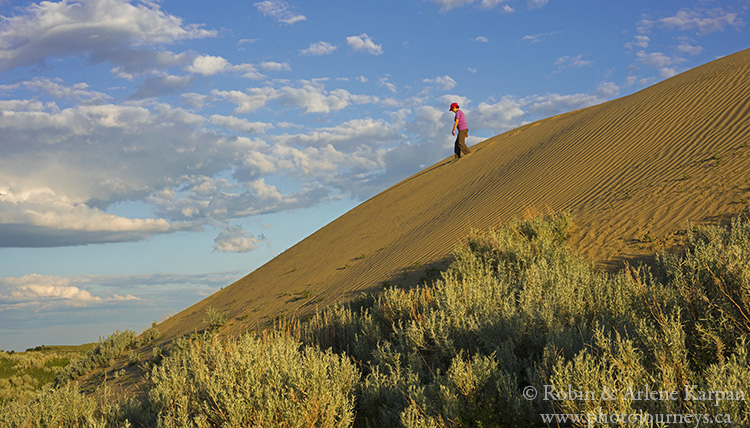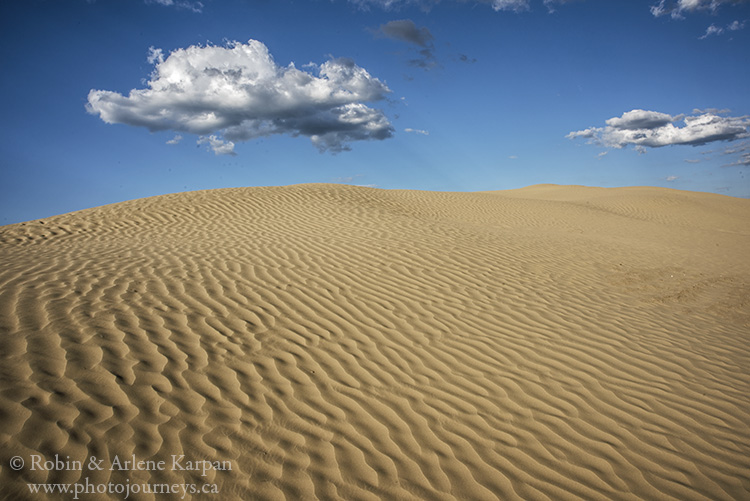 To get there, head to Sceptre, about 20 km east of Leader along Hwy #32. Your first stop should be the Great SandHills Museum and Interpretive Centre along the highway in Sceptre for an orientation to the area. From the east side of Sceptre, go south 9.6 km, west 1.6 km, then south 9.6 km – the route is signed. The last section approaching the dunes is known as the Straw Road. Early residents used to spread straw on the sandy road in order to help their wagons get through. Seeing active sand dunes right beside the road takes many people by surprise. From the parking area you can hike throughout the fascinating dune fields, which keep changing with the prevailing winds.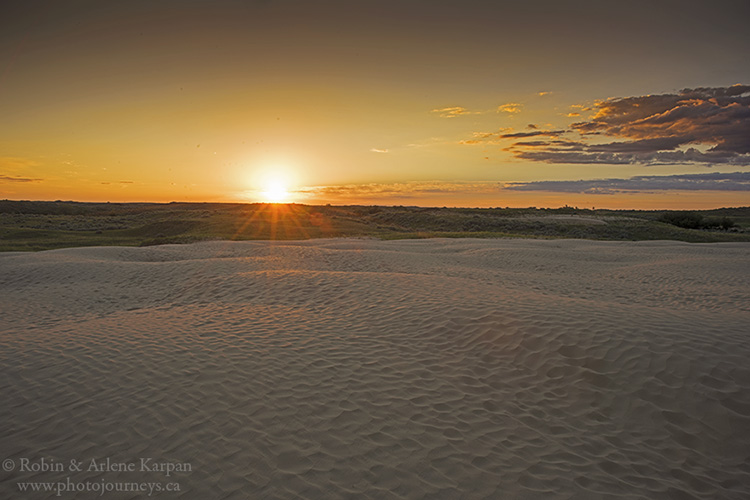 While active dunes are the obvious photographic highlight, there's also the surrounding native grasslands scenery, wildflowers which change through the seasons, and a reasonable chance of seeing wildlife. On this trip, we were fortunate to find a pronghorn mother with two fawns. Don't miss the unusual cowboy boot fence just up the hill at the sand dune parking lot.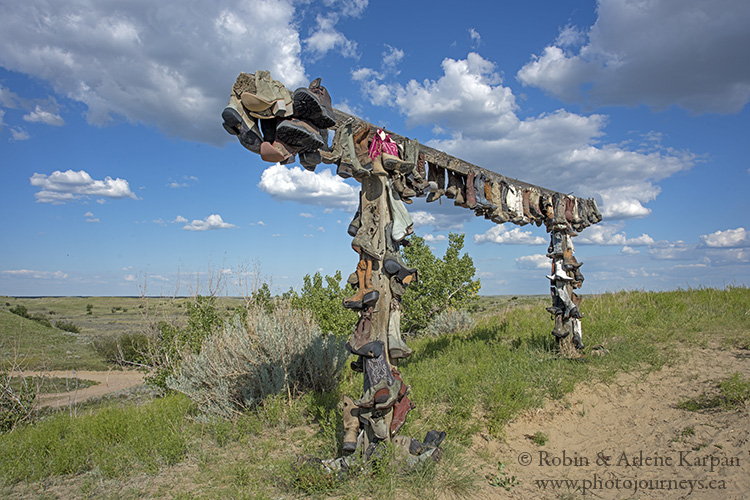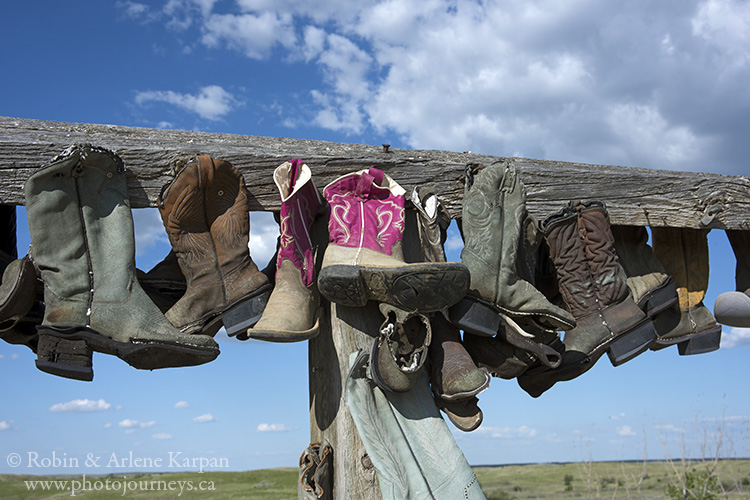 The Great Sand Hills are only one of the top spots to see and photograph sand dunes in Saskatchewan. For a more comprehensive look, see our earlier posting on why Saskatchewan is the Sand Dune Capital of Canada.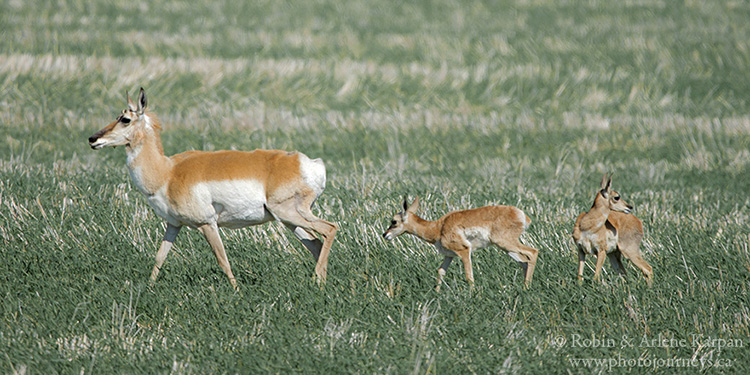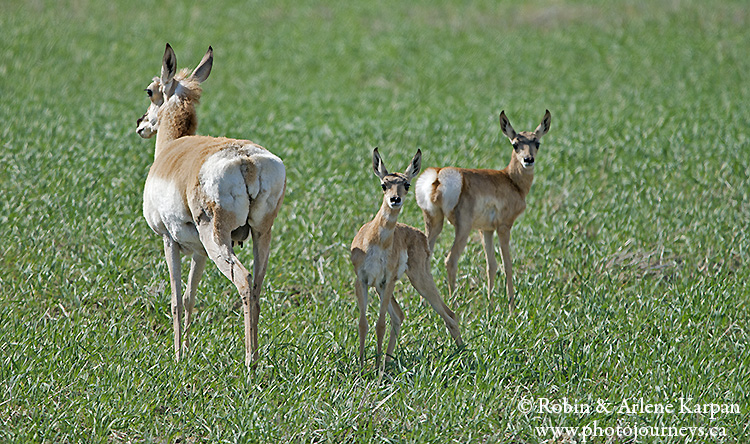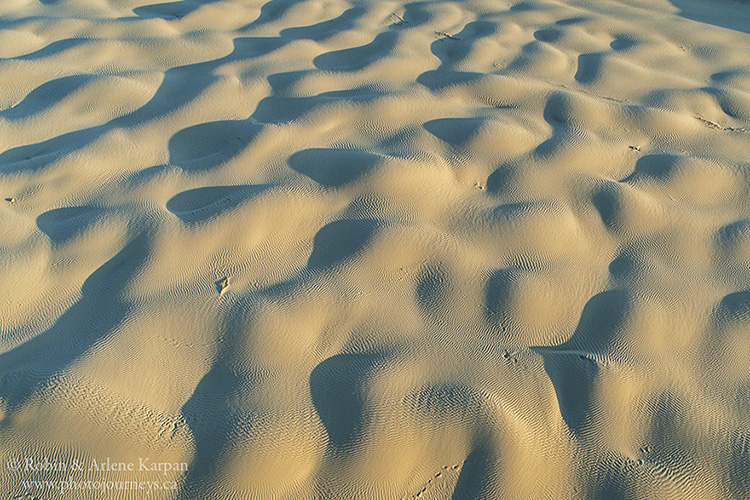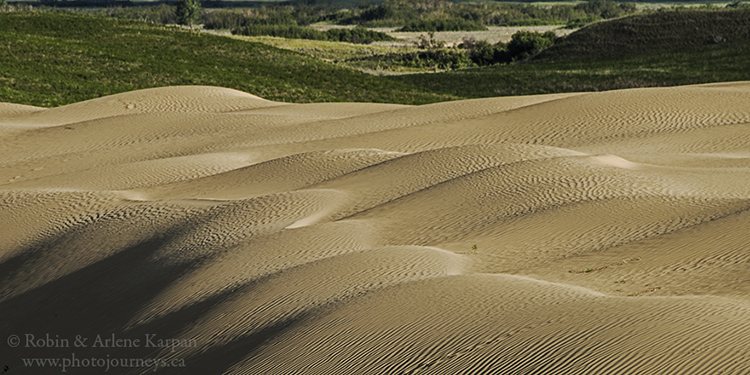 SUBSCRIBE to Photojourneys below
Feel free to PIN this article on the Great Sand Hills in Saskatchewan