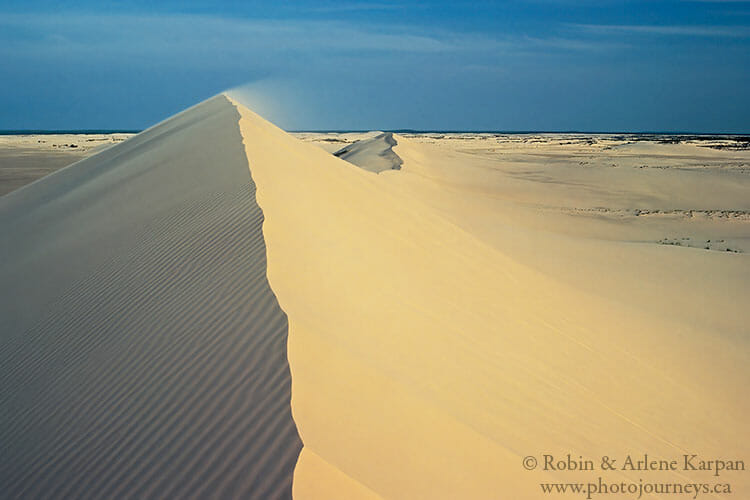 Last Updated on May 23, 2023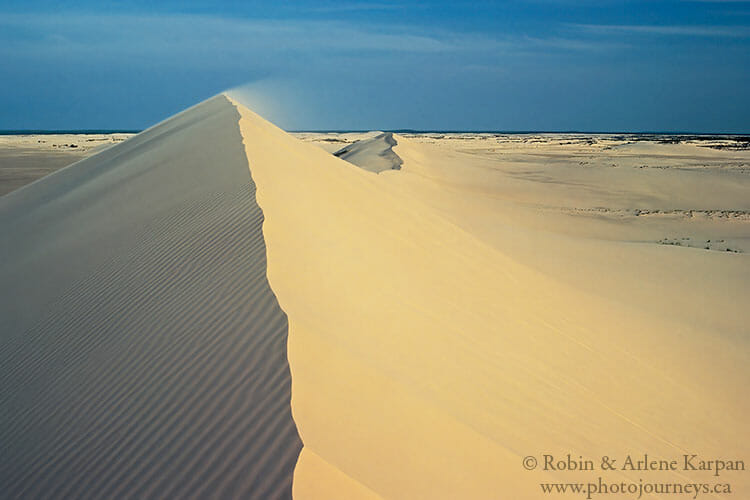 Why are the Athabasca Sand Dunes so special?
Of all the questions our readers ask us, the one that stands out most is how to visit the Athabasca Sand Dunes. Stretching for about 100 kilometres along the south shore of Lake Athabasca in Saskatchewan's far north, these are the largest dunes in Canada and the largest this far north anywhere in the world. This is, quite simply, our favourite place in the world.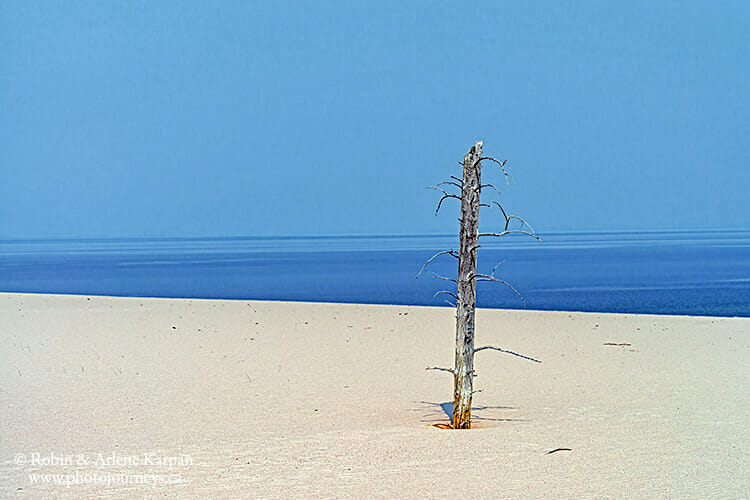 But it's not just size that makes these dunes special. As we might expect, most of the world's great sand dunes are in deserts or arid regions. But not here. The Athabasca Sand Dunes lie smack in the middle of boreal forest and lakelands, next to one of Canada's largest lakes, and sliced by three rivers. Adding to its appeal are an unusually high number of rare and endemic plants, pristine wilderness visited by extremely few people, and drop-dead gorgeous scenery.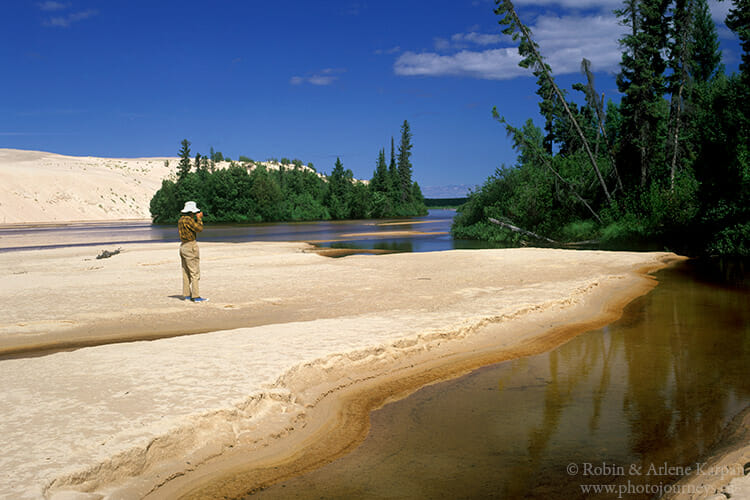 We've written about these dunes in other postings including Discovering the Land of the Giant Beaver, which is about our canoe trip along the south shore of Lake Athabasca, and an earlier article on Exploring the Athabasca Sand Dunes where we give an overview of this fascinating landscape and why it is special. So this time we're focusing more on the question – how do I get there?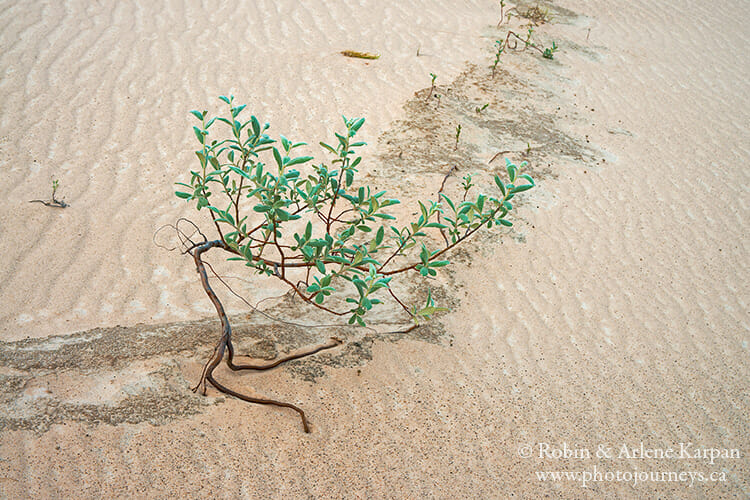 No one best way to visit
Start looking into ways to travel to the dunes and one thing quickly becomes apparent – it ain't easy. Though the area is part of Athabasca Sand Dunes Provincial Park, it is strictly a wilderness park. There is no road access, no buildings, no people, no organized transport, no cell service, and no infrastructure of any kind.
There is no one "best" way to travel there. So much depends on what you want to do, your budget, your skills and comfort level in spending time in remote wilderness, and how much time you have available. Our intention here is not to tell you what to do, but rather to outline some alternatives and things to think about when you're planning to visit this spectacular landscape.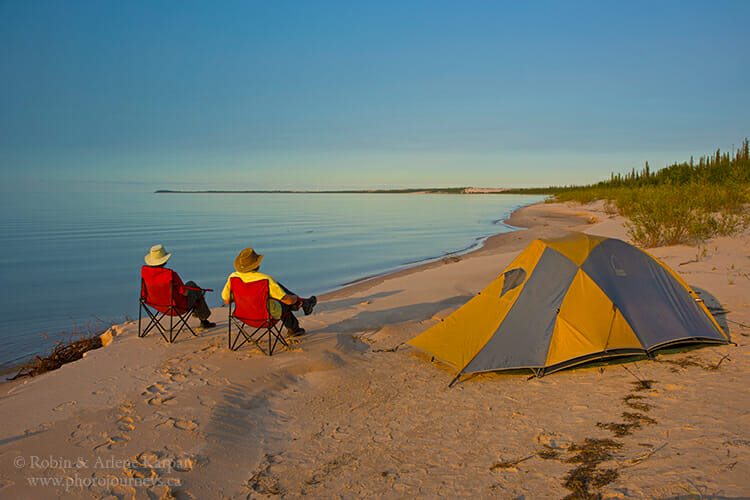 Nearby communities
The nearest communities are Uranium City (a hamlet of fewer than 100 people) and Fond du Lac, both of which are on Lake Athabasca's north shore – the opposite side of the lake from the sand dunes. Neither is connected to the south by road, but both have scheduled air services. Some people have flown to these communities on scheduled flights and then hired someone locally to take them to the dunes by boat.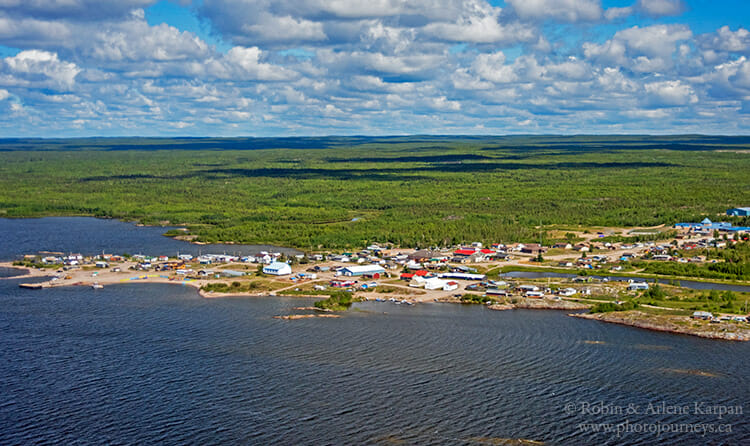 The main service centre for the area is Stony Rapids on the eastern end of Lake Athabasca and about 150 km east of the sand dunes. It has scheduled air service plus a road connection from the south. A good gravel road goes as far as Points North Landing, and from there to Stony Rapids the road tends to be rougher. While it is an all-season road, it is best to check on conditions before driving at the Saskatchewan Highway Hotline. Because Stony Rapids has a float plane base, this is usually the most convenient place to charter a plane to take you to the dunes.
Some people have chartered a float plane from Fort MacMurray, Alberta, or Fort Smith, NWT. Although these are longer flights, they might be an option for those coming from the west.
Canoeing through sand dunes?
It's the mix of sand, trees, and water that really makes these dunes unique and photogenic. Since the dunes border a huge lake and have rivers running through them, it opens up the chance to travel by canoe. What could be cooler than canoeing through sand dunes? This is our preferred means of travelling, but it is also the most complex to arrange since you not only have to get yourself there but a canoe as well. Taking a canoe usually means arranging for a float plane where they can tie a canoe onto the pontoons, which tends to be pricier.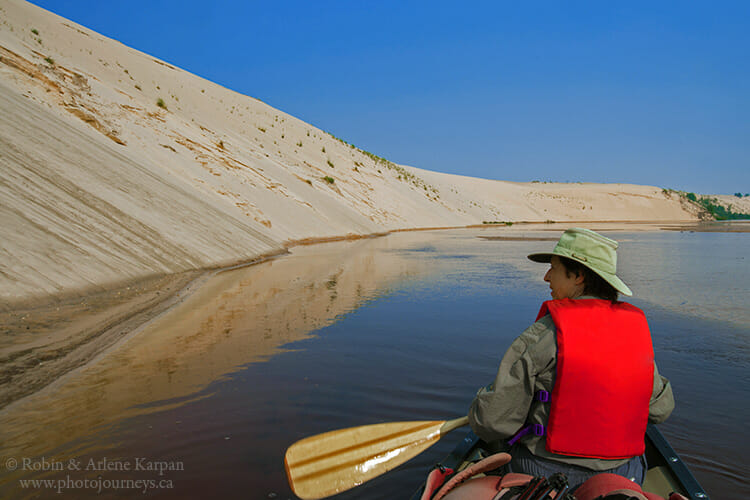 The William River
One option is to canoe down the William River, where the last stretch of about 25 km or so flows right beside the massive William River Dune Field with endless opportunities to explore farther into the dunes. The river's last 18 km is a wide and shallow braided stream filled with sandbars. However, for most of its length, the William River is full of rapids and boulder gardens, so it's essential to have whitewater canoeing skills.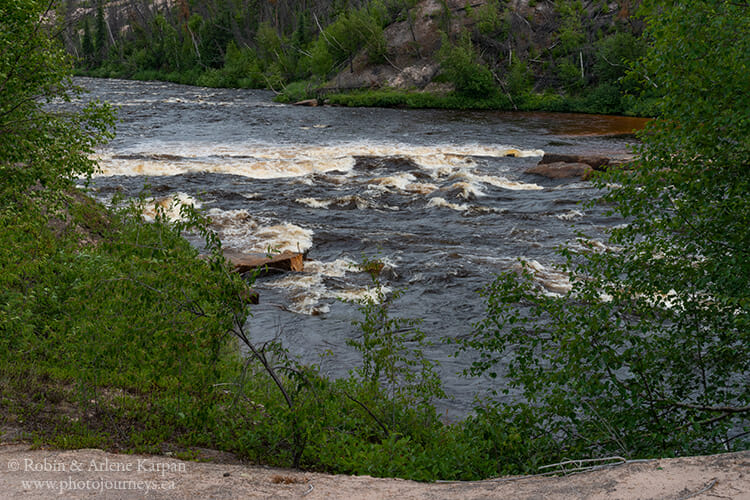 When we did this trip several years ago, we started at Carswell Lake, which was accessible by road. We then canoed into the short Carswell River (only possible to paddle when water levels are high enough), which joins the William River. Canoeists who want a longer trip, or who want to bypass the "iffy" Carswell River, start farther upstream on the William River, such as at Hale Lake, only accessible by air.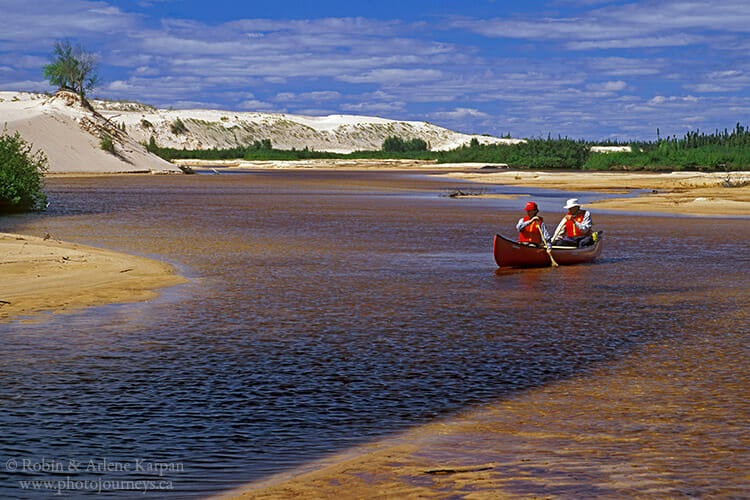 We have also paddled about 18 km upstream on the lower braided section of the William River as far as the last rapids. This gets us into the heart of the dunes, where we can hike to the giant dunes and explore numerous other spots along the river. But canoeing upstream is contingent on water levels being high enough. The last time we tried this, it wasn't possible since water levels were too low, and exposed sandbars blocked the route. Even with higher water, it is a hard slog paddling upstream against the current while zigzagging across the wide, shallow river trying to find deep enough water.
Canoeing the south shore
Yet another option is to canoe along Lake Athabasca's south shore, so you don't have to worry about water levels in rivers. It's about 100 km from the mouth of the William River, on the west end of the dunes, to the mouth of the MacFarlane River on the east end. It's a wonderful trip with several dune fields to explore along the way. A highlight is the narrow Archibald River, about two-thirds of the way along. The river is too small to be navigable, but you can hike a long way along the huge dunes lining the tiny river.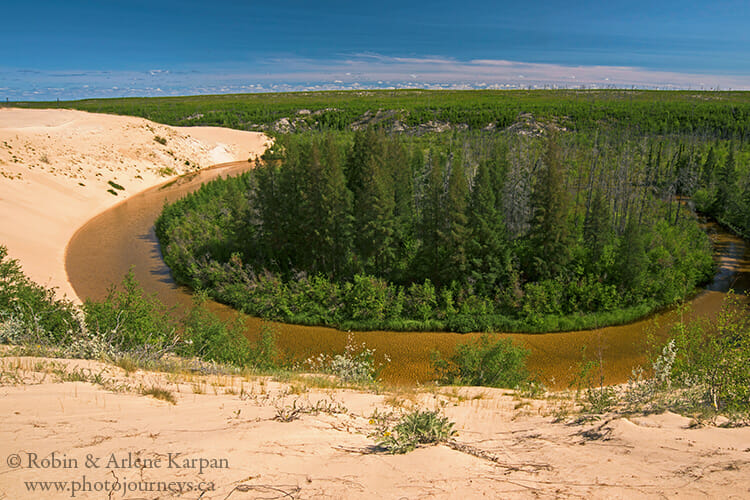 It's possible to paddle about 7 km upstream on the MacFarlane River to a small lake, passing right beside sand dunes along the way. From here you can also do a fairly arduous hike farther upstream to some impressive waterfalls.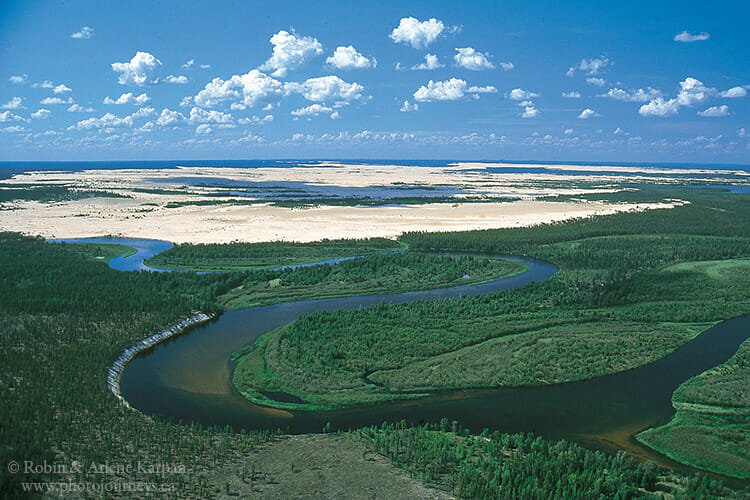 The big unknown on this trip is the weather. The south shore is wide open with almost no protection, so we're at the mercy of winds and waves. Sometimes it can be dead calm, but more often than not we have to deal with waves. On one trip we were storm-stayed in the same spot for five days because of the relentless wind and waves, so it's best to have a lot of flexibility as to how long the trip will take.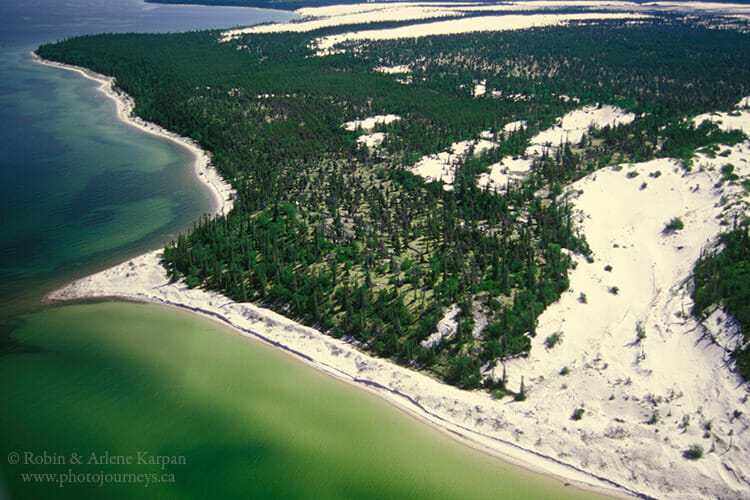 If you charter a float plane to do a trip on the lake, you have to consider where the plane can land. In calm conditions, almost anywhere along the south shore should be possible, although sandbars could be an issue in some places. However, a calm lake is never a certainty, so drop-off and pick-up times usually have to be flexible. Smaller float planes can usually land on the fairly protected lake upstream on the MacFarlane River. Smaller planes sometimes also use Cantara Lake, which is slightly inland from Lake Athabasca, east of the William River.
Travel by Motorboat
Travelling along the south shore by motorboat is certainly possible, but there are difficulties and dangers. Much of the south shore lining the sand dunes has shallow water and sandbars often extending far into the lake. Beaches line much of the shoreline, so when travelling by canoe it's relatively easy to land in bad weather. This is much more difficult with a larger boat. Most people who travel by motorboat in the area tend to go to the MacFarlane River because it is protected and the river is usually deep enough to travel as far as the small lake upstream.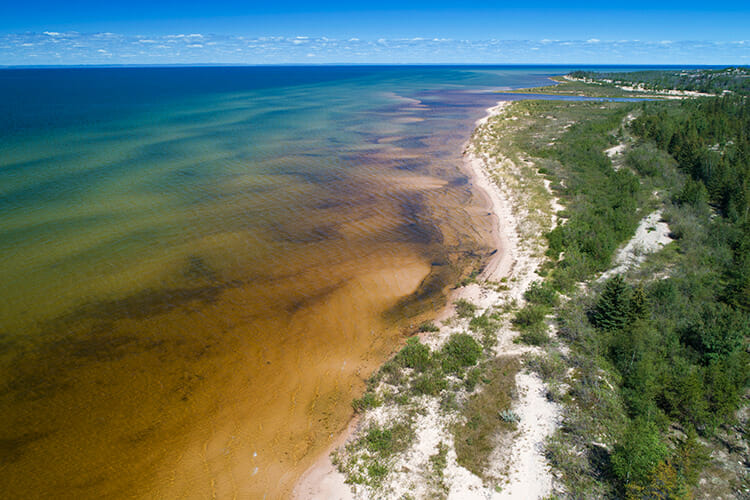 Hiking the dunes
The simplest and most economical option is to get dropped off in the dunes by float plane or motorboat and do a hiking trip. The best place for this is the shore of Thomson Bay, (just east of the William River) bordering the large Thomson Bay dune field. From the western edge of this dune field, it's about a 5-km hike along the edge of the dunes to the William River – to the same spot where we would arrive by canoeing upstream for about 18 kms.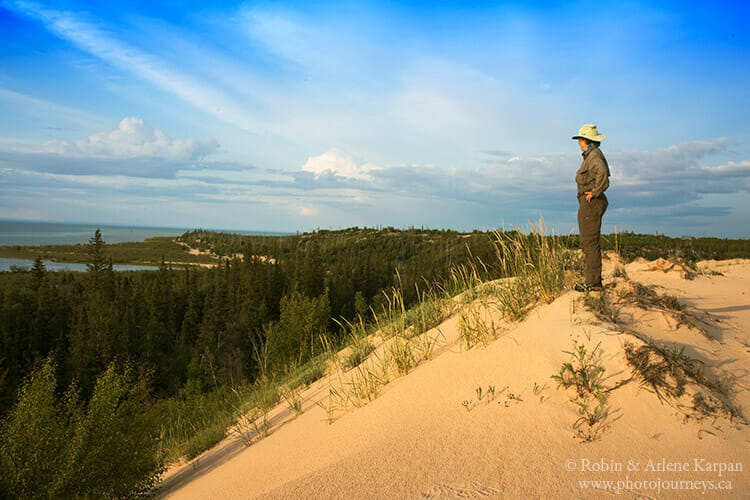 Since the river is wide, shallow, and filled with sandbars here, it is usually (though not always) possible to wade across to the west side and hike to the giant dunes. However, you can't always plan on crossing the river by wading, since channels might be too deep, especially in high water.
Organized excursions
The only operator that we are aware of that currently offers organized guided trips is Churchill River Canoe Outfitters. They do it as a hiking trip by flying into Thomson Bay, setting up a base camp and hiking from there. They usually also hike to the William River and camp there to explore more of that area and visit the giant dunes.
Also contact Tourism Saskatchewan to see if there are any other operators offering trips to the dunes.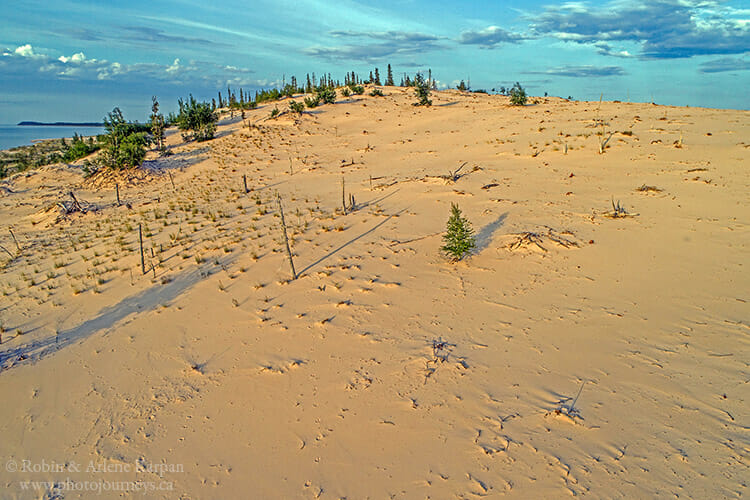 Sources of information
Tourism Saskatchewan – This should be your main contact to see who has services that might be relevant. They would be up to date on providers such as float plane charters, tour operators, boat operators, and fishing lodges in the area that might also provide logistical services.
Athabasca Sand Dunes Provincial Park – Since the dunes are protected in a provincial park, you should be aware of regulations. Most are common-sense rules to protect the environment, but there are a few special provisions such as not burning wood or camping in the dunes west of the William River. Contact the park for current requirements.
Rise Air – Formerly Transwest Air and West Wind Aviation, this is the largest airline in the region offering both scheduled and chartered services.
Churchill River Canoe Outfitters – offers guided trips to the Athabasca Sand Dunes.
SUBSCRIBE to Photojourneys below
Feel free to PIN this posting on How to Visit Saskatchewan's Athabasca Sand Dunes