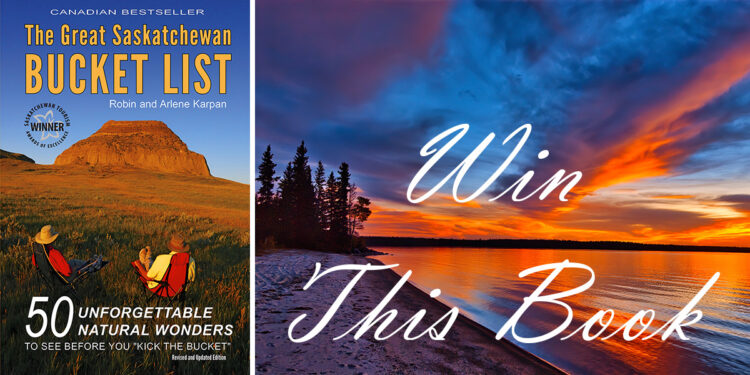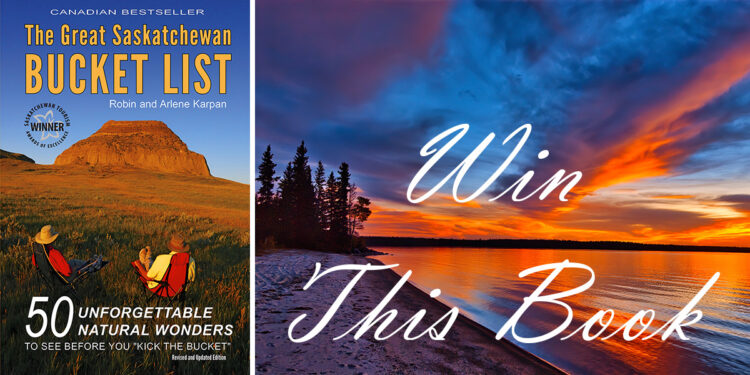 The winner is announced! Congratulations to Keith whose name was randomly drawn on Dec. 4. He will be receiving a free copy of the Great Saskatchewan Bucket List.
To celebrate the upcoming Christmas season, we're giving away a copy of our bestselling book – The Great Saskatchewan Bucket List – 50 Unforgettable Natural Wonders to see before you "Kick the Bucket". This is one of our most popular titles for gift giving, but you can win your own free copy without worrying about whether or not Santa will bring you one. The draw will be made on December 4.
Saskatchewan abounds with natural wonders, but this guidebook cuts to the chase and takes you to the best of the best. Watch the rising sun magically transform Castle Butte into a brilliant red monolith. Marvel at the mysterious Eye Cave on "Dead Man's River". Hear the roar and feel the power of Saskatchewan's largest waterfall. Get up close and personal with wildlife found nowhere else in Canada. We not only show you these and many more awesome places, but also help you get there with directions and GPS coordinates.
See our post describing the book, and why it has proven so popular.
Enter the contest for a chance to win a free copy, sent to you postage paid.
How to Enter
Subscribe to photojourneys.ca (if you're already subscribed, you're halfway there). Sign up below in the footer, or on the sidebar.
Go to the comments section below in this posting and tell us what place in Saskatchewan is at the top of your bucket list. There is no right or wrong answer – all places indicated are equally valid entries. That's all there is to it. One entry per person.
On December 4, we will draw from all valid entries and contact the winner by email for a Canadian mailing address to ship the book. In order to comply with Canadian contest regulations, the winner will be required to answer a skill-testing question. If the winner does not reply within 48 hours, we will make another draw. The winner's first name only will be announced.
Contest Rules
The contest is open to all photojourneys.ca subscribers who are Canadian residents at least 18 years of age and have a mailing address in Canada (because of different contest regulations in Quebec, this contest is not open to residents of Quebec).
The prize is one copy of the book, The Great Saskatchewan Bucket List, with a value of $24.95. The book will be sent to the winner postage paid.
No purchase is necessary to enter the contest.
The draw will be based on valid entries received in the comments section of this posting between November 26 and December 4, 2022.
Chances of winning will depend on the number of valid entries received.
The contest is sponsored by Parkland Publishing.
Be sure to stay subscribed for additional book giveaway contests coming soon. Also follow us on Twitter, Instagram, and Facebook for notification on other contests. (links in sidebar)
SUBSCRIBE to Photojourneys below