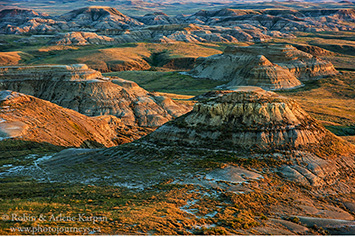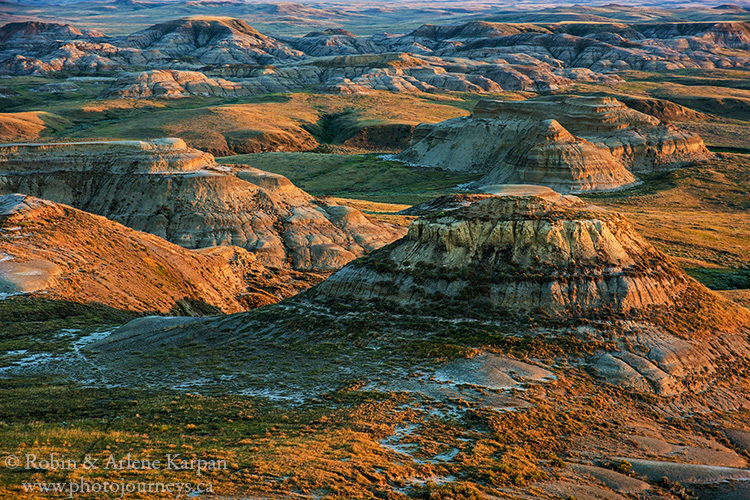 Badlands are among the most compelling and photogenic landscapes — solitary buttes standing in defiance of centuries of erosion, stone-capped hoodoos, sage and cactus seeking moist cracks in sun-baked soil, and weather-beaten formations mimicking abstract art. Fortunately, many of Canada's baddest badlands are right here in Saskatchewan.
Big Muddy Badlands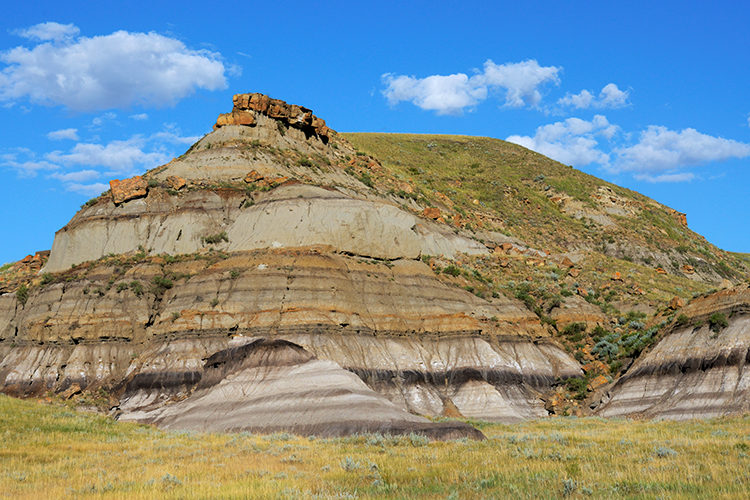 The Big Muddy Badlands combine striking scenery with a colourful history. Only a stone's throw from the Canada–U.S. border, the labyrinth of secluded coulees proved irresistible to cattle rustlers and horse thieves who moved back and forth across the border to escape the law. Butch Cassidy and the Wild Bunch established Big Muddy as Station No. 1 on the infamous Outlaw Trail that stretched all the way to northern Mexico. Travelling through this area, we come across places where we almost expect to see Butch and the boys riding out of some secluded gulch.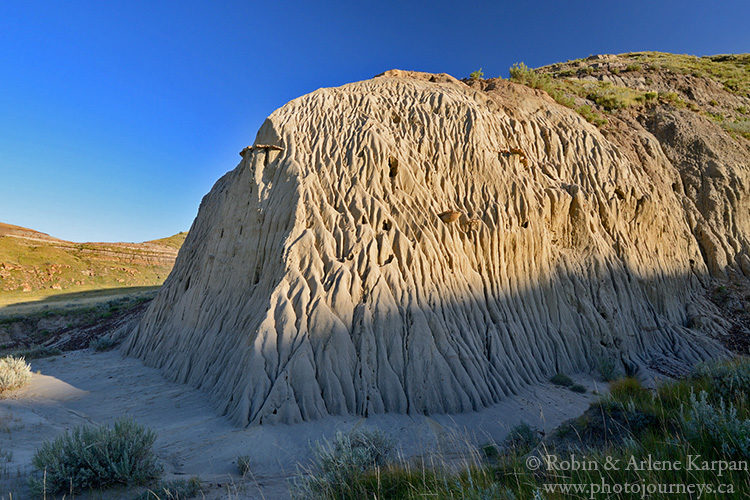 The highlight, and most accessible area, is Castle Butte, about halfway between Bengough and Big Beaver. The massive 60-metre-high landmark rises alone on the valley floor, with a backdrop of fairy-tale-like formations along neighbouring slopes. Walking around the butte, we check out ridges, caves and coloured layers.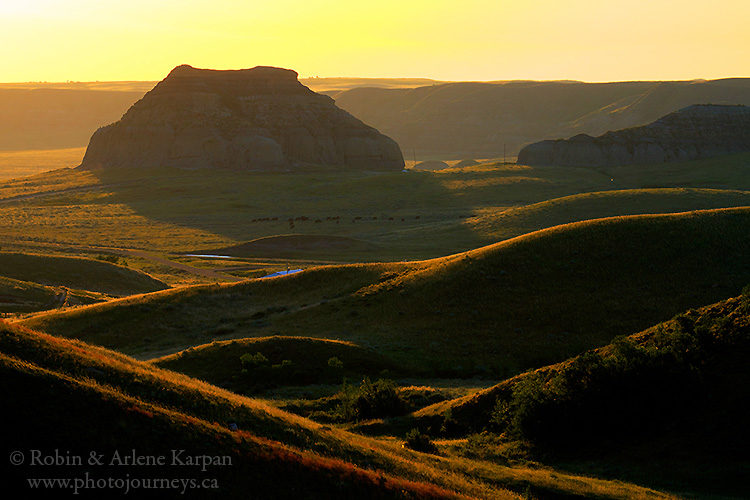 Sides of the butte seem to be dripping, as if icing on a gigantic chocolate cake had been left in the sun. Big Muddy may be an odd name, yet it's a fitting description. Come here after a rain and the wet clay looks and feels like gooey melted chocolate.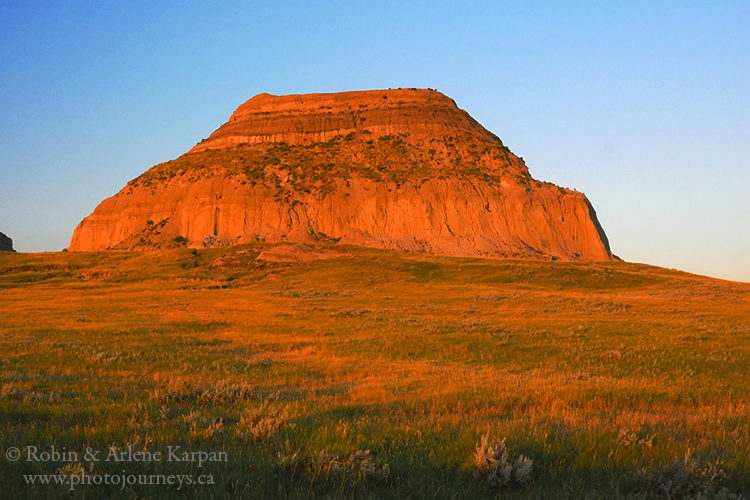 For photography, sunrise is prime time. In summer, the sun clears the horizon at the lowest part of the broad Big Muddy Valley, and immediately shines up at the butte, flooding it in a dazzling scarlet glow. The transformation is nothing short of magical. We enjoyed this view so much that we decided to use it for the cover of our book The Great Saskatchewan Bucket List.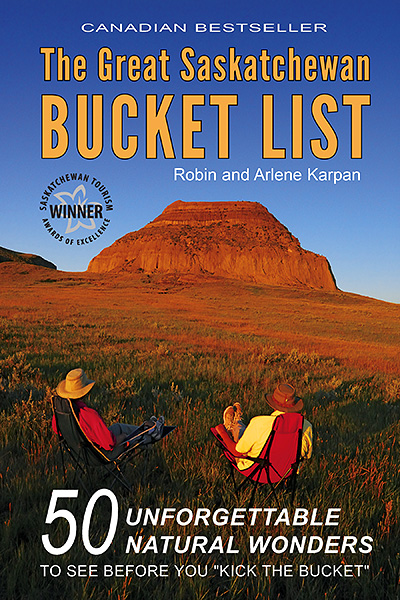 Just before sunset is another great time to photograph. Here too, the low sun gives the butte a rich reddish glow. Don't leave it too late though. The sun dips below the hills just to the west a little before sunset. We were thrilled to see one of our sunset images used on a postage stamp. Canada Post chose it for part of its From Far and Wide series in 2019, which features nine iconic landscapes from across Canada.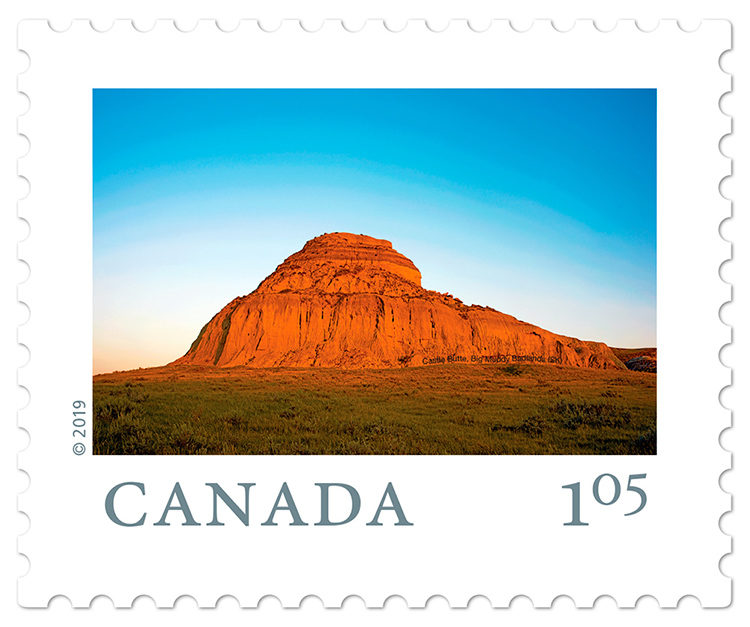 To get to Castle Butte, head south of Bengough on Hwy #34, then turn west at the Castle Butte sign. For a more off-the-beaten-path approach, with more views of the valley and surrounding landscapes, we have mapped out a route in our book Saskatchewan's Best Scenic Drives. It starts in Willow Bunch, to the west, then meanders through a series of scenic backroads to Castle Butte.
The Road to Avonlea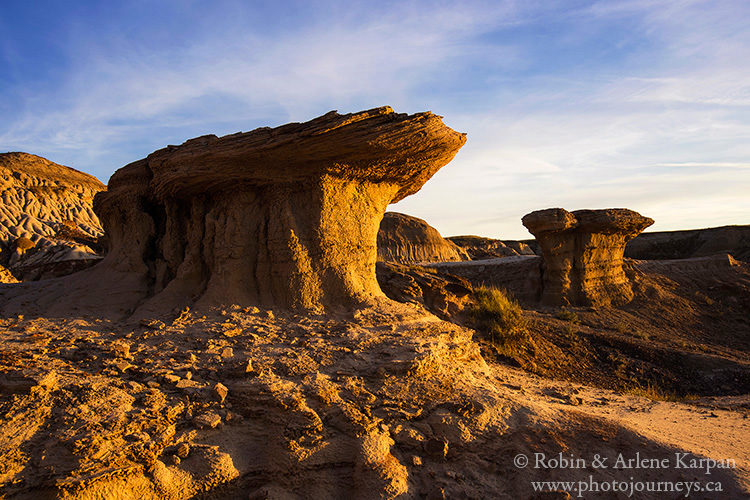 To see Saskatchewan's most surprising but least-known badlands, we take the road to Avonlea, southeast of Moose Jaw. A short drive outside town, we start walking across a gently undulating pasture that, at first glance, looks like typical southern Saskatchewan rangeland. However, it's anything but. Without warning, the land suddenly drops away and we gaze over an enchanting mass of weathered buttes, hoodoos topped with protective capstones, strange pillar formations and rippled hillsides in the Avonlea Badlands.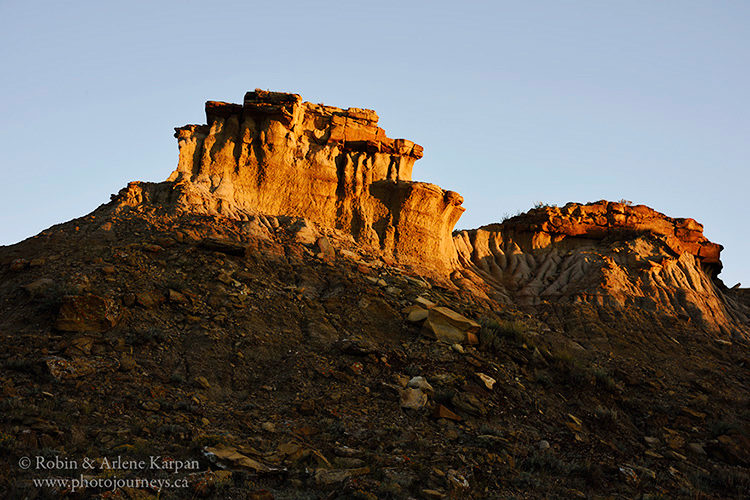 Making our way onto the valley floor, we enter a completely different world. We no longer see the surrounding farmland, but instead become immersed in an otherworldly wonderland. Erosion has turned mudrock into rills, pillars, and crumbly, popcorn-like sediment. Huge spherical concretions, sculpted sandstone and hoodoos-in-the-making add to the surreal landscape.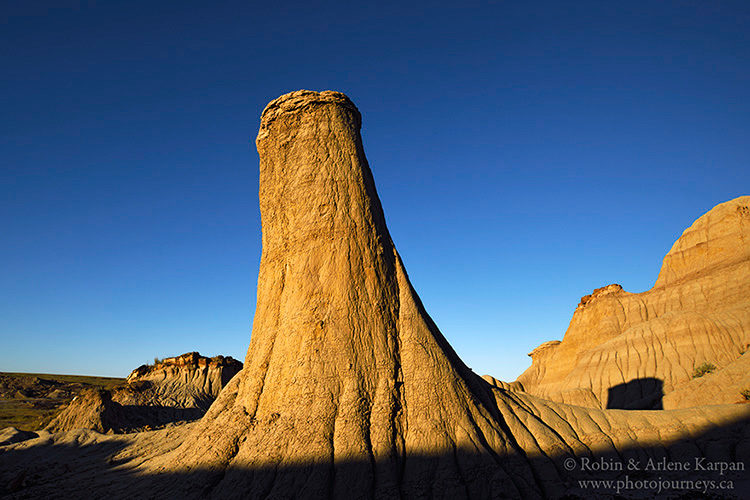 The Avonlea Badlands are on private land, so the only way to visit is via guided tours arranged by the Avonlea Heritage Museum. The museum operates regular daytime tours, as well as evening and night tours geared to photographers.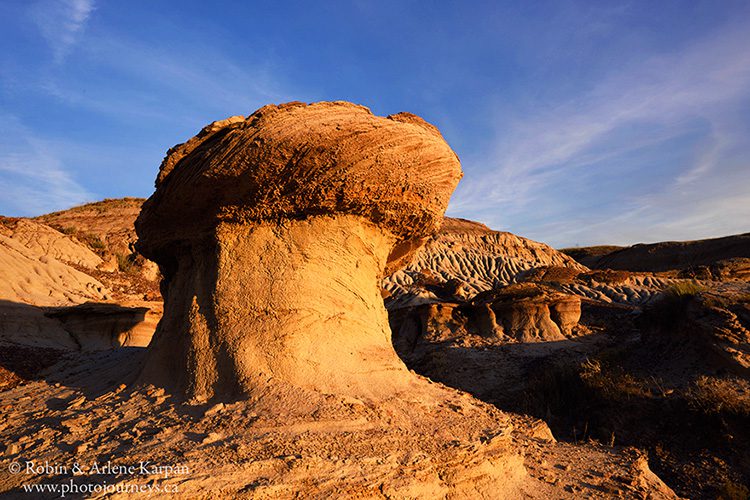 These badlands are one stop along a route we mapped out through the surprising and little-travelled Cactus and Dirt Hills in our book Saskatchewan's Best Scenic Drives.
Grasslands National Park
To find the granddaddy of badlands, we head to the East Block of Grasslands National Park, one of few places in Saskatchewan not covered by glaciers in the last ice age. The paved Badlands Parkway takes you across the prairie, and almost immediately a vista opens up over the vast Rock Creek Badlands, also sometimes referred to as the Killdeer Badlands.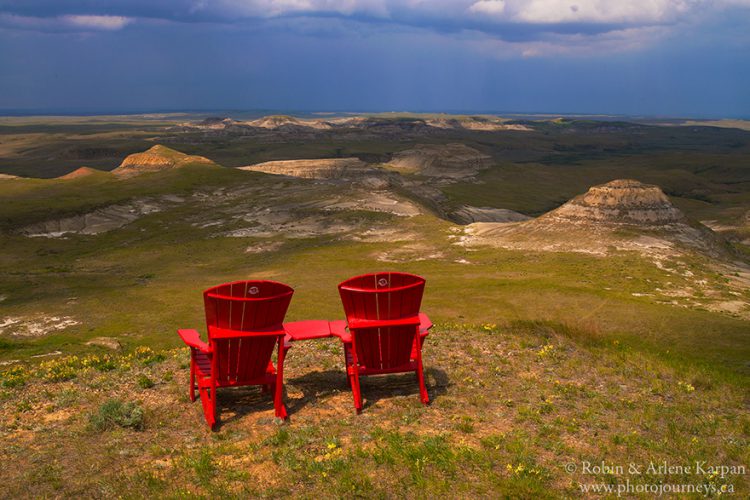 The trail continues along the valley rim, ending at a point jutting into the valley, where we enjoy the breathtaking scene while sitting in Parks Canada's iconic red chairs. It's truly a million-dollar view.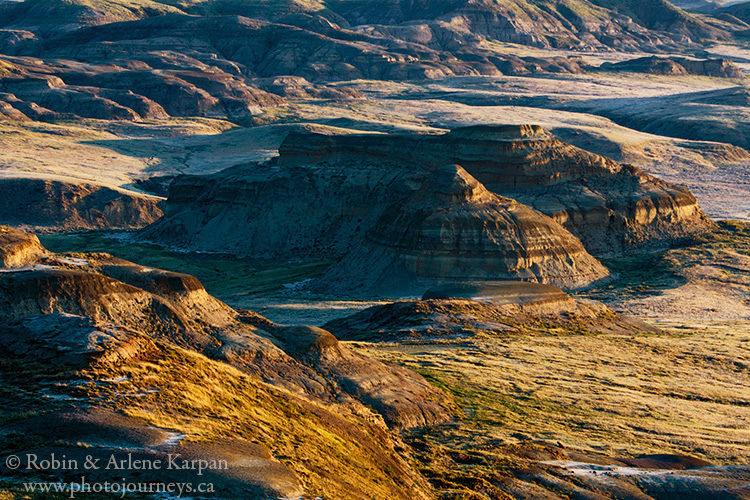 Below, we catch glimpses of mule deer wandering among the scattered buttes and whimsically eroded formations. Colours range from muddy browns to shades of red, gold and even bright white. One area, known as the Valley of 1,000 Devils, is a jumble of buttes and deep gullies, perfect hiding spots for wildlife. Millions of years of geologic history are exposed. It was in these fossil-rich badlands that western Canada's first dinosaur bones were discovered in 1874.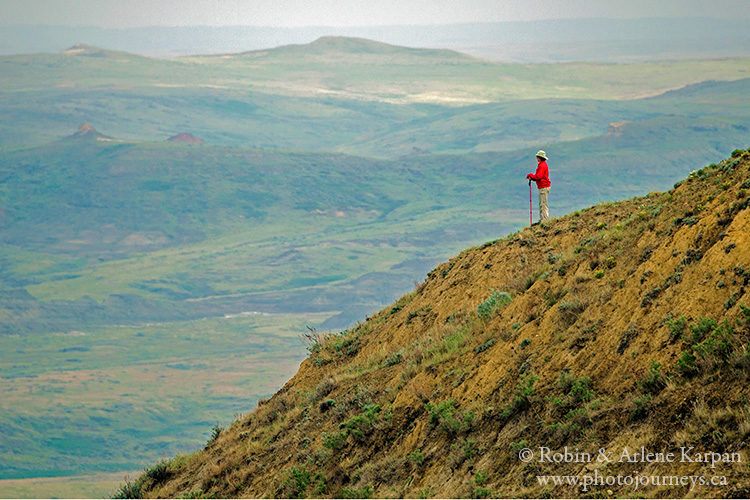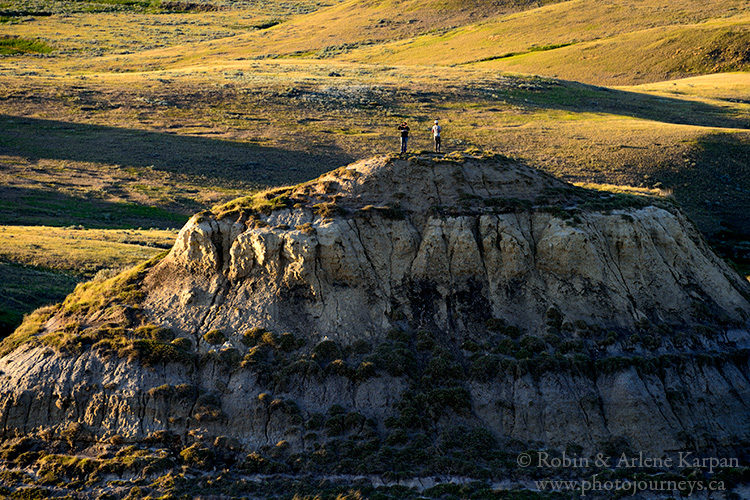 The area is tailor-made for leisurely hiking and backcountry camping. Surprises are not only around every corner, but change with the seasons and weather. During a dry spell, even cacti struggle amid the austere beauty. Add a healthy dose of rain and the land wondrously transforms with a carpet of grass and wildflowers.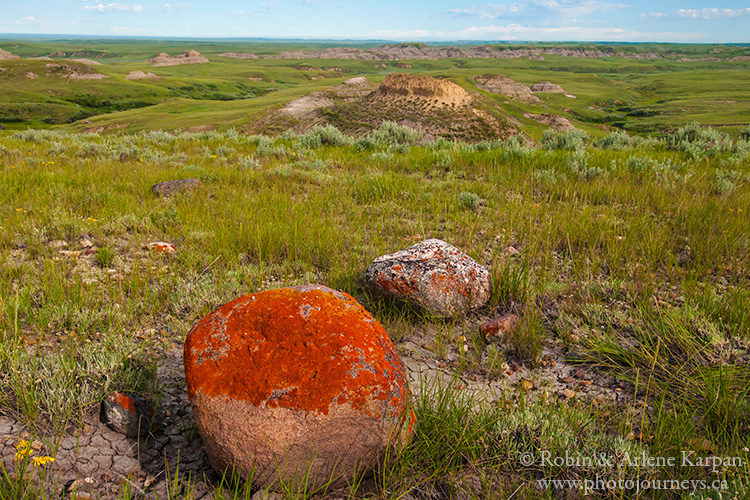 For photography, it's hard to beat the viewpoint near the red chairs. Sunrise and sunset are equally outstanding, with unobstructed views both east and west where the low sun bathes warm tones across the wild land, bringing it to life. The viewpoint is a short drive from Rock Creek Campground, the only place to stay in the park's East Block, so it's easy to get here for the best light.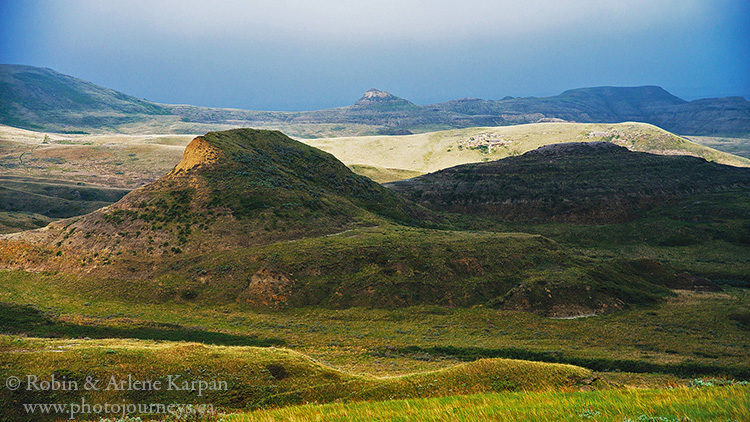 For more information on Grasslands National Park, see the Parks Canada website. For more details on all parks of Saskatchewan, see Tourism Saskatchewan.
SUBSCRIBE to Photojourneys below
Feel free to PIN this article